EXCLUSIVE
View Terms & Conditions

View Terms & Conditions

The £55 Amazon.co.uk digital gift card giveaway ("Promotion") is subject to the following terms and conditions. By entering the Promotion entrants will be deemed to have read and accepted these terms and conditions.
The Promotion is organised and operated by Future Publishing Limited trading as My Voucher Codes incorporated in England and Wales under company number 02008885, whose registered office is Quay House, The Ambury, Bath, BA1 1UA ("Promoter").
The Promotion is open to all UK residents aged 18 years or over except employees of the Promoter, their families, agents and anyone else connected with the administration of the Promotion.
The Promotion will run from {offer_start_date } on 16 Mar 2022 00:00 until 30 Jul 2022 22:59 on 30 Jul 2022 22:59 ("Promotion Period").
All entrants who during the Promotion Period: (i) subscribe to receive the Promoter's electronic marketing; and (ii) Lopesan Hotels confirms have spent £2000 or more (excluding all gift card purchases and top-ups and delivery or collection charges) at Lopesan Hotels (the "Qualifying Purchase(s)") via the link provided on www.myvouchercodes.co.uk ("Promoter's Website") shall be eligible to receive a free £55 Amazon.co.uk ("Gift Card(s)").
You will not be entitled to a Gift Card if you click on any other links or visit any other websites before making your purchase at Lopesan Hotels or if you make use of any other offer or promotion in connection with your purchase which is provided by the Promoter or Lopesan Hotels (including any discounts, codes, savings, credit and/or points).
Only one (1) entry per entrant during the Promotion Period shall be accepted.
Gift Cards redeemed against Lopesan Hotels purchases will be available up to 90 working days after your confirmed date of travel.
Gift Cards may be downloaded via the "member section" of the Promoter's Website. Entrants should note that Gift Cards may expire after a certain date and their use may be subject to the retailer's own terms and conditions.
No entries from agents, third parties, organised groups or applications automatically generated by computers will be accepted. No incomplete or corrupted entries will be accepted. Any entries not made during the Promotion Period or otherwise in accordance with the entry instructions and these terms and conditions will be rejected.
The Promoter reserves the right to substitute, in its sole discretion, the Gift Card with an alternative award of equal or greater value.
The Promoter reserves the right to cancel the Gift Card in the event of: (i) the Qualifying Purchase being cancelled by {merchant name}; or (ii) the entrant cancelling, returning or part-exchanging the Qualifying Purchase.
The Promoter reserves the right to ask for satisfactory proof of identity, age and/or address as a condition of awarding the Gift Card.
The Promoter reserves the right to postpone, void, cancel, suspend, or amend the Promotion where it becomes necessary to do so. Any changes to the Promotion or these terms and conditions will be posted on the Promoter's Website at www.myvouchercodes.co.uk.
Personal data submitted by entrants in connection with the Promotion will be processed by the Promoter in accordance with the Promoter's privacy policy, which is available at www.myvouchercodes.co.uk/privacy.
To the maximum extent permitted by law, the Promoter, its agents and/or distributors will not in any circumstances be responsible or liable to compensate entrants or accept any liability for any loss, damage, personal injury or death occurring as a result of use of the Gift Card except where caused by the negligence of the Promoter, its agents, distributors and/or that of their employees. Your statutory rights are not affected.
The Promotion and these terms and conditions are governed by the laws of England and Wales and are subject to the exclusive jurisdiction of the English and Welsh courts.
Offers for Lopesan Hotels were last updated Friday 13 May 2022 13:53
Lopesan Hotels Codes That You've Missed
View Terms & Conditions

View Terms & Conditions

Min. 3 nights stay. Subject to availability
View Terms & Conditions

View Terms & Conditions

Offer valid for bookings till 14/02/2022
Offer valid for stays till 31/10/2022
Subject to availability Valid from 09/02/2022 to 14/02/2022
How to use a Lopesan Hotels discount code
With these simple steps, you'll be saving money with our Lopesan promo code in no time.


Click to show your favourite voucher code on the MyVoucherCodes Lopesan Hotels webpage. A separate window will pop up revealing the code, which you can then copy and save for the best discounts.


MyVoucherCodes will take you to the Lopesan Hotels website automatically. You just need to visit the previous window.


Take a look at the Lopesan Hotels website, browse their stunning range of hotels, and book your favourite destination.


Once you've decided on your destination, you should be directed to a new webpage where you can browse the luxurious room options.


Make sure your discount code is valid for your ideal room, then click 'book now' to take you to your luxury booking.


At the online checkout, towards the top of the page, there is a box asking if you have a promotional code. Apply your Lopesan Hotels discount code by entering it here.


After you press enter, your order total will change. You can then continue with the checkout process and look forward to your luxury stay at Lopesan Hotels.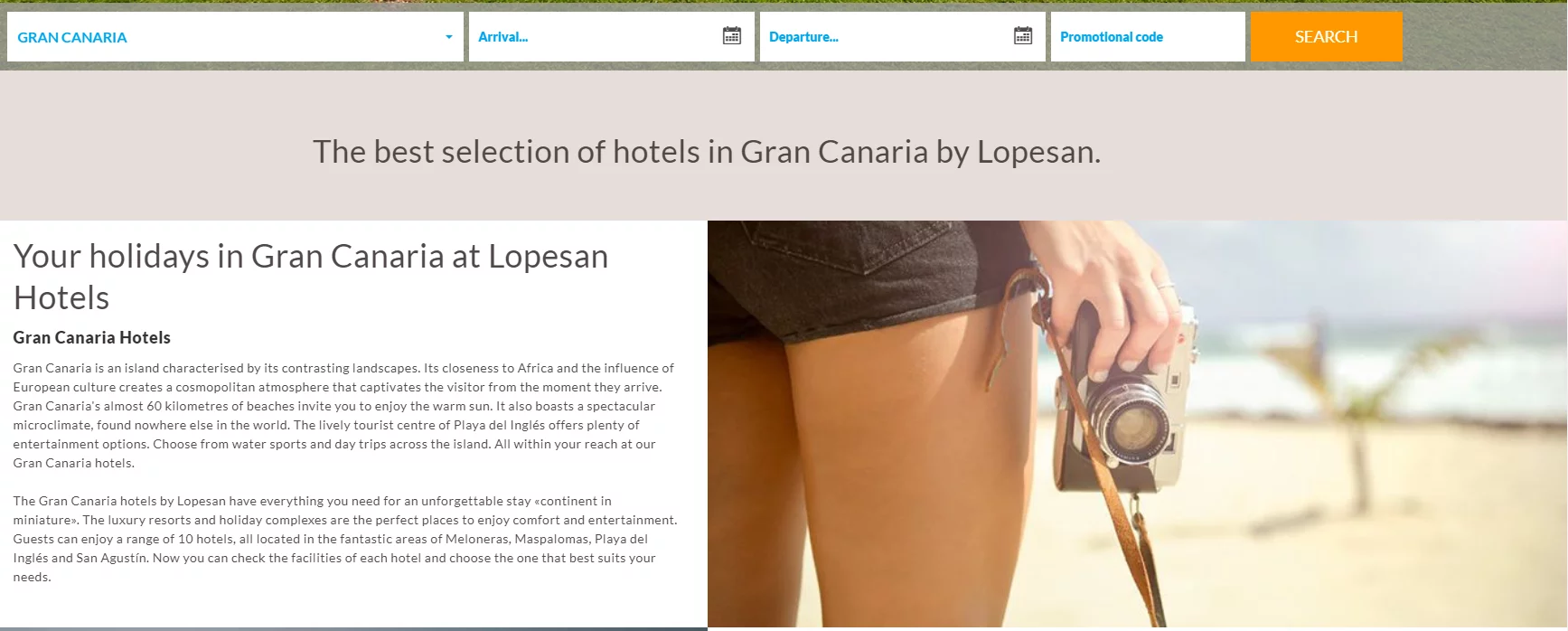 How can I save even more money at Lopesan Hotels?
Try these tips and hints from our experts to save even more cash at Lopesan Hotels.


If you're strapped for cash at the moment, but want to book that perfect holiday, then don't worry. At Lopesan Hotels, you can book now and pay at the hotel.


Subscribe to the Lopesan Hotels newsletter and you'll receive exclusive discounts and news about the latest offers before anyone else.


Lopesan Hotels have a variety of ongoing discounts online. Just click the offers button at the top of the website. You can find a range of locations and hotels that perfectly suit your holiday needs
What seasonal offers do Lopesan Hotels have?
If you're desperately seeking that winter sun, then Lopesan Hotels have got you covered. They have a range of deals running all the way through this freezing season, to make sure that you've got a little extra sunshine in your life. It doesn't matter if you're booking for your next big summer holiday, or just squeezing in a week away at Easter, January sales are always the one to watch. Make sure you're subscribed to the Lopesan Hotels newsletter, so that you can get the best discounts for the best resorts.
Arbora Hotels by Lopesan Hotels
Gran Canaria is a hugely popular holiday destination, with sun, sea and stunning hotels everywhere, you can't go wrong. With Arbora by Lopesan Hotels, you're in for a treat. Named after the Sun God in Guanche mythology, there's no better place to enjoy the stunning weather.With a few different hotels in the range, we've made a list of them, so you know exactly what each one offers, and which one is right for you.
Buenaventura
In the south of Gran Canaria, you have the
Abora Buenaventura
. With beautiful stretches of fantastic beach around, you can soak up the sun in style. With the perfect, warm climate, calm waters and plenty of activities to get stuck into, it'll be a holiday to remember. Whether you're going with the family, or just fancy some time away with a loved one, you'll be catered for. Being a 4-star hotel located in the centre of Playa del Ingles, you'll have luxury at your accommodation, and all the shopping, fun, and nightlife you can handle when you leave. Whether you're looking to sip a cocktail in the sun, or fancy taking a dip in the ocean, you won't be left wanting.Go for an all-inclusive holiday experience and keep an eye out for some stunning savings so you can sit back, relax and save.
Catarina
For those heading to the Canaries, you can't do much better than
the Abora Catarina
. Grab an all-inclusive deal so you can spend your getaway living the life of luxury, without breaking the bank.With a functional, fresh and modern design, it's a stunning place to stay. With spacious, bright spaces and tones of green outdoor space, and pools, so you can relax to your hearts content.With play areas for the kids, swimming pools for everyone, delicious food on your doorstep, you'll want to stay at the Catarina so you can make the most of your time in the Canaries.
Continental
For those looking to spend some time on the beach in the beautiful sun, it's worth
staying at the Abora Continental
. With the beach a few metres from the doorstep, you're never far away from some rest and relaxation. Plus, with the gorgeous weather, you can work on your tan.With tons of food options, from 24/7 snack bars, to food-to-go options, you won't go hungry. On top of that, you can keep busy on your holiday, with tons of activities ranging from darts and diving to surfing and shuffle boarding.
It's worth keeping your eye out for voucher codes so you can really make the most of your money this holiday.
Interclub Atlantic
For an unrivalled coastline, the
Abora Interclub Atlantic
is the place for you. Located in San Agustin, one of Gran Canaria's most traditional tourist destinations, it's a high-class resort on the top slopes of a mountain, it's a peaceful haven that makes for an incredible, relaxing holiday.There's a broad range of leisure activities, with boutiques, sports and evening shows going on, you'll never go bored. Top that off with some awesome food options. With local dining options, food trucks, buffets, food-to-go and 24/7 options, you won't go hungry either.So, for a holiday filled with rest, relaxation, and leisure in the Canary Islands, it's a great option. Whether you're taking the family or looking for an adult holiday, you'll have a ball.
And to really make the most of your money it's worth checking out MyVoucherCodes. With all the latest news and offers in one place, you can save yourself a small fortune on hotel stays.
FAQs
Can I get a Lopesan Hotels discount code?
Lopesan doesn't often use codes to deliver savings to customers. Instead they have regular sales and deals that bring fantastic discounts to bookings. Check in with MyVoucherCodes before you book to see all the best offers available.
When is the Lopesan sale?
Lopesan run sales throughout the year to help customers save on dream stays. You'll find full details of all sales and discounts on their MyVoucherCodes page as soon as they go live. A good rule of thumb is to look for your hotel in winter when demand is low.
Can I check in online?
Yes, to save you time you can complete your check in online. To
complete your check in
, follow the link and fill out the form on the page.