View Terms & Conditions

View Terms & Conditions

The following postcodes are not eligible for UK express: AB, EI (ZZ75), FK, G, GY, HS, IM, IV, KA, KW, PA, PH, TR, ZE.
Offers for Beauty Pie were last updated Thursday 19 May 2022 13:41
Beauty Pie Codes That You've Missed
FAQs
Is there a free delivery option at Beauty Pie?
Unfortunately, there is currently no free delivery option available. The cheapest shipping option is UK Standard Delivery. This will get your orders to you in 3-5 working days and is charged at £3.36.
Is there a next day delivery option?
Yes, there is a UK Express delivery option available that uses DPD to get your order to you on the next working day. This service is charged at £6.29, but there are some postcode exclusions. Full details can be found on their dedicated delivery page.
How do I contact Beauty Pie?
There are a variety of ways to get in touch with the customer service team. You can send an email to customer.service@beautypie.com for a response within 24 hours. If your query is urgent, you can call +44 808 164 8264 and speak to a member of the team directly. This is available 7 days a week, 9am-8pm.
What payment methods do Beauty Pie accept?
They accept American Express, Mastercard, Maestro and Visa credit and debit cards. They also accept payments made via PayPal.
Can I get a Beauty Pie promo code?
There isn't a regular discount code available, but keep your eyes peeled here at MyVoucherCodes, because we've also got the latest deals, offers to save you money on all your favourite beauty products. And if a voucher code does drop, you'll find it here first.
Hints & Tips
Use our hints and tips to get more out of your Beauty Pie shop and save money as you upgrade your beauty collection with luxury products.
You can shop all the stellar products without joining, but special member pricing means you'll save more if you do. Subscriptions start at £5 a month and you'll instantly unlock up to 80% off top beauty. This is what the company was created for and becoming a member is the best way to secure massive savings on your everyday essentials.
Your membership includes a monthly spending limit, but you might not need to use all of it every month. Whatever you don't spend will be rolled over to the next month so you don't miss out. And if you find you want to go a bit extra, you can upgrade your monthly limit whenever you want.
PIEDAYS are special days that mean you can shop specific products without using up your precious spending limit. They aim to offer 4-6 PIDAYS a year for members so keep your eye out. They'll always shout about these fabulous member only events, and they're the best time to stock up.
If you love your subscription, spread the word. Any friends or family that join will get their first month free and if they stay on you'll be rewarded too. It's a fantastic way to get a little extra, and make sure your favourite people are getting the beauty products they deserve.
How To Use a Beauty Pie Discount Code
Follow these steps to apply your Beauty Pie voucher code and save more on top beauty products with every shop:
Begin by finding a discount code that applies to the product(s) you want to buy. When found, unlock the code by clicking 'Get Code'.
Open the Beauty Pie website using a different tab and begin browsing the site for your items. Alternatively, search for them using the search bar.
Add each item to your cart, ensuring it is covered by your code.
Proceed to checkout once finished and make sure you have everything you want to buy.
Copy and paste your Beauty Pie promo code into the 'Promo card or gift card number' box and click 'APPLY' to complete.
A Beautiful Summer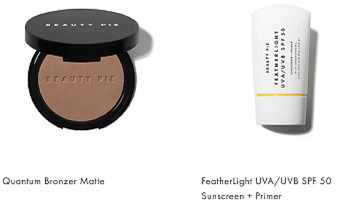 Whether you're hitting the beach on sunnier shores this summer or keeping it close to home, the Beauty Pie summer edit will keep you beauty go bag packed with luxury products that don't come with the VIP price tag.
Beauty Pie Bronzer
If you want that glowing look when you're still working on your tan in the early days of summer, the selection of bronzers will give you a natural glow that looks straight off the beach. That's a gorgeous looking tan and no passport in sight.
Beauty Pie Moisturiser
After a long day on the sun lounger, getting moisture back into your skin is essential. These luxurious moisturisers come packed with vitamin C, Hyaluronic acid, and other key ingredients will start to repair any cell damage and leave your skin looking it's beautiful best.
Beauty Pie Sunscreen
Sunscreen is a must for you beach bag this summer and the Beauty Pie selection brings all that SPF protection and the added primer will keep you and your next level look safe while you're out enjoying the sun.
Get Your Beauty Routine Winter Ready
With the colder weather fast approaching it's time to switch up your beauty routine and keep your skin looking fabulous through autumn and Winter. The collection of Beauty Pie luxurious skincare products can help you take care of yourself for less in winter 2021.
Cold winter weather can dry out your skin fast and can leave you feeling dry and flaky. If that sounds too familiar, you need to up your moisturising game once the thermometer dips. Opt for alcohol free products as the alcohol will dry your skin more and apply regularly to keep you skin looking and feeling better this winter.
Extra exfoliation is another top tip for any beauty enthusiast seeing out winter. As your skin dries, dead cells are left behind that will build up in your pore and cause breakouts. Look for exfoliants high in glycolic, lactic and salicylic acids to promote healthy skin turn over and keep those pores clear.
While you're giving your beautiful skin attention, don't forget about your lips. Chapped lips are a common problem in the Winter months and they can become dry, cracked, and even painful if left unchecked. Repair your lips with products rich in lanolin, vitamin A and vitamin E and help protect them from the elements.
You'll find all your winter essentials at Beauty Pie with up to 80% off the retail price. If you can throw in a voucher code too, that adds up to serious savings.