Argos Hints & Tips
Whatever you need, you'll probably find what you need at Argos, but with these hints and tips, you can make sure you're bagging a bargain.
The Argos clearance
The clearance section is where you'll find the absolute steals across a bunch of categories. Make sure you check it out every time you visit the site because the lines are always changing.
Free Argos Click and Collect
Make sure you don't have to spend a penny extra on delivery by opting for the free click and collect service. Be sure to check out how the Coronavirus is impacting this service before you buy.
Argos Newsletter
Get yourself signed up to the newsletter, where you'll get all the latest Argos deals and offers sent straight to your inbox, and all you need to do is pop in your email address.
Argos Voucher Code Page
You'll find all the latest money-saving codes on this page, so it's worth checking out. As soon as they go up you'll catch Argos discount codes listed here at MyVoucherCodes too.
The Argos Card[/h]
This store card lets you spread the cost of your orders and pay using flexible monthly payments. This is a good option if you are ordering big buys like furniture or electronics.
Argos Wishlist
The Wishlist is a superb way of keeping track of the products you'd love to take home. They can stay there until you've got the budget and there's even a chance you'll find a personalised discount in your emails.
Argos Xbox Series X
You can always count on the latest consoles finding their way to Argos. The Xbox Series X is now different and there are regular stock drops for this sought after next generation of gaming.
Argos Home
Spring isn't far away and that's the perfect time to get stuck into the home improvements. Checkout the giant selection of Argos table lamps, Argos wall clocks, and Argos blackout curtains for all the little touches that pull a room together.
Argos FAQs
What are my local Argos opening times?
Following government guidance, selected stores are now open. You can order and pay in-store, but it is advised to keep visits as short as possible. As ever, you can order for delivery online for fast home delivery.
Is there Argos free delivery?
They do offer free delivery on large kitchen appliances. Otherwise, you can get delivery from £3.95.
Can I use Nectar Points at Argos?
Yes, once you link your Argos and Nectar accounts, you can use your points to pay online. If you are shopping in-store, you can produce your Nectar card at the checkout.
How Can I Apply For An Argos Card?
There are three ways to apply for your Argos Card. You can apply at the checkout, in advance online, or in any Argos store. If you choose in advance, your card will take up to 10 days to arrive, and in-store you will need to show valid ID and a utility bill.
Is There An Argos Near Me?
Probably, yes. With their ongoing partnership with Sainsburys, there are Argos stores in every corner of the country. You can use the
store locator
to find your nearest Argos.
How do I find out if my nearest Argos branch is open?
On their store locator you can find your local store and find out if Argos is open. It varies currently with Coronavirus tier restrictions having an impact.
Do Argos Price Match?
Unfortunately, they do not currently price match. However, they are confident that they offer the best value around and if you add an Argos voucher code to you order, you'll get an incredible deal.
How can I contact Argos?
If you have checked the FAQs and still have questions you can get in touch with the Argos Customer Service team via Facebook or Twitter. You can call them on 0345 640 2020 for Fast Track Delivery or Click and Collect queries. You can even write to them at Argos Direct, Acton Gate, Stafford, ST18 9AR.
Is Argos open in lockdown?
Currently, Argos stores are shut, but it's worth keeping an eye out on the
Argos Coronavirus service impacts
page to get the latest information. You can still buy online.
Do Argos offer an installation service?
Yes, you can get Argos installation on a range of products from as little as £80. They are also able to recycle your old appliances for a small charge. Visit the dedicated page for all
installation and recycling information
.
Can I reserve an item?
Unfortunately, due to the coronavirus pandemic and unprecedented levels of demand, the reserve an item functionality has been suspended for the time being. It is likely this will return in the future.
What Argos product care is available?
This varies from product to product, but Argos have an exceptional support team available and a dedicated site to assist every customer. Visit the
Argos Support
site to download instruction manuals, watch 'how to' videos and get all the support you and your new products need.
What are Argos returns pallets?
You may have heard about returns pallets in the news recently. They are bulk buy offers on returns products that can no longer be sold in store. While they can have up to 80% off, they are useful for sellers, rather than people looking for a bargain.
Using Your Argos Discount Code
Follow our simple instructions to save cash on your next shop with an Argos discount code.


Browse the Argos Discount page and select the offer you'd like to use


Click 'Get Discount' to uncover your you money-saving code


MyVoucherCodes will automatically open a new tab and take you to the relevant Argos store page


Shop the vast range of products and fill your basket


Once you've finished choosing, click the Basket icon in the top right corner of the page


You'll be asked to enter your postcode to reveal all your delivery options


Sign in or create a new Argos account. Creating an account will make your next purchase much faster


Once you've supplied your delivery address you'll arrive at the billing page. Here you will fill in your card details and enter you Argos code into the dedicated box. Click apply once this has been pasted in


With the discount applied it's time to hit checkout and wait for all your shiny new products to arrive
Argos Delivery Options
No matter what you're ordering, Argos have delivery options that will get your goods to you when they need them most. Here we run through all your choices and key information including cost and timeframes.
Argos Click and Collect
If you're able to visit a store you can use the free click and collect service. Once you've placed your order you will receive a text message to let you know it's ready for collection. You then have 7 days to pick up you package from your chosen store (this can be extended by a further 7 days if you need it). This service is free of charge.
Argos Standard Delivery
When you place your order before 8pm you may be able to receive your order the next day. If not, it will take up to 3 days to arrive and Standard delivery starts at £3.95. Argos standard deliveries run Monday – Saturday.
Argos Fast Track Delivery
Fast track same day delivery is available when you order before 5pm and it will get your package to you by 10pm that day. You will be given a choice of time slots and this service runs 7 days a week. Fast Track delivery starts at £3.95.
Argos TU Clothing Delivery
TU clothing orders placed before 2pm on Monday – Friday are eligible for next day delivery Any order placed from 2pm Friday – 2pm Sunday will be delivered on Monday. TU clothing deliveries start from £3.95.
Large deliveries (anything that requires more than 1 person to carry) and Large kitchen appliances have different delivery options and you can find a full breakdown of your Argos delivery options on their dedicated page.
How to Save More at Argos
Shopping sales, searching the clearance section, and keep your eyes peeled for Argos promo code are standard ways of securing a saving when you shop. But if everyone else is paying the same, are you really saving? Take a look at our crafty tips for picking up a saving that most people miss out on..
Argos Newsletter
We know this ones not exactly news, but are you taking advantage of it? Most people sign up for the enitial 5% off orders and then they're banished to the spam folder. If you actually open the things, you'll find some of the best offers available. These emails are sent to entice you and contain some real savings, often tailored to your shopping history.
Argos Wishlist
This one might be something of a shopping urban legend, but the story says that if you leave items on your Wishlist for a couple of weeks, a discount will magically appear in your inbox. We're not sure. Sometimes the offers appear, sometimes they don't, but it's worth a shot for holding off for while.
Argos Discount Code Ts&Cs
Before you checkout with your Argos discount codes, give the Ts&Cs the once over. Sometimes they allow you to stack codes together and increase your savings. We're not saying this is common, but it does happen and for the sake of taking 2 minutes to have a read, you could save yourself more money your order.
Argos Live Chat
Now we're certain most people haven't tried this, but it is true and could unlock an extra saving. Live chat operators may have the option to knock a percentage of your big order if you ask them nicely. You have to pick your battles and be prepared to barter, but if your brave enough to give it a go, you could end up saving more than anyone else.
Seasonal Shopping Guide

The shopping icon that is Argos has been serving British customers since 1972 and for over 45 years they have been supplying shoppers throughout the year. Here we take a look at the best they have to offer in every season to help you plan your purchases and save time when you shop.
Spring Refresh
Spring is a time of new life, rebirth, and fresh looks all round which is why many people look to switch up their home style when March hits. It's all about finding a reinvigorating twist on your familiar rooms and the Argos home collection has everything you need to shake things up. That could be statement making furniture or gorgeous, and super soft, new bedding, but you'll find the perfect addition to your room on site.
Summers Outdoors
If you're not spending your summer outside, you're not doing it right. It doesn't matter if your heading to the beach or firing up the BBQ for the first time, when the June sun starts to shine, it's time to get out of the house. The massive collection of Argos garden furniture will get your space ready to host a stellar get together and there's options for every budget. Just imagine the kids laughing in their new paddling pool, burgers sizzling away on the new grill, and you lying back on a stylish sun lounger with a iced pina colada cooling you down. That blissful daydream can be made reality at Argos.
Autumn Style
It may signal an end to lazy sunny days, but autumn is a popular choice for favourite season. Pumpkin spiced lattes make a comeback and skimpy shorts are replaced by cosy jumpers and we've got all the time for that. This is another common time for a style switch because all the Autumn/Winter collections start to drop. The Argos clothes collection has key style for the whole family and TU clothing is known for fantastic value wardrobe essentials.
Winter Gifting
Winter shopping is all about getting those gifts in and putting smiles on faces. If you've got kids on your gift list you've come to the right place. Flipping through the catalogue was how every kid came up with their letter to Santa. These days the collection of Argos toys has moved online but the vast choice remains. There's perfect prezzies forever little one, and top tech gadgets for big kids too.
The BBQ Essentials
With summer fast approaching and the covid-19 restrictions relaxing to allow up to six people to meet up outside, garden meet ups are back. And there's no better way to get together in the garden than firing up the grill. If you want to BBQ on a budget, we're here to help with this guide to the best value essentials in the Argos BBQ collection.

Argos Charcoal BBQ
Charcoal barbecuing is the best way to get that authentic smoky flavour into your meat and veg. But get big flavour doesn't have to come at a big price, and you can pick up a grill that will cook up all your burgers from as little as a tenner. If you want to take the BBQ on the move Home Portable BBQ is an easy option for only £12.50. But that will only hold a few burgers. If you're feeding the whole family, you need something more substantial. An Argos Oil Drum BBQ will give you all the space you need for £40. It's offers superb value and excellent cooking potential.
Argos Gas BBQ
Gas barbeques are the more expensive option, but they offer more flexibility and greater temperature control to ensure your medium rare stays pink. Even though gas is more expensive than charcoal, you can still find a fabulous deal to get you grilling. The 2 burner option is perfect for small get togethers and will get tasty treats cooked up without a fuss. If you're a bit of a BBQ buff, you might want to go top of the range. The Deluxe 3 Burner Outdoor Kitchen perfect for everyone that wants to get their BBQ done right. Whether you want to go for charcoal of gas, Argos has superb deals on top grills that are made for sizzling. And if you grab yourself one of our Argos discount codes, you'll cook up an extra saving on top.
Argos PS5 Stock
The release of the Sony PS5 late last year saw unprecedented levels of demand as gamers scrambled to get their hands on the latest generation of consoles. And it's been no secret that retailers up and down the country have struggled to keep their shelves stocked with the game defining tech.

Now fans are being put on notice and told to collect their loot, because new stock is rumoured to be on the way to the Argos gaming section. Stock hunters are convinced that consoles will hit the shelves soon and you might be able to finally grab yours.
But you're not guaranteed to collect yours when the mad rush starts. There is no scheduled day when stock will arrive, and it will drop without any warning. Only the quickest of the mark will score their console.
If you want to make a PS5 makes it to your living room, you need to be ready. Stock has a habit of going live in the middle of the night. Make it a habit to check the Argos website before you let your head hit the pillow every night. But you might be better off setting an alarm for the small hours. Argos has revealed that 3AM is a common time for them to release PS5 because it keeps the website running smoothly.
Downloading the Argos app is another good way of staying on top of any PS5 stock updates. It makes it easy and quick to find out when consoles are on the shelf again. In the meantime, Argos has all the PS5 games, accessories and leads you need to be ready when you take your new console home.
Spring Garden Sort Out
The sun is shining (sometimes), the rain has stopped (occasionally) and spring is almost here to warm things up a bit. But when you look out your window you see a winter ravaged garden that you'd rather not spend time in. Argos garden has got everything you need to fix that, and you'll dig up an incredible deal too.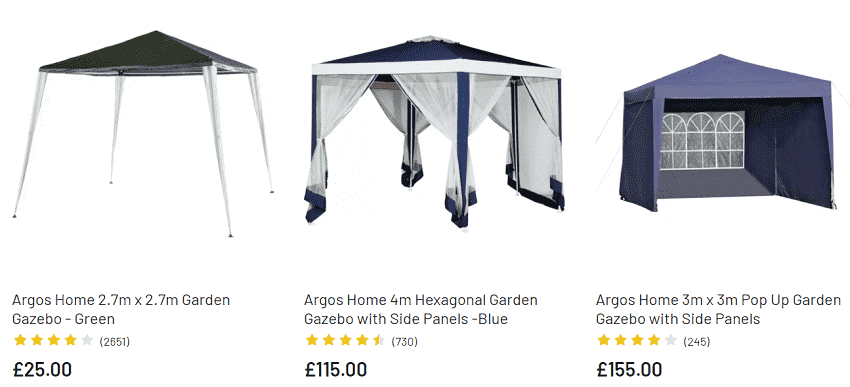 Argos Garden Furniture
To create a gorgeous space you'll love to spend time in, you'll need to find the furniture that is made for relaxing. Garden chairs and tables can be expensive, but Argos have a selection that match every budget. You can go for a beautiful rattan set, or a simple plastic set up that will give you somewhere to chill without having to break the bank.
Argos Gazebo
Once we get to BBQ weather, there's no better addition to a garden than a gazebo. They create a shady spot to relax in and section off a garden nicely. And they're perfect if you have young children that need to get out of the sun for a bit. They can often seem like an extravagant purchase, but you can pick one up for as little as £25 from Argos.
Argos Garden Lights
Long nights in the back garden with a glass of wine are what summer is all about. But you don't want to be sat in the dark with only the glow of your phone to light up the night. Solar lights are a super simple and inexpensive way of brightening up your garden when night falls. Don't forget that fairy lights aren't reserved for Christmas and they'll create a relaxing ambience to chill out in all night.Get your garden ready for summer without spending a fortune by grabbing an Argos discount before you shop.