Harvester Restaurant FAQs
Can I get a Harvester takeaway?
Yes. There is a menu available with all the foods and drinks available for takeaway. You can find your nearest Harvester for takeaway by searching with the tool, whether it's for a takeaway or you'd like to dine-in. Harvester takeaway orders will be delivered by Just Eat or Deliveroo.
How can I find a Harvester near me?
In the restaurants tab of the Harvester website, you can enter your location or a post code, and you'll get your nearest Harvester restaurants listed.
Can I book a table?
Yes, you can book at table at your local Harvester online using their online booking tool. All you need to do is select your restaurant, choose the table booking tab and fill out the form.
What are the opening times?
All of Harvester's restaurants are open 7 days a week. However, the opening and food service times do change depending on the location. To find the opening times for your local restaurant, check the restaurants page.
Other Harvester FAQs
Do Harvester offer voucher codes?
There aren't typically Harvester vouchers. However, there are plenty discounts, multi-buy offers and freebies on offer. Check MyVoucherCodes for the latest deals.
Do Harvester offer gift cards?
Yes, Harvester offer gift cards. You can purchase Harvester gift cards for any denomination of £5, all the way up to £250 each.
Is there a Harvester app?
Yes, there is. You can download the Harvester app from the Apple App Store or the Google Play Store. The app allows you to earn and collect rewards, book tables, order and pay, access VIP offers, order takeaways, buy gift cards and view the menus.
How to use your Harvester discount code
1. Select your favourite Harvester discount code from the MyVoucherCodes website.


2. Open up the Harvester website on a new windows page and begin shopping.


3. Double-check your Harvester discount code to make sure it applies to your order.


4. Once you have everything you'd like in your basket, head to the checkout.


5. Copy & paste your Harvester discount code into the code box to secure your shopping savings.
About Harvester
Since 1983, Harvester has been known for its family-friendly approach to dining that serves up delicious meals fresh from the grill, and the all-you-can-eat salad bar for starters. Their sizzling main menu rustles up meals from around the world and they're all served in a laid-back atmosphere.
Whenever you crave some good home-cooked food without washing up you'll never be far from one of their over 230 restaurants and a Harvester discount code will help you save on a tasty treat.
Payment Methods Harvester accept payments by most major debit and credit cards as well as Apple Pay and Google Pay. You can also pay using the Harvester app or gift cards.
Contact To get in touch with Harvester, just head over to the 'Contact us' page on their website.
What We Love About Harvester With delicious grilled dishes and an all-you-can-eat salad bar, Harvester is always a great choice for meals out and time spent with those closest to you.
Enjoy A Saucy Dinner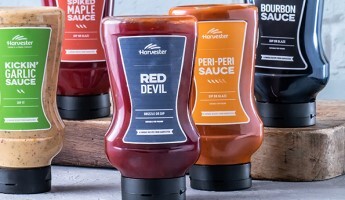 There's a sauce to go with every meal, but the trick is finding the perfect complimentary flavours, a task that can be a little tricky. Harvester's menu is filled with everything from tapas and salad bowls, to slow-cooked ribs and burgers. With all these flavours, Harvester decided the best course of action is to release their own line of Harvester sauces!
There's no end to the flavours available. If you like a bit of spice with your meal, you might be tempted by the Harvester Peri Peri sauce. This signature sauce delivers a tangy spice that will add an extra punch to any meal. That not spicy enough for you? Their Naga Hot Chilli sauce could be right up your alley, if you can handle it that is!
But spicy isn't the only thing on their flavour palate. Add another layer to your meal with Harvester's Kickin' Garlic sauce, or their Bourbon bbq sauce. You'll never have a bland mouthful again when you relish in these amazing sauces. Your salads, chicken, whatever you choose, will be so much happier when you add a coating of these bad boys!
Getting your sauces right can be the make or break of any meal so why not bring some of that Harvester taste right into your front room for your dinner time favourites. If spicy flavours, garlic notes, or bbq smokiness then it's time to dip your tongue into these mouthwatering sauces. So get one of our Harvester discount codes and take the family tea times up to another level!
Healthy Vegetarian Dishes
Harvester might be famous for throwing chicken and ribs on the grill, but it's not only for meat-eaters. If you live a meat-free life, you can get delicious meals with the famous salad bar starter too. Here are our picks for the tastiest vegan and vegetarian options on the menu.
You can't beat a good burger, and vegans don't need to miss out on the comfort food classic goodness thanks to The Purist burger. A Moving Mountains plant-based patty with a melting slice of mature Violife and extra special burger sauce to pack in the flavour. Yes, please.
If you miss the taste of good old-fashioned fish and chips, the herb battered halloumi and chips is a pretty tasty replacement. It comes with tartare sauce and peas for the traditional flavours of a chippy tea, and it's got halloumi so we're all in.
How do we source discount codes?
At MyVoucherCodes, we're lucky to have a team of hard-working individuals who are dedicated to finding you the best possible discount codes, deals and offers that are currently available. We also work closely with retailers to secure exclusive promotions; providing you with unique savings that you won't find anywhere else.
We keep in touch with retailers and brands
Based in London, our Commercial team is a key part of everything we do. They know the industry, and they work tirelessly to build relationships with big-name retailers in order to secure exclusive offers and rewards that are then passed on to our customers. They keep their ear to the ground for any upcoming offers and sale events too, meaning we're always ahead of the game when it comes to updating our website.
Our team scours the web for discounts
They work in tandem with our Deal Experts, who can be found at our Cardiff office. These deal-finding wizards scour the web for all of the best discounts and promotions around, before loading them onto our website for customers to enjoy. They also work closely with affiliate networks that keep us informed of the latest offers for the retailers they represent. Our dedicated retailer pages are updated at least twice a week, meaning you can be confident that the voucher codes you're seeing are up-to-date and valid.
We share our money-saving knowledge
On our retailer pages, you'll notice in-depth information about the brand and researched hints and tips on how to save money when shopping online. This is where our Category Editors come in - they know a thing or two when it comes to savvy shopping. From technology, health & beauty and fashion to food & drink, home & garden and travel, they keep all pages up to date with content that is designed to make your shopping experience that little bit easier and to help you save money in the process. For more information on the MyVoucherCodes team and the company as a whole, be sure to check out our About Us page.
What if my discount code doesn't work?
As a collaborative team, we do our best to ensure that incorrect or outdated discount codes and offers aren't listed on any of our retailer pages. To do this, we test the codes ourselves to make sure that they work and aim to give as much guidance as possible with regard to how they are supposed to be used.
However, sometimes details change or codes expire without us knowing. If you find this to be the case, you can get in touch by emailing info@myvouchercodes.co.uk or by visiting our contact page.
How we make money
Using our discount codes is totally free, although we understand that this may seem too good to be true. Like all businesses, we need to make money, and we do this via commission-based relationships with brands and retailers - we earn a small percentage from the retailer every time someone uses a code on our website or clicks through to a sale.
We also make money by offering the brands we work with the chance to buy some extra space on our website, in turn giving more exposure to their biggest and best discounts. And that's it! By using this model, we're able to do what we do without charging our customers a penny.