Theatre, Shows & Concerts Discount Vouchers
53 live offers in Theatre, Shows & Concerts
EXCLUSIVE
View Terms & Conditions

View Terms & Conditions

The £10 Buyagift digital gift card giveaway ("Promotion") is subject to the following terms and conditions. By entering the Promotion entrants will be deemed to have read and accepted these terms and conditions.
The Promotion is organised and operated by Future Publishing Limited trading as My Voucher Codes incorporated in England and Wales under company number 02008885, whose registered office is Quay House, The Ambury, Bath, BA1 1UA ("Promoter").
The Promotion is open to all UK residents aged 18 years or over except employees of the Promoter, their families, agents and anyone else connected with the administration of the Promotion.
The Promotion will run from 1 Oct 2022 00:00 until 2 Jan 2024 23:59 ("Promotion Period").
All entrants who during the Promotion Period: (i) subscribe to receive the Promoter's electronic marketing; and (ii) Buyagift confirms have spent £70 or more (excluding VAT, all gift card purchases and top-ups and delivery or collection charges) at Buyagift (the "Qualifying Purchase(s)") via the link provided on www.myvouchercodes.co.uk ("Promoter's Website") shall be eligible to receive a free £10 Buyagift ("Gift Card(s)").
You will not be entitled to a Gift Card if you click on any other links or visit any other websites before making your purchase at Buyagift or if you make use of any other offer or promotion in connection with your purchase which is provided by the Promoter or Buyagift (including any discounts, codes, savings, credit and/or points).
Only one (1) entry per entrant during the Promotion Period shall be accepted.
Gift Cards redeemed against Buyagift purchases will be available up to 90 working days after your confirmed date of travel.
Gift Cards may be downloaded via the "member section" of the Promoter's Website. Entrants should note that Gift Cards may expire after a certain date and their use may be subject to the retailer's own terms and conditions.
No entries from agents, third parties, organised groups or applications automatically generated by computers will be accepted. No incomplete or corrupted entries will be accepted. Any entries not made during the Promotion Period or otherwise in accordance with the entry instructions and these terms and conditions will be rejected.
The Promoter reserves the right to substitute, in its sole discretion, the Gift Card with an alternative award of equal or greater value.
The Promoter reserves the right to cancel the Gift Card in the event of: (i) the Qualifying Purchase being cancelled by {merchant name}; or (ii) the entrant cancelling, returning or part-exchanging the Qualifying Purchase.
The Promoter reserves the right to ask for satisfactory proof of identity, age and/or address as a condition of awarding the Gift Card.
The Promoter reserves the right to postpone, void, cancel, suspend, or amend the Promotion where it becomes necessary to do so. Any changes to the Promotion or these terms and conditions will be posted on the Promoter's Website at www.myvouchercodes.co.uk.
Personal data submitted by entrants in connection with the Promotion will be processed by the Promoter in accordance with the Promoter's privacy policy, which is available at www.myvouchercodes.co.uk/privacy.
To the maximum extent permitted by law, the Promoter, its agents and/or distributors will not in any circumstances be responsible or liable to compensate entrants or accept any liability for any loss, damage, personal injury or death occurring as a result of use of the Gift Card except where caused by the negligence of the Promoter, its agents, distributors and/or that of their employees. Your statutory rights are not affected.
The Promotion and these terms and conditions are governed by the laws of England and Wales and are subject to the exclusive jurisdiction of the English and Welsh courts.
EXCLUSIVE
View Terms & Conditions

View Terms & Conditions

The £10 Marks and Spencer digital gift card giveaway ("Promotion") is subject to the following terms and conditions. By entering the Promotion entrants will be deemed to have read and accepted these terms and conditions.
The Promotion is organised and operated by Future Publishing Limited trading as My Voucher Codes incorporated in England and Wales under company number 02008885, whose registered office is Quay House, The Ambury, Bath, BA1 1UA ("Promoter").
The Promotion is open to all UK residents aged 18 years or over except employees of the Promoter, their families, agents and anyone else connected with the administration of the Promotion.
The Promotion will run from 25 Apr 2023 00:00 until 2 Jan 2024 23:59 ("Promotion Period").
All entrants who during the Promotion Period: (i) subscribe to receive the Promoter's electronic marketing; and (ii) Red Letter Days confirms have spent £70 or more (excluding VAT, all gift card purchases and top-ups and delivery or collection charges) at Red Letter Days (the "Qualifying Purchase(s)") via the link provided on www.myvouchercodes.co.uk ("Promoter's Website") shall be eligible to receive a free £10 Marks and Spencer ("Gift Card(s)").
You will not be entitled to a Gift Card if you click on any other links or visit any other websites before making your purchase at Red Letter Days or if you make use of any other offer or promotion in connection with your purchase which is provided by the Promoter or Red Letter Days (including any discounts, codes, savings, credit and/or points).
Only one (1) entry per entrant during the Promotion Period shall be accepted.
Gift Cards redeemed against Red Letter Days purchases will be available up to 90 working days after your confirmed date of travel.
Gift Cards may be downloaded via the "member section" of the Promoter's Website. Entrants should note that Gift Cards may expire after a certain date and their use may be subject to the retailer's own terms and conditions.
No entries from agents, third parties, organised groups or applications automatically generated by computers will be accepted. No incomplete or corrupted entries will be accepted. Any entries not made during the Promotion Period or otherwise in accordance with the entry instructions and these terms and conditions will be rejected.
The Promoter reserves the right to substitute, in its sole discretion, the Gift Card with an alternative award of equal or greater value.
The Promoter reserves the right to cancel the Gift Card in the event of: (i) the Qualifying Purchase being cancelled by {merchant name}; or (ii) the entrant cancelling, returning or part-exchanging the Qualifying Purchase.
The Promoter reserves the right to ask for satisfactory proof of identity, age and/or address as a condition of awarding the Gift Card.
The Promoter reserves the right to postpone, void, cancel, suspend, or amend the Promotion where it becomes necessary to do so. Any changes to the Promotion or these terms and conditions will be posted on the Promoter's Website at www.myvouchercodes.co.uk.
Personal data submitted by entrants in connection with the Promotion will be processed by the Promoter in accordance with the Promoter's privacy policy, which is available at www.myvouchercodes.co.uk/privacy.
To the maximum extent permitted by law, the Promoter, its agents and/or distributors will not in any circumstances be responsible or liable to compensate entrants or accept any liability for any loss, damage, personal injury or death occurring as a result of use of the Gift Card except where caused by the negligence of the Promoter, its agents, distributors and/or that of their employees. Your statutory rights are not affected.
The Promotion and these terms and conditions are governed by the laws of England and Wales and are subject to the exclusive jurisdiction of the English and Welsh courts.
View Terms & Conditions

View Terms & Conditions

This promotion is: (i) only valid on the retailer's website; (ii) subject to availability; (iii) must be used before the expiration date; (iv) cannot be used in conjunction with other offers, promotions or discounts unless stated otherwise; (v) may not apply to taxes or any other fees; and (vi) not transferable or redeemable for cash or credit. Further important things to note about this promotion: The end date of this offer is 8 Dec 2023 23:59 Some products may be excluded. There may be exclusions based on location. The price and discount displayed were correct at the time of publication. The retailer can change, pause or end this promotion at any time without notice. By using this promotion, you acknowledge that you have read and understood the above terms and conditions. For further details, please check the retailer's website.
View Terms & Conditions

View Terms & Conditions

Exclusions may apply, please see site for more details
View Terms & Conditions

View Terms & Conditions

Refer to merchant's site for further details.
View Terms & Conditions

View Terms & Conditions

https://www.cineworld.co.uk/static/en/uk/terms/unlimited-card
View Terms & Conditions

View Terms & Conditions

Prices may vary depending on location and day/time booked. £120 price is available in group 1 and 2 cinemas. £140 for group 3 cinemas. This price is valid Monday to Thursday for up to 20 people between 10am and 4pm excluding school holidays (based on the cinemas local council area) and blockbuster opening weeks. Cineworld Leicester Square and Cineworld Dublin are not included in the offer. Some films will incur an additional blockbuster uplift fee per ticket. Standard 2D screens only, premium formats such as, 4DX, IMAX, ScreenX and Superscreen are excluded. Private hires are subject to availability and only a limited number of screens are available to hire per cinema. Cineworld reserves the right to change or withdraw this offer at any time without notice. All bookings are subject to contract.
EXCLUSIVE
View Terms & Conditions

View Terms & Conditions

The £80 Amazon.co.uk digital gift card giveaway ("Promotion") is subject to the following terms and conditions. By entering the Promotion entrants will be deemed to have read and accepted these terms and conditions.
The Promotion is organised and operated by Future Publishing Limited trading as My Voucher Codes incorporated in England and Wales under company number 02008885, whose registered office is Quay House, The Ambury, Bath, BA1 1UA ("Promoter").
The Promotion is open to all UK residents aged 18 years or over except employees of the Promoter, their families, agents and anyone else connected with the administration of the Promotion.
The Promotion will run from 12 Oct 2023 23:00 until 31 Dec 2023 23:59 ("Promotion Period").
All entrants who during the Promotion Period: (i) subscribe to receive the Promoter's electronic marketing; and (ii) Warner Leisure Hotels confirms have spent £850 or more (excluding VAT, all gift card purchases and top-ups and delivery or collection charges) at Warner Leisure Hotels (the "Qualifying Purchase(s)") via the link provided on www.myvouchercodes.co.uk ("Promoter's Website") shall be eligible to receive a free £80 Amazon.co.uk ("Gift Card(s)").
You will not be entitled to a Gift Card if you click on any other links or visit any other websites before making your purchase at Warner Leisure Hotels or if you make use of any other offer or promotion in connection with your purchase which is provided by the Promoter or Warner Leisure Hotels (including any discounts, codes, savings, credit and/or points).
Only one (1) entry per entrant during the Promotion Period shall be accepted.
Gift Cards redeemed against Warner Leisure Hotels purchases will be available up to 90 working days following the date of the qualifying purchase.
Gift Cards may be downloaded via the "member section" of the Promoter's Website. Entrants should note that Gift Cards may expire after a certain date and their use may be subject to the retailer's own terms and conditions.
No entries from agents, third parties, organised groups or applications automatically generated by computers will be accepted. No incomplete or corrupted entries will be accepted. Any entries not made during the Promotion Period or otherwise in accordance with the entry instructions and these terms and conditions will be rejected.
The Promoter reserves the right to substitute, in its sole discretion, the Gift Card with an alternative award of equal or greater value.
The Promoter reserves the right to cancel the Gift Card in the event of: (i) the Qualifying Purchase being cancelled by {merchant name}; or (ii) the entrant cancelling, returning or part-exchanging the Qualifying Purchase.
The Promoter reserves the right to ask for satisfactory proof of identity, age and/or address as a condition of awarding the Gift Card.
The Promoter reserves the right to postpone, void, cancel, suspend, or amend the Promotion where it becomes necessary to do so. Any changes to the Promotion or these terms and conditions will be posted on the Promoter's Website at www.myvouchercodes.co.uk.
Personal data submitted by entrants in connection with the Promotion will be processed by the Promoter in accordance with the Promoter's privacy policy, which is available at www.myvouchercodes.co.uk/privacy.
To the maximum extent permitted by law, the Promoter, its agents and/or distributors will not in any circumstances be responsible or liable to compensate entrants or accept any liability for any loss, damage, personal injury or death occurring as a result of use of the Gift Card except where caused by the negligence of the Promoter, its agents, distributors and/or that of their employees. Your statutory rights are not affected.
The Promotion and these terms and conditions are governed by the laws of England and Wales and are subject to the exclusive jurisdiction of the English and Welsh courts.
EXCLUSIVE
View Terms & Conditions

View Terms & Conditions

The £60 Amazon.co.uk digital gift card giveaway ("Promotion") is subject to the following terms and conditions. By entering the Promotion entrants will be deemed to have read and accepted these terms and conditions.
The Promotion is organised and operated by Future Publishing Limited trading as My Voucher Codes incorporated in England and Wales under company number 02008885, whose registered office is Quay House, The Ambury, Bath, BA1 1UA ("Promoter").
The Promotion is open to all UK residents aged 18 years or over except employees of the Promoter, their families, agents and anyone else connected with the administration of the Promotion.
The Promotion will run from 12 Oct 2023 23:00 until 31 Dec 2023 23:59 ("Promotion Period").
All entrants who during the Promotion Period: (i) subscribe to receive the Promoter's electronic marketing; and (ii) Warner Leisure Hotels confirms have spent £650 or more (excluding VAT, all gift card purchases and top-ups and delivery or collection charges) at Warner Leisure Hotels (the "Qualifying Purchase(s)") via the link provided on www.myvouchercodes.co.uk ("Promoter's Website") shall be eligible to receive a free £60 Amazon.co.uk ("Gift Card(s)").
You will not be entitled to a Gift Card if you click on any other links or visit any other websites before making your purchase at Warner Leisure Hotels or if you make use of any other offer or promotion in connection with your purchase which is provided by the Promoter or Warner Leisure Hotels (including any discounts, codes, savings, credit and/or points).
Only one (1) entry per entrant during the Promotion Period shall be accepted.
Gift Cards redeemed against Warner Leisure Hotels purchases will be available up to 90 working days following the date of the qualifying purchase.
Gift Cards may be downloaded via the "member section" of the Promoter's Website. Entrants should note that Gift Cards may expire after a certain date and their use may be subject to the retailer's own terms and conditions.
No entries from agents, third parties, organised groups or applications automatically generated by computers will be accepted. No incomplete or corrupted entries will be accepted. Any entries not made during the Promotion Period or otherwise in accordance with the entry instructions and these terms and conditions will be rejected.
The Promoter reserves the right to substitute, in its sole discretion, the Gift Card with an alternative award of equal or greater value.
The Promoter reserves the right to cancel the Gift Card in the event of: (i) the Qualifying Purchase being cancelled by {merchant name}; or (ii) the entrant cancelling, returning or part-exchanging the Qualifying Purchase.
The Promoter reserves the right to ask for satisfactory proof of identity, age and/or address as a condition of awarding the Gift Card.
The Promoter reserves the right to postpone, void, cancel, suspend, or amend the Promotion where it becomes necessary to do so. Any changes to the Promotion or these terms and conditions will be posted on the Promoter's Website at www.myvouchercodes.co.uk.
Personal data submitted by entrants in connection with the Promotion will be processed by the Promoter in accordance with the Promoter's privacy policy, which is available at www.myvouchercodes.co.uk/privacy.
To the maximum extent permitted by law, the Promoter, its agents and/or distributors will not in any circumstances be responsible or liable to compensate entrants or accept any liability for any loss, damage, personal injury or death occurring as a result of use of the Gift Card except where caused by the negligence of the Promoter, its agents, distributors and/or that of their employees. Your statutory rights are not affected.
The Promotion and these terms and conditions are governed by the laws of England and Wales and are subject to the exclusive jurisdiction of the English and Welsh courts.
EXCLUSIVE
View Terms & Conditions

View Terms & Conditions

The £70 Amazon.co.uk digital gift card giveaway ("Promotion") is subject to the following terms and conditions. By entering the Promotion entrants will be deemed to have read and accepted these terms and conditions.
The Promotion is organised and operated by Future Publishing Limited trading as My Voucher Codes incorporated in England and Wales under company number 02008885, whose registered office is Quay House, The Ambury, Bath, BA1 1UA ("Promoter").
The Promotion is open to all UK residents aged 18 years or over except employees of the Promoter, their families, agents and anyone else connected with the administration of the Promotion.
The Promotion will run from 12 Oct 2023 23:00 until 31 Dec 2023 23:59 ("Promotion Period").
All entrants who during the Promotion Period: (i) subscribe to receive the Promoter's electronic marketing; and (ii) Warner Leisure Hotels confirms have spent £750 or more (excluding VAT, all gift card purchases and top-ups and delivery or collection charges) at Warner Leisure Hotels (the "Qualifying Purchase(s)") via the link provided on www.myvouchercodes.co.uk ("Promoter's Website") shall be eligible to receive a free £70 Amazon.co.uk ("Gift Card(s)").
You will not be entitled to a Gift Card if you click on any other links or visit any other websites before making your purchase at Warner Leisure Hotels or if you make use of any other offer or promotion in connection with your purchase which is provided by the Promoter or Warner Leisure Hotels (including any discounts, codes, savings, credit and/or points).
Only one (1) entry per entrant during the Promotion Period shall be accepted.
Gift Cards redeemed against Warner Leisure Hotels purchases will be available up to 90 working days following the date of the qualifying purchase.
Gift Cards may be downloaded via the "member section" of the Promoter's Website. Entrants should note that Gift Cards may expire after a certain date and their use may be subject to the retailer's own terms and conditions.
No entries from agents, third parties, organised groups or applications automatically generated by computers will be accepted. No incomplete or corrupted entries will be accepted. Any entries not made during the Promotion Period or otherwise in accordance with the entry instructions and these terms and conditions will be rejected.
The Promoter reserves the right to substitute, in its sole discretion, the Gift Card with an alternative award of equal or greater value.
The Promoter reserves the right to cancel the Gift Card in the event of: (i) the Qualifying Purchase being cancelled by {merchant name}; or (ii) the entrant cancelling, returning or part-exchanging the Qualifying Purchase.
The Promoter reserves the right to ask for satisfactory proof of identity, age and/or address as a condition of awarding the Gift Card.
The Promoter reserves the right to postpone, void, cancel, suspend, or amend the Promotion where it becomes necessary to do so. Any changes to the Promotion or these terms and conditions will be posted on the Promoter's Website at www.myvouchercodes.co.uk.
Personal data submitted by entrants in connection with the Promotion will be processed by the Promoter in accordance with the Promoter's privacy policy, which is available at www.myvouchercodes.co.uk/privacy.
To the maximum extent permitted by law, the Promoter, its agents and/or distributors will not in any circumstances be responsible or liable to compensate entrants or accept any liability for any loss, damage, personal injury or death occurring as a result of use of the Gift Card except where caused by the negligence of the Promoter, its agents, distributors and/or that of their employees. Your statutory rights are not affected.
The Promotion and these terms and conditions are governed by the laws of England and Wales and are subject to the exclusive jurisdiction of the English and Welsh courts.
View Terms & Conditions

View Terms & Conditions

Refer to merchant's site for further details.
More Information about Theatre, Shows & Concerts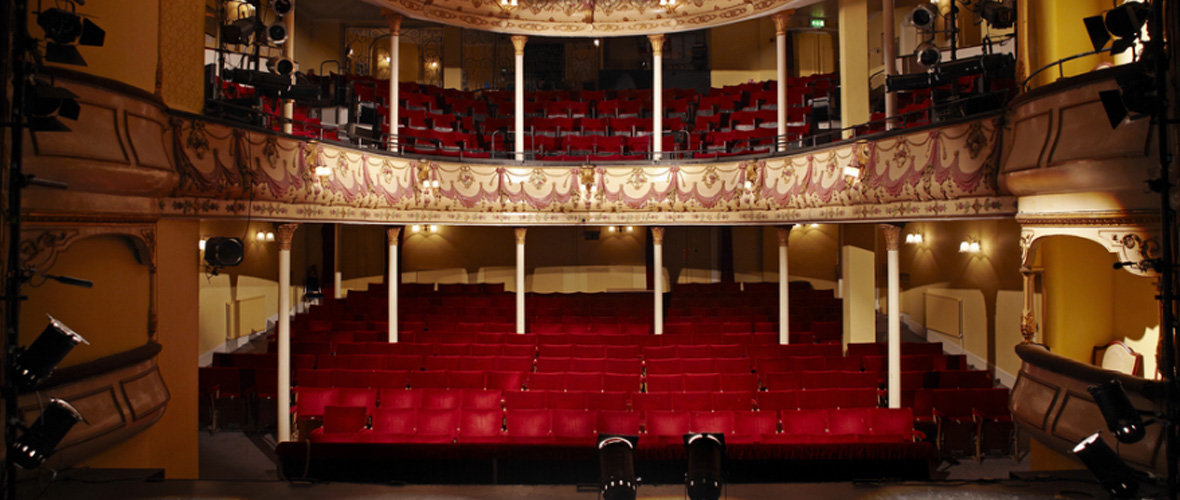 Modern theatre originated from the city state of Athens, where live performances of acted out drama would be played to people as a part of a wider festival. In the medieval ages, live musical performances were performed by troubadours and plays performed by the bards, both recanting tales of war and triumph through poetry and song to their audiences. Today, with huge, big budget productions from the west end and sell out tours by the biggest music artists, we can can enjoy a wide range of live entertainment. So why not create some incredible memories and experiences, go and see your favourite artist do what they do best, live.
Example Offers
The MyVoucherCodes team work hard to find the best offers and deals around, here are a few of the best deals that have been promoted in this category previously:


Free Delivery on Orders at LOVEtheatre

10% Off Paolo Nutini Bookings at Seatwave

Up to 50% Off Tickets at Ticketmaster

24 Hour £24 Show Ticket and Meal Deal Sale Now On at Lastminute

Get Up to 65% Off Tickets to Amazing Live Events and Concerts at Last Minute Tickets

5% Off Tickets Booking at Seatwave



How to use a Discount Code
Trips to the theatre can be costly and so can going to a gig, that is why you should use promo codes to keep down the cost, if you haven't used a voucher code before then read through this quick guide on how to enjoy amazing savings:Find the code you would like to use in this category and click on the green box entitled 'get voucher code' this will show the code so you can highlight and copy it. Check through the terms and conditions to ensure that you know on which products code is valid in conjunction with. Continue to the merchant page and select the products you would like to buy before going to the checkout and pasting the code in.
You May Also Like
Restaurants
Why not treat yourself to something to eat after your show? You can find some incredible deals and offers for all your favourite eating spots in this great category.
Fashion
So you got the tickets to see your favourite band, now you need to get a fabulous outfit so you look the part, or maybe even the official t shirt. You will find some great voucher codes on a huge range of fashion here.
Music, Books, Games and Movies
If you're feeling a bit poor and can't quite afford to the band live, why not get their latest album or a DVD of the last tour? Find all the latest promo codes and offers in this category.
Frequently Asked Questions
What does 'Face value' mean?The face value of a ticket is the original listed price for that particular ticket.How can I avoid being scammed when buying tickets for the theatre or a concert?You can make sure that you only buy directly buy from the theatre or concert organisers themselves or official ticketing partners.