Sports Direct Black Friday
It's almost time for the best shopping event of the year and the Sports Direct Black Friday sale promises to be the biggest yet. It's a great time to kick start the Christmas shopping and pick up sporty gifts for everyone.
With the traditional 'New Year, New Me' lie on the horizon, it's time to get kitted out for you new workouts. There will be plenty of offers on running gear to get you on the pavement and burning calories.
The football season is in full swing now and there are big games to look forward which means football fans need to be kitted out. You can count on finding savings on a massive range of football products that will make it cheaper to support your team.
If you're ready to hit the gym and get into the training in a big way, you need a to fill your gym bag with the right equipment. This is a great time to pick up essential training equipment that will boost your performance and help you smash PBs.
This is the biggest shopping day of the year so, mark the 27th of November on your calendar and get up early on the day to pick up incredible deals on the biggest sports brands on the planet.
Sports Direct Hints & Tips
From activewear and accessories to gym equipment and sports essentials, head over to Sports Direct and take advantage of these hints to bag yourself a bargain:
Check out the Sports Direct outlet section for some serious savings on a huge range of fashion, sportswear and more, but hurry, they won't be around for long.
The homepage is packed with some of the biggest and best Sports Direct deals, so it's well worth scrolling through for multibuy offers, discounts and more.
Get yourself signed up to the newsletter for the latest Sports Direct offers and news, and all you need to do is pop your email address in to start saving.
Take advantage of the Sports Direct student discount for 10% off all your orders.
Mark the 27th of November in your diary and get ready for unmissable savings. The Sports Direct Black Friday event is absolutely massive and you can expect up to 80% off the biggest names in sportswear and equipment.
Whether you're hitting the trail, track or road, pick up the latest Sports Direct running shoes to push yourself further and faster than ever before.
You can take the workout home with you thanks to a massive range of Sports Direct fitness equipment because there's no such thing as off days.
FAQs
Do these Sports Direct discount codes work?
Absolutely, we want to save you time and money. That's why all our Sports Direct voucher codes are tested before going live and the page is regularly checked to make sure the latest offers are available.
Is there a Sports Direct sale?
Yes, they have regular sales, and there's also the Sports Direct outlet store, where you can find some end-of-the-line sports gear for discounted prices.
Is there a Sports Direct Near Me?
Yes, with over 400 stores across the UK, you won't be far from the latest sportswear. But to make sure, you can use the store find to
locate your nearest shop
.
What are my payment options ?
They accept MasterCard, Visa, Visa Debit, Visa Electron, Maestro and American Express cards. You can also pay using gift cards, Apple Pay and PayPal.
What is the Sports Direct returns policy?
You have 28 days to return your items unworn and in original packaging for a full refund. You can find more information, including the return address on the dedicated
returns online page
.
How do I contact Sports Direct?
If the FAQs haven't answered your query you can contact the customer service team via:
Webchat - Between 10am-6pm Monday - Friday. Keep an eye out for the 'can we help' pop up.
Email - Send your query to cs@sportsdirect.com and include as much identifying order information as possible, order number, product description etc.
Write - You can send you questions to -SportsDirect.comUnit A, Brook Park East,Meadow Lane,Shirebrook.NG20 8RY
How to use your Sports Direct Promo Code?
Start by finding a voucher code that applies to the products you want to buy. Once found, simply click "Get Code".
Open SportsDirect.com in another tab and find the items that you would like to purchase.
Be sure to double-check that the chosen items are applicable to the voucher code you have chosen. This will ensure you get your discount.
Proceed to your "Bag". Copy and paste your SportsDirect.com discount code into "Do you have a promotional code" box.
Click "Apply" and "Continue Securely" to enjoy your products at a discount!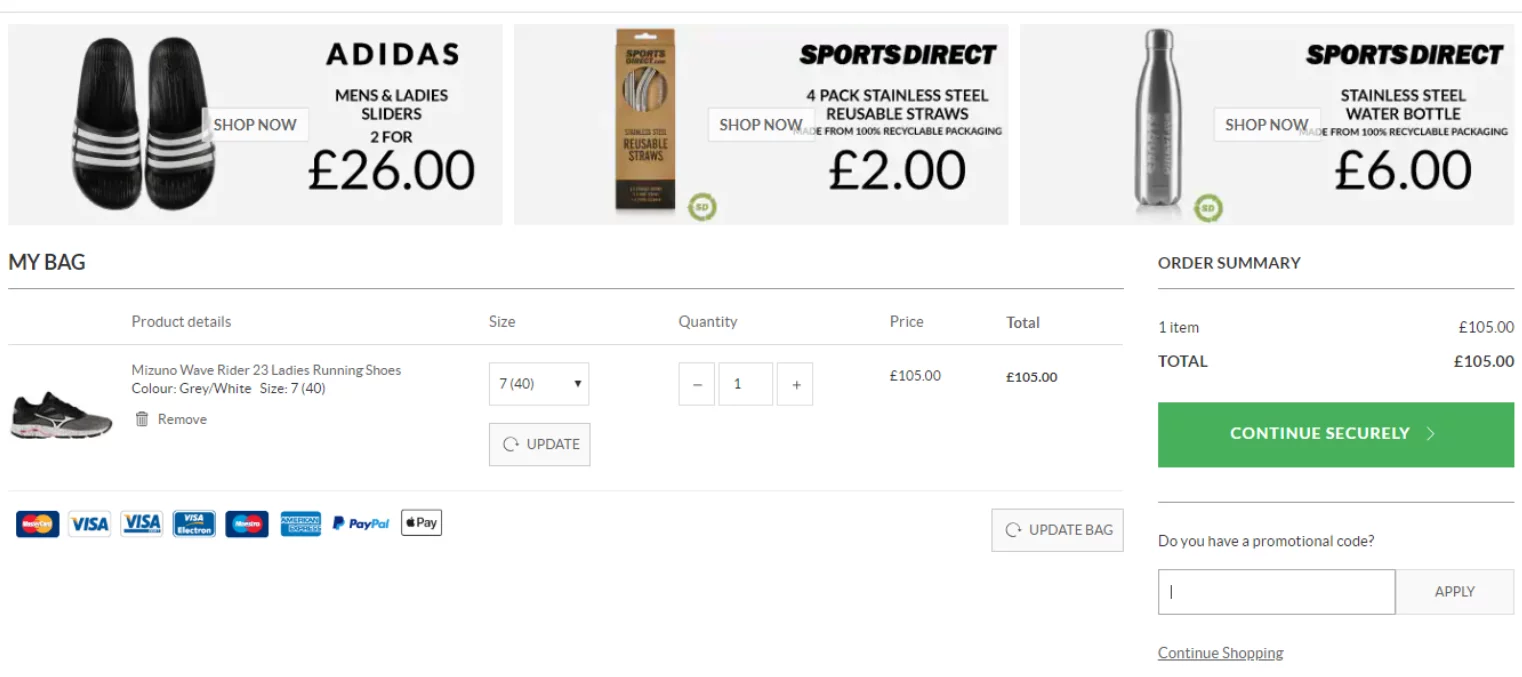 Sports Direct Contact
If the FAQs haven't answered your query you can contact the Sports Direct customer service team via:
Webchat - Between 10am-6pm Monday - Friday. Keep an eye out for the 'can we help' pop up.
Email - Send your query to cs@sportsdirect.com and include as much identifying order information as possible, order number, product description etc.
Write - You can send you questions to -SportsDirect.comUnit A, Brook Park East,Meadow Lane,Shirebrook.NG20 8RY
Buyers Guide - New Season, New Shirts

It feels like it's only been a few weeks since we watched Liverpool lift the Premier League trophy on the purpose-built stage in the stands like no club before them. It feels like that because it was only a few weeks ago. But it's already time to kick off again and put all that Liverpool winning the league business behind us.
A new season means there are new teams to throw up surprises, new players to light up a game, and new kits to help teams look good while they're getting slapped 0-4. A New kit dropping is one of the highlights of pre-season, so, let's check out at some of the best, and worst kits we'll be seeing this year.
Hammers fans should be pretty pleased with themselves this year. Umbro haven't tried to do anything too crazy with the home and away kits, but the 3rd is super nice. You can't go wrong with a simple black and gold look, and this is our pick of the lot.
The modern football powerhouse of Manchester City have also been handed a tasty kit this year. The away shirt has a South American feeling backdrop and bronze features that make it one of the nicest kits of the year.
For the worst kit of the year you have a look at Wolves, though the Manchester United third kit ran them close. The Wolves away kit manages to combine blue tie dye, colour clashes and shoulders that look like they've been nicked from someone else's shirt. It's a, uh, bold look.
If you're going to pick up your club's latest look for the season ahead, you'll find them all on the site and a Sports Direct discount code will score you the year's best value buy.
Buyers Guide - Losing After Lockdown
If your exercise routine consisted of repeated trips to the fridge over the last few months, you 'summer body' has probably turned into a lockdown body. And so what, we're all just coping as best we can right. But if you fancy working off the excess now the world is starting to open up, the Sports Direct fitness section has all the gear Joe Wicks could ever need.

When all you need is some new workout gear to get back to the gym, there is a massive collection of leggings, joggers, and tees to keep you looking good while you turn into a sweaty mess. Our top picks are the range of Sports Direct Under Armour gear. This performance collection will help you stay comfortable as you kick on and smash those goals.
To keep your work out safe and socially distanced at home, you can pick up basic equipment without spending a fortune. The impressive collection of weights at Sports Direct means there is something for every ability and you'll be able kickstart your health kick.

There comes a point when a fitness kick becomes a lifestyle and that should be the aim of any weight loss goal. It's all well and good putting the work in but if it comes right back the sweat will be for nothing. The extensive collection of Sports Direct nutrition will change your eating habits and deliver the best results.
A workout routine is a great way to keep yourself motivated in this difficult time, and the Sports Direct fitness collection can help you get things started.
Buyers Guide - Action Sports Direct
We all know that Sports Direct is the place to go to pick up everything you need to excel on the track, field, and pitch. But did you know they have everything you need to get going with some less mainstream sports too.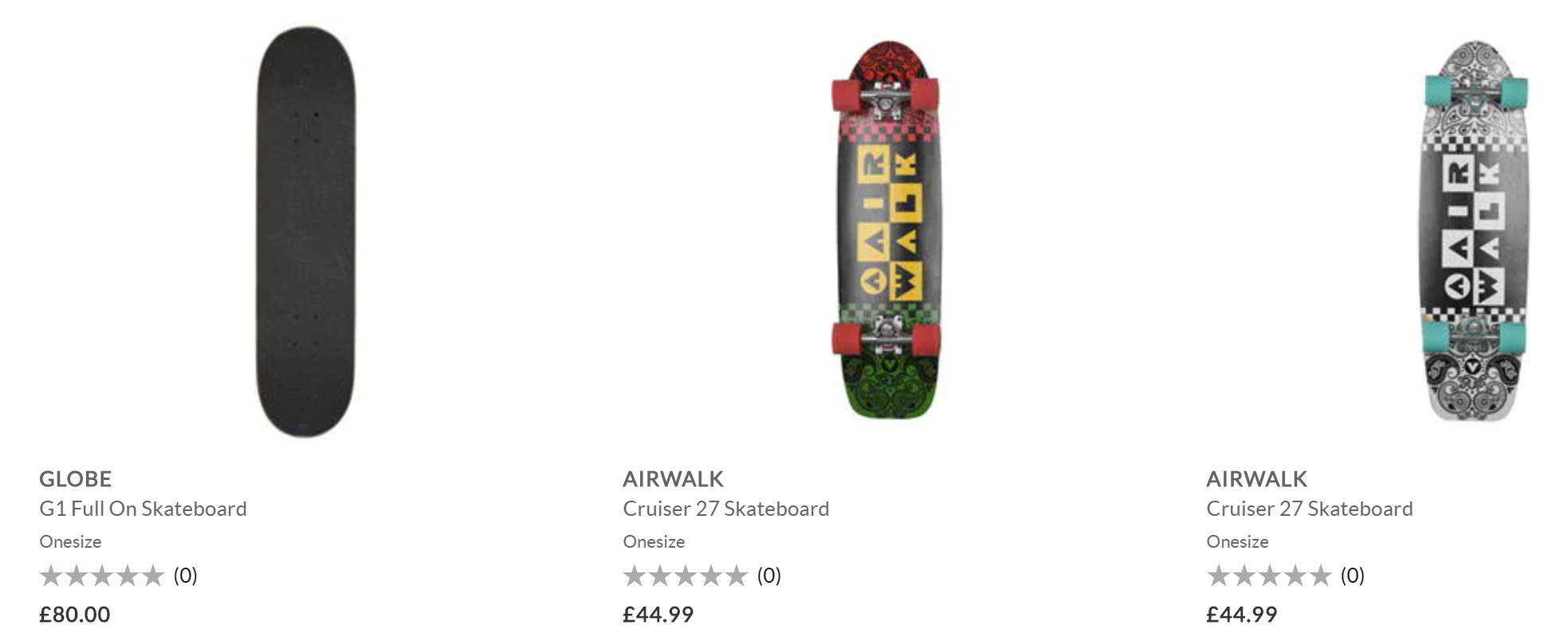 You can pick up a Sports Direct skateboard from a massive collection and start rolling your way to grinds, slides, and flips. Anyone that has watched an X Games session will tell you that you're going to spend as much time coming of the board landing tricks. Luckily you can pick up all your protective pads and helmets when you're shopping for a board.
If you prefer to take your action to the water, the range of Sports Direct wetsuits will keep you from feeling the chill as you get amongst the waves. Gul are the original UK manufacture of quality wetsuits and their tested suits will get you ready to surf, sail, or any sport that's going to get you wet.

You can even get ready to hit the slopes with a massive range of ski wear and equipment that will see you tackling the mountain in style. Whether you need a stylish pair of salopettes or a brand-new pair of skis, Sports Direct ski range has all the gear to help you attack the mountain.
Whatever adrenaline fuelled sport your into, you find there's more to Sports Direct than the track and field.