Using Your Zavvi Discount Code
Start by taking a look at our website and finding a promotion code that suits your order.
Once found, click 'Get Code' to unlock your discount code
Using a different tab, make your way over to the Zavvi website and begin browsing for the products you want to buy.
When finished, click 'View Bag' to review your order. Make sure everything in your bag is eligible with your discount voucher.
Copy and paste your Zavvi discount code into the 'Got a discount code' box and click 'Add' to apply.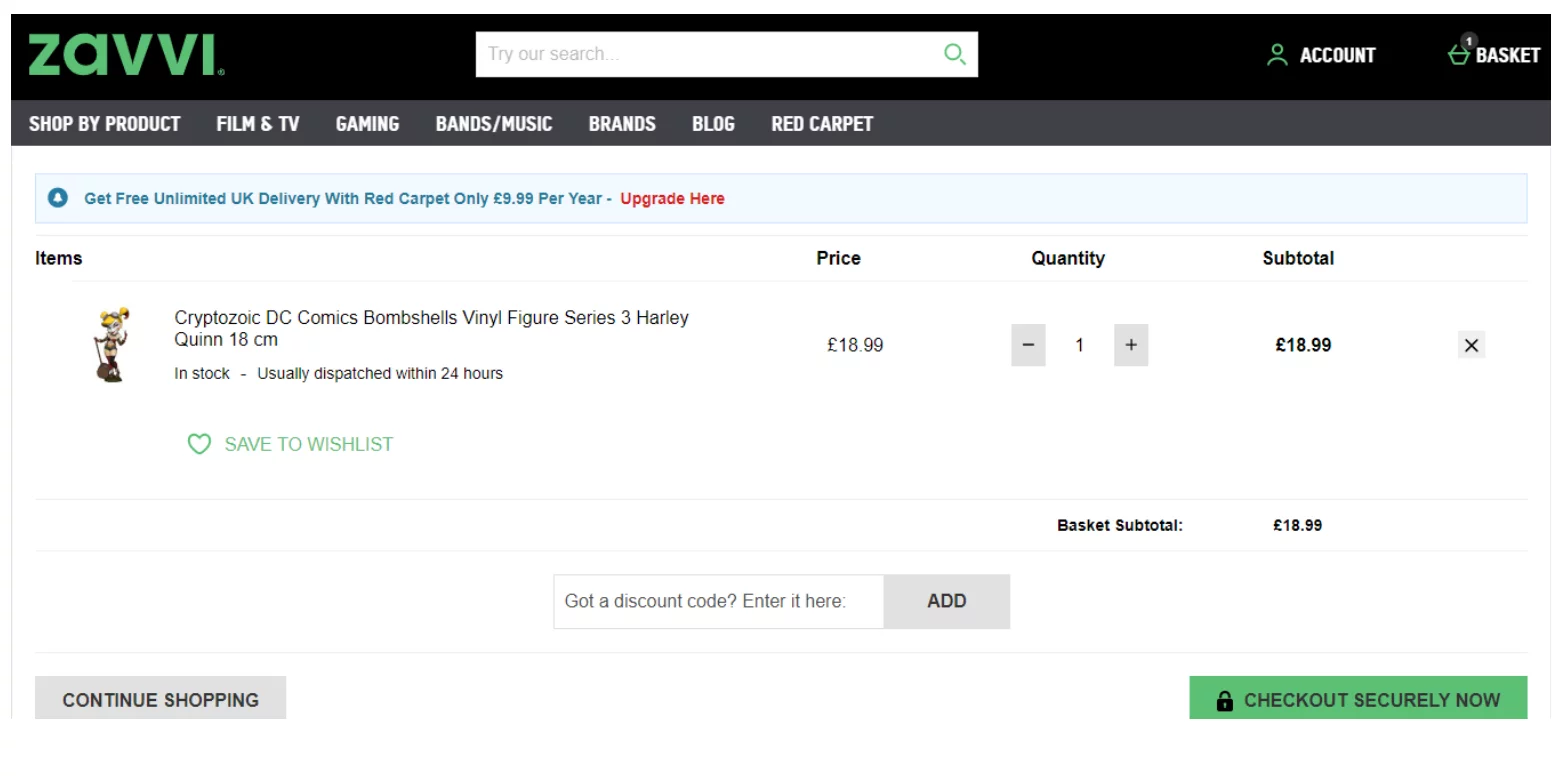 FAQs
How Can I Get A Zavvi Discount Code?
The easiest way to grab Zavvi codes is to check with MyVoucherCodes before you place your order. Our team regularly updates the page with the best offers around to help you save on all your entertainment. You might catch an exclusive code for savings you won't find elsewhere.
Can I Get A Zavvi Student Discount?
Unfortunately, Zavvi isn't currently offering a discount for students. This is because they believe everyone should save on top entertainment, and they usually have a massive selection of offers to prove it.
Can I Get Free Delivery?
Zavvi doesn't offer free delivery as standard and delivery fees start £1.99. However, if you sign up to the Red Carpet, you will unlock free delivery. You'll also gain access to exclusive offers and early access to product launches, making it easier to grab limited-edition merch.
Zavvi Hints & Tips
Zavvi is a hub of home entertainment, from movies and TV to music and gaming. Make sure you're making the most of your money with these top tips for bagging a bargain at Zavvi:
Have a scroll through the homepage to find all the biggest and best Zavvi offers, with multi-buy deals and discounts.
Check out the Zavvi subscription boxes, where the longer you subscribe for, the more you can save.
Take advantage of Zavvi free delivery, and all you need to do is qualify is spend £9.99 or more.
Become a Zavvi Red Carpet member, where you can get 10% off site-wide, early access, free delivery and exclusive Zavvi offers, and all for less than a tenner a year.
What Else Does Zavvi Offer?
Zavvi's blog is your go-to destination for all the latest on your favourite franchise. Get the hotly anticipated news on game releases, movie reviews and soundtracks, as well as updates from the biggest events in the industry all from one place. Don't forget to head back to the store and use a Zavvi discount code to get money off your order today.
Countdown to Christmas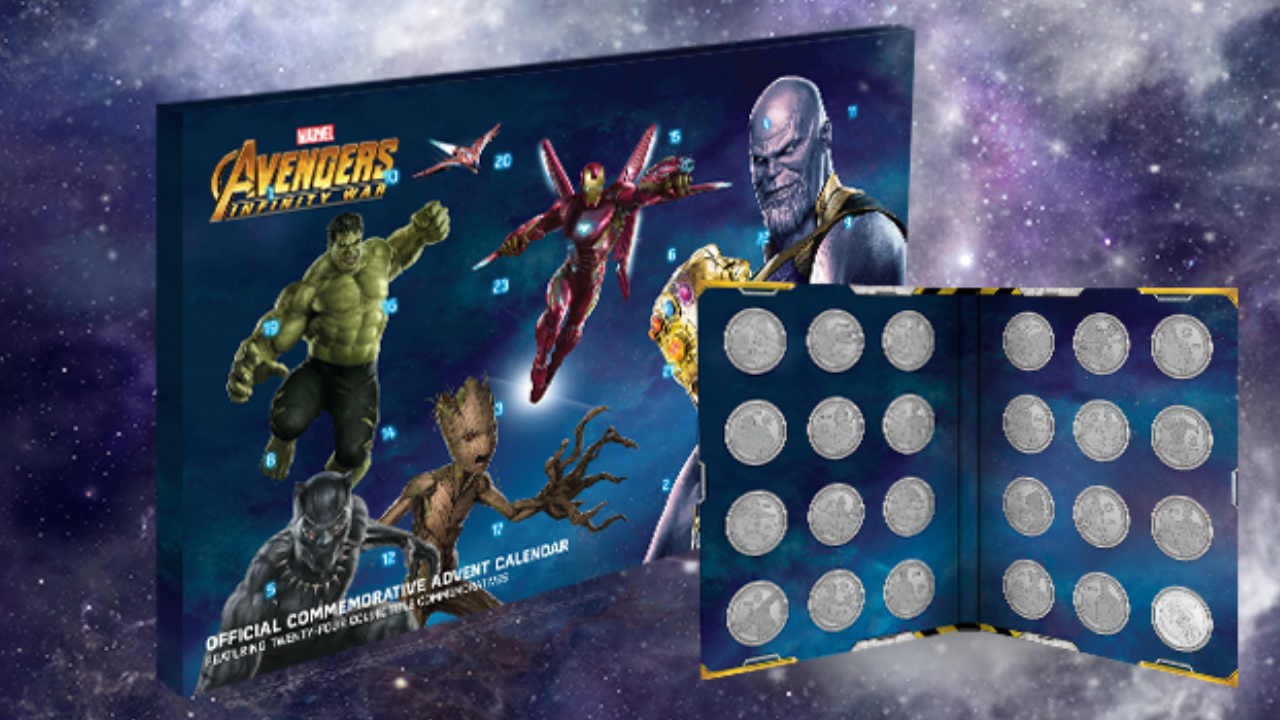 As Christmas is very much on the way, there's no better way to countdown for the big day than with an advent calendar. With a variety of advent calendars on offer, all featuring popular films, TV series, games, brands and more, Zavvi makes it easy to find the perfect calendar for you. Whether you're in the process of compiling collectors' pieces, or you can't get enough of your favourite characters, treat yourself to an advent calendar from Zavvi this Christmas.
Why not gift a loved one with an advent calendar they will love this December to get them excited for Christmas? If you know someone who's a fan of Harry Potter, Friends, Disney, Marvel and more, there's no better early present than a Zavvi advent calendar. With many of the advent calendars encompassing collectable coins and figurines, the content of these calendars promises a lifetime of enjoyment, as opposed to the short-term bliss of chocolate.
If you're feeling especially festive this year, there's nothing that expresses your love for Christmas quite like a Christmas jumper. Whether you're forcing the family to wear matching jumpers with photos for proof, or you quite fancy cosy festive attire to proudly display on Christmas day, Zavvi is the place to go. Again, make the most of your favourite franchises this year and pick up a jumper you will be proud to sport. The Back to the Future Christmas jumper will make the perfect gift for a superfan this Christmas, perfect for cosy festive evenings.
Treat a Star Wars Superfan this Christmas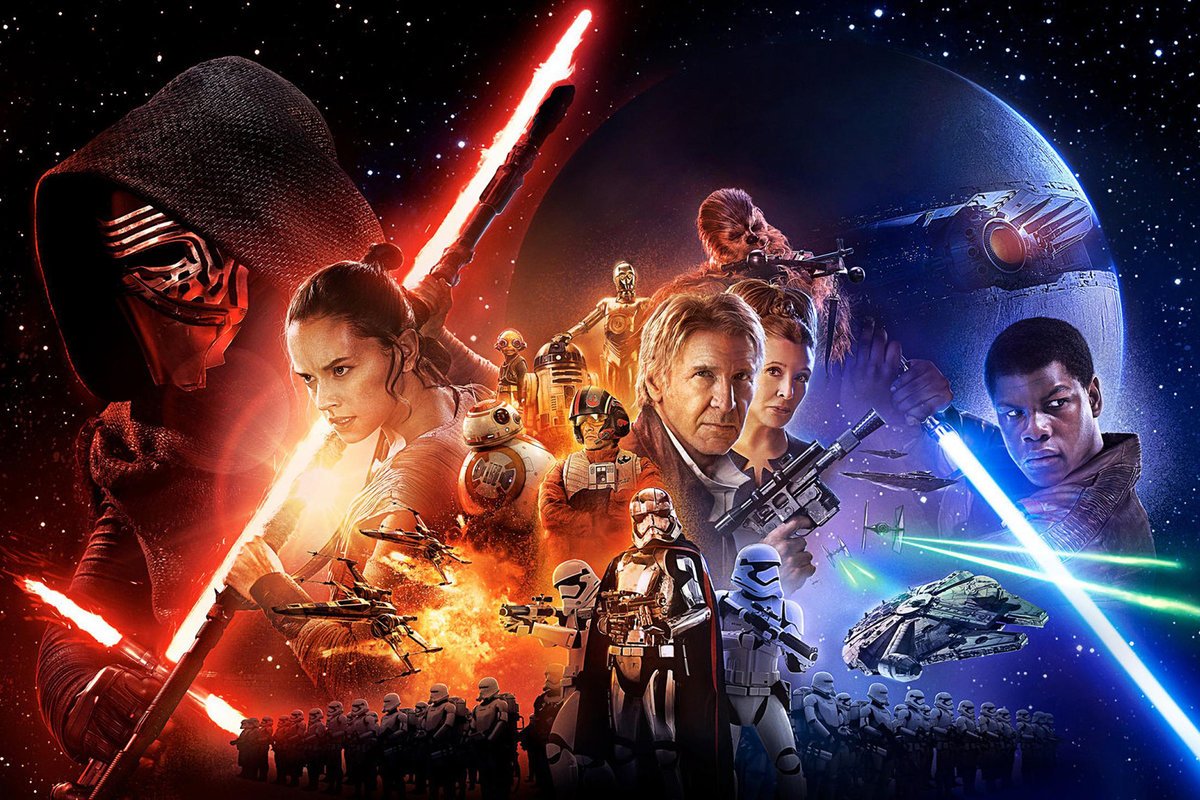 When it comes to Star Wars, you're either a die-hard fan, or you firmly refuse to watch any of the films, whatever the case, Star Wars has remained undeniably and consistently popular over the years. Whether you desire a graphic t-shirt to let the world know where your heart lies, the complete collection of blu-rays or some timeless collectables to proudly adorn across your shelves, Zavvi has your Star Wars fantasies covered.
At Zavvi Star Wars merch is not just for the little ones, with such a wide range of collectables on offer including Star Wars action figures and Baby Yoda, any Star Wars super-fan will tell you that these precious figurines are not toys to be handled. With a variety of Baby Yoda collectables on offer at Zavvi, you can enjoy the beloved figure in any form. Explore the options available, whether it's the animatronic Baby Yoda figure, the Pop! Vinyl figure or even the plush figure, perfect to accompany bedtimes, you won't be disappointed.
But if you are looking for something to entertain the mini fans, then the variety of Star Wars toys might be a little more suited to heavy hands. From LEGO themed sets, Lightsabers built for invigorating battles and board games to involve the whole family, there's something for everyone at Zavvi. Enjoy Star Wars LEGO to complete a lasting construction you can proudly display alongside existing builds. At Zavvi, there are LEGO sets for all ages, that will make the perfect Christmas gift for a fan this year.
Bring the Cinema to You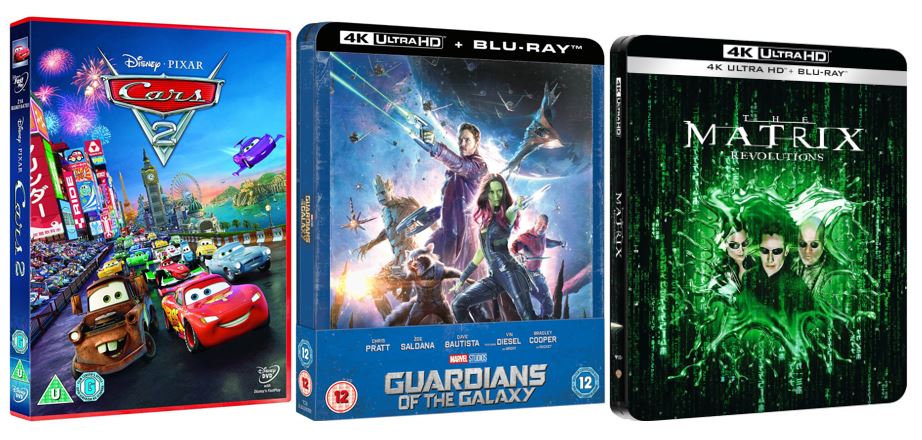 It's with no doubt that the cinema has been dearly missed by film-lovers everywhere throughout our time at home, and while the cinema may be a league above your living room set-up, upgrade your viewing experience with Zavvi today. So far, 2020 has been all about making the most of what's on offer within our homes, and although movie nights with the family may have been sub-bar previously, with Zavvi's range of Blu-rays and DVDs available you won't ever want to leave the sofa again.
At Zavvi there's a genre for everyone, explore the range of classic, contemporary and collectable films and box sets available to go from having no plans, to an evening of entertainment. Take your movie night to the next level with 4K Ultra HD Blu-rays for an evocatively immersive experience, to bring your desired cinema trip to your doorstep. Choose from award-winning favourites that you're not afraid to watch repeatedly or treat the family to a new release you've always wanted to try, expertly replicating a screening event.
Or, if you consider yourself to be somewhat closer to a film buff and you want to enhance your binge sessions even further, then check out the exclusive collection of limited-edition SteelBooks attainable at Zavvi. SteelBooks make the perfect addition to any film fans DVD stand or a timeless gift for a film-loving friend, not only boasting admirable artwork, but also a stunning picture for an amazingly unique cinema experience.