Toby Carvery Hints & Tips
Get dinner sorted with a trip to Toby Carvery, with a cracking selection of marvellous meals, and with these top tips you'll be leaving with a full belly, and a full wallet:
The Toby Carvery offers section is the first place to go for all the latest deals on their delicious dinners, so you can get one of their famous carveries for a lovely, low price.


The Toby Carvery app will let you in on some amazing savings, and you can get fabulous rewards with your food too.


Get the latest deals and offer sent directly to your inbox by signing up to the Toby Carvery newsletter, just pop in your email address and start saving.
FAQs
Can I get a Toby Carvery voucher?
Like most restaurants, they don't use many vouchers. But that doesn't mean there aren't loads of Toby deals. They regularly have promotions running to save you money on your favourite carvery. You'll always find the details on MyVoucherCodes to help you eat out for less.
Can I get a Toby Carvery takeaway?
Of course, if you don't fancy tending to a roast, you can let your favourite carvery take care of it for you. Toby Takeaway will prepare their famous roast for you to enjoy at your own dining table. Visit the takeaway page to
select your pick-up time and meal choices
.
Is there a Toby Carvery app?
Yes, it's a great way to book tables and pay your bills. And when you download it, you'll unlock exclusive Toby deals and competitions to give you a little extra. Visit the app page for
full details of all the benefits
.
Are there vegetarian and vegan options on the menu?
While Toby might be famous for incredible roasts, you'll find a menu packed with delicious options for every dietary choice. You can
check out all the vegetarian and vegan options
on the dedicated menu page.
Does Toby Carvery offer military discounts?
Toby Carvery offers customers of the Defence Discount Service a 10% discount on food from Monday to Saturdays.
Does Toby Carvery offer student discounts?
Toby Carvery offers student discounts through sites such as StudentBeans and Save the Students. While you can also get a free drinks refill at Toby Carvery when you show your student ID.
How can I find a Toby Carvery near me?
On the homepage of the Toby Carvery website, you can click the 'Find Your Local' option. From here you simply type in your location or a post code, and you'll find the nearest Toby Carvery restaurant.
How much is a Toby Carvery?
Toby Carvery's all-day carvery starts from £8.99, but it also offers delicious alternatives like salads, wraps, or fish at reasonable prices.
How do I use my Toby Carvery discount code?
Simply show your voucher to a member of staff at Toby Carvery. Alternatively, if you're paying on the app, pop the discount code in before you pay.
Buyers Guides - Adapting to Coronvirus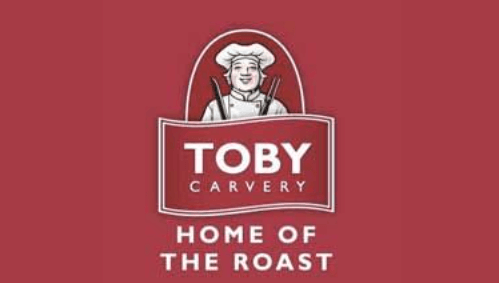 The coronavirus pandemic has affected every aspect of our lives and we are all adapting to the world with the virus. New procedures have been put in place across the hospitality industry to ensure guests can eat out safely and get the best experience possible. Here we'll run through what you can expect from your next visit to Toby Carvery.
Masks On
Across the hospitality industry it is now mandatory to wear masks while moving around the restaurant and bar area. You will not be required to wear one while at your table, but please be mindful should you get up and move around.
Cleaning Routines
There are regular cleaning routines in place to ensure the restaurant is safe before each customer arrives. Due to the nature of this cleaning, the schedules will have an impact on when bookings can be taken and there are now set windows for sittings.
Test & Trace
As with every hospitality venue, Test and Trace measures are strictly in place. Every party will have to fill out the forms before they are seated. This will only be used to trace anyone potentially at risk and will not be used for any other purpose.
Carvery Deck Service
You can still enjoy you favourite carvery with servicing of perfectly cooked meats and all the extras piled high. The only difference is now one of the chefs will take your requests and plate up for you.Every is committed to keeping you safe at all the Toby Carvery restaurants, but you can help by following all the guidance and helping staff wherever possible.
Buyers Guides - Toby to Your Door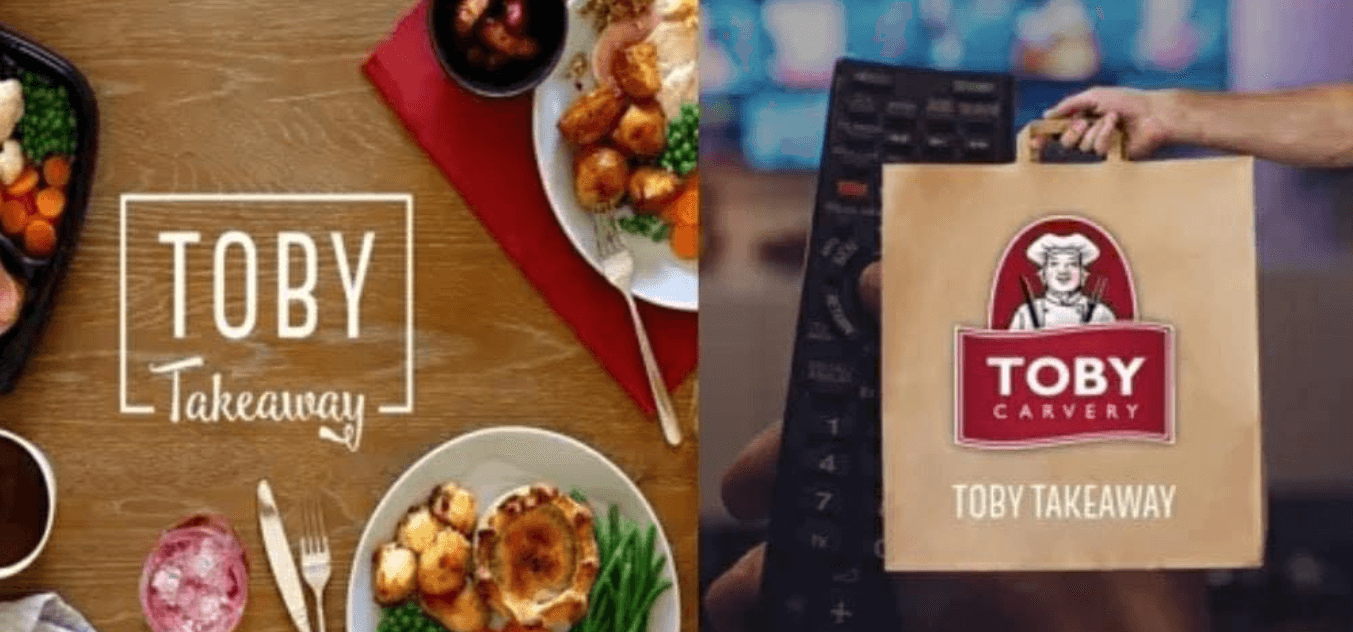 No meal is as satisfying as a proper roast and the comfiest of comfort food is a firm favourite right across Britain. The only thing better than sitting down to a gravy-soaked plateful, is sitting down to one you didn't cook yourself. Now, you can get your favourite roast cooked for you and enjoy it on your sofa with a boxset. That's right, Toby Carvery Takeaway is an actual thing and we're more excited than we should be.
You can order for collection right from the Toby Carvery website. All you need to do is select your location and find you nearest restaurant, order, and pay. It really is that simple. Then you just nip out at your chosen time and pick up your tasty treat.
If you don't fancy leaving the house, you can even get it delivered right to your doorstep and you won't have to change out of your jammies. Head on to the Toby Carvery Just Eat page and order like any other takeaway to secure your home delivery.
You can even order from the Toby Carvery App for a super simple way of getting your fix. With the coronavirus pandemic still at the front of everyone's minds a takeaway is a safer way of enjoying your favourite meals.
What are you waiting for, get ordering, but don't forget to grab one of our Toby Carvery voucher codes for tasty takeaway savings.
Buyers Guides - Breakfast of Champions

The old cliché of breakfast being the most important meal of the day has stood the test of time because there's a whole lot of truth to it. A proper brekkie will set you up right and a Toby Carvery breakfast will prove this any day of the week.
The All You Can Eat Toby breakfast is packed with all the classic fry up fare for the perfect start to your day. They use top quality sausages, bacon and eggs, to cook up a feast that will put your local greasy spoon to shame.
Bacon and sausage is delicious and you could leave it right there and be happy with your breakfast, but trying new things can take you morning meal to another level. Breakfast gravy might sound a bit weird but you'll be left wondering why no one did this deliciousness before. And just when you think the meal can't get any better, they throw in breakfast Yorkshire puddings with bacon and onion for fun, which is okay by us.
There are smaller options if you don't fancy stuffing yourself silly first thing in the morning. You can go for toast, porridge or a selection of cereal for a lighter way to start your day.
Whatever you fancy, you can count on the tastiest way to start the day and one of our Toby Carvery discount codes will save you money on your munch.