Discount FAQs
Does Toby Carvery offer an NHS discount?
They sure do! At Toby Carvery, you'll be able to enjoy a 20% discount if you're a key worker. Simply log into your Blue Light card account to verify your key worker status and enjoy your money off.
Does Toby Carvery offer a Student discount?
Yes, Toby Carvery is currently offering students the chance to save 20% off Click & Collect orders and 10% off breakfasts between Monday to Saturday. To take advantage of this discount, you'll just need to verify your student status with UNiDAYS.
Does Toby Carvery offer a Black Friday discount?
Yes, they have in the past! It's no longer just retailers offering savings, in 2022 and 2021 Toby Carvery offered a Black Friday discount of 50% off mains with a voucher.
About Toby Carvery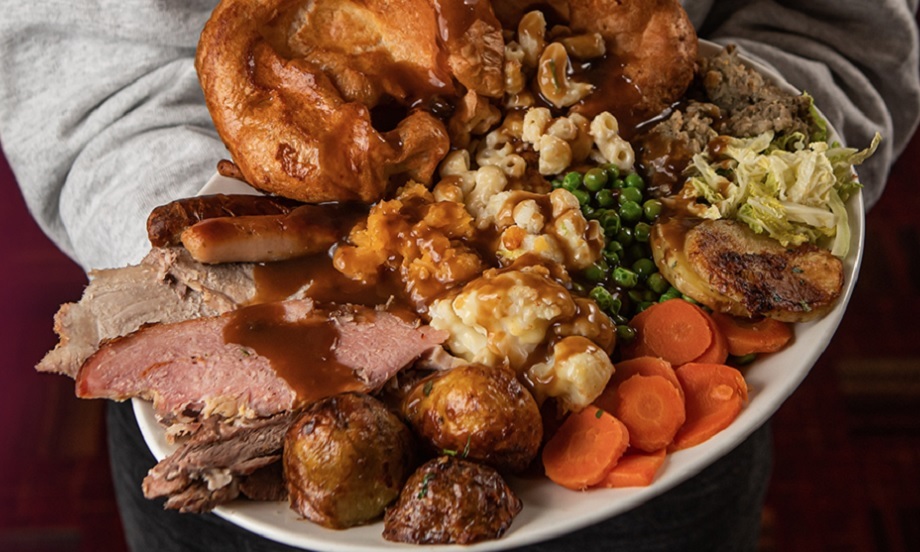 Founded in 1898, Toby Carvery is home to the ultimate traditional British roast dinner and is one of the nation's favourites. Since their early days, they have become famous for their juicy and tender meats, golden, crunchy roasties, and mountains of fresh veg, making it a treat for the whole family.
Whether you're after a classic Sunday roast or all-you-can-eat breakfast buffets are more your thing, Toby Carvery has got you covered. What's more, you can enjoy tucking into a delicious plate of food for less, when you use one of our handy voucher codes.
Payment Methods
Visa, Mastercard, Maestro, and Apple Pay.
How to Contact Toby Carvery
Online: Toby Carvery Enquiry Form
What We Love About Toby Carvery
Toby Carvery App
Gift Cards
Regular Offers
Toby Rewards Scheme
Did You Know?
Every morning their chefs start at 5am to prepare all of their delicious food.
How to Use Your Toby Carvery Voucher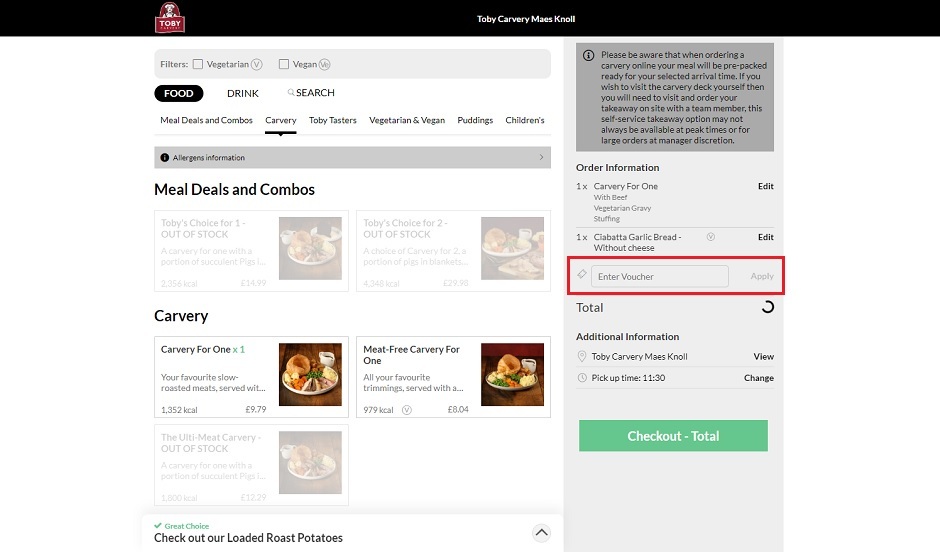 Check out our selection of Toby Carvey vouchers and discount codes here at MyVoucherCodes.
Once you've found the one for you, click 'Get code' and copy it ready to be used later.
Now it's time to head over to their website and find the Toby Carvery closest to you.
Then choose to collect your order and add your favourite dishes to it.
Paste your Toby Carvery voucher into the 'Enter Voucher' box highlighted in the image above and click 'Apply.'
Head to the checkout and pay for your order.
Collect it once it's ready and enjoy your tasty meal with a delicious discount!
Save with the Toby Carvery App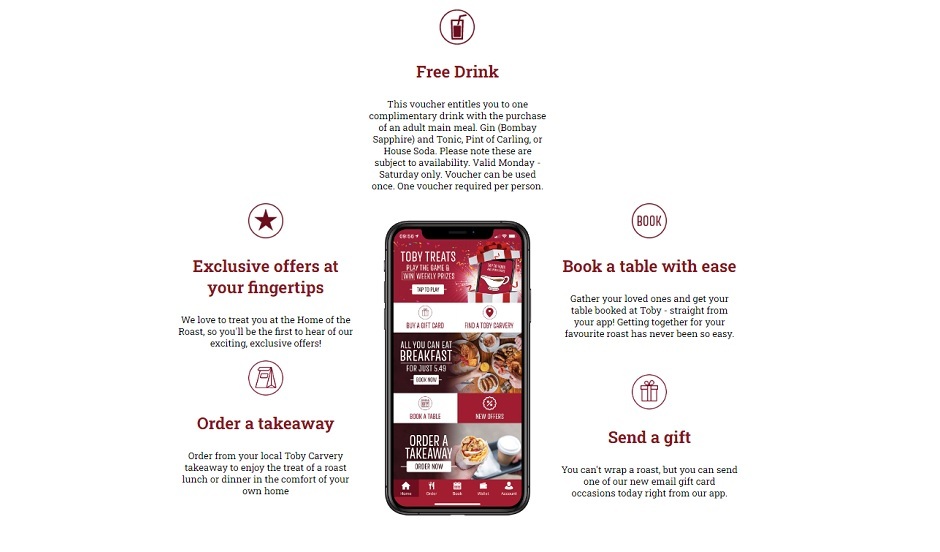 Does Toby Carvery have an app?
Yes, it does! Simply head over to the app store or Google store to download it.
What can I do on the app?
Once you have the app, you'll be able to book tables, find restaurants near you, pay your bill using the app, order a takeaway, purchase gift cards and even earn some cheeky rewards. You'll also get access to exclusive offers that can only be found on the app.
How can I earn rewards on the app?
There are a few ways that you can earn rewards using the app. You'll be able to make use of their pudding stamp collector to earn yourself a freebie as well as be notified of any exciting offers and promotions so you never miss a deal.
What is the Pudding Co stamp collector?
One way you can earn yourself rewards is with the Pudding Co Stamp collector. Once you get access to it, every time you have a pudding at Toby's, you can scan your app and earn a stamp. For every 3 pudding stamps you earn, you'll be rewarded with a free pudding.
What about free drinks?
When you download the app, you'll be rewarded with a free drink voucher. This can only be redeemed against an adult main meal for a free gin and tonic, a pint of Carling or a house soda. Free drinks are subject to availability and can only be used Monday - Saturday, only be used once and are only valid for one person.
Can I view menus on the Toby Carvery app?
You sure can. On the app, you'll be able to check out the latest menus to see what tickles your fancy.
Can I send a gift card using the Toby Carvery app?
Yes, you can! Using the app, you'll be able to send an e-gift card to one of your nearest and dearest, right from the app. The best part is that e-gift cards will arrive almost instantly via email, which means they're a great option if you fancy surprising someone last minute.
How do we source discount codes?
At MyVoucherCodes, we're lucky to have a team of hard-working individuals who are dedicated to finding you the best possible discount codes, deals and offers that are currently available. We also work closely with retailers to secure exclusive promotions; providing you with unique savings that you won't find anywhere else.
We keep in touch with retailers and brands
Based in London, our Commercial team is a key part of everything we do. They know the industry, and they work tirelessly to build relationships with big-name retailers in order to secure exclusive offers and rewards that are then passed on to our customers. They keep their ear to the ground for any upcoming offers and sale events too, meaning we're always ahead of the game when it comes to updating our website.
Our team scours the web for discounts
They work in tandem with our Deal Experts, who can be found at our Cardiff office. These deal-finding wizards scour the web for all of the best discounts and promotions around, before loading them onto our website for customers to enjoy. They also work closely with affiliate networks that keep us informed of the latest offers for the retailers they represent. Our dedicated retailer pages are updated at least twice a week, meaning you can be confident that the voucher codes you're seeing are up-to-date and valid.
We share our money-saving knowledge
On our retailer pages, you'll notice in-depth information about the brand and researched hints and tips on how to save money when shopping online. This is where our Category Editors come in - they know a thing or two when it comes to savvy shopping. From technology, health & beauty and fashion to food & drink, home & garden and travel, they keep all pages up to date with content that is designed to make your shopping experience that little bit easier and to help you save money in the process. For more information on the MyVoucherCodes team and the company as a whole, be sure to check out our About Us page.
What if my discount code doesn't work?
As a collaborative team, we do our best to ensure that incorrect or outdated discount codes and offers aren't listed on any of our retailer pages. To do this, we test the codes ourselves to make sure that they work and aim to give as much guidance as possible with regard to how they are supposed to be used.
However, sometimes details change or codes expire without us knowing. If you find this to be the case, you can get in touch by emailing info@myvouchercodes.co.uk or by visiting our contact page.
How we make money
Using our discount codes is totally free, although we understand that this may seem too good to be true. Like all businesses, we need to make money, and we do this via commission-based relationships with brands and retailers - we earn a small percentage from the retailer every time someone uses a code on our website or clicks through to a sale.
We also make money by offering the brands we work with the chance to buy some extra space on our website, in turn giving more exposure to their biggest and best discounts. And that's it! By using this model, we're able to do what we do without charging our customers a penny.