More information about Theme Parks & Attractions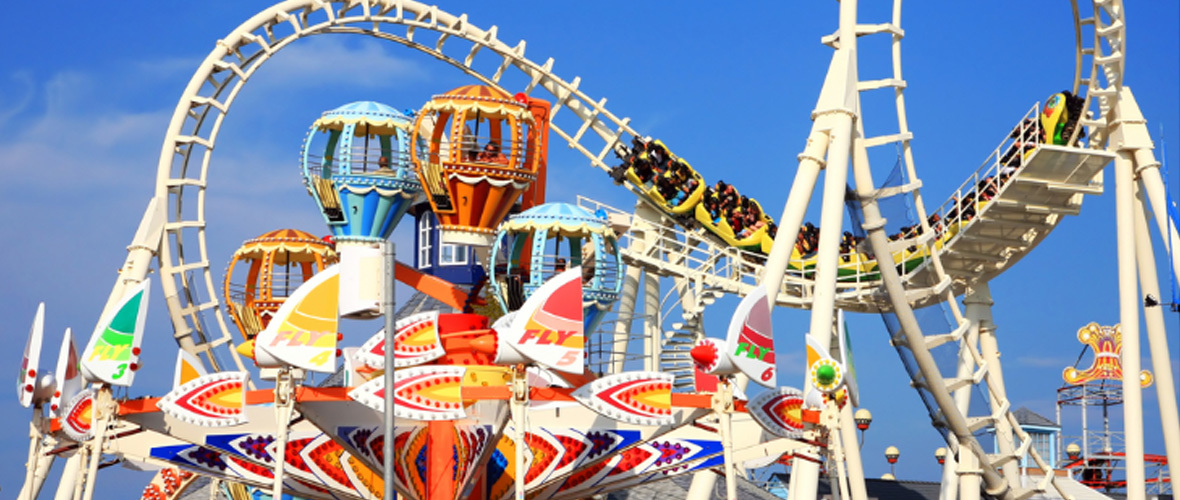 The origin of the theme park can be traced back all the way to the Middle Ages. It is widely believed the very first theme park was the Bartholomew fair, which began in 1133 and mainly consisted of merchants selling spices, waxes and other luxury goods to the local wealthy residents. To entertain the patrons, musicians, actors and other performers were present, and from that other attractions sprung up. The formula was often applied to markets and social gatherings after Bartholomew fair, eventually evolving into the format we are familiar with today. These days the theme parks are centres of entertainment such complete with white knuckle rides, games and restaurants. Many people now plan entire holidays around the locations of huge theme parks like Disney World and Universal Studios in Florida, proving to be the perfect get away with something to for everyone.
Example Deals
We have promoted some great deals in this category in the past, here are a few examples of the very best deals and offers:
Up to 2 Nights and 2 Days Free Plus Free for Kids Under 7 at Disneyland Paris
10% Off Family Tickets at London Zoo
Up to 59% Off Student Discount at Alton Towers
2 for 1 Entry at Drayton Manor
Up To 48% Off 1 Day Ticket Booking at Thorpe Park
Up To £30 Off One Day Entry Ticket at Chessington World of Adventures
Up To 30% Off 1 Day Tikcets at Legoland Windsor
Up To 20% Off Online Standard Ticket at The London Eye
How to use a voucher code
Going to a theme park can be very expensive; first there's the entry cost, then getting something to eat, and now, we can even choose overnight stays, which your kids will undoubtedly insist upon - it all adds up. Using a discount code can help you keep the costs down, if you've never used one before, you'll be pleased to hear it takes no time at all and is simple simple. Here's all you to do:
Search through this category and, when you find the promo code you'ld like to use, click on the green box entitled 'get voucher code' to reveal the code. Next you need to highlight it and copy to your clipboard. Make sure that you check the T&Cs for any restrictions. You will have noticed the website has opened up in a separate tab. When you get there select your ticket options, head over to the checkout page then paste in the code and apply it to your order before paying.
You May Also Like
Can't get everything done in one day? You may want stay for a night and hit the rest during the following day. Check out this great category for some amazing deals and offers.
If Theme parks aren't your thing but you still want a day out with a difference, check out our Experience Days Category for some amazing deals on a incredible range of experience days.
Featuring a wide variety of amazing offers, discounts and the perfect alternatives to a frantic day at a theme park, this category could just the remedy for a rainy day or a sleepy sunday.
Frequently Asked Questions
Can I buy a ticket allowing my family to visit several parks and attractions?
The Merlin pass is a great way to enjoy a huge range of participating attractions as many times as you like for the duration of your ticket.
I am thinking of taking my young children to a theme park, will they be able to go on the rides?
Theme parks enforce height restrictions on many of the rides for safety reasons. Most venues provide list the limits online so you can check to see if it is worthwhile visiting.