Booking.com Hints & Tips
Get the most out of your Booking.com shop today by checking out these handy Booking.com hints & tips:

Due to the ongoing Covid 19 epidemic, travel plans may change. Please check the dedicated Covid 19 Help Page before travelling for the latest information available and details of any travel restrictions.



Booking.com Discount

Check in around the major holidays to take advantage of unbeatable sale prices. Whether it's Christmas, Easter, or the start of a season, you'll usually find the best prices around the yearly landmarks.

Early Booking.com Deals

Booking your holiday early is a simple way of securing the biggest and best savings and give yourself plenty of time to plan


Booking.com FiltersMake sure you make use of the filters to narrow you accommodation down to exactly what you want from your stay. Once you've decided that you can adjust the prices to find the best offers for you



Booking.com Newsletter

Sign up and you'll not only get exclusive Booking.com offers, sent straight to your inbox, you'll also get special prices on every single booking you make.



Booking com Genius

Once you place two bookings, you'll automatically be enrolled in the Genius Loyalty programme which unlocks superb travel discounts that make it pay to stay with Booking.com UK



Booking.com Holidays

The destination list on offer can take you all over the world. Don't be afraid to cast out further and take a look at far-flung places across the globe. You'll find some real value out there.



Booking.com Experiences

There are plenty of unique experiences available that are sure to immerse you in culture and introduce you to your destination of choice. They are a fantastic way of getting adventurous and making your trip extra special.



Booking.com Connect

Use the traveller forums to connect with past and present travellers for unique advice where ever you're heading. It's a fabulous way of picking up restaurant tips, secret beaches, and more.
Booking.com FAQs
Do Booking.com Offer Discount Codes?
Usually, there are not any Booking.com discount codes on the Booking.com website, however, check out MyVoucherCodes today for the best Booking.com discount code.
Is There A Booking.com App?
Yes, download it today on the App Store or through Google Play. Once downloaded, secure your next Booking.com stay, manage current reservations and access key information both offline and online to make check-in super easy and stress-free.
Will I Get A Refund Covid Related Cancellations?
From the 6th April 2020, all customers are advised to consider the COVID-19 risk and keep in mind any relevant government travel advice and news. Following on from this date, you may not be entitled to a refund if you do not book a flexible rate.
Are There Fees For A Booking.com Cancellation?
From the 06/04/2021, accomodation providers will only be able to use one of 3 charges for cancellations. They are, one nights stay, 50% of the stay, or the entire stay. Any of these may apply and you should double checking before confiming your booking. This system also applies to prepayment bookings.
How Do I Pay For My Booking.com Stay?
While some hotels may require a deposit, others will require payment when you check out. It's important to check with the property before. In most cases, you'll need to provide your card details when you place the booking. It's worth looking for a Booking.com discount to save money.
Can I Alter my Booking?
While it is down to the individual properties policy, yes, usually you can make amendments. These include changes dates, adding rooms, and more.
How Can I Find My Check In Times?
You can find the check in times for every property in the'House Rules' section of their page. This is where you'll find all the essential information you need to make a decision.
How to Use a Booking.com Discount Code
Follow these easy instructions to get a discount on your next stay with Booking.com


Checkout the selection of deals on their MyVoucherCodes page and click 'Get Discount' once you've made your decision
A new tab will automatically open and take you to the relevant Booking.com page
Set you travel dates and destination of choice to search an unbeatable choice of accommodation
Select you room of choice and enter all your passenger details before you proceed to payment
Check the codes terms and conditions and ensure your dates are not restricted
Now you can paste your code into the 'Enter Your Code' box and click apply
Once your discount has been accepted proceed with your booking and get packing, you're on your way
Booking.com Contact
Contacting Booking.com today is very simple and easy. Pick from any of the following options below to speak with someone today:

Booking.com Customer Service Contact Telephone Number: 0203 564 6725.


Booking.com Live Chat: Simply sign in to your Booking.com account to access their Help Desk and to use their Live Chat services.


Travel Trends 2021

Last year the travel industry came to a grinding halt as the world came to terms with the coronavirus pandemic. In 2021 it's starting to pick back up again as the vaccine roll out picks up steam and summer holidays are booked again. One things for sure though, how we holiday will never be the same again, and these are the travel trends that could take over in 2021.
Staycations
Last year saw a massive rise in domestic travel and that looks set to continue this year. Book your staycations early to avoid missing out on your first choice destinations and you'll discover the incredible sights close to home.
Work Friendly Stays
With working from home becoming a normal part of our lives there has been a rise in work friendly bookings. Reliable internet, relaxing environments, and a change of scenery for the weekends, make work away breaks a great option in 2021.
Weekend Away
Weekends away are nothing new, but the amount of uncertainty that still lingers over travel makes them more attractive than ever. They will break up the weeks properly and there's less risk if it all goes wrong. As soon as the restaurants and pubs reopen, weekend dates will fill up fast.
Sustainable Travel
Having sat at home for a year dreaming about going away, many travellers have started to think about the impact their holidays have on the environment. Sustainable travel looks set to alter how we holiday and eco-friendly destinations are going to be incredibly popular.Whatever kind of break you want to take in 2021, Booking.com is there with the best accommodation waiting to welcome visitors back. Keep checking the travel advice and book yourself the break you deserve.
Genius Explained
Booking.com puts people in touch with millions of rooms and turns ordinary people into hoteliers. It's Britain's easiest way to find unique accommodation, visit more countries, and save on travel.

But did you know that the Genius programme makes savings and perks available to anyone. That's because the folks at Booking.com want to help people explore the world and believe that loyal travellers should be rewarded.
Once you complete two Booking.com stays within two years, you will automatically be added to Genius level 1. This entitles you to 10% off selected properties for all future bookings. That's right, unlike many loyalty schemes, once you're added to Bookinhg.com Genius, you're on it for life even if you don't make two trips every year.
The Genius doesn't stop at one and if you make five trips in two years, you'll reach the highest echelons of the Booking.com loyalty scheme, Genius Level Two. In this rarefied air of savings, you'll get the perks of level one, plus 15% off selected properties, Free breakfast with selected bookings, and free room upgrades on selected stays.
If you're a regular traveller, the Genius programme makes Booking.com a destination of choice when you're sorting out your accommodation.
Best of British this Summer?
There might be light at the end of the Covid tunnel now the vaccine roll out has begun, but all the talk is reminding us that we're not out of the woods yet. Getting back to normally isn't likely this year and we should all plan accordingly. That doesn't have to mean missing out on a great summer holiday, just keeping it Great British. That's where the vast selection of home grown accommodation that Booking.com offers comes in.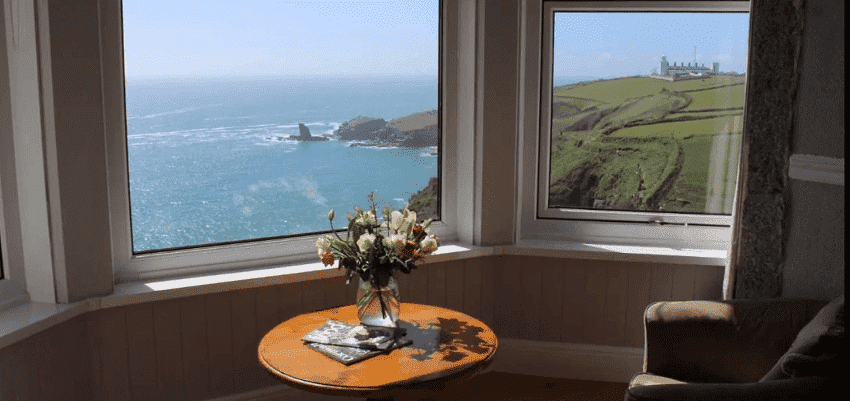 Booking.com Cities
If you're idea of paradise is non-stop shopping, good food, and better night life, a city break is perfect for you. Britain has some of the most vibrant cities in the world and they all offer unique atmospheres to get lost in. Whether you're looking for Booking.com London accommodation or heading up north to explore Edinburgh, the right room is waiting for you.
Booking.com Cottages
For the ultimate relaxing break you need to leave the bright lights behind and head out to where the stars light up the night sky. Britain has spectacular spots to get away from it all and spend some time in the great outdoors. The Booking.com Lake District offers put you in the heart of the countryside and promise the stunning views you'd expect. Picture gorgeous lakes, rolling hills, and the sounds of nature soothing your soul, sounds alright, doesn't?
Booking.com Seaside
You don't have to jet off to the Caribbean to find pristine beaches. You'll find gorgeous sands right here in the UK that can stand up to the best in the world, minus a few palm trees. You'll find Booking.com Cornwall rooms that land you in one of the most popular summer destinations Britain has to offer. And with the turquoise waters and rugged landscape of Kynance Cove, it's easy to see why.