View Terms & Conditions

View Terms & Conditions

See website for details.
EXCLUSIVE
View Terms & Conditions

View Terms & Conditions

1. The £30 Amazon.co.uk digital gift card giveaway ("Promotion") is subject to the following terms and conditions. By entering the Promotion entrants will be deemed to have read and accepted these terms and conditions. 2. The Promotion is organised and operated by The Global Voucher Group Limited of Imperial House, Imperial Way, Newport NP10 8UH ("Promoter"). 3. The Promotion is open to all UK residents aged 18 years or over except employees of the Promoter, their families, agents and anyone else connected with administration of the Promotion. 4. The Promotion will run from 25 May 2021 23:00 until 30 Sep 2021 22:59 ("Promotion Period"). 5. All entrants who (i) subscribe to receive the Promoter's electronic marketing during the Promotion Period and (ii) Booking.com confirms have spent £760 or more (excluding all gift card purchases and top-ups and delivery or collection charges) before 30 Sep 2021 22:59 at the Booking.com via the link provided on www.myvouchercodes.co.uk ("Promoter's Website") shall be eligible to receive a free £30 Amazon.co.uk ("Gift Card"). 6. You will not be entitled to a Gift Card if you click on any other links or visit any other websites before making your purchase at the Booking.com or if you make use of any other offer or promotion in connection with your purchase which is provided by the Promoter or Booking.com (including any discounts, codes, savings, credit and/or points). 7. Only one entry per entrant during the Promotion Period shall be accepted. 8. Gift Card Rewards redeemed against Booking.com purchases will be available 90 days after your confirmed date of travel. 9. Gift Cards may be downloaded via the "member section" of the Promoter's Website. Entrants should note that Gift Cards may expire after a certain date and their use may be subject to the retailer's own terms and conditions. 10. No entries from agents, third parties, organised groups or applications automatically generated by computers will be accepted. No incomplete or corrupted entries will be accepted. Any entries not made during the Promotion Period or otherwise in accordance with the entry instructions and these terms and conditions will be rejected. 11. The Promoter reserves the right to substitute, in its sole discretion, the Gift Card with an alternative award of equal or greater value. 12. The Promoter reserves the right to ask for satisfactory proof of identity, age and/or address as a condition of award of the Gift Card. 13. The Promoter reserves the right to amend or alter the Promotion or these terms and conditions at any time or to terminate the Promotion at any time without prior notice due to circumstances beyond its reasonable control. Any changes to the Promotion or these terms and conditions will be posted on the Promoter's Website at www.myvouchercodes.co.uk. 14. Personal data submitted by entrants in connection with the Promotion will be processed by the Promoter in accordance with the Promoter's privacy policy, which is available at www.myvouchercodes.co.uk/privacy. 15. The Promoter does not accept any responsibility for any damage, loss, injury or disappointment suffered by entrants or as a result of acceptance of the Gift Card, but nothing in these terms and conditions shall operate to exclude the Promoter's liability for death or personal injury suffered as a result of the Promoter's negligence. 16. The Promotion and these terms and conditions are governed by the laws of England and Wales and are subject to the exclusive jurisdiction of the English and Welsh courts.
EXCLUSIVE
View Terms & Conditions

View Terms & Conditions

1. The £10 Amazon.co.uk digital gift card giveaway ("Promotion") is subject to the following terms and conditions. By entering the Promotion entrants will be deemed to have read and accepted these terms and conditions. 2. The Promotion is organised and operated by The Global Voucher Group Limited of Imperial House, Imperial Way, Newport NP10 8UH ("Promoter"). 3. The Promotion is open to all UK residents aged 18 years or over except employees of the Promoter, their families, agents and anyone else connected with administration of the Promotion. 4. The Promotion will run from 30 Jun 2021 23:00 until 30 Sep 2021 22:59 ("Promotion Period"). 5. All entrants who (i) subscribe to receive the Promoter's electronic marketing during the Promotion Period and (ii) Booking.com confirms have spent £270 or more (excluding all gift card purchases and top-ups and delivery or collection charges) before 30 Sep 2021 22:59 at the Booking.com via the link provided on www.myvouchercodes.co.uk ("Promoter's Website") shall be eligible to receive a free £10 Amazon.co.uk ("Gift Card"). 6. You will not be entitled to a Gift Card if you click on any other links or visit any other websites before making your purchase at the Booking.com or if you make use of any other offer or promotion in connection with your purchase which is provided by the Promoter or Booking.com (including any discounts, codes, savings, credit and/or points). 7. Only one entry per entrant during the Promotion Period shall be accepted. 8. Gift Card Rewards redeemed against Booking.com purchases will be available 90 days after your confirmed date of travel. 9. Gift Cards may be downloaded via the "member section" of the Promoter's Website. Entrants should note that Gift Cards may expire after a certain date and their use may be subject to the retailer's own terms and conditions. 10. No entries from agents, third parties, organised groups or applications automatically generated by computers will be accepted. No incomplete or corrupted entries will be accepted. Any entries not made during the Promotion Period or otherwise in accordance with the entry instructions and these terms and conditions will be rejected. 11. The Promoter reserves the right to substitute, in its sole discretion, the Gift Card with an alternative award of equal or greater value. 12. The Promoter reserves the right to ask for satisfactory proof of identity, age and/or address as a condition of award of the Gift Card. 13. The Promoter reserves the right to amend or alter the Promotion or these terms and conditions at any time or to terminate the Promotion at any time without prior notice due to circumstances beyond its reasonable control. Any changes to the Promotion or these terms and conditions will be posted on the Promoter's Website at www.myvouchercodes.co.uk. 14. Personal data submitted by entrants in connection with the Promotion will be processed by the Promoter in accordance with the Promoter's privacy policy, which is available at www.myvouchercodes.co.uk/privacy. 15. The Promoter does not accept any responsibility for any damage, loss, injury or disappointment suffered by entrants or as a result of acceptance of the Gift Card, but nothing in these terms and conditions shall operate to exclude the Promoter's liability for death or personal injury suffered as a result of the Promoter's negligence. 16. The Promotion and these terms and conditions are governed by the laws of England and Wales and are subject to the exclusive jurisdiction of the English and Welsh courts.
EXCLUSIVE
View Terms & Conditions

View Terms & Conditions

1. The £25 Amazon.co.uk digital gift card giveaway ("Promotion") is subject to the following terms and conditions. By entering the Promotion entrants will be deemed to have read and accepted these terms and conditions. 2. The Promotion is organised and operated by The Global Voucher Group Limited of Imperial House, Imperial Way, Newport NP10 8UH ("Promoter"). 3. The Promotion is open to all UK residents aged 18 years or over except employees of the Promoter, their families, agents and anyone else connected with administration of the Promotion. 4. The Promotion will run from 30 Jun 2021 23:00 until 30 Sep 2021 22:59 ("Promotion Period"). 5. All entrants who (i) subscribe to receive the Promoter's electronic marketing during the Promotion Period and (ii) Booking.com confirms have spent £640 or more (excluding all gift card purchases and top-ups and delivery or collection charges) before 30 Sep 2021 22:59 at the Booking.com via the link provided on www.myvouchercodes.co.uk ("Promoter's Website") shall be eligible to receive a free £25 Amazon.co.uk ("Gift Card"). 6. You will not be entitled to a Gift Card if you click on any other links or visit any other websites before making your purchase at the Booking.com or if you make use of any other offer or promotion in connection with your purchase which is provided by the Promoter or Booking.com (including any discounts, codes, savings, credit and/or points). 7. Only one entry per entrant during the Promotion Period shall be accepted. 8. Gift Card Rewards redeemed against Booking.com purchases will be available 90 days after your confirmed date of travel. 9. Gift Cards may be downloaded via the "member section" of the Promoter's Website. Entrants should note that Gift Cards may expire after a certain date and their use may be subject to the retailer's own terms and conditions. 10. No entries from agents, third parties, organised groups or applications automatically generated by computers will be accepted. No incomplete or corrupted entries will be accepted. Any entries not made during the Promotion Period or otherwise in accordance with the entry instructions and these terms and conditions will be rejected. 11. The Promoter reserves the right to substitute, in its sole discretion, the Gift Card with an alternative award of equal or greater value. 12. The Promoter reserves the right to ask for satisfactory proof of identity, age and/or address as a condition of award of the Gift Card. 13. The Promoter reserves the right to amend or alter the Promotion or these terms and conditions at any time or to terminate the Promotion at any time without prior notice due to circumstances beyond its reasonable control. Any changes to the Promotion or these terms and conditions will be posted on the Promoter's Website at www.myvouchercodes.co.uk. 14. Personal data submitted by entrants in connection with the Promotion will be processed by the Promoter in accordance with the Promoter's privacy policy, which is available at www.myvouchercodes.co.uk/privacy. 15. The Promoter does not accept any responsibility for any damage, loss, injury or disappointment suffered by entrants or as a result of acceptance of the Gift Card, but nothing in these terms and conditions shall operate to exclude the Promoter's liability for death or personal injury suffered as a result of the Promoter's negligence. 16. The Promotion and these terms and conditions are governed by the laws of England and Wales and are subject to the exclusive jurisdiction of the English and Welsh courts.
EXCLUSIVE
View Terms & Conditions

View Terms & Conditions

1. The £15 Amazon.co.uk digital gift card giveaway ("Promotion") is subject to the following terms and conditions. By entering the Promotion entrants will be deemed to have read and accepted these terms and conditions. 2. The Promotion is organised and operated by The Global Voucher Group Limited of Imperial House, Imperial Way, Newport NP10 8UH ("Promoter"). 3. The Promotion is open to all UK residents aged 18 years or over except employees of the Promoter, their families, agents and anyone else connected with administration of the Promotion. 4. The Promotion will run from 30 Jun 2021 23:00 until 30 Sep 2021 22:59 ("Promotion Period"). 5. All entrants who (i) subscribe to receive the Promoter's electronic marketing during the Promotion Period and (ii) Booking.com confirms have spent £400 or more (excluding all gift card purchases and top-ups and delivery or collection charges) before 30 Sep 2021 22:59 at the Booking.com via the link provided on www.myvouchercodes.co.uk ("Promoter's Website") shall be eligible to receive a free £15 Amazon.co.uk ("Gift Card"). 6. You will not be entitled to a Gift Card if you click on any other links or visit any other websites before making your purchase at the Booking.com or if you make use of any other offer or promotion in connection with your purchase which is provided by the Promoter or Booking.com (including any discounts, codes, savings, credit and/or points). 7. Only one entry per entrant during the Promotion Period shall be accepted. 8. Gift Card Rewards redeemed against Booking.com purchases will be available 90 days after your confirmed date of travel. 9. Gift Cards may be downloaded via the "member section" of the Promoter's Website. Entrants should note that Gift Cards may expire after a certain date and their use may be subject to the retailer's own terms and conditions. 10. No entries from agents, third parties, organised groups or applications automatically generated by computers will be accepted. No incomplete or corrupted entries will be accepted. Any entries not made during the Promotion Period or otherwise in accordance with the entry instructions and these terms and conditions will be rejected. 11. The Promoter reserves the right to substitute, in its sole discretion, the Gift Card with an alternative award of equal or greater value. 12. The Promoter reserves the right to ask for satisfactory proof of identity, age and/or address as a condition of award of the Gift Card. 13. The Promoter reserves the right to amend or alter the Promotion or these terms and conditions at any time or to terminate the Promotion at any time without prior notice due to circumstances beyond its reasonable control. Any changes to the Promotion or these terms and conditions will be posted on the Promoter's Website at www.myvouchercodes.co.uk. 14. Personal data submitted by entrants in connection with the Promotion will be processed by the Promoter in accordance with the Promoter's privacy policy, which is available at www.myvouchercodes.co.uk/privacy. 15. The Promoter does not accept any responsibility for any damage, loss, injury or disappointment suffered by entrants or as a result of acceptance of the Gift Card, but nothing in these terms and conditions shall operate to exclude the Promoter's liability for death or personal injury suffered as a result of the Promoter's negligence. 16. The Promotion and these terms and conditions are governed by the laws of England and Wales and are subject to the exclusive jurisdiction of the English and Welsh courts.
View Terms & Conditions

View Terms & Conditions

Cannot be used in conjunction with any other offer One per person For full Terms & Conditions please see website Available whilst stocks last
Offers for Booking.com were last updated Wednesday 4 August 2021 09:02
Booking.com Codes That You've Missed
Booking.com Discount Codes
| Offer Description | Expires | Discount Type |
| --- | --- | --- |
| At least 15% off Local Breaks, Longer Trips or anything in between - Plan your next Getaway for less | | Deal |
| Exclusive Free £30 Amazon Voucher with Orders Over £760 | | Reward |
| Exclusive Free £10 Amazon Voucher with Orders Over £270 | | Reward |
| Get 15% Off Bookings Plus Exclusive Free £25 Amazon Voucher with Orders Over £640 | | Reward |
| Exclusive Free £15 Amazon Voucher with Orders Over £400 | | Reward |
FAQs
Will I get a refund Covid related cancellations?All customers are advised to consider the COVID-19 risk and keep in mind any relevant government travel advice and news. Following on from this date, you may not be entitled to a refund if you do not book a flexible rate.


Are there fees for a Booking.com cancellation?Accommodation providers are only be able to use one of 3 charges for cancellations. They are, one nights stay, 50% of the stay, or the entire stay. Any of these may apply and you should double checking before confirming your booking. This system also applies to prepayment bookings.


Can I alter my booking?
While it is down to the individual properties policy, yes, usually you can make amendments. These include changes dates, adding rooms, and more. Different hotels offer different rules, but usually there isn't fees to worry about.
]

How can I find my check in times?

You can find the check in times for every property in the 'House Rules' section of their page. This is where you'll find all the essential information relating to everything the hotel offers. Make sure you take a look before you place your booking.

Hints & Tips
Get the most out of your Booking.com shop today by checking out these handy Booking.com hints & tips:


Booking your holiday early is a simple way of securing the biggest and best savings and giving yourself plenty of time to plan. You'll find phenomenal deals when you get in well ahead of time and book your stay with a few months to go until you travel. It's a proven way to save on travel and it pays to plan ahead.


There's nothing worse than finding your dream destination at the right price only for the costs to spiral as you move through your booking. You won't find any of that here; what you see is what you get with no extra fees. That means one price bookings that let you plan your perfect trip without any nasty surprises.


Make sure you're signing up to the newsletter to catch all the latest news and special offers. You'll get plenty of travel inspiration straight in your inbox to set your wanderlust off, and a 50% discount on your next hotel booking. That's worth an email address.


Downloading the app is the easiest way to put hassle free hotels in the palm of your hand. You can make, alter, and cancel bookings right from your smartphone and take full control of your next trip.
How to Use a Booking.com Discount Code
Follow these easy instructions to get a discount on your next stay with Booking.com


Checkout the selection of deals on their MyVoucherCodes page and click 'Get Discount' once you've made your decision


A new tab will automatically open and take you to the relevant Booking.com page


Set you travel dates and destination of choice to search an unbeatable choice of accommodation


Select you room of choice and enter all your passenger details before you proceed to payment


Check the codes terms and conditions and ensure your dates are not restricted


Now you can paste your code into the 'Enter Your Code' box and click apply


Once your discount has been accepted proceed with your booking and get packing, you're on your way



What About Wales?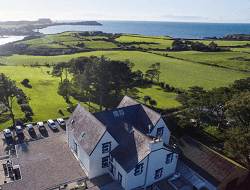 Keeping things closer to home is going to be more popular than ever this summer. The uncertainty around foriegn travel and evolving lists that could land you in quarantine by the time you get back, keeping it close might be the best way to go. And Wales is the perfect destination for a quick getaway.
For natural beauty, you'd be lucky to find anywhere as stunning as Snowdonia National Park. There are loads of scenic trails to walk that offer dramatic mountain views, picturesque lakes, and jaw dropping vistas that stretch for miles. There are plenty of walks that are suitable for beginners, and there's even a train that will get you to the summit without breaking a sweat. The Brecon Beacons are another walker's paradise with mile after mile of pure countryside and trails that cover grade 1 to 5 for all abilities. If you're looking for a quaint country stay, a room in the Welsh countryside will tick all boxes.
Wales is much more than dirt trails and dodging sheep. Cities like Cardiff and Swansea offer vibrant culture and big nights out for a more cosmopolitan break. Cardiff Bay is packed full of restaurants and bars for fantastic evenings with good food and drink. That means fantastic shopping and sightseeing during the day, and getting glammed up for a proper night out once the sun goes down.
Whatever kind of holiday ramps up your wanderlust grab a promo code to save on the vast selection of accommodation on Booking.com.
Beaches for Days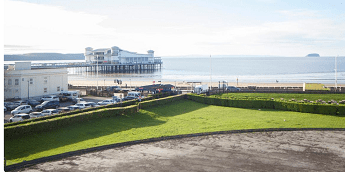 Summer is here,but there's still a whole lot of uncertainty around foreign travel in 2021. Colour coded lists are changing every week and every country has their own approach to the Covid-19 pandemic. Sticking to homegrown holidays might be the best way to hit the beach and the UK has got incredible spots to lay a towel. Here's 3 of the best Booking.com destinations:
The Jurassic Coast is one of the UKs most visited spots and Lulworth Cove is the jewel in that crown. That's because of the natural limestone arch that creates a dramatic view, perfect for a selfie. The natural bay has pristine sands and turquoise waters that look like they belong in the Caribbean.
Bamburgh beach is a popular choice in Northumberland that has everything you want from an idyllic beach. Gorgeous sand, rock pools, and dunes. It also has an epic 12th century fortress that dominates the skyline for beach views with a difference. The kids will love exploring this beach and it makes for a superb day out.
Whitesands beach in Pembrokeshire is one of the best Wales has to offer. If you love the back to nature look, this is the one one for you thanks to it's spectacular views. Wild fields and ragged coastline make for a rustic look that keeps this beach looking as natural as the day it rose out of the sea. But it's still a Blue Flag beach which means you know it is kept to a superb standard.
Before you pack a bag for Britain, grab a discount code and save more on your next Booking.com holiday.
Genius Explained
Booking.com puts people in touch with millions of rooms and turns ordinary people into hoteliers. It's Britain's easiest way to find unique accommodation, visit more countries, and save on travel. But did you know that the Genius programme makes savings and perks available to anyone. That's because they aim to help people explore the world and believe that loyal travellers should be rewarded.Once you complete two stays within two years, you will automatically be added to Genius level 1. This entitles you to 10% off selected properties for all future bookings. That's right, unlike many loyalty schemes, once you're added to the Genius program, you're on it for life even if you don't make two trips every year.The Genius doesn't stop at one level; if you make five trips in two years, you'll reach the highest echelons of the loyalty scheme, Genius Level Two. In this rarefied air of savings, you'll get the perks of level one, plus 15% off selected properties, Free breakfast with selected bookings, and free room upgrades on selected stays. If you're a regular traveller, the Genius programme makes this a destination of choice when you're sorting out your accommodation. And if you can pair it with a promo code, you'll save even more at Booking.com