View Terms & Conditions

View Terms & Conditions

T&Cs: Save £150 per booking on 14-night holidays departing between 17th May – 31st October 2021 with code SAVE150 - Save £150 per booking including children aged 2 and over on 14-night First Choice package holidays departing between 17th May – 31st October 2021. Discount is valid on First Choice Package holidays. The minimum spend is £2000 per booking and before any extras such as insurance, room upgrades & selecting seats, are added. Saving is based on a minimum of 2 adults sharing a room. The offer is valid from 10th March 2021 on https://www.firstchoice.co.uk/ only. The offer does not apply to accommodation only, flight only and ski bookings. This offer is only valid for new bookings and can only be redeemed once. Enter the code SAVE150 in upper case when on the holiday payment page of our website. Please see https://www.tui.co.uk/ or the relevant brochure for booking terms and conditions. The offer is subject to availability and may be amended or withdrawn at any time without notice. This promotional code is non-transferable and not valid in conjunction with any other discount code.
View Terms & Conditions

View Terms & Conditions

See website for details.
View Terms & Conditions

View Terms & Conditions

See website for details.
View Terms & Conditions

View Terms & Conditions

See website for details.
View Terms & Conditions

View Terms & Conditions

See website for details.
Offers for First Choice were last updated Tuesday 6 April 2021 08:47
First Choice Codes That You've Missed
View Terms & Conditions

View Terms & Conditions

See website for details.
View Terms & Conditions

View Terms & Conditions

Based on 2 adults sharing. UK Departure: BRS, LGW and STN Date: 2nd July 2021
View Terms & Conditions

View Terms & Conditions

Based on 2 adults sharing. Departing 6th July.
View Terms & Conditions

View Terms & Conditions

Hotel: TUI Blue Riviera Duration: 7 nights Board: HB UK Departure: DSA Departure Date: 22nd July 2021 Price: £625 per person (based on 2 adults sharing)
Most Popular First Choice Code & Discount
| Offer Description | Expires | Discount Type |
| --- | --- | --- |
| £150 per booking on 14 Nights Only | | Voucher Code |
| Free Covid Cover on Bookings | | Deal |
| Book Today with £0 Deposit | | Deal |
| Make Free Amendments up to 21 Days before Travel | | Deal |
| Sun, Sea and Peace of Mind - Book Breaks Backed by the Holiday Promise plus Free Changes on Selected Bookings | | Deal |
First Choice
Jet off for less by heading over to First Choice and taking advantage of these top money-saving hints and tips for a great deal on a gorgeous getaway today:


Check out the First Choice deals page for some absolute steals on flights to a ton of delightful destinations.


Book early for a discount on your First Choice booking, by getting in early you stand to save a tidy sum. On the other hand, leaving it last minute can be a great way to save a few quid on clearance holidays.


Get yourself signed up to the newsletter for the biggest and best First Choice offers, and all you need to do is pop in your email address to get started.


The homepage is packed with huge First Choice discounts, whether it's all-inclusive or just a hotel booking, so it's worth scrolling through.


Be flexible with your booking and you can save a bundle. Whether you go at an off-peak time, or you fly at an unpopular time, it can save you bundle.


Keep your eyes peeled in the First Choice Coronavirus FAQ's to find out the latest guidelines and how they impact your First Choice booking/


First Choice
What's Included With Free Kids Places With First Choice?
TUI's free kids' places are available with 2 full-paying adults and include flight, accommodation, food & drink and transfers.
There's one free space available on selected holidays and this offer can't be used with First Choice promo codes.
Do First Choice Offer Discount Codes?
Yes. With some codes being short term and some offers being longer term it's worth checking MyVoucherCodes for your discount code. There are site-wide discounts and destination-specific offers.
How Can I Pay?
If booked online, your holiday can be paid for in the "Manage My Booking" section. You can also pay via Direct Debit.
Bookings made in-store or over the phone will need to be paid for in your nearest Holiday Store. The cardholder will need to be present to pay by Chip & Pin.
How Do I Change Or Cancel My Booking With First Choice?
You can make changes to your booking by visiting your Customer Account or the Manage My Booking page. Here you can add upgrades, change passenger details, and alter accommodation. To adjust holiday dates, it's advisable to call First Choice.
Where Can I Find Information On Special Requirements?
If you require any special assistance you can find all the information on the
Customer Welfare page
. If more information is required, you can call the Welfare Team on 0203 451 2748.
Are There First Choice Black Friday Deals?
Yes, they traditionally offer a ton of great savings on Black Friday, so it's worth keeping an eye out here at MyVoucherCodes to get all the latest discounts.
First Choice
Here are some instructions to follow to get your First Choice vouchers working to your advantage.


Start by visiting the MyVoucherCodes First Choice page and clicking on the deal that takes your fancy. A separate window will appear, showing you the code, which can then be copied.


MyVoucherCodes will redirect you to the First Choice website automatically. All you need to do is visit the previous window.


Browse the website and select your dream getaway.


Once you've found it, click 'continue' next to the package price in the top right-hand corner.


You will be taken to your holiday summary where you will be able to customise your experience further.


Scroll all the way down to the price breakdown and apply your First Choice promo code by entering it in the appropriate box.


Click 'apply' and the price of the package will change.


Proceed with the rest of your checkout, make your payment and start looking forward to your well-deserved holiday.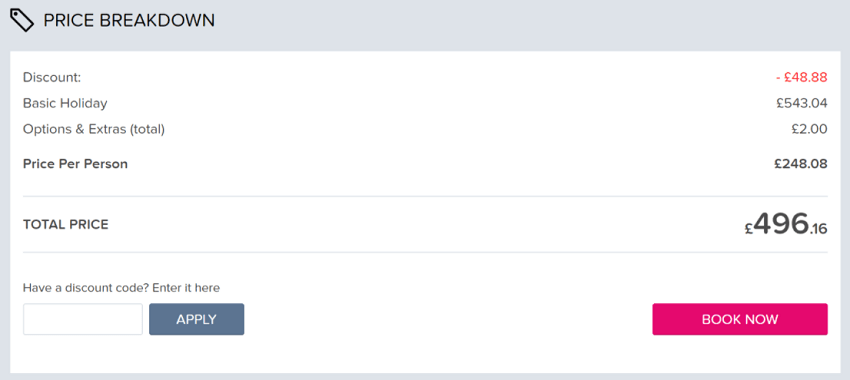 First Choice
Travel schedules in the last year have been subject to some change, to say the least. And while a lot of us are holding off from booking a holiday this Spring, that doesn't mean you can't keep an eye out for some cracking First Choice holidays in 2021.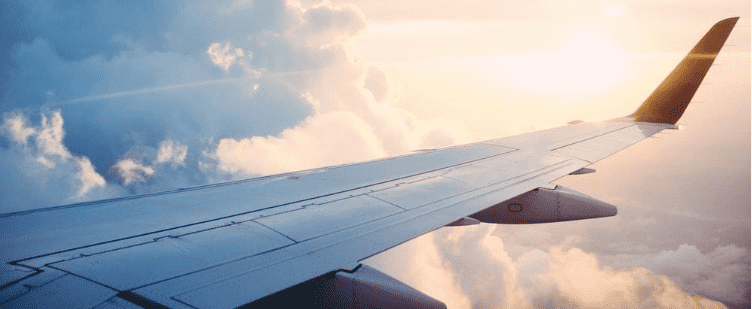 Special measures are being taken to make sure safety standards are upheld on the planes and at their resorts. It's always worth checking the guidelines before you book, just so you can make sure your First Choice holiday goes off without a hitch.
Whether you're looking for a luxury First Choice holiday to the 5-star Atlantica Beach Resort in Kos, or you want to soak up some sun in marvellous Mexico, there's a stunning getaway for everyone.
To get the full package, it's always worth checking out the First Choice holiday village deals, where you'll find adventure on tap. With activities for the whole family, top staff to cater for you, and even top-quality shows for your viewing pleasure. So, you'll be catered for your every need in 2021.
So, book yourself in for a First Choice flight in 2021 and get something in your calendar that you can look forward to. And if you're not convinced this is the year for a holiday, you can always look forward to 2022.
First Choice
The year has been an especially turbulent one, with holiday schedules being a little up in the air, booking a getaway hasn't been on everyone's to-do list. But with guidance holiday guidelines becoming clearer, some people might be looking to book-in for a last minute getaway.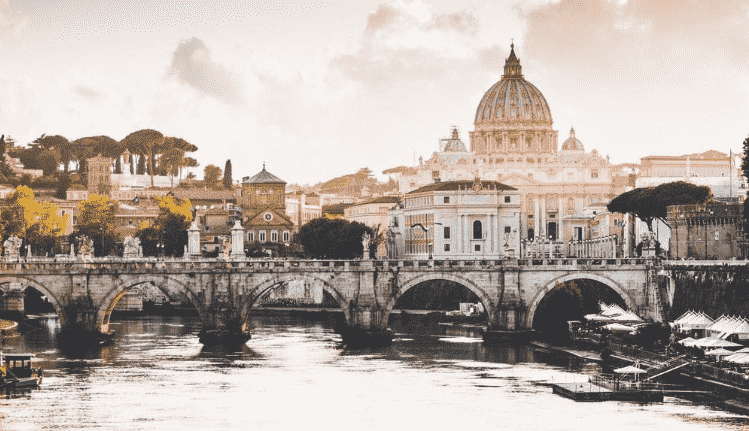 With the First Choice last minute deals, you can bag an absolute bargain on an incredible getaway later in 2021. Whether that's a weekend in the city for two, or a family holiday, they've got it all on offer.
See the beautiful sights of Rome, or head to the city of love for a romantic weekend in Paris. Whatever the occasion, there's a trip for you, and with a last minute deal, you can save yourself a tidy sum on your bookings.
You can even get yourself booked in for some last-minute Summer sunshine. Whether it's a beautiful beach holiday in Spain, or you fancy a culture-soaked trip to Greece, there's a First Choice last minute holiday with your name on it.
Before you head off, it's worth checking the government advice and the First Choice cancellation policy. The Coronavirus has made travel a little more difficult, so make sure you've got all the details before you jet off on your First Choice flight!
So, book yourself in for some cracking rest and relaxation in any of the beautiful and dreamy destinations that First Choice have on offer.
First Choice
When it comes to the holidays, there's no better way to spend it than a First Choice family holiday that's packed with activities, entertainment and relaxation. So, make the most of your family time by booking yourself in for some luxury in the New Year.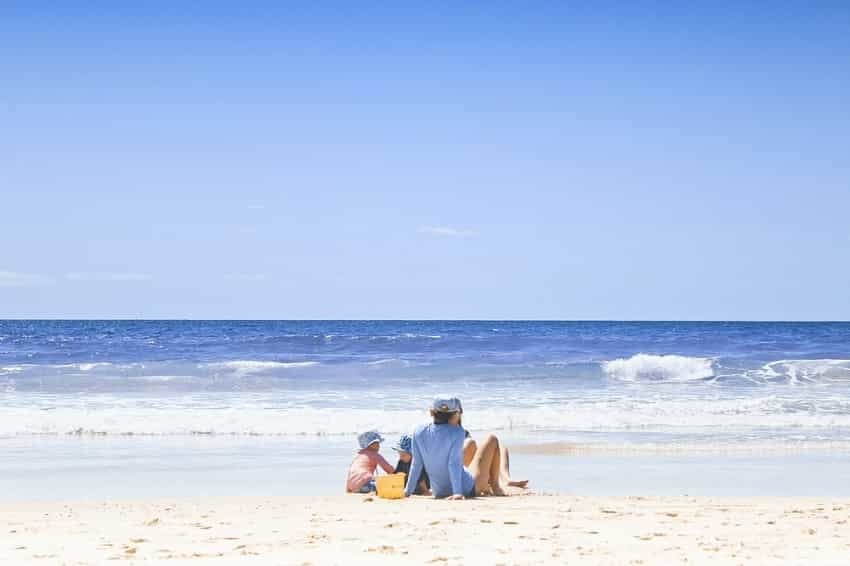 With First Choice travel you can save yourself a tidy sum too with First Choice free child places. So, when you book yourself in for some beach time abroad, you won't have to splash out for the little ones. Top that off with a First Choice discount code, and you're in for an absolute bargain.
Check out the First Choice all-inclusive options to make sure you're catered for. From cracking kids' clubs for keeping the children entertained, to incredible pools, and delicious cuisine, you really are covered on your First Choice all-inclusive holiday.
Whether you want to soak up some sun with a First Choice Turkey holiday, or you fancy heading to a popular destination like Majorca, you can book the family in for some well-deserved beach-time.
Go a step further and check out the First Choice magic life holidays, where you'll have entertainment on tap, or get something for the kids with First Choice Splashworld resorts. Where the family can enjoy a cracking water park experience.
So, get the family looking forward to some quality time abroad with a First Choice holiday. Wherever you want to head, book yourself in for a flight and buckle up for some family beach-time.
First Choice
Waking up to a delicious breakfast, snacks throughout the day, and all your after dark drinks included. If that sounds like a bit of you, we've compiled of the top holiday hot spots to escape to this year.
First Choice Turkish Holidays
Turkey is a fabulous choice
for your all-inclusive vacay. There are miles upon miles of blue flag beaches to explore and gorgeous water to dip in. Beneath the waves, you'll discover some of the best diving spots in the world.
Sun, sea, and sand is just a part of what Turkey has to offer. Known as the Gateway to the East and West, Turkey is bulging with fascinating historical sites. The Hagia Sophia, the Ephesus Archaeological Museum, and Topkapi Palace world famous tourist attractions. But thanks to Turkey's unique history, there's loads more to see.
The old and new sit side by side with bustling bazaars and glitzy marinas being within walking distance. It's easy to get a feel for the place and experience something a little out of the ordinary.
First Choice Mexico Adventures
Another
All-Inclusive favourite is Mexico
. It's a place to find luxury resorts and excursion adventures. All along the Caribbean coast you can stay in stunning resorts that skirt the white sand.
Away from the beach, there are impressive temples and jungle trails. At Koba, you walk an ancient path until the pyramid rises out of the jungle. The dramatic ruins beside the sea at Tulum make the perfect backdrop for holiday snaps. Chichen Itza is one of the new Seven Wonders of the World and an essential excursion. All these spectacular sites are a must for all travellers.
Cancun is famous for its incredible nightlife. It's the place to go to dance until dawn. Coco Bongos is a must for all party lovers. It's part-nightclub and part-circus, and one incredible night.
First Choice Caribbean Holidays
You can stop the search for the perfect beach break when you get to the Caribbean. The famous white sand and turquoise seas are made for postcards. Imagine paradise and you're almost there.
In Barbados
you will take relaxation to another level. The laidback lifestyle is certain to rub off on you as you sip rum cocktails and soak up the sun. Away from the sand you can wander around beautiful botanical gardens or leisurely enjoy afternoon tea.
Hop over to Grenada to hang out with the monkeys and sip refreshing fruit smoothies. The chocolate factory will give you a taste of all the islands sweet treats. And in the evening, it's time to stroll around swanky harbour filled with luxury yachts and cocktail bars. It's the perfect place to wind down after a long day exploring.
Trinidad and Tobago is for adventure lovers. If you love trying something new, this is the island for you. Whether it's ziplining through the exotic jungle canopy, or diving below to visit the coral reefs, you'll find your adventure here. Go at the right time and you'll find vibrant festivals and carnivals dancing through the streets.
They're great for soaking up the Caribbean flavour and trying some delicious new foods.
CFirst Choice Canary Islands
The Canary Islands are a top choice
for an all-inclusive break. Being close to home and soaked in the sun, Brits flock to them every year. It helps that you can find some great deals too.
The welcoming Islands mix relaxation with adventure thanks to a host of water parks, rides and attractions. All the islands have something to get the heart rate up and they make an excellent break from baking on the beach.
The markets at Picture perfect towns are a must too. Morgan in Gran Canaria is known as little Venice thanks to it's pretty waterways and quaint streets. Teguise market brings vibrance and flavour to the little Lanzarote town. It's a great place to eat like a local and pick up some souvenirs.
If an all-inclusive break sounds like something you need to get booked, check in to MyVoucherCodes for the latest First Choice discount codes. We'll have you sipping cocktails by the pool in no time.
First Choice
Escape the Rain
You've gifted and cooked your way through the festive season and now it's time to relax. And is there a better way to chill out after the Christmas chaos than a week in the sun?You'll find big savings on top destinations to make all your beach dreams come true. That's what the
winter sale
brings.The best way to make the most of this sale is to be flexible. Flying a week later could save you a fortune. Play with your dates before you book to get the best deal. That extra money could help you add some luxury to your winter break.
New Year's Getaway
Every year the
January sale
offers deals on worldwide holidays. The best way to get the most out of this fantastic sale is to set your alarm. Power through the New Year's hangover like a trooper and be among the first to see the biggest savings. You don't have to worry if Christmas has left things a little light in January. You can use low deposits to help book you seat on the flight.
Bank Holiday Escapes
The Easter Sale promises fantastic deals on your spring break. You can expect superb deals on
short city stays
to see out the bank holiday weekend in the sun. Whether you're looking for far-flung luxury or a sun lounger closer to home, you'll find your next holiday amongst these deals.
Fun in the Sun
It gets harder to find a bargain in summer. Prices rise when the kids break up, so you need to find other ways to save money on your family holiday. Take advantage of the
free kids places
on offer to help get your family to the beach. It's best to let the offers guide when looking for a deal on your summer holiday. There will be options, but it might take a bit of searching. Who doesn't love scrolling through travel sites?Where ever you want to visit this summer, whatever the budget, you can save a little extra at MyVoucherCodes.