Buyagift Hints & Tips
Treat your loved ones to the perfect gift for less at Buyagift, and with these handy hints you can make sure you're getting your money's worth:
A lot of the biggest and best Buyagift deals can be found on their homepage, so it's worth having a scroll through for some incredible prices on wonderful experiences.
Make sure you're getting your money's worth with the Buyagift price match promise, so you can get refunded the difference if you find the same experience elsewhere, giving you peace of mind with your purchase.
FAQs
How can I get Buyagift discount codes?
You can regularly get a Buyagift discount code for specific categories. The MyVoucherCodes page is constantly updated with the best deals on experiences. You'll even find some exclusive codes that unlock a saving you won't find anywhere else.
How do I redeem a Buyagift voucher?
Use the reference number and pin on your voucher to log into the
My Voucher
page. You can then view the experience map and select the location/s available. Once you've picked your destination, you can contact the experience supplier and they will book you in.
Can I swap a Buyagift voucher?
You can exchange a voucher by visiting the 'My Voucher' page and select 'Exchange My Voucher'. Once you've selected your new experience you will be asked to pay the difference or given a credit voucher for the remaining balance. Details can be found on the
help page
.
How long is my voucher valid for?
Most Buyagift vouchers are valid for 10 months. Some experiences will have a fixed date, but this will be clearly stated both the time of booking and on your voucher.
Can I extend my Buyagift voucher?
Yes, in most case you can extend a voucher for a £20 charge. If the price has increased, you will be asked to pay the difference. You can't extend your voucher if it is for a special or one-off event. Full details can be found on the 'My Voucher page'.
Can someone else use my Buyagift voucher?
There are no names attached to a voucher until you book with the experience supplier and can be used by an recipient. If you have ordered a 'Print and Go' voucher for dated attractions you will need to show the card used to purchase at entry.
How do I apply my Buyagift voucher code?
Follow our simple Buyagift discount code instructions to get money off the next time you shop for an experience.


Click to show the Buyagift voucher code on the MyVoucherCodes Buyagift page. Copy the code from the window that pops up.
MyVoucherCodes will redirect you to the Buyagift website. All you need to do is visit the previous window.
Browse Buyagift's website for the perfect gifts and experiences to spoil your loved ones and add them to your basket.
Once you've found the perfect experience, click on the basket icon called 'Your Basket', which can be found at the top right corner of the page on the site.
Double-check to make sure that your Buyagift discount code is valid for everything you've got in your basket.
On the first page of the checkout process towards the bottom on the left, there is a box asking for any discount codes. Apply your Buyagift voucher code by entering it here.
After you click 'Apply', your new order total will show your discount, and you can then continue with the checkout process.
Buyers Guide - Family Days of Summer
With the school year set to end and all the craft activities used up in three long months of lockdown, you might be looking to find something that'll keep the kids climbing the walls this summer holiday. You've come to the right place because the Buyagift summer activities selection is jam packed with top days out that will help save your sanity this summer.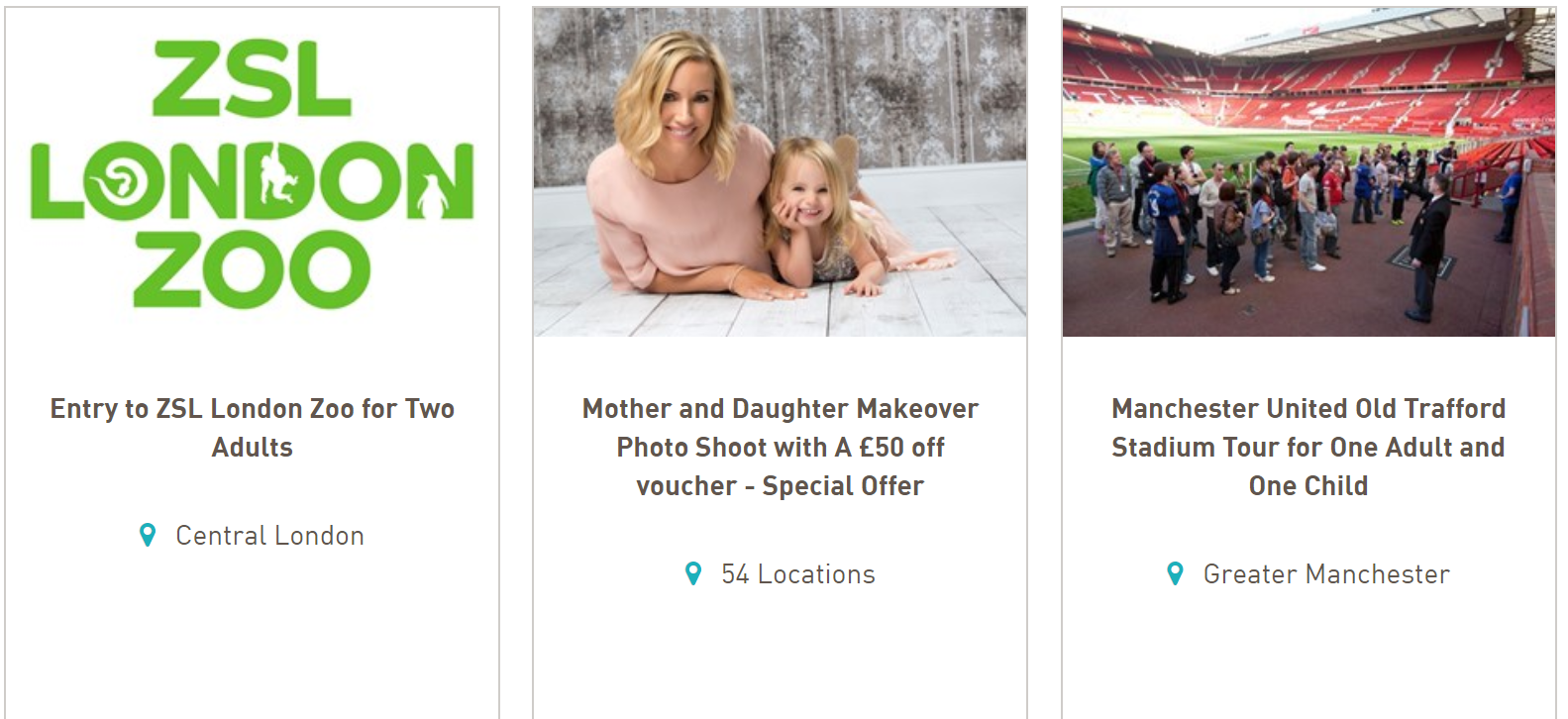 There are tons of activities for little adventurers that will set hearts racing and give everyone an experience they won't soon forget. Whether that's clambering in the canopy at Go Ape or zooming The ArcelorMittal Slide, these thrilling activities will leave the kids giggling all the way home.
You will find he countries most visited tourist attraction on Buyagift, and usually with a deal that will beat paying at the gate. From theme parks to heritage sites, they've got all the sites to make summer memories and keep even the grumpiest teenage happy.

If you've got little wildlife lovers in your pack, the animal encounters will be a treat like nothing else. These wild days out let you get up close and personal with the cute and cuddly residents of top zoos. Of course, you could also dip below the water and swim with fierce sharks, but that's not for the faint hearted.
It doesn't matter what you do with your kids this summer, what matters is making memories, and that is exactly what Buyagift specialise in.
Buyers Guide - Foodie Fun Days
Many of us have used the time at home to push our culinary boundaries and explore new foods, at least if twitter feeds full of proving sourdough are anything to go by. If you want to keep that foodie journey moving in a post lockdown world, there are loads of Buyagift food experiences to get your mouth watering.

If you're looking for your first evening out since restaurants are starting to open again, you can treat yourself to something a little more special than a cheeky Nando's. You can treat yourself to a michelin starred dinner for two at Galvin La Chapple in central London or unlimited brunch for two at Double Tree Hyde Park.
To make you lunch a whole lot fancier, there are tons of luxury afternoon tea experiences available that give a taste of how the other half live. It's the best way to lunch at your leisure and you could even enjoy a glass of bubbles, or two. A traditional afternoon tea on the Thames is a special way to mark any trip to the capital, or you taste top class food at Marco Pierre White's New York Italian.

But if you want to keep your lockdown learning streak going you can always cook your own meal. There are loads of experiences that will let you take your taste buds to a new country or whip up a sweet treat.
Whatever your craving, there is a meal waiting on Buyagift to get you back out into the world and eating a plateful of your favourite food.
Buyers Guide - Get Smart
Let's be honest, some people are an absolute nightmare to shop for. They got everything, they're never happy, or they have all the hobbies of a coma patient. But before you give up and reaching for a box of boring chocolates, a Buyagift Smartbox unlocks a world of new experiences.

These awesome little boxes give the gift of choice with 1000s of top experiences and plenty of time to get them involved. It doesn't matter how picky they are, there's got to be something they'll love with that much choice.
There is a selection of Smartboxes that have been designed with everyone in mind. They're packed with experiences to celebrate birthdays, anniversaries, or a regular Wednesday. To make sure everyone is covered there are tailored boxes that offer different themes and a massive range of different experiences inside.

If you've got a sense of what they want but don't want to risk a bet on an experience, you can pick up a category box. If you know he's a petrol head, but have no idea what he drives, all the Buyagift driving experiences are available in the Driving Smartbox. The same goes for food, short breaks, and Spa & Beauty.
This is the easiest way to put smiles on faces and Buyagift make sure there are experiences and budgets that everyone will love.