View Terms & Conditions

View Terms & Conditions

Exclusions may apply.
Get a great introductory discount with this voucher code.
View Terms & Conditions

View Terms & Conditions

1. For a list of exclusions please see [b][url=https://www.buyagift.co.uk/non-discountable-products]here[/url][/b]. 2. Discount codes may not be applied to theme park and attraction tickets or to certain products listed below. 3. Buyagift reserve the right to stop discount codes being used against specific products. 4. Only one discount code may be used per order. 5. Discount codes apply to internet orders only and cannot be used in conjunction with exchanges. 6. Discounts do not apply to delivery or packaging charges
EXCLUSIVE
View Terms & Conditions

View Terms & Conditions

1. The £30 Amazon.co.uk digital gift card giveaway ("Promotion") is subject to the following terms and conditions. By entering the Promotion entrants will be deemed to have read and accepted these terms and conditions. 2. The Promotion is organised and operated by The Global Voucher Group Limited of Imperial House, Imperial Way, Newport NP10 8UH ("Promoter"). 3. The Promotion is open to all UK residents aged 18 years or over except employees of the Promoter, their families, agents and anyone else connected with administration of the Promotion. 4. The Promotion will run from 26 Apr 2021 23:00 until 30 Sep 2021 22:59 ("Promotion Period"). 5. All entrants who (i) subscribe to receive the Promoter's electronic marketing during the Promotion Period and (ii) Buyagift confirms have spent £300 or more (excluding all gift card purchases and top-ups and delivery or collection charges) before 30 Sep 2021 22:59 at the Buyagift via the link provided on www.myvouchercodes.co.uk ("Promoter's Website") shall be eligible to receive a free £30 Amazon.co.uk ("Gift Card"). 6. You will not be entitled to a Gift Card if you click on any other links or visit any other websites before making your purchase at the Buyagift or if you make use of any other offer or promotion in connection with your purchase which is provided by the Promoter or Buyagift (including any discounts, codes, savings, credit and/or points). 7. Only one entry per entrant during the Promotion Period shall be accepted. 8. Confirmation of purchase may be provided by Buyagift up to 90 working days following the date of the qualifying purchase. 9. Gift Cards may be downloaded via the "member section" of the Promoter's Website. Entrants should note that Gift Cards may expire after a certain date and their use may be subject to the retailer's own terms and conditions. 10. No entries from agents, third parties, organised groups or applications automatically generated by computers will be accepted. No incomplete or corrupted entries will be accepted. Any entries not made during the Promotion Period or otherwise in accordance with the entry instructions and these terms and conditions will be rejected. 11. The Promoter reserves the right to substitute, in its sole discretion, the Gift Card with an alternative award of equal or greater value. 12. The Promoter reserves the right to ask for satisfactory proof of identity, age and/or address as a condition of award of the Gift Card. 13. The Promoter reserves the right to amend or alter the Promotion or these terms and conditions at any time or to terminate the Promotion at any time without prior notice due to circumstances beyond its reasonable control. Any changes to the Promotion or these terms and conditions will be posted on the Promoter's Website at www.myvouchercodes.co.uk. 14. Personal data submitted by entrants in connection with the Promotion will be processed by the Promoter in accordance with the Promoter's privacy policy, which is available at www.myvouchercodes.co.uk/privacy. 15. The Promoter does not accept any responsibility for any damage, loss, injury or disappointment suffered by entrants or as a result of acceptance of the Gift Card, but nothing in these terms and conditions shall operate to exclude the Promoter's liability for death or personal injury suffered as a result of the Promoter's negligence. 16. The Promotion and these terms and conditions are governed by the laws of England and Wales and are subject to the exclusive jurisdiction of the English and Welsh courts.
Offers for Buyagift were last updated Thursday 22 July 2021 08:20
Buyagift Codes That You've Missed
Most Popular Buyagift Code & Discount
| Offer Description | Expires | Discount Type |
| --- | --- | --- |
| 10% OFF First Orders | | Voucher Code |
| Exclusive Free £30 Amazon Voucher with Orders Over £300 | | Reward |
| Get 20% off Orders with this Buyagift Discount Code | | Voucher Code |
| 60 Day Refund Policy | | Deal |
| 15% Student Discount | | Deal |
Hints & Tips
Treat your loved ones to the perfect gift for less at Buyagift, and with these handy hints you can make sure you're getting your money's worth:
You can always count on getting an incredible price on your experience, but if you do find the same experience cheaper somewhere else, Buyagift will refund the difference to make sure you're getting the best deal around. That means you can book your next adventure without worrying about whether you're getting the best value. Can't say fairer than that.


Check in for the biggest sales and all the incredible discounts that come with them. They come around all the time and usually offer at least 50% off exciting experiences. In the run up to seasonal events like Mothers Day or Fathers Day you will find perfect gift days with savings attached. It's the best way to treat your loved ones and saving your bank balance.


Keep your eyes peeled for 2 for 1 offers on experiences. They are often available on short breaks and spa days and allow you to bring a guest along for the fun. If you're giving someone a fabulous gift for their birthday, they might even earn you an invite. Whether you get to tag along or not, they're a fantastic way of packing more value in to your gifting game.

FAQs


Can I extend my Buyagift voucher?

Yes, in most cases you can extend your voucher for a £20 feel. If the price has increased, you will be asked to pay the difference. You can't extend your voucher if it is for a special or one-off event. Full details can be found on the 'My Voucher page'.


How do I redeem a Buyagift voucher?

Use the reference number and pin on your voucher to log into the My Voucher page. You can then view the experience map and select the location/s available. Once you've picked your destination, you can contact the experienced supplier and they will book you in.


How long do Buyagift vouchers last?
Vouchers are usually valid for 10 months, but they understand the Covid-19 situation has led to a lot of uncertainty. To ensure everyone has the opportunity to use their vouchers this has been extended to 20 months. Some experiences will have a fixed date, but this will be clearly stated both the time of booking and on your voucher.

Do Buyagift offer a student discount?
Yes, anyone in full time education is entitled to 15% off all their amazing experiences. There is also a Youth Discount available for any person aged 16-26. Don't miss out on top experiences when you're in Uni, take advantage today.


What are Buyagift Smart Boxes?

Smart Boxes take the stress out of gifting by giving the recipient the chance to pick their own experience. They come in themes and contain a fabulous selection of experiences and locations that fit the bill. They're a superb way of making sure they get something they'll love and you don't need to worry about picking the wrong location.


Can I exchange my Buyagift voucher?

Yes, you can swap out your voucher for another one of the same value anytime before the expiration date. This is free of charge, but if you would like to change to a more expensive experience, you will have to pay the difference.

How to Use Your Buyagift Discount Code


Click to show the Buyagift voucher code on the MyVoucherCodes Buyagift page. Copy the code from the window that pops up.


MyVoucherCodes will redirect you to the Buyagift website. All you need to do is visit the previous window.


Browse Buyagift's website for the perfect gifts and experiences to spoil your loved ones and add them to your basket.


Once you've found the perfect experience, click on the basket icon called 'Your Basket', which can be found at the top right corner of the page on the site.


Double-check to make sure that your Buyagift discount code is valid for everything you've got in your basket.


On the first page of the checkout process towards the bottom on the left, there is a box asking for any discount codes. Apply your Buyagift voucher code by entering it here.


After you click 'Apply', your new order total will show your discount, and you can then continue with the checkout process.



Relaxing Breaks All Round
These are uncertain times, but that doesn't mean you can't get away for the break you deserve after a long, long year. Buyagift gives you the flexibility to make sure you get your holiday and can spend some time finally living your best life.These lovely folks understand that lockdowns make it impossible to use your experiences and they are currently offering free extensions on all experiences. That means if you book a cheeky short break and we're hit with yet another lockdown, you won't miss out on your stay.If you need an escape to the country to breathe in the fresh air and reset, a short break is just what you need. With spectacular hotels, quaint b&bs, and sprawling manor houses, you'll find the perfect place to recharge your batteries. We're talking rolling countryside and clean air to reinvigorate your soul. Who couldn't use a bit of that?

The spa breaks boast a massive selection of serene spots that will have you finding your centre after a few hours of treatments. There's no better way of spending a little me time than being pampered within an inch of a bliss coma. With top treatments and glorious surroundings, a spa trip is exactly what 2021 called for]
If you're looking to get away for a short break, make sure you check out our selection of promo codes and save more on a Buyagift break.
Get Smart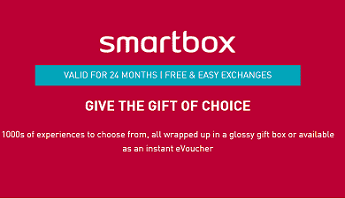 Let's be honest, some people are an absolute nightmare to shop for. They got everything, they're never happy, or they have all the hobbies of a coma patient. But before you give up and reaching for a box of boring chocolates, a Buyagift Smartbox unlocks a world of new experiences.These awesome little boxes give the gift of choice with 1000s of top experiences and plenty of time to get them involved. It doesn't matter how picky they are, there's got to be something they'll love with that much choice. There is a selection of Smart boxes that have been designed with everyone in mind. They're packed with experiences to celebrate birthdays, anniversaries, or a regular Wednesday. To make sure everyone is covered there are tailored boxes that offer different themes and a massive range of different experiences inside.If you've got a sense of what they want but don't want to risk a bet on an experience, you can pick up a category box. If you know he's a petrol head, but have no idea what he drives, all the Buyagift driving experiences are available in the Driving Smartbox. The same goes for food, short breaks, and Spa & Beauty. This is the easiest way to put smiles on faces and Buyagift makes sure there are experiences and budgets that everyone will love.