Serenata Flowers Hints & Tips
Serenata Newsletter Deals
Be the first to know about exclusive offers at Serenata Flowers by signing up to their email subscription service, They'll let you know about great savings and the latest arrivals so you'll never miss a bargain.[h5Serenata Flowers Special Offers[/h5]
Check their latest deals online - the Serenata Flowers special offers section will have some great discounts. They have new offers every month, so make sure to check in regularly!
Filter Those Flowers
If you're looking for flowers and seeds on a budget, why not browse the lowest priced items first? You can see what's affordable first by sorting your search preferences.
Save with the Serenata Socials
Check out Serenata Flowers on social media. They'll share all their latest deals and their newest products on platforms like Facebook and Instagram.
FAQs
How Can I Get A Serenata Flowers Discount Code?
The easiest way to pick up Serenata Flowers codes is to check with MyVoucherCodes before you order. Our team collects the best available offers in one place to make it simple to save on beautiful bouquets. You might catch an exclusive code for savings you won't find anywhere else.

Can I Get Free Serenata Flowers Delivery?
Yes, almost all deliveries are free of charge. This includes standard, Saturday, and Sunday deliveries. However, if you want a same day or guaranteed time delivery, there will be a charge added to your order. For further information visit the dedicated delivery page.

What Are Letterbox Flowers?
Letterbox flowers are a fantastic way of ordering your bouquet without having to worry about taking the delivery. Your flowers will be securely packaged in a box slim enough to fit through your letterbox. This allows you to arrange the flowers yourself and create something beautiful.

Using Your Serenata Flowers Discount Code
Search through our website to find a relevant discount code that best fits your order.
Unlock your voucher and open up the Serenata Flowers website using a second tab.
Browse through the website for the products you want. Make sure they are covered by your chosen voucher.
When happy, proceed to checkout. Copy and paste your Serenata Flowers voucher code into the 'Promotional Code' box and click 'Validate'.
Enter your details and continue to make the payment. Your code will be applied automatically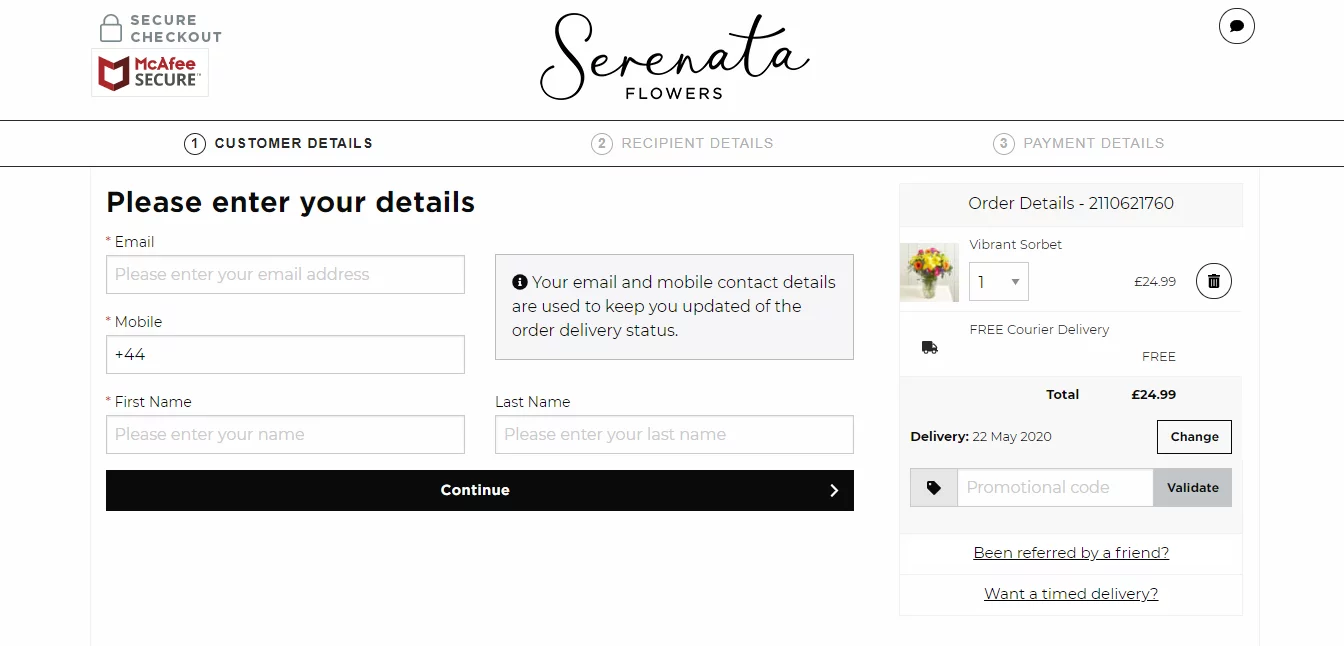 Seasonal Serenata Flowers Offers
Serenata Flowers offers a range of seasonal deals on their extensive collection of flowers and plants.
Want to acknowledge that spring is around the corner? Or make the most of classic autumnal colours? Check online for Serenata Flowers deals as you welcome in every new season. They often have exclusive offers published on the special offers area of their website.
Whether Christmas is coming up, or you want to treat your mum on mother's day, there will be some great deals on Serenata Flowers. Make sure you sign up to their newsletter to keep up to date with the latest Serenata Flowers deals.
The Perfect Last Minute Gift
When it comes to gifts, a stunning bouquet of flowers is always a great way to go. Especially with the Coronavirus doing the rounds, getting the gift to your loved ones in the safest way is more important than ever. But what if you need a last-minute gift? Well, Serenata Flowers have you covered on that front too.




For those who've got a birthday coming up, an anniversary on its way, or even just need something to show some love on Valentine's Day, a Serenata Flowers delivery is a cracking choice. It's fast, convenient and in most cases, is absolutely free.

You can pick a day that works for you and get a beautiful bouquet, straight to your door, without spending a penny extra. And with Serenata Flowers tracking, you can keep your eyes on the delivery and plan your day around that.

For those who don't have the time to wait, there's Serenata Flowers next day delivery. The best part is, it's affordable, so you can show some love, even if you've left it until the last minute. All you need to do is order before 10 pm, and you can have it delivered to your loved one the very next day. And with Serenata letterbox flowers, you can make sure they get the gift without any worrying about whether they're in.

And if you're really in a pinch, there's even same-day flower delivery on offer. You can get those fabulous flowers delivered the very same day, and all you need to do is order before 3 pm, with the only exception being Sunday orders.

So, grab a Serenata Flowers discount code and get those last-minute gifts sorted for less this season. You can show some love, for a lovely, low price.

Wonderful Winter Favourites
When it comes to flowers, seasonality is super important. Some flowers thrive at certain times of the year, so it's important to know that you're buying the right flowers, whether it's a gift, or you're just adding a pop of seasonal colour to your home.




With Winter well and truly underway, Serenata Flowers have a ton of stunning options that offer the best the season has to offer. With their selection of snow-kissed blooms, you can add a touch of the season to your home.

With a selection of flowers that offer delicate fragrances, you can add a sense of Winter peace to any room. With Freesia, luxury roses, Lisianthus, Oriental Lily's and Waxflowers on the cards, you can take your pick and even mix them up to create a wonderful winter bouquet that'll look at home in your house this Winter.

For those who aren't up to speed on all things floral, you can check out their most popular Winter blooms and find the right one for you. With Daffodils, Winterberry, Cyclamen, Violas, Snowdrops, Pansy's, Crocus and more, you just need to take a look and find the flowers that jump out at you.

So, grab yourself a Serenata Flowers discount code and get yourself a stunning bouquet delivered for less. It's the perfect way to bring a breath of fresh, Winter air to the room.