Samsung Hints & Tips
Get the most out of your Samsung shop today by checking out these handy Samsung hints & tips:
Check out the Samsung trade-in deals, where you can get rid of an old device for a discount on a new one. To top it off, it's great for the environment too!


The Samsung offers section is the first shop for some absolute steals on top tech. There are freebies, cashback deals and discounts, so it's well worth a look for an absolute bargain.


Get upgraded to the latest handsets for less with the Samsung upgrade programme, where you'll be invited to update your handset after a year.
FAQs
How Can I Get A Samsung Discount Code?
The best way to grab your Samsung code is to check with MyVoucherCodes before you place an order. Our team keeps their page updated with all the best offers to help you save on your tech. You might catch an exclusive code for savings you won't find anywhere else.
Can I Get A Samsung Student Discount?
Yes, if you're registered with UNiDAYS you can take advantage of a 10% discount on all your tech. You'll also be entitled to free delivery across the store. The registration process is simple, but you'll need to verify your student status.
Is There A Samsung Repair Discount Code?
Repair codes don't come around very often and to catch one you'll need to check MyVoucherCodes regularly. The offers change regularly, and you'll always discover a way to save.
Can I Get Trade-In Deals At Samsung?
Yes, if you want to upgrade your tech, Samsung offers you money towards your next device. Head to the dedicated trade-in page to
find out what your device is worth
and what you can save on your new tech.
Is There A Samsung Store Near Me?
There are currently 12 Samsung Experience Stores across Britain with more on the horizon. You can use the
Samsung store locator
to find your nearest experience.
Using Your Samsung Discount code
Using our site, find a Samsung discount code that fits the order you want to make.



Unlock your voucher and open the Samsung website in a new windows tab.



Double-check your Samsung voucher and ensure it applies to the product you want to buy.



Find the item you want, add it into your 'Cart', and then proceed to checkout where you can review your order summary.



Once you are happy with your order, copy and paste your Samsung voucher code into the 'Coupon Code' box and click 'Checkout' - the shopping process is now complete!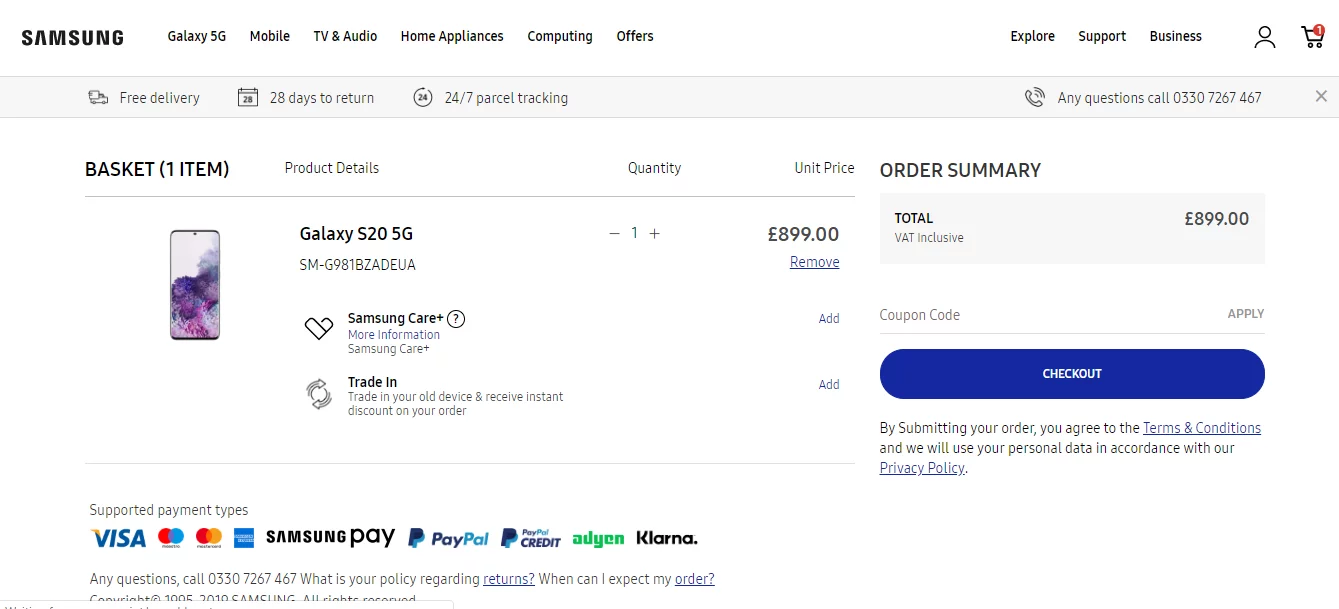 Buyers Guides - Always on the Go

Samsung is famous across the world for producing the sort of tech that changes lives, and their most popular innovations have always been in mobile tech. Whether that's phones, tablets, or watches, their tech is known to be some of the best in the world. But what's new in this futuristic world?
Samsung Galaxy Z
This is the invention that will change what you think mobile can do. The old flip phones vanished as quickly as they came because there was no real use for the flip. The upcoming Galaxy Z fold creates a seamless 7.6 screen that will change how you view content on the go. And 3 high tech cameras will capture all your favourite moments in glorious detail.
Samsung QLED TV's
Forget 4K resolution, with a brand, spanking new QLED tv, you can step up your entertainment set-up to 8K resolutions. With more pixels than ever, you'll be watching TV and playing your video games in the highest definition available right now. Not to mention, the TV's look sleeker than ever. This is only a taste of the innovations that will be dropping in the store soon, so, grab your Samsung discount code and save on the latest gadgets.
Galaxy Note 20
Upgrading on the Samsung Galaxy Note 10, the 20 is made for productivity, creativity, and superior gaming. The famous S Pen has had an upgrade and full Microsoft Office integration lets you take work anywhere. Three rear lenses mean you can let your creativity show with every photo you take and know they will look incredible. Best of all, the massive battery life will have you connected for longer, even when you're gaming on the go.
Galaxy Watch 3
This futuristic watch lets you run your life from your wrist and track how you're doing. You can schedule your day, send messages, pay at the checkout, stream music, and loads more without having to pull your phone out once. These things are incredible and the Galaxy Watch 3 takes it the tech to another level.
Buyer Guides - Samsung TV Guide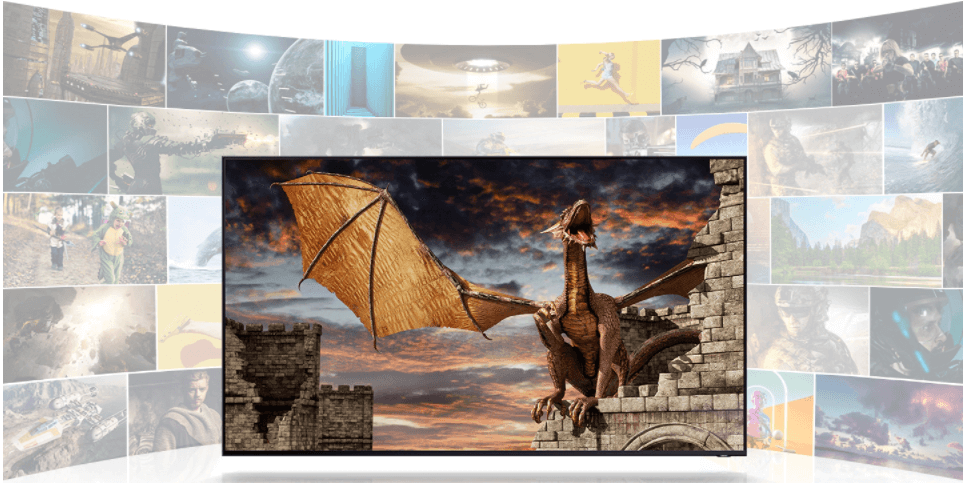 There are loads of TVs on offer these days it can be difficult to figure out which ones right for you. Here we'll look at some of the best tech available and help you choose your Samsung TV.
Samsung QLED
QLED TVs use Quantom Dot material to produce different colours of light. We're not going to go into the science here, because honestly, we don't understand it, but the reviews are in and QLED is proving to be one of the best viewing experiences you can get. The sharp picture is unbeatable and you'll see on-screen colour like never before.
Samsung 4k & 8k
4k and 8k TVs are all about getting better screen resolution and a sharper image when you watch your favourite shows. A 4k TV will have four times the pixels as a traditional full HD TV. There is a wide range of channels and streaming services that are now putting out content for this higher resolution and as the tech becomes more affordable, it will become the standard for all new TVs.
Samsung Smart TVs
A smart TV is made for keeping all your entertainment in one place and within easy reach. If you're subscribed to Netflix, Prime, Apple TV, and Spotify, these amazing TVs can stream from all of them and more. They are fantastic for keeping connected but keep in mind that many games consoles also have many of these features and if you own one, your money may be better spent on boosting picture quality.These are three of the most popular TVs available today but there are loads more choices. Grab your Samsung promo code today and settle in for superior viewing every night.
Buyers Guides - Life, Smarter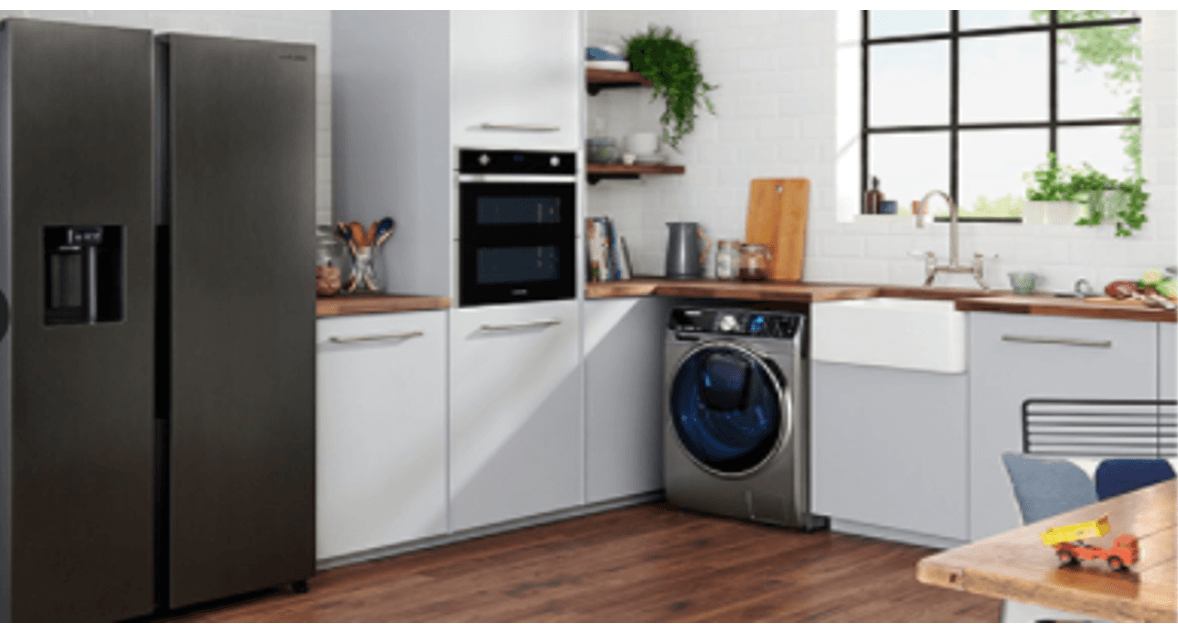 Technology is constantly moving forward and these days there are high tech advancements in every area of life. The kitchen is no different and when it comes to smart appliances, Samsung is leading the way.
Samsung Fridge Freezers
The incredibly smart range of Samsung American fridge freezer will change the way you think about cooking, shopping, and pretty much everything you do in the kitchen. You'll be able to view recipes and plan meals from your fridge and send ingredients right to a shopping list to save time and money. Speaking of shopping, you can take a look in the fridge while you're wandering the aisles to see. There are tons of other features that make home life that little bit easier day today.
Samsung Washing Machines
These fantastic machines will change how you take care of your loads and they could save you a fortune on washes. The innovative eco bubble technology mixes air, water, and detergent to create bubbles that will clean your clothes faster and better than ever before to save your money and our planet. Alternatively, you can go to the QuickDrive and spend up to 50% less time on your washes. And all of them are available with AddWash, the superb system that lets you add, mid-wash, the socks that inevitably escape.
Samsung Smart Things
These are the little things that will make a big difference in your life. Whether that's a smart plug that let you take control from anywhere, a water leak sensor that keeps an eye on your pipes, or one button that can control your whole living room, these high-tech pieces of smart tech will effortlessly make life easier.This is the home of innovation, and a Samsung discount code will help save you money and time on your next tech shop.
Buyers Guide - Keeping Things Mobile
The impressive collection of Samsung phones is packed with leading technology and features that have the power to change lives. Whether it's on the go gaming or the sharpest photography, you can find it in a Samsung handset. But which ones for you?

Samsung Galaxy S20
The Samsung Galaxy S range is up there with the most popular on the planet and every year there's a shiny new handset that takes the world by storm. The latest Samsung Galaxy is the S20 and it is packed with highlights. We're talking an unparalleled camera, super-smart battery, and vast storage space that makes this a fantastic choice.
Samsung Galaxy Note 10
The Note range is like fitting a tablet in your pocket. They're perfect for taking the office on the go and the intuitive S Pen takes your work to another level. You can save and sync with your PC to allow seamless transition from the commute to the desk and make sure every project is done right. This powerful machine will get the job done when the deadline approaches, every time.
Samsung Galaxy A50
The Samsung Galaxy A collection is the go-to handset when you want everything to it's best. The innovative widescreen Infinity O display will make all your content shine like never before with deep colour and unmatched brightness. You pictures will look incredible too thanks to four dedicated cameras to capture every perfect shot you want in outstanding details.This is only a glimpse of the lineup of phones, so grab a Samsung voucher code and check them out to find your next love.
What Else Does Samsung Offer?
Samsung Galaxy Buds Pro:



The Samsung Galaxy Buds Pro are a new set of top quality wireless earbuds with active noise cancellation from the South Korean firm, launched alongside the new Samsung Galaxy S21, Galaxy S21 Plus and the Galaxy S21 Ultra. Available in the colours violet, black and silver, you can shop the super cool earbud collection in a variety of colours.


Samsung Galaxy SmartTags:



The Samsung Galaxy SmartTags product tracker has been was released alongside the trending Galaxy S21 phones at Samsung's January 2021 Unpacked event. The SmartTags are essentially location trackers that can help you find lost possessions and devices.


Simply attach one of them to a pair of keys or a phone, put it in your purse or bag - or you can even attach it to a coat or something like a teddy that your child is prone to dropping or leaving, and use the Samsung SmartThings Find App to locate it using your phone.
There are also Samsung Galaxy SmartTags Plus to shop from that feature extra sophisticated features for those who want to buy an advanced tracker.