FAQs
Can I Get A Richer Sounds discount code?
Yes, you can get regular Richer Sounds promo codes. They'll be listed on MyVoucherCodes alongside any deals, offers and Richer Sounds sale information. You can also get exclusive MyVoucherCodes discounts that can't be found elsewhere.
Can I Find A Richer Sounds near me?
By using their store locator, you can check your city to find your nearest branch as well as details on your nearest Richer Sounds opening times.
Is There Richer Sounds Free Delivery?
Yes, they offer free standard delivery that will arrive within 5 days. They have restrictions on delivery depending on the size of the order. These can be found on their
deliveries page
.
What Do I Get With A VIP Club Membership?
The store offers longer opening hours to VIP members, 6-year guarantees on selected items and VIP-only discounts. You can sign up from their
VIP memberships page
.
Is There A Schuh Black Friday sale?
Yes, Schuh have confirmed that they will be getting involved in the Black Friday and Cyber Monday madness with up to 50% off a massive range of big name shoes.
Richer Sounds Hints & Tips
For all the latest tech from the biggest brand sin the world, Richer Sounds has you covered. Make sure you're bagging a bargain on all your electrical entertainment needs with these terrific tips for saving money:
Check out the Richer Sounds clearance for some absolute steals on top of the line tech, with up to half price off, you can save big on the latest electricals.
Join the Richer Sounds VIP club and not only will you get all the latest Richer Sounds deals and offers sent straight to your inbox, but you'll be entered for a chance to win the cost of your purchase back.
Save yourself a few quid on shipping with the Richer Sounds free delivery offer, with most of the UK eligible, you can cut out the extra costs.
Take advantage of the Richer Sounds lowest price guarantee, so if you find the same product cheaper, they'll beat by up to £100 depending on the value of the item.
Using Your Richer Sounds Discount Code
Open our website and find a promotional code that fits the products you want to buy.
Unlock your code by clicking 'Get Code'. Copy this for later.
Open up the Richer Sounds website using a different tab and begin to browse the items available.
Add all relevant items to your 'Cart' and proceed to checkout once finished.
Review your order and paste your Richer Sounds voucher code into the 'Enter Your Code' box.
Click 'Apply Coupon' to activate and enjoy your discount!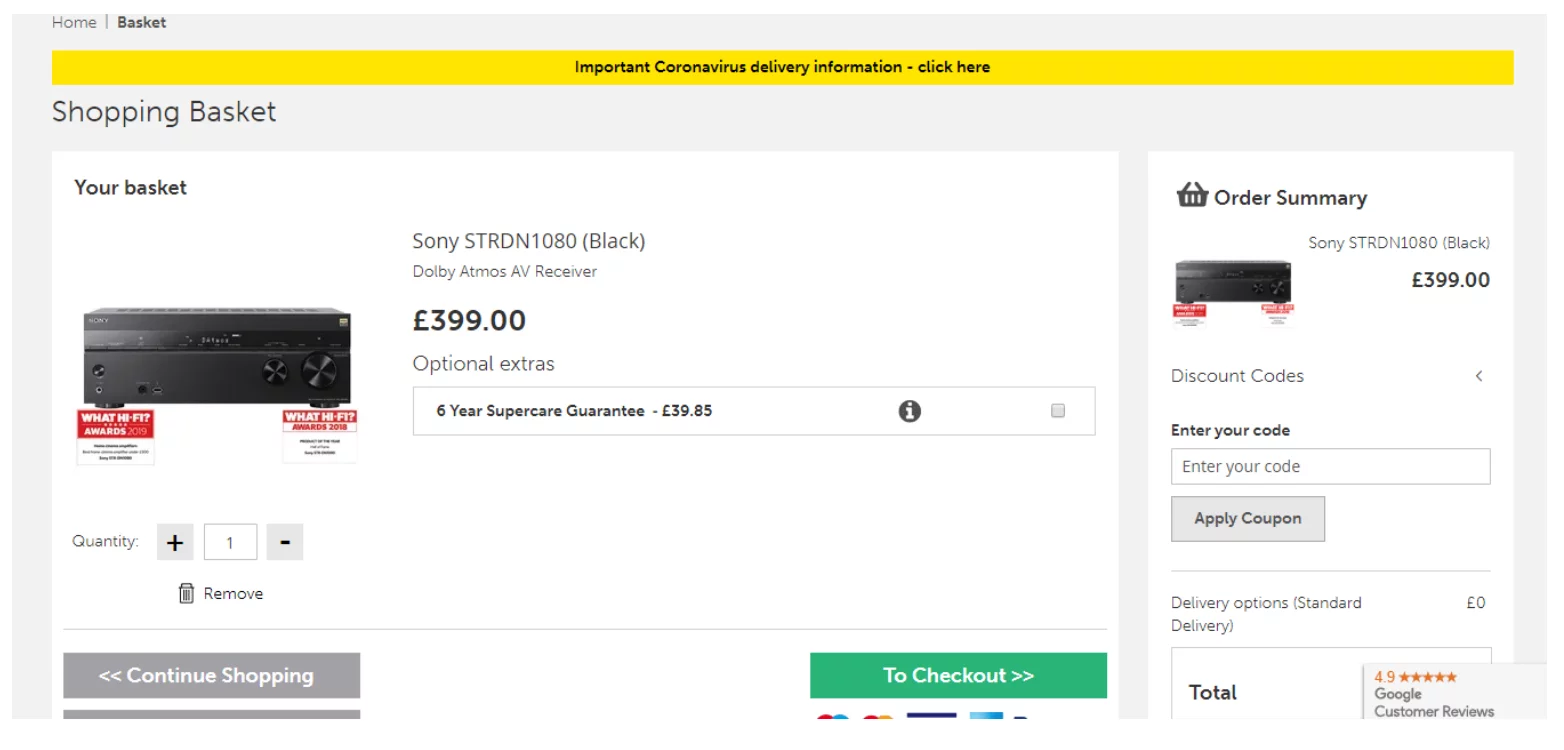 Buyers Guides - High Tech Headphones
Whether you need noise cancelling technology to focus as you work from home or a reliable pair of buds for your daily run, headphones are an essential item in 2021. The trusty tech experts have curated a collection of Richer Sounds audio that's turned up to eleven.

Richer Sounds Headphones
If finding a quiet spot to get the work done is proving a challenge in yet another lockdown, it's time to invest in a pair of true noise cancelling headphones. With options that match every budget, the Richer Sounds site offers audio solutions that keep everyone happy.
Richer Sounds Ear Buds
Wireless ear buds were the height of technology not so long ago and a pair would cost a fortune. But technology moves fast and now there are a ton of superb buds on the market. Buds are the best option when you're hitting the gym or going for a run. The reliable wireless technology keeps your movement free and motivational tunes pumping.
Richer Sounds Speakers
If you prefer sharing your music with the whole world, and why wouldn't you, there's a massive range of portable speakers that deliver impressive sound. You won't need to spend a fortune to fill your whole house with your favourite songs whether 2021 is bringing the party or not.
Buyers Guides - A Guide to TV Tech
Buying a new TV can get complicated these days with HD, 4K, and new technology appearing every day. To help you guide you through this pixelated puzzle, here's our guide to buying a new TV.

Is It Ever Too Big?
Short answer is yes, there is such a thing as a too big TV. You are obviously limited by the size of your space, but you also need to think about how far away you're going to be sitting. You can find advice on the optimum viewing distance, but the truth is this is a personal preference thing. The best way to figure that out is to head into a store and test them yourself.
LCD or LED for Me?
Don't let the acronyms fool you, these two aren't that different, LED is simply a more up to date version of the same technology. They'll both produce spectacularly bright pictures and keep the power consumption low, but motion has a habit of looking blurry and the picture can appear a little washed out when you watch in the dark.
What's a Quantum Dot?
Science, that's what, beautiful cinema loving science. This super smart tech uses nano-crystals in every single pixel, which are already pretty small, to offer a much wider range of colours. This gives you spectacular images and incredibly vibrant colours that bring a Planet Earth marathon to a new dimension.
What About OLED?
If this acronym sounds familiar it's because it's been used in smartphones for a while, but it's making its way to the big-ger screen now. The tech brings incredible contrast that produces a razor sharp picture. It's the best tech readily available right now and you'll be hard pushed to find a better picture.

The collection of Richer Sounds TVs covers all this tech and more, so if you're looking to upgrade, this is your stop.
Buyers Guides - Get Your Sound Boost
Modern TVs have taken picture quality to incredible heights, but the slender creations don't leave much room to fit a decent set of speakers inside. If you want to get the full viewing experience at home, you need to look outside your fancy TV. A Richer Sounds soundbar will boost your sound and bring your shows alive like never before.

Home cinema equipment used to feel like something that belonged on celebrity mansions, but these days you can pick up superb sound systems that perfect for a small studio in Croydon. You don't need to spend a fortune to get a better listening experience.
There are options that will do the job perfectly well for under £100. The Philips HTL1508 is the least expensive option and it will boost your sound with a 30 watt amplifier that delivers a substantial improvement on most in-built TV speakers. You can connect to most devices via Bluetooth and use its HDMI socket to hook up your games console or Blu-Ray player. All that makes for incredible value.
If there's a bit more room in the budget, you definitely want to check out the Sony HTMT300. This incredible soundbar will revolutionise how you watch your favourite films and keep your cost below £200. The S-Force PRO Front Surround Technology delivers truly immersive sound and unique listening experience.
These are just two of the sound Bars available at Richer Sounds and there's 5 pages full of the best models around so check them out and boost your sound.