View Terms & Conditions

View Terms & Conditions

1. User MUST be logged in to Boots site to use code. 2. Promotional codes can be used once only per customer as defined by their email address and/or credit card address and/or delivery address. 3. Only one promotional code can be used per transaction. 4. Offer cannot be used in conjunction with certain other Boots.com offers. 5. Please note that promotional codes also have an expiry date, after which they are not redeemable. 6. Promotional codes remain the property of Boots UK Limited (www.boots.com), are non-transferable and may not be reproduced in any form. 7. We reserve the right to remove promotion codes at any time and without warning. 8. Additional offers may not be available in Boots stores, on Boots services web sites (Insurance, Opticians), 'Other shops' (bootskitchenappliances.com) or with any third party web site unless otherwise stated. 9. All offers are subject to availability. Availability while stocks last. 10. Excludes baby milks, prescription items, gift experiences, sale items, Kindles, Fitbit, and Dyson Hairdryer. 11. Cannot be used in conjunction with staff discount. 12. Due to Government legislation, infant formula/milk is excluded from offers. 13. These products are excluded: Clarins Women's 12 Day Advent Calendar, Clarins Men's 12 Day Advent Calendar 14. Bare Minerals box of wonders set Advent Calendar 15. Lancome advent calendar set, Liz Earle Advent Calendar 16. Yves Saint Laurent Lux Mascara + Mini Eyeliner + Mini Top Secrets Eye Make up remover, Yves Saint Laurent Lux Mascara + Mini Rouge Pur Couture, Yves Saint Laurent Lux Mascara The Shock + Mini Top Secrets + Top Secrets eye make up remover + Pouch, Yves Saint Laurent Touche Eclat + Mini Blur Primer, Yves Saint Laurent Touche Eclat + Lux, Mascara + Mini Instant Moisture Glow + Pouch, LEGO Friends Advent Calendars: LEGO Star Wars Advent Calendar, LEGO City Advent Calendar. 17. For full terms and conditions see website
Save on a stunning new scent today with this fabulous discount on the big name fragrances.
View Terms & Conditions

View Terms & Conditions

Terms and Conditions apply.
View Terms & Conditions

View Terms & Conditions

Terms and Conditions apply.
View Terms & Conditions

View Terms & Conditions

The 20% discount on selected fragrances is applied to the original price. You will still be charged VAT but the discount is greater than the value of VAT that would have been charged on the original price. Discount does not apply to the delivery charge and will not be applied to products already discounted. These products are available through Click & Collect, but may not be stocked in all stores. Charges may apply. Subject to availability. See in store for details.
View Terms & Conditions

View Terms & Conditions

1. The Boots Student Discount offer is free and exclusive to UK Boots Advantage Card members who are students holding a valid NUS Extra/TOTUM card or University/College student ID card with a specified expiry date. 2. The 10% discount is not available on NHS prescription, selected dispensary items and Pharmacy Services, all infant formula milks, all Dyson branded products, Chanel products, mobile phone top-up cards, gift cards, postage stamps, Boots insurance (excluding travel insurance), Travel Services, Boots Hearingcare, bootsphoto.com, third party websites and the plastic bag levy. In addition, 10% discount is also not available on gift boxes and delivery charges for purchases made online. 3. Additional exclusions may apply 4. Student Discount can't be used in conjunction with Staff Discount cards, or Contact Lens Rewards Scheme. If you are a member of Parenting Club and/or Over 60s Rewards and Student Discount, you will receive 10% discount and 4 points per £1 on applicable purchases 5. Any breach of bulk buying policy or abuse of discount card may result in your Student Discount being revoked 6. You may be asked to present your Student ID at each transaction, if you are unable to produce your Student ID your Student Discount will be deactivated until you return in store to present your valid Student ID 7. To activate the 10% discount, you will need to present your Advantage Card and student ID at a manned till on your first visit from 1 September. Each year you will need to go back into a Boots store from 1 September to reactivate your discount by presenting your Advantage Card and student ID at a manned till. Your student ID will be used to verify your student status and to activate the discount on your account, however no personal data is collected as part of this process, data is collected through your Advantage Card sign up, please see boots.com/advantage-card for full terms and conditions 8. Once your Student Discount is activated on your Advantage Card, your Boots Student Discount will be applied automatically on any applicable purchases in store and online (above exclusions apply) when using your Advantage Card 9. If you are not an Advantage Card holder, you can apply for an Advantage Card through the Boots app which will give you instant access to your digital card or through the in store iPad where you will receive a permanent plastic card, plus the ability to have instant access to your digital card through the Boots app. You can then present your digital or plastic card, along with your student ID, at a manned till to have your discount activated 10. You must present your Boots Advantage Card every time you shop to receive the 10% discount to your shop. The discount will not be awarded retrospectively 11. You must sign into your boots.com account and link your Advantage Card to receive the 10% discount on your online shop. The discount will not be awarded retrospectively 12. Students are also eligible to receive 10% discount at Boots Opticians 13. Offer cannot be used in conjunction with any other coupon 14. Subject to availability 15. Boots UK reserves the right to withdraw this offer at any time 16. Standard Boots Advantage Card Terms and Conditions apply 17. If you no longer want to receive Student Discount, please contact us on 0345 124 4545* to remove 18. Please note all calls will be recorded or monitored for quality and training purposes. Local rates apply from BT landlines in the UK, other providers charges may vary. Please check with your provider for details
Save on a new scent for autumn thanks to this incredible discount on famous fragrances.
View Terms & Conditions

View Terms & Conditions

Terms and Conditions apply.
View Terms & Conditions

View Terms & Conditions

See website for details.
Find the perfect product with great savings across selected electrical. Hair Styling, Grooming, Dental & more
View Terms & Conditions

View Terms & Conditions

See website for details.
Offers for Boots were last updated Wednesday 28 July 2021 07:42
Boots Codes That You've Missed
View Terms & Conditions

View Terms & Conditions

Terms
View Terms & Conditions

View Terms & Conditions

1. Offer available online only2. Offer available on skincare3. Boots UK reserves the right to withdraw this offer at any time
View Terms & Conditions

View Terms & Conditions

Exclusions apply.
Most Popular Boots Code & Discount
| Offer Description | Expires | Discount Type |
| --- | --- | --- |
| Up to 50% off Selected Skincare, Beauty, Healthcare, Baby, Gifts & Electrical | | Sale |
| Enjoy 10% off Orders Over £30 | | Voucher Code |
| £10 off Selected Fragrances plus Free Gift with Selected Products | | Deal |
| Up to 50% off in the Clearance | | Sale |
| Save up to 50% on Selected Fragrances plus Free Delivery over £30 | | Deal |
Hints and Tips
Use our Hints and Tips to get more out of your next boots shop and save whether you're picking up everyday essentials or extra special treats.


It's 2021, and delivery fees belong in the dark days of dial up. That's why you don't have to worry about extra charges at Boots. Delivery is always free on all orders over £15



If you've got a local store down the road, save yourself some time and go for the free Click and Collect option when you spend over £15. Most orders will be ready for you to pick up the next day.



Sign up to the Advantage Card today and start collecting points for every pound you spend. You can use your points to pay for future orders and cut the cost on anything you throw in your basket.



Shopping the sales is the easiest way to score yourself fabulous savings. They deliver impressive discounts on everything from daily essentials to big name fragrances.



The famous 3 for 2 offer makes gifting easy, and it will save you a ton of cash. Loads of top gifts are included in this multi-buy offer and they're guaranteed to put smiles on faces.


FAQs
How do I track my order?
You can track your order by using the virtual assistant, which is available now on the Boots website.
Can I get a Boots COVID-19 test?
Yes, you can get yourself a private COVID-19 swab test at Boots for £85*.
Can I collect my Boots order in-store?
Yes, order before 8PM and collect in-store tomorrow! Your nearest store and next available date will be shown at checkout. The Click & Collect service is free for orders of £15 or more, or £1.50 if you spend less.
What are the Boots delivery options?
They offer click & collect for £1.50 or for free if you spend a minimum of £15. They offer standard delivery for £3.50 or for free if you spend over £25. They also offer next day delivery for £4.95 and Saturday delivery for £5.50.
How do I return an item bought online?
You can return unwanted items within 35* days for a full refund or replacement on your order. Please note that a Boots refund can take up to 14 days to be processed back onto your card by your bank.
Is there a Boots flu jab?
Yes, Boots offers the free NHS flu jab to adults aged 65 and over, or adults aged 18 and over who have certain medical conditions or who fall into other eligible NHS groups such as carers.
Where can I get a Boots promo code from?
You can pick up a money-saving Boots voucher code right here from MyVoucherCodes! They also have a dedicated offers tab on their website that features their latest deals.
How to Use Your Boots Discount Code
Follow these simple instructions to apply your Boots code and save on your next shop:


Select your favourite Boots voucher code from the MyVoucherCodes website. Once selected, a new windows page will automatically appear with your discount code.
Go to the Boots UK website where you can begin shopping for all of your favourite products and items.
Once you've got everything you'd like in your shopping basket, click on the checkout button.
Lastly, copy & paste your Boots promo code into the promo code box to secure your shopping savings!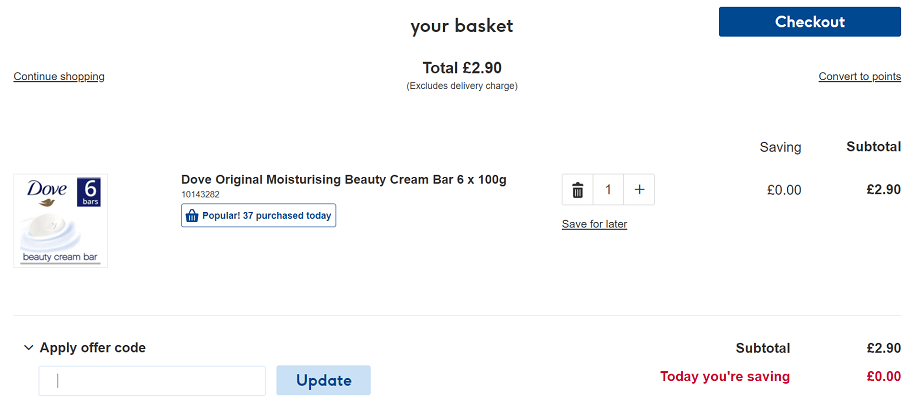 Taking Care of Mother and Baby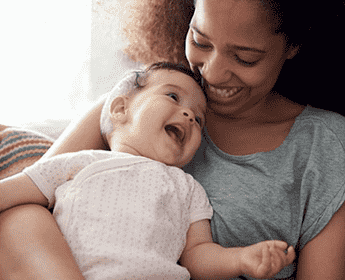 Parenthood is a wonderful time filled with bonding, love and maybe a little worry. It's not always cosy cuddles and cuteness, there's a lot to learn and it feels like you need to know it all right away. And that's not even considering all the extras you need to buy now.
That's why the Boots Parenting Club was invented. It's free to Advantage Card holders and aims to support parents from the first day home to holed up in their room as stroppy teens.
The scheme will help you save money with tailored offers that fit your child's age. That could be money off bulk buy nappies or exclusive discounts on bath time essentials. You'll find all your offers on the Boots app and it's a fantastic way of keeping the costs as low as possible when you need the extra cash.
On top of all the deal, you'll earn double points on all your baby buys. If you switch to buying all your regular products like baby formula and nappies at Boots, your points will add up quickly.
Parenting help isn't all about money though and the advice on offer is a life saver, literally in some cases. You'll receive regular development up dates to give you an idea of where your child should be. These are fantastic for peace of mind and you'll even receive free gifts at key development stages.
Whether you're expecting, you're a new parent, or you're starting to get the hang of this thing, sign up today and take advantage of all the fabulous free benefits.
Chemist Essentials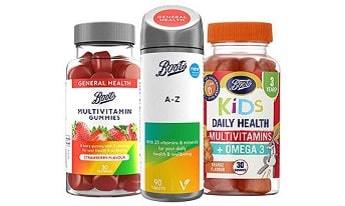 Stock up on this season's most-loved wellbeing essentials when you shop the Boots Chemist range today. With a massive collection of health and beauty products to shop from, you won't be stuck for choice when it comes to filling up your online basket with some fresh new goodies from Boots Chemist.
Their newest range of products in the Boots Chemist features every wellness product you'll need right now. From face masks and coverings to immunity and protection supplements, cough, cold and flu remedies and a huge hand hygiene range, you can restock your bathroom cabinet with all your most trusted and needed essentials at Boots.
Explore their range of recommended sleep products, heart health medicines and foot care treatments and products. They even stock medications and treatments for diabetes whilst having a specialist skincare range for those who need and enjoy expert skincare products.
Their immunity and protection range are fantastic for those looking to combat and prevent everyday illnesses and sickness. With nasal sprays aplenty to vitamin tablets and lots more Boots chemist products to shop from, you'll find it all today.
What's more, if you're looking for a great bargain, you can shop the Boots Chemist discount range and you'll find plenty of great seasonal offers and big deals.
Boots Opticians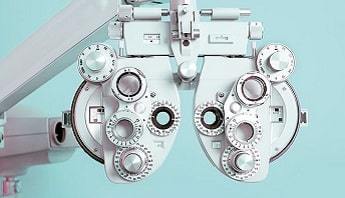 If you need some new glasses or frames, make sure you shop at Boots Opticians online today. With plenty of fashionable glasses and designer frames to choose from, you won't be stuck for choice when it comes to picking the perfect new pair of specs. What's more, you can also book an eye test online at Boots which is hassle-free and super convenient.
Discover and shop the online range of Boots Opticians glasses to discover plenty of chic frame styles that are timeless in design. Glasses can transform your look, so picking the perfect ones just for you is important. With trendy glass frames from brand names such as Calvin Klein, Ray-Ban and Ted Baker just to name a few, Boots opticians glasses offer a style for everyone.
Book an eye test online today at Boots Opticians to get an appointment and a time and location that suits you. There are plenty of different types of appointments that you can book online; from standard eye tests at Boots opticians which cost £25 to contact lens checks and more, you can also book these services over the phone if you prefer.
You can shop their latest opticians offers for a great deal on selected frames and eyecare. You can even grab a voucher, and get a fabulous price on frames, services and more.