More Information about Fashion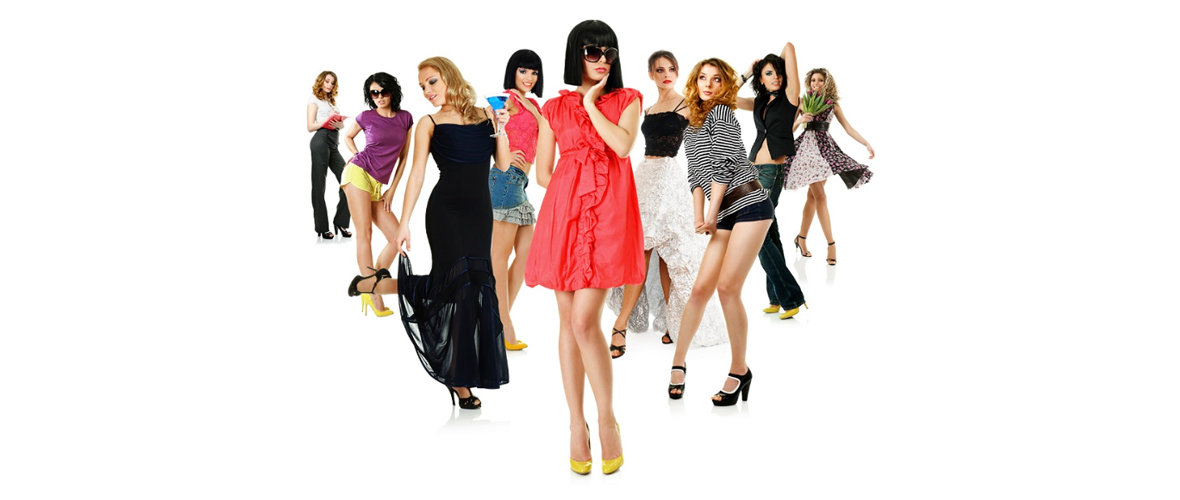 Fashion is an extremely important element to modern life; our choice of clothing, to some extent, helps define us as people. And of course, at the very least, our clothes help keep us warm, covered and comfortable. The question of when clothing was invented is still the subject of huge debate, but it is widely believed very early humans adapted animal skins and foliage to help protect them from the elements. Since then, technological developments, such as the invention of techniques like knitting and weaving, different cultures have expressed themselves using specific fashion styles. Take, for example, the stove pipe hats and long black dresses worn by the Victorians, or the frilly ruffs donned by the Tudors – all these styles we born out of the desire to make a statement.
These days, the fashion industry is a massive multi-billion pound industry featuring a wide range of household name retailers - both on the high-street and online - the likes of which you'll find right here. These stores tend to take their cues from fashion magazines such as, Marie Claire, Harper's Bazaar and Vogue, as well as directly from the catwalks which showcase innovative new designs and styles, created by the world's most prestigious designers. And then, of course, there are the film, TV and music stars, who tend to set their own trends. And all this means mountains of inspiration to help you find the right look for you.
Women's Fashion Promotions
Even fashionistas can't resist a clothes sale. Refashioning and upcycling have given way to being 'in season'. It is being 'on trend' that is most important. So the next time you are hunting for discount deals on fashion trends, bear these money saving tips in mind.
Avoid outlet stores
Outlet stores claim to sell items for huge discounts on the 'retail price'. But in reality, the only place those said items are ever sold is in outlet stores. The 'sale' price is, therefore, the actual price. Furthermore, the quality, fit and design cannot match the standards you get with high-street and high-brow fashion brands.
It's okay to shop out of season
Fashion is marketed as seasonal trends, but the secret of buying trendy clothes for a smarter price is to shop out of season. Clothes do not go out of fashion that quickly no matter what they are strutting on the catwalks. Top brands like Miss Selfridge, Joules, Warehouse, Karen Millen and Boux Avenue et al may update their stock every quarter, but that is merely an opportunity for savvy fashionistas to pounce on mid-season sales.
High fashion, high cost
There's little point taking advantage of the sales if you pay over the odds on high-end fashion items. To really make the most of the sale season, go for pieces that are not high fashion, but will look good in the months ahead. Long-life garments such as swimwear, underwear, boots, jackets, sandals, jeans, tights and jewellery is where you will save money on fashion. So target these items in the sales, then you can save for the high fashion items when they are in season.
Buy cheap clothing brands
Being in fashion is not always about the label. The important thing is how you style yourself for the occasion. When designing an outfit that has layers, don't go for a branded label for pieces that you will wear underneath. Nobody will see the label so you have nothing to show or be shy about.
Don't crank up the store credit
To save money on clothes, the last thing you should be doing is using a store card or credit card. More often than not, you end up paying twice as much in interest. When you go shopping for clothes, be sensible and only buy pieces you can afford. Even if an item is on sale, but out of your price range, resist the temptation of buying on credit.
Prowl the perimeters
Fashion stores put the most expensive high-end fashion items in the centre of the store where they can be easily spotted. But likewise, every store has its reasonably priced items in order to appeal to a wider audience. And the bargains are always tucked in around the edges. So if you keep to the perimeters and have a good root through, you will probably find the real bargains.The best way to make a saving on fashion wear is to take advantage of our discount codes. We have teamed up with dozens of leading retail brands offering affordable deals so check out what's in store today.
Example Vouchers
Here are a few examples of deals and offers promoted by merchants within the Fashion category in the past:


Exclusive 10% Off All Orders Plus Free UK Delivery at The White Company
Up to 70% Off In the Sale - Online & In-Store at Topman
10% Off Orders Over £40 at Evans
Up to 75% in the Urban Outfitters Sale
Exclusive 12% Off All Items at Kickers
15% Off Women's Clothing at ASOS
10% Off your Next Order at Office
Get £20 On Orders of £75 Or More at Charles Tyrwhitt
Up To 50% Off Womenswear at Marks and Spencer
Save Up To 70% Off French Connection Sale Items

All the latest savings from the biggest fashion retailers can be found at the top of this page.
How to Redeem a Voucher Code
Using our voucher codes to get amazing discounts on a wide range of feel good, and look fantastic, fashion items is the quick and easy way the stock up your wardrobe, for less! What are you waiting for? We've got promotional codes from the biggest names, ready for use on the most up to date styles. Here's how it's done:
We've selected some of the best deals around, so browse the category and when you see something you like, click on the green button next to the offer. If your chosen deal is a sale or onsite promotion, you'll be taken directly to the website where the discount will be displayed on page or applied in the basket, or checkout, – in this there no need to enter a code. If you plumped for a promo code, you will be taken to a screen displaying your code. Next you'll need to copy it and click on the green button to view the items on the retailer's website. Add the products you'd like to buy to your shopping cart and proceed to the checkout. During this process, you'll be presented with the option to enter your promo code - paste in your code as directed, click apply and watch those pounds disappear from your total bill.
You May Also Like
Sportswear has long been a fashion staple for many of us and makes also makes an incredible comfortable and, sometimes, more affordable alternative to leisurewear. If you're looking specifically for sportswear products, perhaps you should check out our Sports Clothing category.
If you're hunting for affordable clothing especially for your little ones, our Kids & Baby Clothes category may be a little more suitable for you. Here you'll find a huge section of trendy threads for tots right up to teens, all with top discounts.
Your one stop destination for a host of fashion goodies, at a fraction of the standard retail price. Check out what's on offer today.
FAQs
How can I be sure the clothing I buy is ethically sourced?
Where each merchant sources their materials, products or labour is very much down to the individual brands and retailers. If this is an issue you feel strongly about, please refer to the 'more information' section on the seller's website. Otherwise, you can view a list of fashion companies' ethics and choices on the Ethical Fashion Forum website.
How can I develop a fad free style?
Falling for the latest trends is easy. Often we end spending a lot of money in order to achieve the latest look. But it's not cost-effective; fashion fads tend to come and go - leaving us with wardrobes stuffed with unfashionable garments. So, to save yourself some money, avoid shopping for styles inspired by celebrities – they generally change the way they look as often as you change your socks. Look out for classic styles, cuts and plain garments - if you mix and match the right clothes this can be as bold and effective as heavily patterned or printed clothing.