How can I save more money on my Converse shop?
Our quick tips will help you maximise your savings every time you shop via the Converse online store:


Sign up to receive the Converse email newsletter and you will get a 15% off Converse voucher code in return.
You will qualify for free delivery on orders over the value of £50.
If you're a student, you will be able to save 10% off all Converse styles.
Browse through current items on sale by clicking on the 'Sale' menu option on the left of the navigation bar. Here, you can shop sales according to gender (men, women, or kids), or shop specific sales on shoes and clothing.
View the cheapest items available by clicking on the 'Sort By' drop down menu and selecting 'Price Low to High'.
Of course, be sure to use MyVoucherCodes' Converse voucher codes for some of the best possible savings on your next shop.
FAQs
How can I get a Converse promo code?
The simplest way to grab your Converse codes is to check MyVoucherCodes before you order. Our team regularly updates their MyVoucherCodes page with the best offers and makes it easy to save on iconic style. You might even catch an exclusive code for savings you won't find anywhere else.
When is the Converse sale?
There are different sales throughout the year at Converse and all deliver superb savings. You'll always find details of any current sale on their MyVoucherCodes page. In the meantime, it's best to shop when seasons are changing, and they release their new collections.
Can I get a Converse student discount?
Yes, anyone registered with UNiDAYS is entitled to 15% off all their orders. The registration process is quick and simple, but you will need to verify your student status with a valid institution email address.
Can I get free delivery?
Yes, all orders over £50 come with free standard delivery that will get your items to you in 3-4 days. If you need your package quicker than this you have the option to choose express delivery, but this incurs a charge of £12
How to use your Converse promo code?
Using our website, find a promo code that fits the products you would like to buy.
Unlock your code and make sure it applies to the items you want.
Open up the Converse website and search for the items. Alternatively, browse the site to discover new options.
Add each item to your "Cart" and proceed to checkout. Evaluate your order, making sure you have everything you need.
Copy and paste your Converse voucher code into the "Do you have a promo code" box and click "APPLY". Click proceed and enjoy your new price!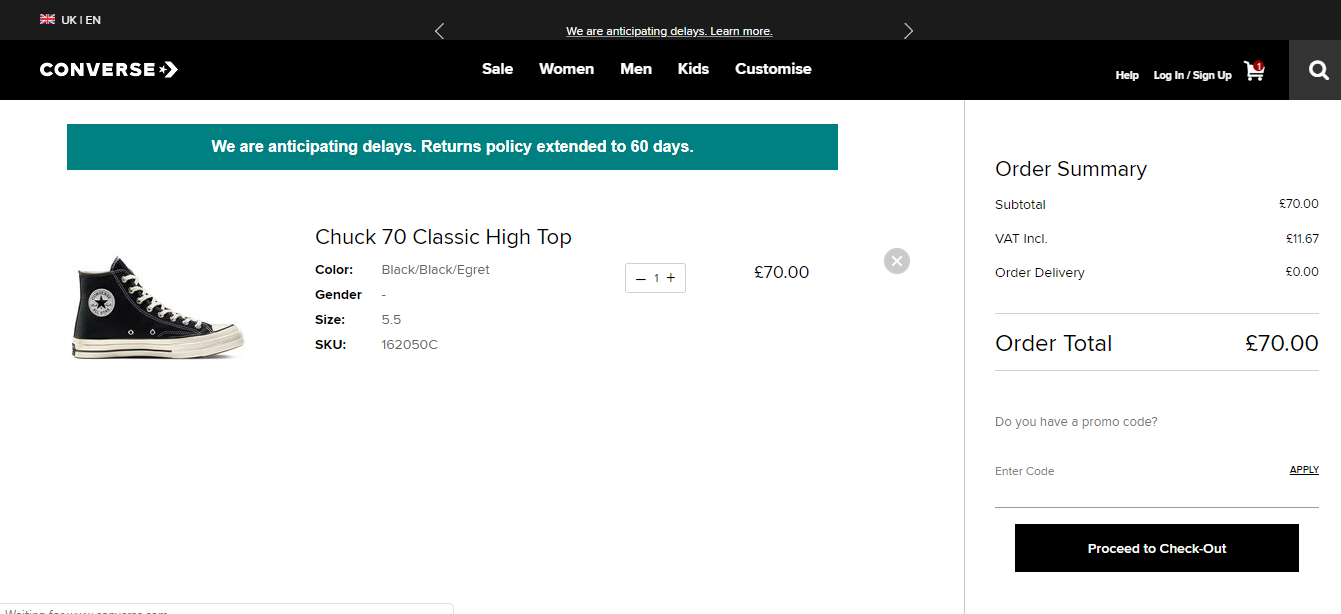 Step into a Classic
When most people think of Converse, the first thing that comes to mind is the world-famous Converse All-Star design. Debuting way back in 1917, they were originally created as an athletic shoe, but the iconic design has stood the test of time. They've become the first choice in footwear for people from all walks of life.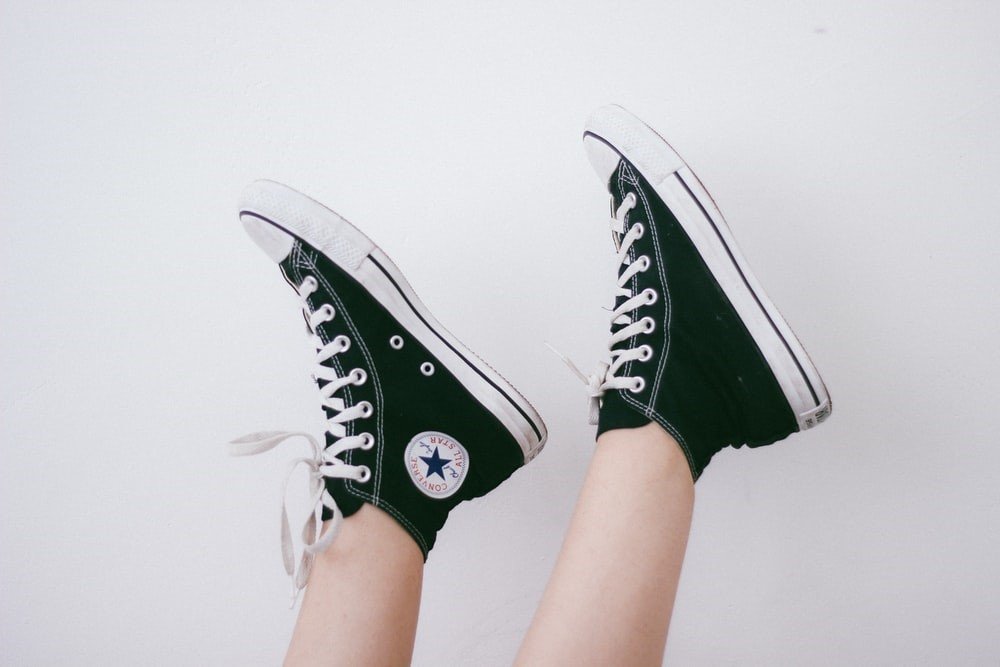 With high top and low top variants, you can take your pick. There's a pair in pretty much every colour, so you can treat your feet to some style and comfort and express yourself in the process.

It's not just colours either, but patterns and pop-culture inspired designs from your favourite franchises. There are Converse collaborations with artists, designers and more, so you can get a little more flavour in your footwear.

It's worth checking out the different limited edition pairs on offer. Converse are collaborating with Feng Chen Wang, Twisted Resort, ROKIT and FOG ESSENTIALS, and they're not just collaborating on footwear either, it stretches to all their fashion offerings.

You can get a little personal with your fabulous footwear too. Converse offer a customisation service, so you can make those shoes truly you. You can customise the colour, the style of the shoe, the laces and the accents, so your footwear will truly reflect you.

So, step into some iconic style with a cracking pair of Converse All Stars, and make sure you grab a Converse discount code to make sure you're getting your money's worth.

What Seasonal Offers Do Converse Have?
Skate Through Winter
It's time to layer up and get through the cold months. But that doesn't mean you have to let your style slip. The
Winter Sale
offers top discounts on a massive range of skater style.
You can get incredible deals on hoodies and sweatshirts to see you through the wind and rain. There's also a wide range of essential accessories like beanies and hats to finish your look off. They make perfect Christmas gifts and won't hit your bank too hard.
New Year New High Tops
If you want to head into 2020 in style, the January Sale is the place to go. You can save on a classic pair of
Converse High Tops
.
This iconic shoe is world famous by now and throughout January you can find some incredible offers. The classic white and red look has created an enormous range of shoes that will match your style. Scroll the vibrant colours and patterns to find the perfect look for you.
You even have the option to customise and create a truly unique shoe. It's a great way to get a personal look and with loads of combinations to choose from, it's all about you.
New Season Style
With temperatures on the rise it's time to refresh your wardrobe. You can swap the winter woollies for some bright and light layers.The
Spring Sale
offers spectacular savings all the tops and tees you need to freshen up your style this year. Expect classic Converse style with colours that'll bright up the new season. With deals across last season and the new collections, it's a great time to shop.
Shoes for the Sun
You'll find incredible deals on shoes in the Summer Sale. And
Low Top Cons'
won't disappoint. There are loads of styles to choose from. They range from the classic white and red to vibrant colours that will stand out in the crowd. Best of all, there are massive savings on all of them.
It's also a great time to get the holiday shop done. There are deals on all the clothing you need to fill your suitcase with style. The shorts and tees are made to be poolside, and with these savings it's easy to find something you'll love.
Make sure you get the best deal around whenever you're shopping by checking out MyVoucherCodes selection of deals.
Show Your Pride
Make sure you've got your pride on full display in 2020 with some fresh style from Converse. By putting a fresh spin on those iconic Converse designs, you get a celebration of inclusivity and Pride that's inspired by the colours of the LGBTQIA+ flag.

You'll find the world-famous Converse All-Star designs adorned with all the colours of the rainbow. So, you can step into a pair of classics and show off your pride in the process.

You can go for a fresh spin on a classic with a pair of Pride platforms. The same great Converse style you're used to, but with a couple of extra inches of comfort underneath your feet, so you can strut yourself and show your colours.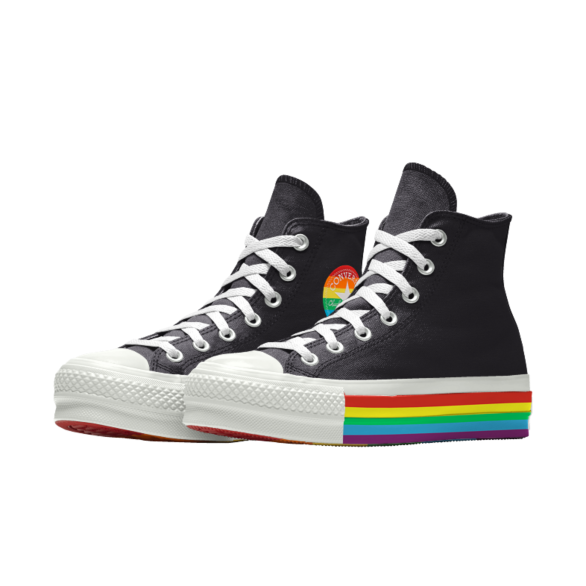 If the classic high-top Chuck Taylor design isn't what you're after, they've got low-top alternatives and even Converse Jack Purcell shoes to choose from. And they all come with a fresh Pride spin.

It's not all about the footwear in the Converse Price collection either. You've got tops and hats too, so you can get kitted out and show your support from top to toe this season.

So, wear your colours proudly with the Converse Pride collection , and get yourself kitted out to celebrate inclusivity this Summer