EXCLUSIVE
View Terms & Conditions

View Terms & Conditions

Terms and conditions apply.
View Terms & Conditions

View Terms & Conditions

Selected Styles only.
View Terms & Conditions

View Terms & Conditions

Excludes selected Classic, LiteRide, Crocband, Sloane, Sale and Lucky Sizes.
View Terms & Conditions

View Terms & Conditions

Excludes all Classic styles, Brooklyn wedges, Littles, sale and lucky sizes.
View Terms & Conditions

View Terms & Conditions

Excludes all Classic styles, Brooklyn wedges, Littles, sale and lucky sizes.
View Terms & Conditions

View Terms & Conditions

Excludes all Classic styles, Brooklyn wedges, Littles, sale and lucky sizes.
View Terms & Conditions

View Terms & Conditions

See website for details.
View Terms & Conditions

View Terms & Conditions

Excludes lined styles, Classic, Work, selected Crocband, Littles, Literide, So Luxe Slipper, sale and lucky sizes.
Offers for Crocs were last updated Monday 26 July 2021 09:05
Crocs Codes That You've Missed
EXCLUSIVE
View Terms & Conditions

View Terms & Conditions

Terms and conditions apply.
Most Popular Crocs Code & Discount
| Offer Description | Expires | Discount Type |
| --- | --- | --- |
| 15% off All Orders | | Voucher Code |
| 25% off Sandals, Flips & Slides Orders | | Voucher Code |
| Exclusive 22% off Crocs | | Voucher Code |
| 25% off Student Discount with Student Beans | | Deal |
| 25% off Sandals, Flips and Slides | | Voucher Code |
Crocs Hints & Tips
Treat your feet to some comfort with a cracking pair of Crocs, and with these top money-saving tips, you can get yourself a fantastic price on your footwear:


The newsletter is worth signing up for, not only will you get the latest Crocs deals and offers, but you'll get a terrific 20% off your next order.


Check out the Crocs sale section to get some fabulous savings on fantastic footwear, so you can strut around in comfort for less.


Save yourself a few quid on the extras with the Crocs free delivery offer, which is available on all orders.


Get peace of mind with your purchase with Crocs free returns and a 90-day money back guarantee, so if you're not satisfied, it's not a problem.


FAQs
How can I get a Crocs discount code?

The quickest way to find Crocs codes is to check with MyVoucherCodes before you order. Our team collects the best available deals to help you save on sturdy footwear every time you shop. You might catch an exclusive code for savings you won't find anywhere else.
When is the Crocs sale?

There are sales throughout the year that deliver savings on this famous footwear brand. You'll find details of any current sale discount on their MyVoucherCodes page when they go live. In the meantime, it's best to shop Crocs when the seasons change, and new lines start to arrive.
Can I get free delivery?

Usually, there is no free shipping option as standard and delivery starts at £4.95. However, you will regularly find free delivery promo codes on their MyVoucherCodes page. Check there before you place your order to see if you can cut out those fees.
Using Your Crocs Discount Code


Browse through our website for a discount code that applies to your order. Once found, unlock your code.


Make sure your code applies to the items you want to buy.


Open the Crocs website using a second tab and look through the items available.


Add all items you want to your cart. When finished, proceed to checkout. Make sure you have everything you need.


Copy and paste your Crocs discount code into the 'Enter voucher code' box and click 'APPLY' to enjoy your new discounted price.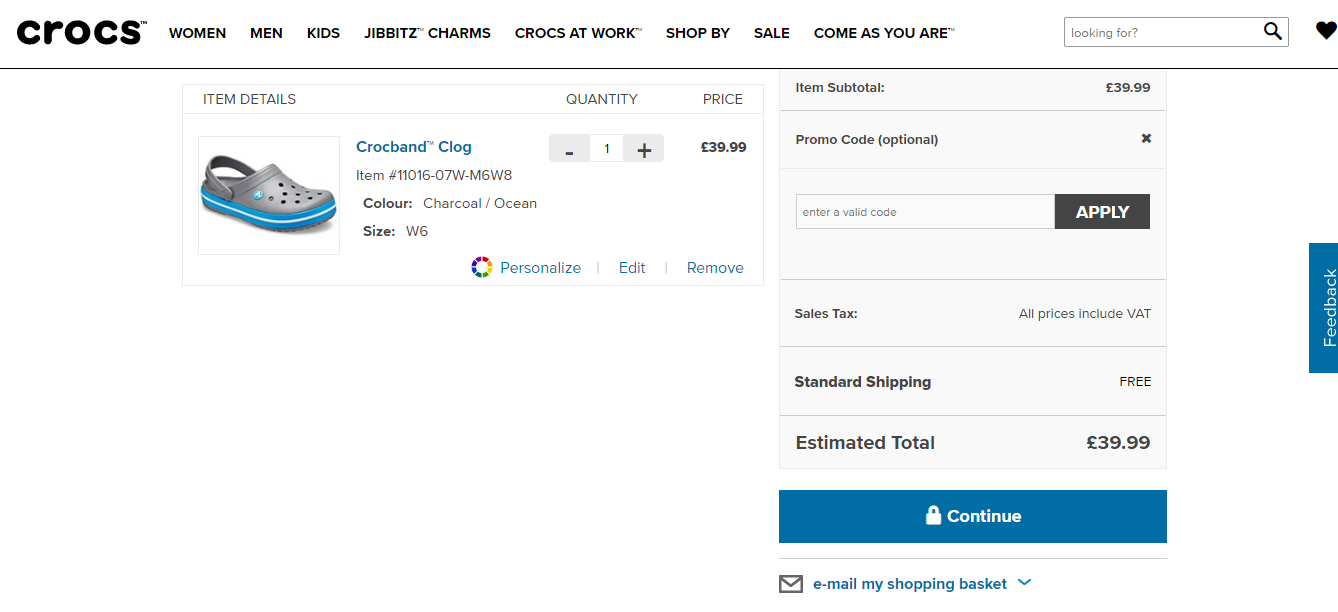 Buckle Up for Spring with Crocs Sandals
With Spring inbound, we should all be looking to get our wardrobes ready for a change in the weather. With (hopefully) warmer UK weather on the way, it's a good time to get those toes ready for some sun with a pair of Crocs sandals.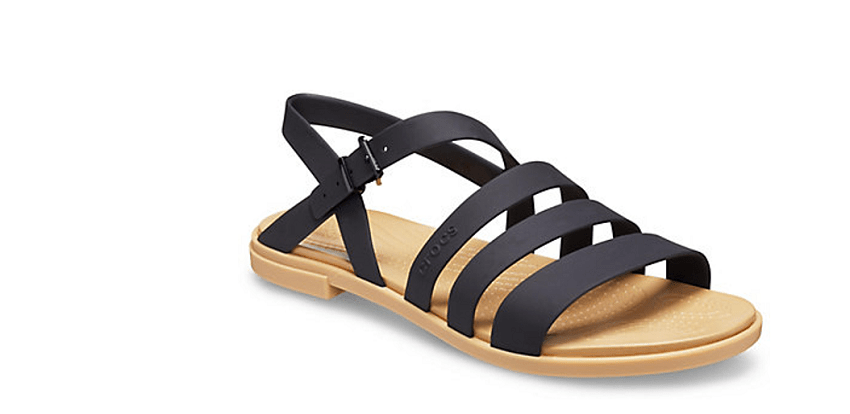 With their range of stylish, Summer-ready favourites, you can get it all from flip flops to sliders. So, you can treat your feet to some Spring-ready style this season. Not to mention, they're affordable, with prices starting as low as £16.99. And they don't sacrifice on that Crocs quality.
With a ton of fabulous block colours, to some statement sandals, you can get something that fits your vibe. Whether you want a Crocs Classic Slider, or a fresh pair of Crocband Flips. Whether you want simplicity in your sandal, or something strap-ier, they've got you covered.
They've even got wedges, so you can grab a quality pair of Crocs that will look right at home on the beach. The Crocs Brooklyn Low Wedge are a stunning pair of sandals that go with any sundress.
So, grab a Crocs discount code and get yourself a saving on sandals just in time for Spring.
Crocs Footwear for the Whole Family
Crocs pride themselves on creating footwear for everyone. Whatever your taste in style, whatever your job, there's a pair for you. So, whatever your feet need, you're well catered for when you buy Crocs online.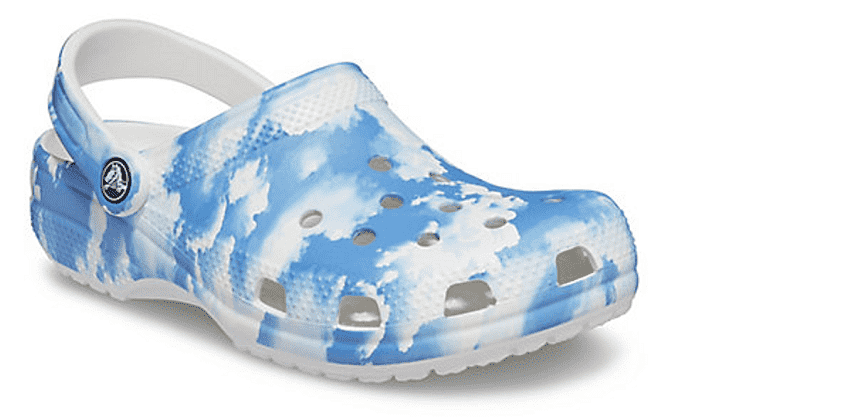 Men's Crocs
When it comes to the gents, Crocs UK have got you covered. With every colour under the sun available, whether it's black Crocs, white Crocs or a fabulous pair of pink Crocs, you'll be spoilt for choice. Not to mention there's a ton of incredible and imaginative designs available, so there's something for everyone.
Women's Crocs
For the ladies, there's just as much choice. From Crocs flip flops for women, if you're looking to by ready for the Spring ahead, to fabulous platform Crocs. There's so much choice on offer in the Ladies Crocs selection. From fur lined Crocs, to traditional Crocs clogs, you've got your pick of the litter when it comes to footwear fashion.
Kids Crocs
Whatever the season, you can get the kids kitted out with the perfect pair. From Crocs wellies for those wet Winter walks, to the selection of Crocs shoes that are perfect for their P.E lessons in school, you can treat their feet to some comfort and style this season.
Grab a Cracking Discount on Crocs
So, whether you're treating yourself to a air of comfy and functional Crocs, or you're buying for the family, grab a Crocs voucher code and start saving on footwear today.
Crocs at Work
Whichever way you make your living, it's important that you do it comfortably. With Crocs at work you can bet you're getting the right pair of shoes to get the job done in comfort and style.

Professional Grade Comfort
With a whole range of specialist Crocs clogs, there's something for you. With a range of professional colours, you can keep your feet comfortable throughout the work day. Whether you want something strappy, or a slip on, they've got you covered with work-ready style.
A Croc for Every Job
Whether you want a pair of gardening Crocs for a spot of landscaping, you work on your feet in the kitchen and need some chef Crocs, or you just want something professional to match your uniform, Crocs have something that's perfect for you. There are
special pairs for nursing jobs
and a section dedicated to
culinary professionals
.
Certifiably Comfortable
There's a few reasons Crocs are so perfect for meeting those job demands. They're easy to clean, they're lightweight, they're slip-resistant, and they're waterproof. So, you can bet you're getting some quality footwear that both looks the part and feels the part while you work.
Professional Grade Comfort and Style for Less
Make sure you take a look in the Crocs sale to find a bargain on brilliant footwear, so you can get the comfort need while you're on the job.
Crocs Collaborations
When it comes to alternative footwear style, they don't come much better than Crocs. And the best part is, with Crocs collaborations, you can find a pair that've been inspired by your favourite creators. Taking the comfort that we associate with Crocs and adding an extra level of style.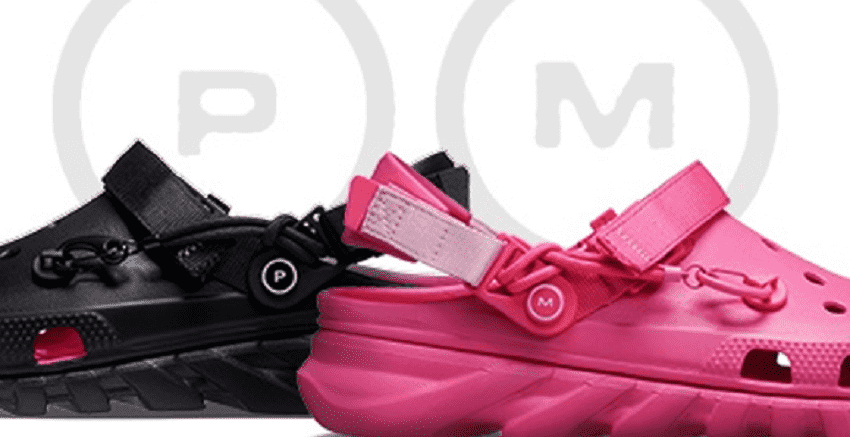 Post Malone Crocs
Post Malone is a frequent collaborator with Crocs, putting his own spin on the famous Crocs Duet Max clog II. There are two colours available, one pair in black and the other in pink, so you've got the gift of choice. So, it's well worth a look for a pair inspired by the household name that is Post Malone.
G Flip Jibbitz
In case you aren't aware, Jibbitz are the pins that you can customise your Crocs with. Here's tons on offer, and some are inspired by Australian musician G Flip. So, you can kit out your Crocs with some one-of-a-kind style inspired the musician herself.
Luke Combs X Crocs
In collaboration with artist Luke Combs, you can get your hands on some fantastic and fuzzy Crocs that are adorned with his incredible art. Featuring his famous "Skully" graphic, black fuzz lining and even some Jibbitz to customise your footwear with.
Save on Crocs Collabs
There's even collaborations with Sandbox!, Nicole McLaughlin, PizzaSlime, Justin Bieber, Bad Bunny, Carrots, Pleasures and so much more. So, grab a Crocs promo code and get over there before these limited edition Crocs sell out.
What Else Does Crocs Offer?
As well as its wonderful and vibrant selection of every day shoes, Crocs also has a host of shoes that are simply perfect for work. Not only are they incredibly comfortable, but they're slip-resistant, waterproof, lightweight and easy to clean. They're specifically designed for workers in culinary, medical, retail, hospitality and other industries which require you to be on your feet.