EXCLUSIVE
View Terms & Conditions

View Terms & Conditions

1. The £5 Marks and Spencer digital gift card giveaway ("Promotion") is subject to the following terms and conditions. By entering the Promotion entrants will be deemed to have read and accepted these terms and conditions. 2. The Promotion is organised and operated by The Global Voucher Group Limited of Imperial House, Imperial Way, Newport NP10 8UH ("Promoter"). 3. The Promotion is open to all UK residents aged 18 years or over except employees of the Promoter, their families, agents and anyone else connected with administration of the Promotion. 4. The Promotion will run from 16 Jun 2021 23:00 until 30 Sep 2021 22:59 ("Promotion Period"). 5. All entrants who (i) subscribe to receive the Promoter's electronic marketing during the Promotion Period and (ii) Lovehoney confirms have spent £50 or more (excluding all gift card purchases and top-ups and delivery or collection charges) before 30 Sep 2021 22:59 at the Lovehoney via the link provided on www.myvouchercodes.co.uk ("Promoter's Website") shall be eligible to receive a free £5 Marks and Spencer ("Gift Card"). 6. You will not be entitled to a Gift Card if you click on any other links or visit any other websites before making your purchase at the Lovehoney or if you make use of any other offer or promotion in connection with your purchase which is provided by the Promoter or Lovehoney (including any discounts, codes, savings, credit and/or points). 7. Only one entry per entrant during the Promotion Period shall be accepted. 8. Confirmation of purchase may be provided by Lovehoney up to 90 working days following the date of the qualifying purchase. 9. Gift Cards may be downloaded via the "member section" of the Promoter's Website. Entrants should note that Gift Cards may expire after a certain date and their use may be subject to the retailer's own terms and conditions. 10. No entries from agents, third parties, organised groups or applications automatically generated by computers will be accepted. No incomplete or corrupted entries will be accepted. Any entries not made during the Promotion Period or otherwise in accordance with the entry instructions and these terms and conditions will be rejected. 11. The Promoter reserves the right to substitute, in its sole discretion, the Gift Card with an alternative award of equal or greater value. 12. The Promoter reserves the right to ask for satisfactory proof of identity, age and/or address as a condition of award of the Gift Card. 13. The Promoter reserves the right to amend or alter the Promotion or these terms and conditions at any time or to terminate the Promotion at any time without prior notice due to circumstances beyond its reasonable control. Any changes to the Promotion or these terms and conditions will be posted on the Promoter's Website at www.myvouchercodes.co.uk. 14. Personal data submitted by entrants in connection with the Promotion will be processed by the Promoter in accordance with the Promoter's privacy policy, which is available at www.myvouchercodes.co.uk/privacy. 15. The Promoter does not accept any responsibility for any damage, loss, injury or disappointment suffered by entrants or as a result of acceptance of the Gift Card, but nothing in these terms and conditions shall operate to exclude the Promoter's liability for death or personal injury suffered as a result of the Promoter's negligence. 16. The Promotion and these terms and conditions are governed by the laws of England and Wales and are subject to the exclusive jurisdiction of the English and Welsh courts.
EXCLUSIVE
View Terms & Conditions

View Terms & Conditions

1. The £10 Pizza Hut Restaurants UK digital gift card giveaway ("Promotion") is subject to the following terms and conditions. By entering the Promotion entrants will be deemed to have read and accepted these terms and conditions. 2. The Promotion is organised and operated by The Global Voucher Group Limited of Imperial House, Imperial Way, Newport NP10 8UH ("Promoter"). 3. The Promotion is open to all UK residents aged 18 years or over except employees of the Promoter, their families, agents and anyone else connected with administration of the Promotion. 4. The Promotion will run from 16 Jun 2021 23:00 until 30 Sep 2021 22:59 ("Promotion Period"). 5. All entrants who (i) subscribe to receive the Promoter's electronic marketing during the Promotion Period and (ii) Lovehoney confirms have spent £70 or more (excluding all gift card purchases and top-ups and delivery or collection charges) before 30 Sep 2021 22:59 at the Lovehoney via the link provided on www.myvouchercodes.co.uk ("Promoter's Website") shall be eligible to receive a free £10 Pizza Hut Restaurants UK ("Gift Card"). 6. You will not be entitled to a Gift Card if you click on any other links or visit any other websites before making your purchase at the Lovehoney or if you make use of any other offer or promotion in connection with your purchase which is provided by the Promoter or Lovehoney (including any discounts, codes, savings, credit and/or points). 7. Only one entry per entrant during the Promotion Period shall be accepted. 8. Confirmation of purchase may be provided by Lovehoney up to 90 working days following the date of the qualifying purchase. 9. Gift Cards may be downloaded via the "member section" of the Promoter's Website. Entrants should note that Gift Cards may expire after a certain date and their use may be subject to the retailer's own terms and conditions. 10. No entries from agents, third parties, organised groups or applications automatically generated by computers will be accepted. No incomplete or corrupted entries will be accepted. Any entries not made during the Promotion Period or otherwise in accordance with the entry instructions and these terms and conditions will be rejected. 11. The Promoter reserves the right to substitute, in its sole discretion, the Gift Card with an alternative award of equal or greater value. 12. The Promoter reserves the right to ask for satisfactory proof of identity, age and/or address as a condition of award of the Gift Card. 13. The Promoter reserves the right to amend or alter the Promotion or these terms and conditions at any time or to terminate the Promotion at any time without prior notice due to circumstances beyond its reasonable control. Any changes to the Promotion or these terms and conditions will be posted on the Promoter's Website at www.myvouchercodes.co.uk. 14. Personal data submitted by entrants in connection with the Promotion will be processed by the Promoter in accordance with the Promoter's privacy policy, which is available at www.myvouchercodes.co.uk/privacy. 15. The Promoter does not accept any responsibility for any damage, loss, injury or disappointment suffered by entrants or as a result of acceptance of the Gift Card, but nothing in these terms and conditions shall operate to exclude the Promoter's liability for death or personal injury suffered as a result of the Promoter's negligence. 16. The Promotion and these terms and conditions are governed by the laws of England and Wales and are subject to the exclusive jurisdiction of the English and Welsh courts.
Offers for Lovehoney were last updated Monday 2 August 2021 12:17
Lovehoney Codes That You've Missed
View Terms & Conditions

View Terms & Conditions

See website for details.
Most Popular Lovehoney Code & Discount
| Offer Description | Expires | Discount Type |
| --- | --- | --- |
| Exclusive Free £5 Marks and Spencer Voucher with Orders over £50 | | Reward |
| Exclusive Free £10 Pizza Hut Restaurant Voucher with Orders over £70 | | Reward |
| Up to 70% off Outlet | | Sale |
| Up to 70% off Sex Toys for Couples in the Sale | | Sale |
| Up to 50% off Lubricants in the Sale | | Sale |
FAQ's
Can I Get a Lovehoney Discount Code?

The best way to pick up a Lovehoney discount is to check in with MyVoucherCodes before you place your order. You'll find the best codes alongside all the sales and deals to make sure you save.
Can I Get Free Delivery On My Lovehoney Order?

Yes. If you spend over £40 you can take advantage of free Royal Mail Tracked 2-delivery. When you spend over £60 you will be entitled to free Royal Mail Tracked 1-delivery. All deliveries are made in discreet packaging. To find out more delivery information, go to Lovehoney website.
Is There a Lovehoney Student Discount?

Yes, if you're registered with UNiDAYS you can enjoy a 20% discount on all your Lovehoney orders. Registration is simple, but you will need to prove your student status. To find out more information, go to the Lovehoney website today.
Can I cancel my Lovehoney order?

Yes, you can call customer service to cancel your order immediately after placing it. If the parcel has been dispatched, you can refuse to sign for the package and it'll be returned at no extra cost to you.
Do Lovehoney offer cashback?

Unfortunately, there isn't a Lovehoney cashback offer. However, there are third party cashback sites that can get you cashback with your purchases. Alternatively, our Lovehoney gift card offers might do the trick!
Hints & Tips
From lacy lingerie to other bedroom essentials, Lovehoney has everything you need, and with these top tips, you can spice things up and save.


Get more bang for your buck with Lovehoney Rewards. You'll start collection points with your purchases for saving in the future.


With up to 70% off stockings, sex toys and stunning gifts, you can grab a bargain in the Lovehoney Outlet sale. And with the end-of-season sales you can save yourself up to 70% on sex toys, accessories, lingerie and everything in between at Lovehoney.


The deal of the week is worth looking out for. With new products and categories seeing huge discounts every week, you can save a small fortune.


You can't go wrong with Lovehoney free delivery when you spend £40 or more. Not to mention, their delivery is discreet, so you don't have to worry about a thing.


Get yourself signed up to the newsletter. Where you'll not only get exclusive Lovehoney discounts, but you'll get a sign up bonus of a 15% discount on your next order.



How to Use Your Lovehoney Discount Code


From the MyVoucherCodes website, pick the Lovehoney discount code or deal that's right for you.


Then you can click it to reveal the code, and you'll be taken to the Lovehoney website.


You can then browse their stock and pick out the products you want and add them to your basket


Make sure the items are covered by the offer you've chosen, and then you can click on the basket icon in the top right of the Lovehoney website


Just below your items, you'll see a box that says 'Enter Your Voucher Code'.


Pop in your Lovehoney voucher code and your discount should be reflected in the price. Then you can checkout and enjoy your savings!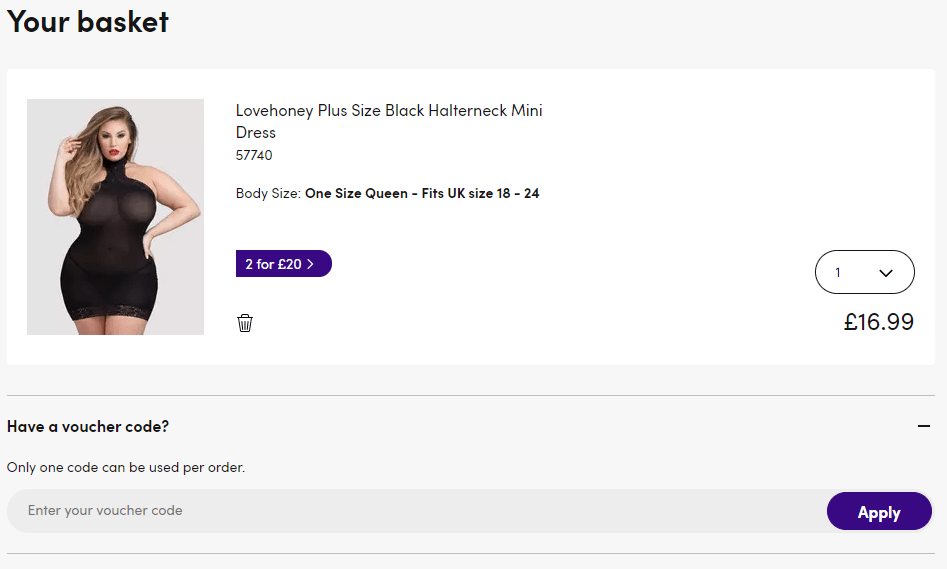 Lovely Lovehoney Lingerie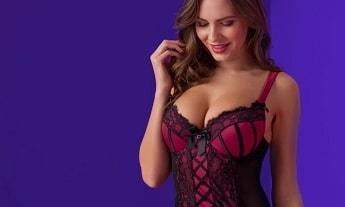 When it comes to spicing things up in the bedroom, you can't go wrong with some lovely lingerie. Whether you're buying for your partner, or just giving them a visual treat, it's a fabulous way to look good and feel great.
With something for every shape and size, you can find something that hugs your curves and makes you feel sexy. Whether you want something classy and lacey, or you're looking for some fabulous faux-leather, there's something for every taste.
With stockings and hosiery, crotchless lingerie, bridal lingerie and even outfits, you can dress up to inject a little fun into the bedroom. You can drop your partner's jaw in a cracking corset, or give them a nice surprise in a stunning new bra set, it's the perfect way to treat yourself and your partner.
Not to mention there's underwear for men too, so there really is fun for everyone. Whether you're looking for something comfortable, functional and stylish, or you want to get something with a twist, whether it's mesh, lace or fishnet. There are even a few outfits if you like a man in uniform.
So, if you're looking to spice things up n the bedroom this season, grab yourself a Lovehoney discount code and get a sensual saving.
Spice Up Your Life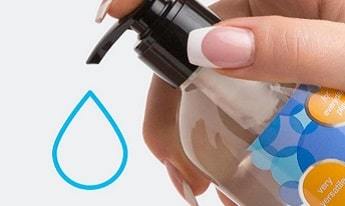 For those looking for something exciting for their significant other, you need to look no further than Lovehoney and their range of products to spice up life in the bedroom this season.
Featuring pleasure-seeking favourites like pasties, blindfolds, lubes, vibrators and more, so you can bring a smile to your loved ones face this season. And better yet, it's all made from vegan and cruelty-free materials, so you're getting the same great quality, without those downsides.
Lovehoney lingerie can make for a pretty spectacular gift. From basques and bustiers to bodysuits and even crotchless underwear. Whatever your tastes, there's something for your underwear drawer. So, whether it's lacey or leather, spice things up in the bedroom.
There's a ton of small accessories for the bedroom too, from lubes and enhancing gels, so you can really make the most of your time indoors this season.
So, keep your eyes peeled for Lovehoney deals and get saving this season.
Up Your Bedroom Game When it comes to the bedroom, you can't go wrong with a look at what Lovehoney have on offer. With everything you need to spice things up, whether you're treating your partner or flying solo, they've got you covered.
Take your bedroom game to the next level this season. With a huge range of fabulous Lovehoney toys, from dildos and vibrators to plugs and everything in between, so you can treat your partner, or yourself.
From lubes and cuffs to condoms and more, you can't go wrong with the accessories section. That way you can up your bedroom game, and have pleasurable and safe sex.
With everything from incredible outfits, to kinky games and sensual candy, you can really spice things up in the bedroom. Whether you want leather outfits or a satin stunner, you can't go wrong. And with everything from sexy dice, to card games, you can amp up the fun this season.
For something a little saucier to wear, you can't go wrong with some Lovehoney lingerie. With everything from luxurious, lacey numbers, to leather underwear, you're bound to get your significant other a little hot under the collar.
So, grab a Lovehoney discount code and get saving on bedroom essentials this season.