Clarks Hints & Tips
Take advantage of the Clarks free delivery deal to save a few quid on your order. All you need to do is place an order worth £50 or more.


Don't worry if you're not happy with your order, Clarks free returns mean you can send them back without parting with another penny.


Spread the cost with Klarna pay, so you can buy your shoes now and pay later


Keep an eye out for end-of-season sales, where you can bag yourself a bargain on fantastic footwear


Get yourself signed up to the newsletter so you can be in the know when it comes to the latest Clarks discounts.



FAQs
How can I get a Clarks discount code?
The quickest way to grab your Clarks codes is to check in with MyVoucherCodes before placing your order. Our team regularly updates the page with the best available deals to help you save on fancy footwear. You might catch an exclusive code for savings you won't find anywhere else.
Is there a Clarks Outlet?
No, there is not currently a dedicated outlet online. However, there are regular Clarks sales that will deliver superb savings on shoes for the whole family. You find details of any current discount alongside the rest of their deals on MyVoucherCodes.
Can I get a Clarks student discount?
Yes, anyone who is registered with Totum is entitled to 15% off all their orders. The registration process is quick and straightforward, but you will need to verify your student status.
When is the Clarks Shoes sale?
There are a number of sales throughout the year that will save you money on Clarks ladies shoes. You'll also find plenty of discounts on men's footwear, and Clarks are famous for taking care of little feet. Head to MyVoucherCodes to find all the discount details.
Using Your Clarks Discount Code
Start by clicking the reveal button to get your code. Copy this code for later.


Using another tab, head over to the Clarks UK website.


Browse the site and choose the products you would like to buy. Make sure that each product is applicable with your voucher code.


Proceed to checkout and paste your code into the 'Apply A Promotional Code' tab then click 'Checkout Now'.


You will be taken to the payment page, in which your Clarks UK voucher code will be applied. Fill in your details and enjoy your discount.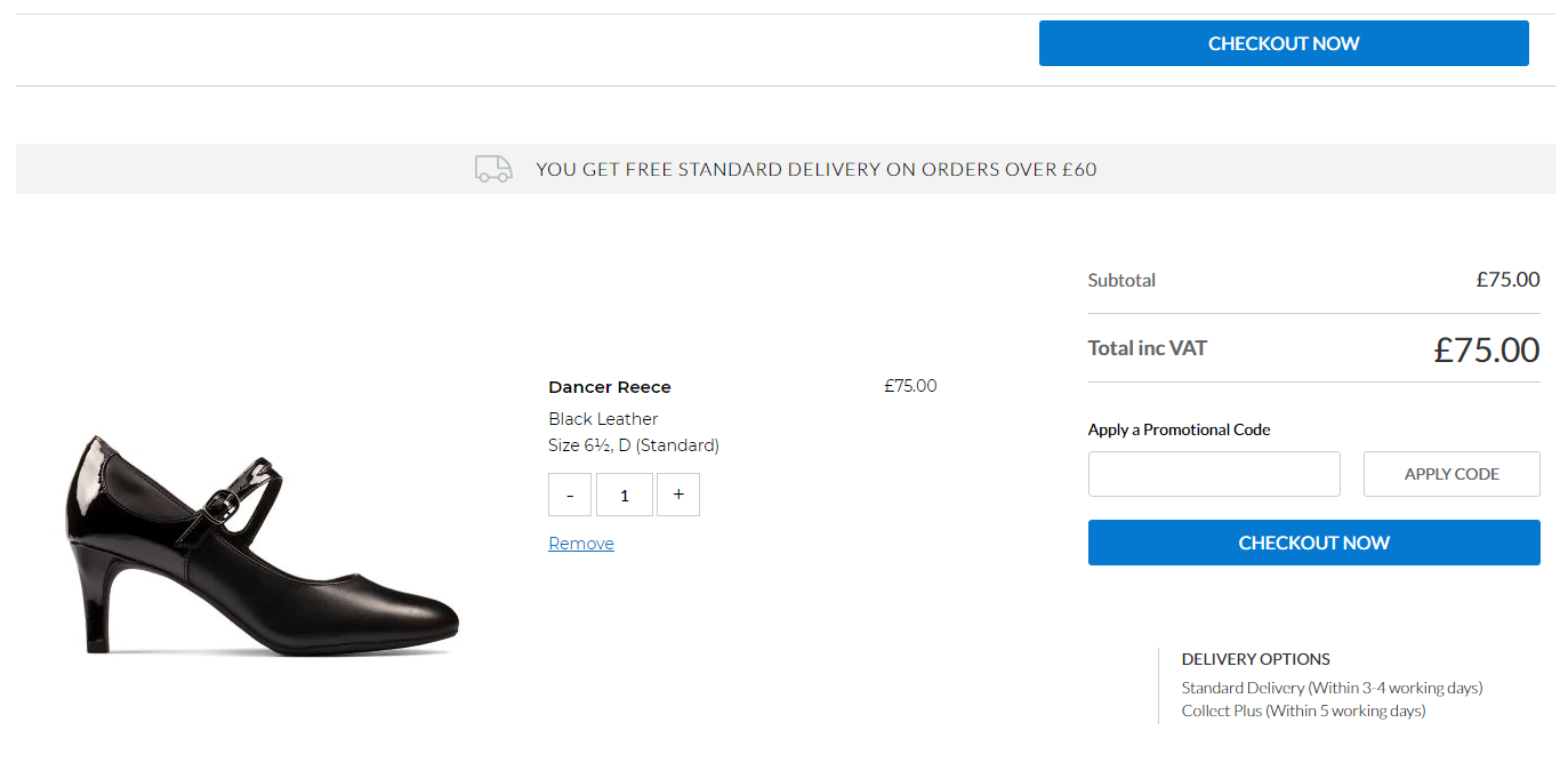 Sustainable Shoes Leaving Smaller Footprints
The conversation around the health of our planet has never been louder with more and more people trying to make changes in their every day lives. Many businesses are making the essential changes that make a company greener. Clarks have taken their social responsibility seriously for years with a host of policies that focus on making this planet a better place to live. And they've got the range of stylish footwear to demonstrate their commitment.

[h4Clarks Seven[/h4]
At Clarks shoes sustainability means looking at things in a new way. Take the full Moccasin. Traditionally, the popular shoe was created using 16 components, sometimes more. The clever folk at Clarks stripped it back and created a gorgeous shoe with only seven pieces. Wasting less material with every shoe.
Clarks Originals
If you're shopping with sustainability in mind, you want to buy shoes that will last and sometimes that can feel impossible. Well, search no more because the Clarks Original uses a three-dimensional structure to create a tear resistant shoe that hold up for years. Best of all, all the leather used comes from responsible tanners that are constantly working to lower their carbon emissions
Shoes for Every Stage
Clarks are renowned for being experts in kid's footwear and they are the go-to place when the little one needs shoes. And when it comes to first pairs, there's nowhere else parents choose to go because Clarks have been the best for generations.

They take little feet seriously and while we're tickling tiny toes, they're measuring and testing to develop the best pair possible. That's how they've managed to perfect shoes for every stage of growth and encourage foot development as your child grows.
Clarks Crawling shoes are the first pair your child really needs because they are made for when kids get moving. The rubber soles rise higher than usual to protect the toes as your baby learns to crawl. There are tons of styles to choose from to make sure they look cute in the stroller when they're not crawling away from you as fast as chubby little arms can take them.
Clarks Cruising shoes are designed with first steps in mind and aid your little explorers as they get on their way. The soft soles will cushion the new pressures on the foot and a gently curved toe naturally encourages the right movements as they start to walk. Getting measured for these is a milestone and feels like an event.
After around 6 weeks, you'll be advised to switch over to Clarks walking shoes and your little ones will be away. Their delicate leather feels soft against your toddler's skin and padded collars offer all the support their ankles need as they really start to move. And once they're wearing these bad boys, all your time will be spent chasing after them when they bolt.
Check these Edits
The Clarks seasonal range is renowned for packing in all the most wanted styles that will be slipped on in the coming months. But if you want to make sure you're picking up the cream of the crop, you have to check the Edits. Every so often they'll bring in a famous face to discuss their most loved shoes and pass that on to you. SO, when you slip into a fresh pair of Clarks boots, you know their fit for the stars.
[]