FAQs
How can I get a Dorothy Perkins discount code?
Dorothy Perkins codes don't come around often. Usually, they use sales and deals to save their customers money. The MyVoucherCodes page is always packed with the best offers available. You'll also find exclusive codes that will unlock a savingyou can't get anywhere else.
Can I Get a Dorothy Perkins student discount?
Yes, if you're registered with Student Beans or Unidays, you can claim a discount on your favourite fashion. If you're shopping in-store, you'll need a valid NUS card to take advantage. Full details available on the
Student Discount
page.
Can I get Dorothy Perkins Free Delivery?
Yes, you can get free standard delivery on all orders over £50 and your package will arrive within four working days. You can also get a free click and collect at any store. Other delivery options will incur fees and full details can be found on the
Delivery page
.
When is the Dorothy Perkins Sale?
Dorothy Perkins UK regularly runs sales that save customers money on their favourite fashion. You will find details of all current sale discounts on their MyVoucherCodes page. Keep in mind that the end/beginning of seasons is typically a great time to shop for fashion.
Dorothy Perkins Hints & Tips
The Dorothy Perkins sale is the first stop for some seriously stylish savings, so it's worth checking it out to get your money's worth on your wardrobe update.


Get yourself signed up to the newsletter, where you'll not only get the latest Dorothy Perkins deals and offers straight to your inbox, but you'll also get a 10% welcome discount.


Get unlimited Dorothy Perkins delivery for less than a tenner a year, so you can save on the extras when you order.


Get yourself saving with the Dorothy Perkins student discount, where you'll get 10% off when you sign in to your Student Beans or UNiDAYS account.


Check out the Dorothy Perkins Blue Light discount, giving emergency service workers, NHS workers and Armed Forces employees up to 20% off.
Using Your Dorothy Perkins Discount Code
Click on the MyVoucherCodes Dorothy Perkins discount offer. The unique discount code will appear in a separate window. Copy it and return to the previous page.


MyVoucherCodes will have already redirected you to the Dorothy Perkins website. You can now begin your shop with the offer you chose.


It's important to make sure your voucher code is relevant to everything you add to your bag.


Browse through the selection on the website and add your chosen items to your bag.


When you're ready to checkout, click on the basket icon in the top right-hand corner of the page. Click 'Checkout Securely'.


You will need to sign in or register to proceed.


When you reach the payment page, apply your Dorothy Perkins discount code by entering it in the box. Click 'Apply' and the discount will be reflected in your basket.


Complete payment and wait for your new items to arrive.
Buyers Guides - Work It
With spring on the way and the offices threatening to open back on moments notice, now's the time to get the work wardrobe sorted with new looks fit for the boardroom. You can dress from head to toe and keep things professional without ever compromising on style.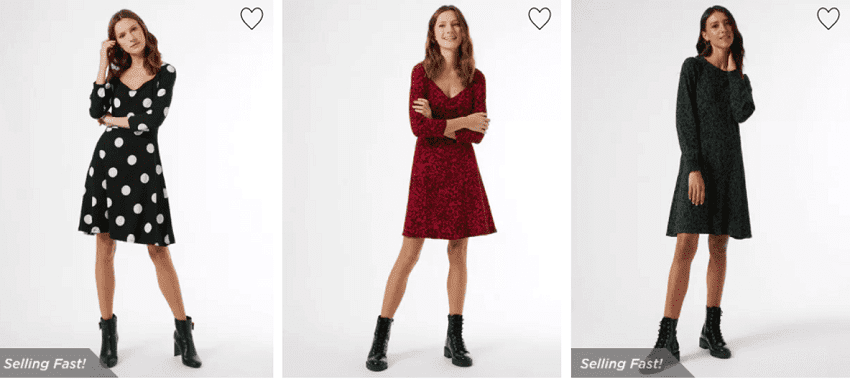 Dorothy Perkins Coats
Your work look starts on the walk from the car park and a smart coat is a must. Whether you fancy a Dorothy Perkins jacket or a more classic black coat, there are stylish options that will keep you looking your best when things get a little windswept.
Dorothy Perks Tops
You can never have enough tops in your wardrobe and these workday essentials are a superb option whatever your day holds. The Dorothy Perkins clothing collection holds loads of versatile numbers that will pack your wardrobe with office friendly looks.
Dorothy Perkins Dresses
Work ready dresses always become a weekday staple and the right one will make the days go a little easier. The outfits in the workwear collection bring together classic styles and bold looks that are made to brighten up your meetings.
Buyers Guides - Shoes for Life
There's no pair of shoes that can take care of everything you need from your fancy footwear. Some occasions call for something glitzy, most days are less glam and standard looks required. At Dorothy Perkins you'll find a gorgeous range of footwear that will see you through the biggest nights and everydays.

Dorothy Perkins Shoes
Whether you need a sparkly party pair or something to walk into the office, there are plenty of stunning options that will have you stepping in style. With the party season fast approaching, it's the occasion shoes that stand out to us. This is a collection of strappy little numbers that were made for the dancefloor.
Dorothy Perkins BootsNo winter is here to stay, the wind and rain is going to be here day in day out. That's why a stylish pair of boots is considered a fashion essential when the weather turns. This season we're loving the rock look and a pair of biker boots will keep you bang on trend, even if your hair's blown all over the place.Dorothy Perkins TrainersWhen you need to keep things casual but you still want to keep your style game strong, a fresh new pair of trainers is exactly what you need. Pristine white, classic black, or something with a lot more colour, there are loads of choices that let you add a stylish touch to any outfit you throw on.It doesn't matter what you want from your shoes this party season and beyond, grab a Dorothy Perkins discount code and save on your next pair.
Buyers Guides - Let's Go Eco
As the world is waking up to the climate crisis, most of us are looking for ways to cut back and do our bit for the planet. For some that might mean avoiding fast fashion, but you won't have to sacrifice style to shop sustainably. The Dorothy Perkins Eco collection delivers impeccable style and keeps your conscience clean.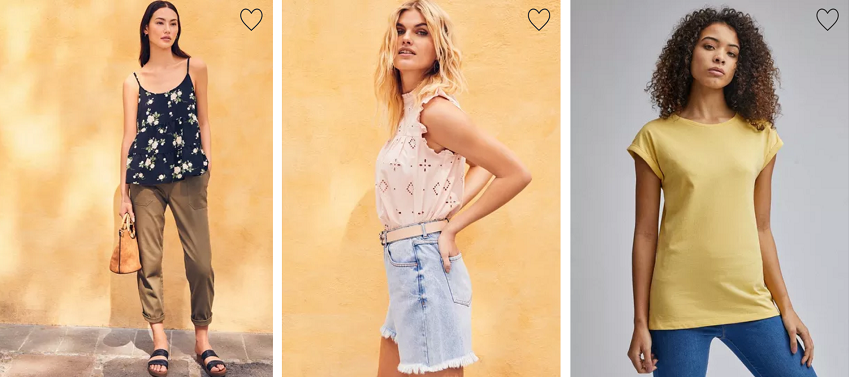 They collection is created from 100% organic cotton, sustainable viscose, and recycled polyester to ensure the impact on the environment is as low as possible. They're not claiming to be perfect with it, but they're taking steps to make positive changes in the fashion industry. And the clothes are as stylish as ever.
The selection of Eco tops is packed with stylish everyday wear that feels as good as it looks. There is loads of variety in style and colour to help you find something that matches your look perfectly. The Blush Broderie Shell Top looks gorgeous and you can tell it was made for a day at the beach.
For your evenings out, the sustainable Black Viscose Puff Sleeve Smock dress is a stunning choice for any occasion. It's airy feel and understated style make it an elegant option for the wardrobe. And the fact it's sustainable will make you feel that little bit better when you're wearing it.
The green revolution is just beginning and making simple changes to your shopping can help keep that ball rolling to a better future. Check out the Eco collection today and do some good while you shop.