New Look Hints & Tips
Get the most out of your New Look shop today by checking out these handy New Look hints & tips:
New Look Newsletter
Sign up to the newsletter today and stay up to date with the latest New Look offers. Not only will you get the freshest deals sent straight to your inbox, but they'll start you off right with a fantastic 25% welcome discount.
New Look Sale
If you love to shop New Look fashion, check out the sale section first With price reductions across a massive selection of the seasons most wanted looks, there's no excuse for missing these incredible deals.
New Look New In
If you like your fashion as fresh as possible, your first stop should always be the new in section. That's where you'll find the freshest looks around.
New Look Student Discount
Are you in full-time education? If so, make sure you take advantage of the student discount and save yourself money on campus-ready outfits and styles today.
New Look Boots
Now the wet weather looks here to stay, it's time to put the sandals back in the wardrobe. The collection of boots are perfect for autumn and will keep your toes dry 'til spring. Right now there's a pair of £10 New Look boots that are shoppers are loving, check them out for the best value footwear around
New Look Kids
New Look kids are stylish and confident, thanks to the massive range clothes that are designed for little wardrobes. They've got fun, smart and durable to take care of every day. And best of all, they keep the costs down when they need another wardrobe change.
New Look Summer Clothes
It's time to start thinking about your warm weather wardrobe, and that means gorgeous New Look Summer Dresses, shorts, and shoes that are made for the sun. Shop the Easter sale early to save on your staycation style.
New Look Klarna
The Klarna payment service is a fantastic way of spreading the cost and making it easier to pick up the fashion you'll love.
New Look FAQ
Can I Get A New Look Student Discount?
Yes. By verifying your student status with UNiDAYS on
the student discount page
, you can get a 10% discount on your orders.
Where Is The Nearest New Look Store To Me?
There are over 500 New Look stores across the UK and there is probably one near you. You can use the store locator to find your nearest shop and get useful information like opening hours and contact details.
What Are The Payment Options At New Look?
New Look accepts payment by all major credit and debit cards, PayPal, New Look gift cards and the New Look Store Card. The store card allows customers to buy now and pay later.
Can I buy a New Look gift card?
Absolutely, they start from £10 and order physical cards or an eGift that will be sent via email. They're a fantastic way of showing the love and spreading fabulous fashion.
Using Your New Look Discount Code
Follow these instructions to apply your New Look promo code and unlock a saving of top fashion:
Browse our collection of New look offers and click 'Get Discount' when you have found the one for you


A new tab will open and take you to the most relevant New Look page


Shop for all your favourite styles and click the basket in the top right of the screen when you're done


Paste your code in the box marked 'Have a Promo Code?' and click apply


Once your payment total changes you are free to enter you shipping details, checkout, and enjoy your savings.
Contacting New Look
If the New Look FAQs aren't answering you query, you can get in touch with the New Look Customer Service Team via any of the below methods:
New Look Social Media – Twitter, Facebook Messenger, and WhatsApp
New Look Online Chat – Live chat is available on the New look site 8-8 Monday-Sunday
New Look Contact Number – Call 0371 781 3051to speak to a member of the New Look Customer Care team about your New Look card
New Look Post – If your issue is not urgent you can go old fashioned and post them a letter - Customer Care Team, New Look Retailers Ltd, Mercery Road, Weymouth, Dorset, DT3 5HJ
New Look Delivery Options
After you've filled your basket with on trend dresses, skirts, and tops you can use any of the following delivery options to have you new clothes shipped to your wardrobe.
New Look Standard Delivery
Standard delivery uses the Royal Mail and will get your order to you in 3-5 working days. It costs £2.99 but is free with orders over £50 and for Delivery Pass holders.
New Look Express Delivery
If you order by 4pm you can opt for the Royal Mail Express Delivery option and receive your order within two working days. This delivery method usually costs £3.99 but is free on orders over £50 and for Delivery Pass holders.
New Look Next Day Delivery
Order by 8pm and you can use the next day delivery option. This uses DPD to get your order to your door the next day if you order by 8pm. Next Day costs £4.99 but is free on orders over £65 and for Delivery Pass holders.
New Look Nominated Delivery
The DPD Nominated service allows you to pick your delivery day, including Sunday, to make you delivery work around you. This service is priced at £4.99 but is available fore free on all orders over £65 and for Delivery Pass holders.For a full breakdown of your delivery options, and more information about the Delivery Pass, please visit the
New Look Help Centre
.
New Look Seasonal Shopping Guide

Fashion trends never stop and evolving and just when you think you've got the perfect wardrobe together, a new season rolls around and all the shopping fun starts again. You can shop for every season at New Look UK and here's what you can expect to find when the seasons change.
When the thermometer finally starts to rise and spring creeps over Britain, you'll find a whole new gorgeous collection to try on for size. It will be packed with light New Look tops, trousers and jackets that are perfect for the transitioning weather. The season is styled around breezy looks and loads of colour to welcome the sun back.
Shopping for summer is the best. It's all holidays, beaches, and long hot nights with good people. All that deserves a strong look. Whether you need to fill a case with the gorgeous New Look bikinis or a casual look for back garden BBQs and beer garden nights. It's about strong, style defining outfits that are made for you.
When we wave a tearful goodbye to the sun and leaves started to fall it's time start picking up all your cosy layers. That could mean a snuggly New Look coat or a cuddly jumper that's made for the cold weather. It's also the time you want to switch out your footwear. Those open toes aren't going to cut; boot weather is coming.
With Christmas and New Year being the big events in winter, shopping turns to party season and gifting. A New Look Black dress will make sure you're dripping in sophistication when you hit those big events, and even if coronavirus stops the works dos from happening, there's always an excuse to get a little glam. The home and gifting range will also take care of all those stocking filler staples.
Fashion for Every Fit

Inclusivity is more important than ever in 2021 and the term has been thrown around a lot. At New Look, it's more than just a buzzword to make them look good. It goes into the collections they produce that make a fabulous style that fits everyone.
New Look Curve
The Curve collection brings all the 'plus-size' style you could ever need. Each season you'll find gorgeous clothes that will flatter your figure and give you the confidence to rock your looks. Everything comes in size 16-32 to make sure everyone has access to the fabulous fashion.
New Look Petite
This gorgeous collection is perfect for ladies that are on the shorter end of the spectrum and measure under 5'3". Some outfits cover everything from big work meetings to casual drinks with big looks across the board.
New Look Tall
Like the Petite collection, Tall keeps wardrobes filled with stunning style for longer frames. There are incredible looks that reach new heights that are perfect for any occasion. Whether you're chilling down the pub or going to the wedding of the year, you'll find your fit here.
New Look Maternity
When you're growing a little human there's plenty of things to worry about, keeping your style game strong should never be one of them. That's why you'll find this fabulous collection of clothes create with a little bump in mind. It blends impeccable style with unbeatable comfort to take a little pressure off while you're pregnant.
New Look New In for Spring '21
The sun has started shining, we're seeing blue skies again, and flowers are starting to shoot up, which can only mean one thing, it's time for new spring collections. And New Look clothing has put together one of the best around.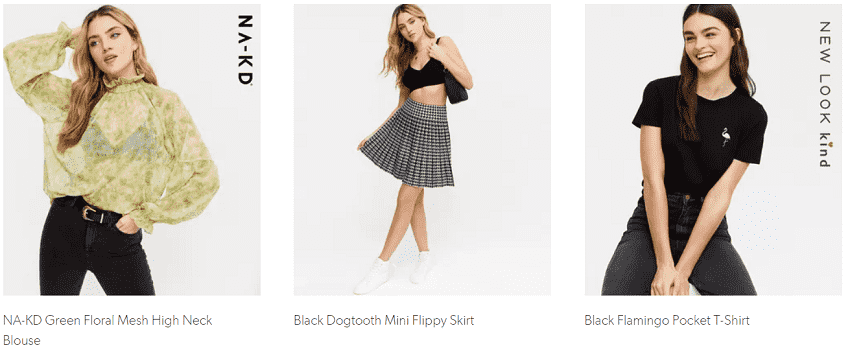 New Look SkirtsThis seasons collection of cute skirts are perfect for feeling the sun on your legs again. Whether you're a mini or midi kind of girl, you'll find gorgeous looks that make an easy, everyday look you'll throw on again and again.
New Look Ladies Tops
Tops make wardrobes go round and you can never have enough of these little essentials in your back pocket. There are loads of gorgeous additions waiting to become your new favourite in this year's selection. The bright and breezy light numbers are perfect for when the temperature starts to rise, and florals are always a fabulous choice in spring.
New Look Hoodies
Spring is a transitional season and while we're all getting excited at the sight of a cloud free sky, we still need to be prepared for those spring showers. Jackets and hoodies are a must for casual layers that will keep you comfy when the weather gets unpredictable. Luckily there are plenty of stylish options to choose from at New Look.
Back to Basics
With the coronavirus restrictions keeping us all at home bingeing Bridgerton when we should be being productive. For must of us that means we've also toned done our style choices and this season is set to be all about the fashion basics. The New Look basics collection is packed with all the essentials you'll wear everyday and simply need something to throw on. They might be wardrobe fillers, but that doesn't me they don't look good.

New Look Jeans
Jeans are the definition of a fashion essential. There's probably not a wardrobe in the country that doesn't have a favourite pair hanging in them. This fabulous collection takes denim back to basics and lets you pick up a stylish pair for under twenty quid.
New Look T Shirts
The humble tee comes in many forms and you'll find most of them in the New Look men's collection. If you keeping things basic while you're at home, you won't find better value than the plain T Shirts in this section. They're all you need to throw on when you've got nothing planned and they help create a subtle look if you need to nip to the shop.
New Look Joggers
When it comes to loungewear, nothing is more comfortable than a trusty pair of joggers. Whether you're lounging on the sofa or heading out for a run (ha), these basics are all you need to keep things comfy.