Kate Spade Hints & Tips
Check out the Kate Spade section to find a ton of fabulous deals on fashion. You could save a small fortune by buying items off-peak. Whether it's buying shorts in the Winter, or a coat in the Summer.


Sign up for the newsletter to get the biggest and best Kate Spade deals and offers. All you have to do is pop in your email address to start saving.


Budget before you buy by using the Kate Spade wishlist feature. That way you can pop the products you want on a list and buy them when you've got the money. It's perfect if you plan to take advantage of Kate Spade Black Friday deals.
FAQs
Can I Get a Kate Spade Discount Code?
Yes, there are Kate Spade voucher codes available, it's worth keeping an eye out here to find the biggest and best discounts.
Is There Kate Spade Free Delivery?
Yes, there is free delivery available at Kate Spade on orders over £100. It's £3 if you don't meet this threshold, and you can get express delivery for £8.
Is There A Kate Spade Near Me?
You can use the Kate Spade store locator to find your nearest branch, all you have to do is pop in your postcode and it'll find the store closest to your location.
Do Kate Spade Offer Free Returns?
Yes, by using one of their selected carriers, you can use the slip given to you in the parcel to return it for free.
Kate Spade Bags
When Kate Spade first opened their doors, they began by selling a carefully curated collection of six handbags. And while their ranges may have grown since then, there's no denying they know a thing or two about bags.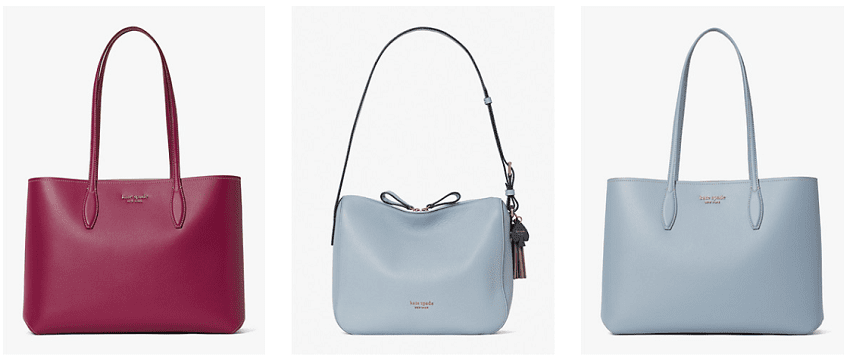 With everything from crossbody bags and satchels, to tote bags, shoulder bags and backpacks, you can get style and functionality in any form. And with a ton of fabulous collections to explore, you can find the perfect bag for your tastes.

With Christmas around the corner, you might have your sights set on the perfect gift. A Kate Spade handbag can bring a smile to anyone's face this season. With a whole range of stunning designs to choose from, there's bound to be something for everyone this December.

You can even glam up your new bag and take it to the next level with a new strap, some charms or some leather conditioner to take care of your quality bag. And all for an affordable price when you check out the Kate Spade sale for some serious savings.

So, grab yourself a Kate Spade discount code and bag a bargain on a beautiful new accessory from the experts. You never know how much you could save on style.
Accessorise and Stay Safe
An accessory can tie a look together and really make or break an outfit. Kate Spade know that, and they've got you covered on all those extras. And with the Coronavirus pandemic still in the news, they've even got those essential face masks.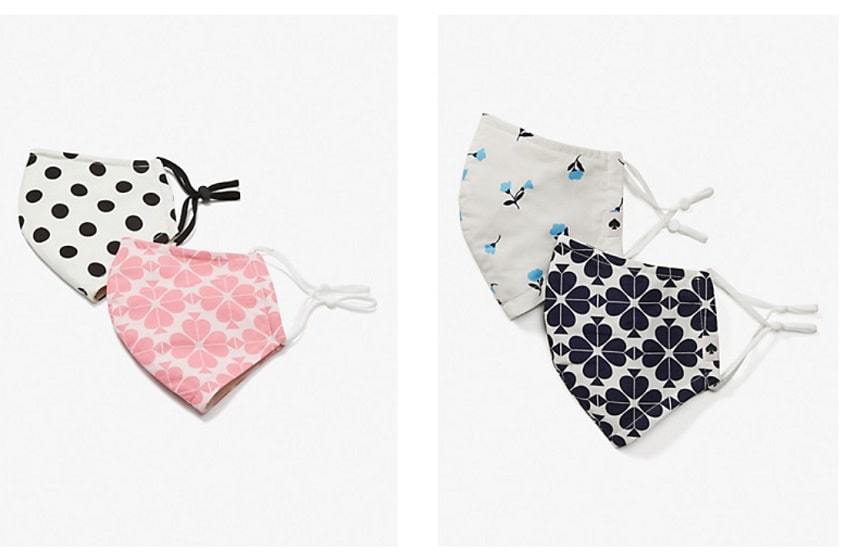 Kate Spade Sunglasses
With the weather getting warmer and the sun finally shining, a pair of sunglasses are a must for Spring and Summer. Whether you want a patterned pair, or something subtle and understated, they've got a pair for you.
Kate Spade Face Masks
With health and safety being at the front of our minds at the moment, face masks are in high demand. With Kate Spade facemasks, you can stay safe in style. From floral patterns, to classic polka dots, you can put your personal twist on it.
Kate Spade Hats
While Spring is here, the British weather is famously unreliable. But with the Kate Spade hat selection, you can get kitted out whatever the weather. From beanie hats to cosy headband, you can keep on top of the weather in style this season.
Kate Spade Discount Codes
When it comes to accessorising, style doesn't have to break the bank. With our exclusive discount codes, you can grab one and get yourself a saving right now.