EXCLUSIVE
View Terms & Conditions

View Terms & Conditions

1. The £15 Amazon.co.uk digital gift card giveaway ("Promotion") is subject to the following terms and conditions. By entering the Promotion entrants will be deemed to have read and accepted these terms and conditions. 2. The Promotion is organised and operated by The Global Voucher Group Limited of Imperial House, Imperial Way, Newport NP10 8UH ("Promoter"). 3. The Promotion is open to all UK residents aged 18 years or over except employees of the Promoter, their families, agents and anyone else connected with administration of the Promotion. 4. The Promotion will run from 4 Jul 2021 23:00 until 30 Sep 2021 22:59 ("Promotion Period"). 5. All entrants who (i) subscribe to receive the Promoter's electronic marketing during the Promotion Period and (ii) Oakley confirms have spent £150 or more (excluding all gift card purchases and top-ups and delivery or collection charges) before 30 Sep 2021 22:59 at the Oakley via the link provided on www.myvouchercodes.co.uk ("Promoter's Website") shall be eligible to receive a free £15 Amazon.co.uk ("Gift Card"). 6. You will not be entitled to a Gift Card if you click on any other links or visit any other websites before making your purchase at the Oakley or if you make use of any other offer or promotion in connection with your purchase which is provided by the Promoter or Oakley (including any discounts, codes, savings, credit and/or points). 7. Only one entry per entrant during the Promotion Period shall be accepted. 8. Confirmation of purchase may be provided by Oakley up to 90 working days following the date of the qualifying purchase. 9. Gift Cards may be downloaded via the "member section" of the Promoter's Website. Entrants should note that Gift Cards may expire after a certain date and their use may be subject to the retailer's own terms and conditions. 10. No entries from agents, third parties, organised groups or applications automatically generated by computers will be accepted. No incomplete or corrupted entries will be accepted. Any entries not made during the Promotion Period or otherwise in accordance with the entry instructions and these terms and conditions will be rejected. 11. The Promoter reserves the right to substitute, in its sole discretion, the Gift Card with an alternative award of equal or greater value. 12. The Promoter reserves the right to ask for satisfactory proof of identity, age and/or address as a condition of award of the Gift Card. 13. The Promoter reserves the right to amend or alter the Promotion or these terms and conditions at any time or to terminate the Promotion at any time without prior notice due to circumstances beyond its reasonable control. Any changes to the Promotion or these terms and conditions will be posted on the Promoter's Website at www.myvouchercodes.co.uk. 14. Personal data submitted by entrants in connection with the Promotion will be processed by the Promoter in accordance with the Promoter's privacy policy, which is available at www.myvouchercodes.co.uk/privacy. 15. The Promoter does not accept any responsibility for any damage, loss, injury or disappointment suffered by entrants or as a result of acceptance of the Gift Card, but nothing in these terms and conditions shall operate to exclude the Promoter's liability for death or personal injury suffered as a result of the Promoter's negligence. 16. The Promotion and these terms and conditions are governed by the laws of England and Wales and are subject to the exclusive jurisdiction of the English and Welsh courts.
View Terms & Conditions

View Terms & Conditions

1. Only available with a valid student ID.2. Selected items only3. Excludes gift cards4. Discount is available to verified UNiDAYS members only. Each code is unique and can only be used once, it cannot be combined with any other coupons, discounts, prom
View Terms & Conditions

View Terms & Conditions

https://www.oakley.com/en-gb/support/shipping-returns
Offers for Oakley were last updated Thursday 22 July 2021 12:37
Oakley Codes That You've Missed
Most Popular Oakley Code & Discount
| Offer Description | Expires | Discount Type |
| --- | --- | --- |
| Get up to 50% off in the Sale | | Sale |
| Gift Cards Available from £25 | | Deal |
| 25% off Student Discount | | Deal |
| Free Delivery on Orders | | Deal |
| Shop up to 30% off Sunglasses in the Sale | | Sale |
Make it Your Summers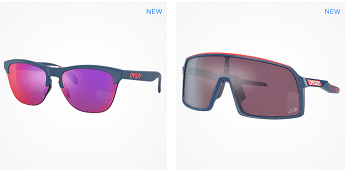 Whether you plan on spending summer on the beach or pushing yourself further, faster, harder than ever before, Oakley has got you covered for every step of the way. They proudly go their own way and innovation is in their DNA. That's why their sunglasses, clothing, and accessories consistently make waves on beaches around the world. Summer 2021 is now different.
Oakley Sunglasses
The 2021 Tour de France collection blends high performance and bold style to create top of the line sunglasses that celebrates the power and resilience of the world's toughest road race. Prizm Road Lenses will enhance colour and contrast to give you more clarity whether you're on your bike or walking along the beach. The pair the performance boosting features with bold frame design and colour selections for superior feel and look.
Oakley Clothing
If you're ready to get your wardrobe ready for scorching summer days you've come to the right place. Whether it's high performance or straight chilling, these wardrobe fillers are made for summer. The massive selection of laid back tees bring modern designs to casual days and they're perfect for kicking back on the beach when the sun is high.Oakley isn't a brand, it's a lifestyle and their clothes and glasses capture what they're about perfectly.
Your Glasses, Your Look

The only thing better than a fresh pair of designer sunglasses is a pair of designer sunglasses that have been customised especially for your lovely face. That's exactly what you get the Oakley customisable range that's packed with options to stamp your style on your new sunnies.There are three base ranges you can choose to make your own. Whether you want something sporty that's made for mountain living or a stylish pair for everyday wear, these bases will give you the designer frames you need.Once you've made you selection it's time to unleash all your creativity to splash your style all over them. You can paint your favourite frames with a massive range of colours and patterns that will make your shades stand out in a crowd.After you get your colour scheme sorted, it's time for the finishing touches. This is when you pick your lens type and colour. You can go route or pick something more eye-catching with a ton of snazzy choices.You can even get your personalised pair etched and make them even more special. This is a whole new take on designer sunglasses, and it gives you the best of both worlds. Impeccable quality and design and a truly personalised pair that was literally made for you.If you want to pick up your custom shades today, grab an Oakley discount code to save some of your hard-earned money.
Everyday Style
Oakley has a long history of supporting action sports because the freedom and creativity of those unique sports mirror the philosophy of the company. But you can't push the boundaries 24/7 and sometimes you need to kick back and unwind with a good book.

For those few days, they have taken the unmistakable Oakley sunglasses style and added to a massive collection of reading glasses. You can get your prescription lenses and the designer flavour from the biggest name in sunglasses.You don't get to be a famous name in anything without being at the top of your field, and Oakley glasses are renowned for their premium quality feel. They use the latest technology to make sure their glasses will sit on your face without feeling intrusive.There's a massive collection of styles to help you find the right fit for your face. To make sure everyone can find look Oakley frames come in four distinctive shapes, oval, rectangle, circle, and square. Every face has its ideal shape and this collection covers the spectrum.Once you've had a browse through the collection and find your perfect frames, you still need to decide what colour and size you're after. There are loads of choices with each pair and plenty of scopes to make the glasses your own.
Sports Styles
Oakley sunglasses have a long history of supporting action sports and whether they're creating top equipment or sponsoring the biggest athletes, this is still at the heart of everything they do. And these famous glasses innovators continue to push the boundaries of eyewear to help you go further, faster, and harder than ever before.

Oakley Ski Goggles
If you hit the mountain you know that a good run is all about mixing style and performance. That's the same philosophy that goes into every pair of goggles in this collection. With the largest field of view available, high tech Oakley Prizm lenses, and comfort that will last the whole session, these goggles ae setting the industry standard for the slopes.
Oakley MX Goggles
When you're travelling at bone rattling speed and there's mud flying, you need a pair of googles that will let you see the whole picture and keep you safe. These dedicated Oakley goggles are designed to with motorcross madness in mind and they've knocked it out of the track. These super durable single lenses are made to be impact resistant and 100% UV filtering lets you keep your mind on the track when you hit top speed.