Radley Hints & Tips
The latest fashion is the name of the game at Radley, so stock up your wardrobe with some serious style for less, by making use of these helpful money-saving hints:
Your first stop should be the Radley clearance sale. Typically, with up to 50% off, you can save yourself a small fortune on cracking fashion essentials.
Check out the Radley refer a friend offer, where you can get a cracking £15 off for referring and they'll get a treat of £15 off too!
Sign up for the newsletter, so you can be in the know when it comes to the latest Radley deals and offers, and all you need to do is pop in your email address.
Take advantage of any Radley student discount offer that may be running, these can be used by simply signing in to your UNiDAYS account.
FAQs
Is There A Radley Sale?
Yes, they offer a sale. You can find all the information you need to make the most of your money at MyVoucherCodes. You'll also find information on other offers, deals and Radley discounts codes.
Can I Get A Radley Student Discount?
They occasionally offer a student discount using UNiDAYS. You can find out whether they are at MyVoucherCodes or by visiting their
student discount page
.
What Delivery Options Does Radley Offer?
They offer free standard delivery on orders over £75, with it being £4.99 otherwise. This will take up to 5 working days to arrive. They also offer free click and collect, Next-day delivery for £6.99 and named-day delivery for £8.99.
Using Your Radley Discount Code
Start your process by using our website to find a discount voucher that best fits your order.
Unlock your code and open the Radley website using a different tab.
Browse through the website and add all items you want to your cart. Double-check each item to ensure it's covered by your discount code.
When finished, proceed to checkout and review your order. Copy and paste your Radley discount code into the 'PROMO CODE' box and click 'Apply'.
Your code will activate and refresh the page. It will now display your new discounted price.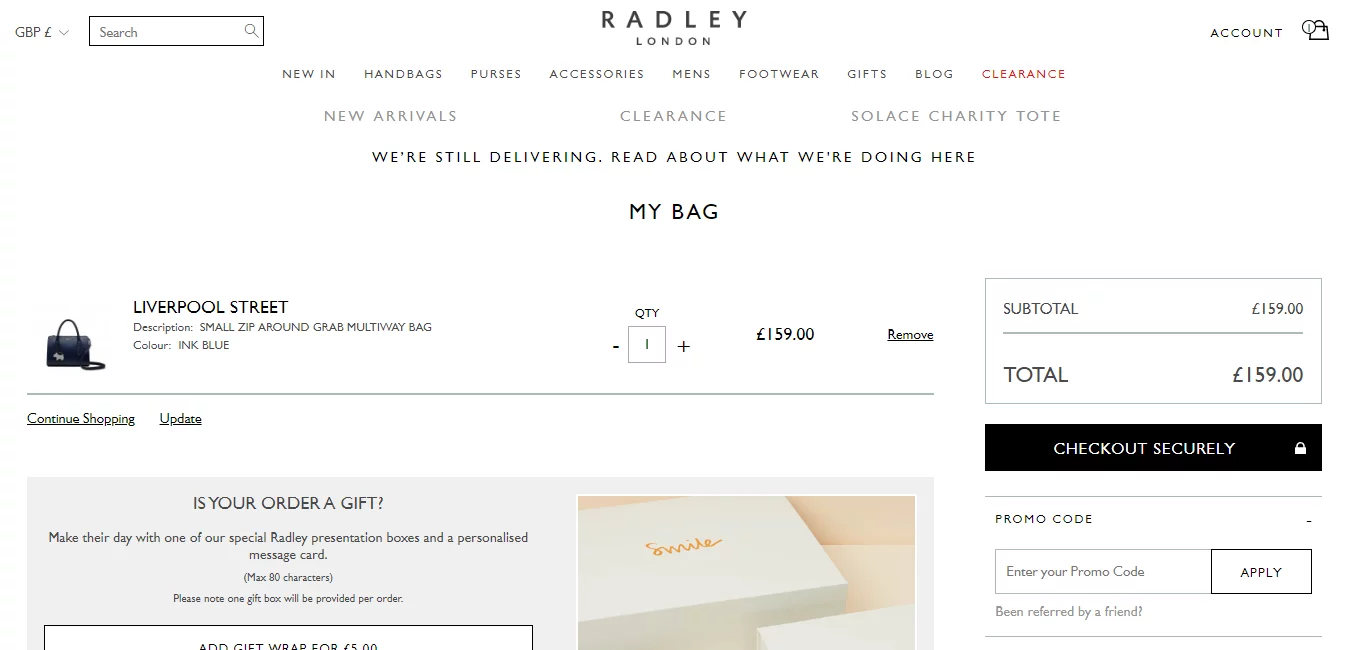 Bag a Bargain on Radley Bags
A Radley bag isn't just an accessory, it's a statement piece ties any outfit together with style and functionality. They're crafted from fine leather and they're guaranteed to add a little something special to your wardrobe. Whether you want tote bags, clutch bags, crossbody bags or fabric bags, Radley have you covered.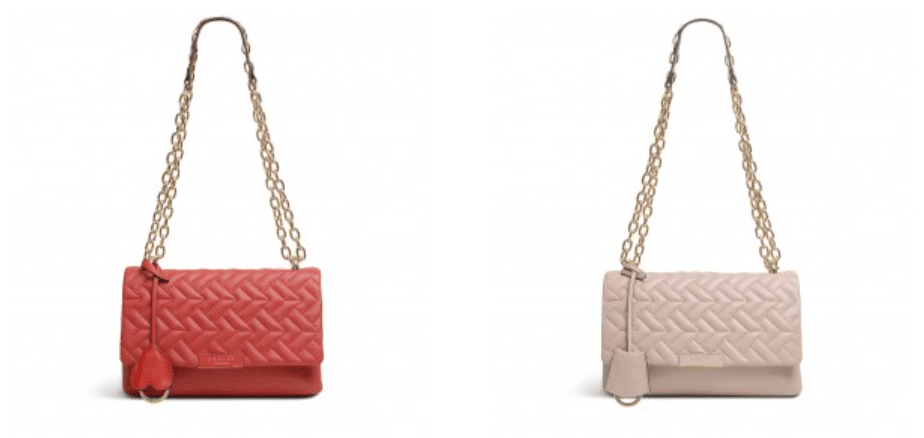 Radley Handbags
From flaps and buttons, to zips, there's plenty of variety on offer in the Radley handbag section. A shoulder bag is the perfect marriage of style and functionality. Not only does it tie the outfit together, it gives you some much needed storage. Pair it with a Radley purse and you've got yourself a ton of style sat right on your shoulder.
Radley Suitcase
Radley pride themselves on craftmanship, so when you're stocking up on luggage, it's worth checking out the Radley suitcase selection. With a collection of designer suitcases , travel bags and even a Radley passport holder, you can jet off dripping in style this season. You can even throw in a Radley travel mug for good measure.
Radley Backpacks
Sometimes we need something a little bigger that a handbag. That's where the Radley backpack comes into play. Sporting the same commitment to style and functionality as their handbags, there's a ton of fashionable options. Whether you want an elegant leather solution, or you want something a little more colourful, they've got something that fits everyone's aesthetic.
Save on Storage and Style with a Radley Discount Code
So, whether you want a stunning accessory that gives you the storage you need, or you want something a little bigger, grab a Radley voucher code and save yourself a small fortune.
Tie the Outfit Together with Radley Accessories
Radley are experts at tying the look together. Whatever the occasion, whatever the time of year, there's a Radley accessory that fits the bill. From their world famous bags, to face masks and jewellery, they've got you covered when it comes to those fashionable extras.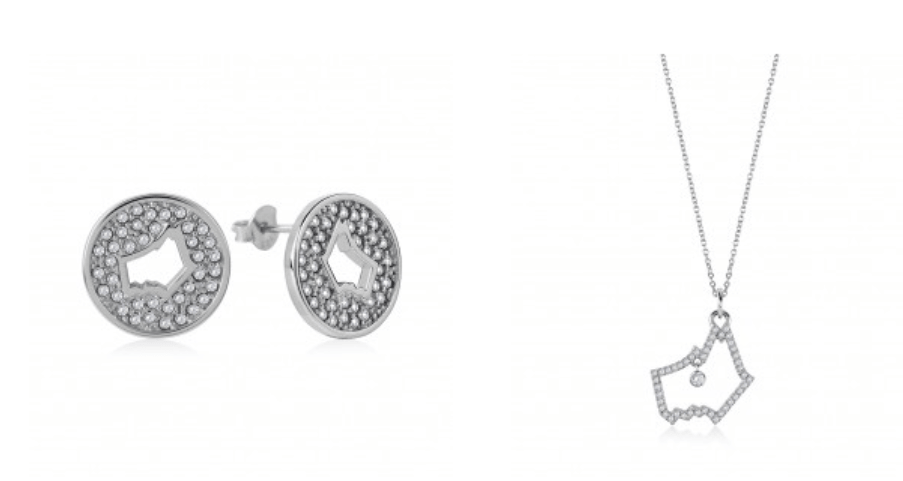 Radley Watches
A watch is a fabulous way to add a touch of class to any outfit. With Radley smart watches and traditional watches, you've got your pick too. There are a ton of fantastic designs, from the cute to the classy, so whether you want an analogue watch, or something with all the bells and wishes, you're covered.
Radley Face Masks
Coronavirus is a hot topic right now, and when we head to the shop, it's important we follow the guidelines and put on our face coverings. Luckily, you can get your hands on a Radley face mask. Offering you the safety you need as you shop, but with a hint of style to boot.
Radley Jewellery
From necklaces and bracelets, to earrings, some jewellery can take an outfit to the next level. Adding a touch of sparkle whatever the occasion, it can really turn a few heads. With a ton of ornate and elegant pieces made from gold, silver and rose gold, there's something for everyone.
Shop in the Radley Sale to Save
So, take a look at what's on offer in the Radley outlet sale, and see how much you can save on some incredible accessories.