Claire's Accessories Hints & Tips
Get your hands on some awesome accessories for a lovely, low price by heading over to Claire's Accessories and making use of these top tips to save yourself a few quid:
Head over to the Claire's Accessories sale section find some absolute steal on style, typically, there's up to 75% off so it's well worth a look for a perfect price on accessories.
Sign yourself up to the newsletter, where you'll not only get the biggest and best Claire's Accessories deals, but you'll 20% off your first order to boot.
Save on the extra costs with the Claire's Accessories free delivery offer, where you can cut out the cost of shipping when you spend £20 or more on your order.
There are a ton of incredible Claire's Accessories offers highlighted on the homepage, so it's worth looking through to find a saving.
FAQs
How can I get a Claire's Discount code?
The easiest way to pick up Claire's codes is to check MyVoucherCodes before you order. Our team regularly updates their page with offers that make saving on style accessories simple. You might even catch an exclusive code for deals you won't find anywhere else.
Can I get a Claire's student discount?
Yes, and an apprentice discount. Anyone registered with Youth Discount is entitled to 10% off their orders. The registration process is quick and simple, but you'll need to verify your age or student status to take advantage.
When is Claire's sale?
There are sales throughout the year at Claire's Accessories and they all deliver fantastic savings. You'll find details of any current sale discount on the MyVoucherCodes page. In the meantime, if you're looking for the biggest sale offers, the Black Friday event is not to be missed.
Can I get free delivery?
Yes, all orders over £20 come with free standard delivery 3-5 days to arrive on your doorstep. If you'd like to speed things up a bit, there is an express delivery option for £5.50. To review all your delivery options you can visit the dedicated page.
What are Claire's ear piercing prices?
Claire's ear piercing prices tend to be free with the purchase of ear jewellery.
What is the Claire's ear piercing age?
Anyone under the age of 16 will need a parent present while the piercing takes place. More information is available on the
Claire's piercing FAQ's page
.
Using Your Claire's Accessories Discount Code
Using our website, search for a discount voucher that best fits your order. Click 'Get Code' to unlock the voucher.
In a different tab, open the Claire's Accessories website and browse for your chosen items.
Add all relevant items to your cart. Double-check each one to ensure they are covered by your code.
When finished, proceed to checkout. Copy and paste your Claire's Accessories voucher code into the 'Enter Code' box.
Click 'APPLY'. Your page will refresh with your new discounted price!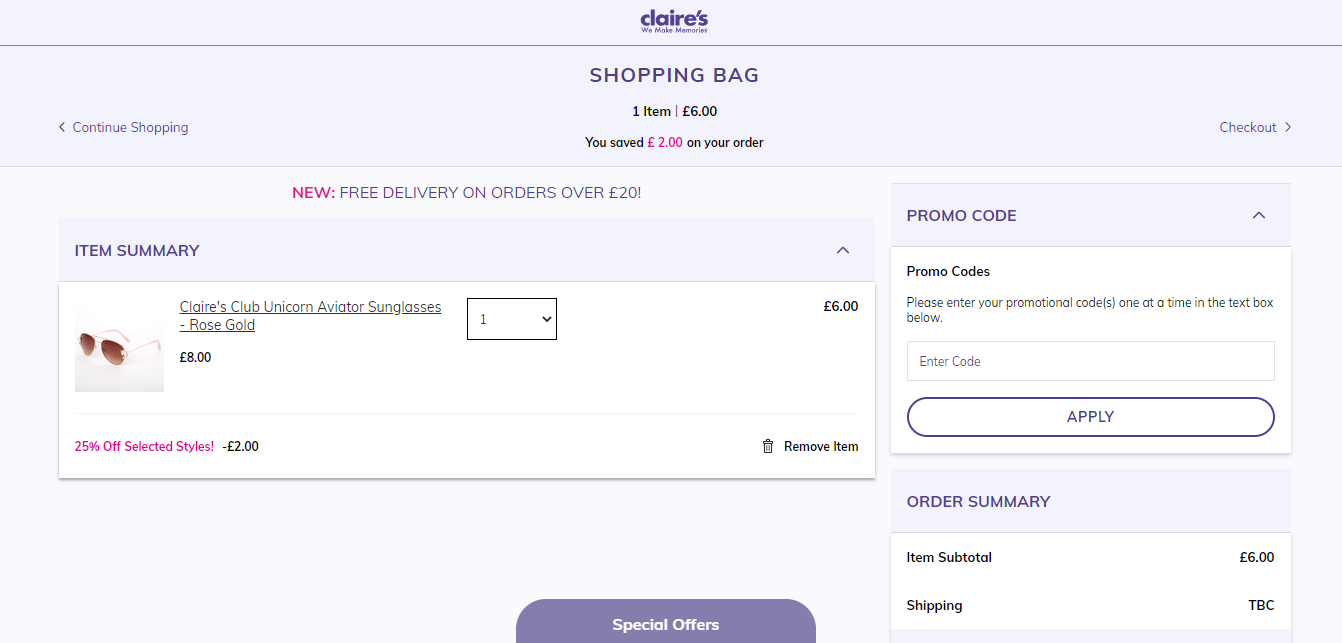 Contact information
Address

Claire's UK Head Office

4 Bromford Ln

Birmingham B24 8DW

Telephone

0845 603 6088


Email
Claire's Accessories Earrings & Piercings
Claire's Accessories are know for their earrings. Offering a ton of wonderful jewellery that'll at a little sparkle to every outfit. Plus with their ear piercing expertise, you can make sure you're getting a quality service from start to finish. As well as the aftercare advice you need to make sure everything's just right.


With traditional lobe piercings, cartilage piercings, single and double lobe piercings, they've got it all. Complete with Coronavirus safe guidelines and aftercare advice, you can't go wrong. Not to mention they've got a whole range of high quality metal options.

From medical grade stainless steel and titanium, to 24 carat gold plated,9 carat gold and even 18 carat gold, they've got a range of metals to choose from. They even do diamond ear piercings so you can really steal the show wherever you go.

They keep everything sanitised, and typically you don't even need an appointment. Obviously, with current Coronavirus guidelines in place you may have to make an appointment with your local store, but rest assured that masks will be worn and safety measures have been taken.

So, whether you're looking to get your ears pierced, or you're just in the market for a fresh pair of earrings, check out what Claire's Accessories have on offer. With one of our Claire's Accessories discount codes, you could bag a bargain to boot.
Marvellous Claire's Makeup
We all want to look our best and get dolled up from time to time. With Claire's cosmetics, you can shake up your morning routine, look good and feel good this season! Whether you want to go for a new look for the Spring, or you're looking for some new nails, Claire's Accessories has you covered.

Claire's Fake Nails
It's a small change that can make a big difference. Whether you want a subtle and classy tone for heading back to the office, or you just want to inject a little colour into your getup, Claire's fake nails have got exactly what you're looking for. With affordable prices on a huge range of colours and patterns, you can't go wrong.
Claire's Makeup Sets
You can get all the cosmetics you need in one fabulous set. With a huge range of cute sets packed with goodies, you can shake up that routine. Whether you want unicorn inspired sets, lip balm collections, or anything in between, there's a makeup set with your name on it at Claire's Accessories.
Claire's Makeup Accessories
From makeup bags and compact mirrors, to brushes and sleeping masks, everything you need for storing and applying your new cosmetics is available over at Claire's. With a range of styles that'll feel right at home in your new makeup bag, and all for affordable prices, you can get exactly what you need for less.
Grab a Claire's Discount Code
So, whether you want to take your makeup bag up a few levels, or you just want to get some fake nails to tie the outfit together, a Claire's Accessories discount code can help you do it for the right price this Spring!