Debenhams Hints & Tips
From fashion and accessories to home and kitchenware, Debenhams has it all, and with these helpful hints you can make sure you're getting your money's worth:
The Debenhams sale section is essential for savvy-shoppers looking for a bargain, so check it out for savings across a huge range of categories.
Apply for a Debenhams Mastercard and unlock 10% off every InstantSpend order. You'll also earn Reward Points every time you use the card, whether that's at Debenhams or not.
Take advantage if Debenhams free delivery to save on the extra costs, all you need to do is place an order worth £50 or more to save yourself a few quid on postage.
Put November 23th in your Calendar and think about all your seasonal shopping. This is when the Black Friday 2020 deals will start and if the Debenhams Black Friday 2019 offers are anything to go by, it'll be the best time to shop all year.
Get yourself signed up to the newsletter for all the latest Debenhams deals and offers, sent straight to your inbox, and all you need to do is pop in your email address and start saving.
Joining the Debenhams Beauty Club is a must if you're looking for the best deals on cosmetics. You'll earn points as you shop the biggest brands and there are always fantastic freebies on offer to boost your basket value.
The homepage is a great place to find the biggest and best Debenhams offers, from multibuy offers, to freebies and discounts.
FAQs
Is Debenhams open today?
Yes, following the change in government advice all stores are now open. Unfortunately, some services like changing rooms, customer toilettes, and beauty services remain shut until further notice.
Can I get Free Delivery?
Yes, you'll get free standard delivery when you spend £50 or more. There's also next-day delivery and nominated day delivery. Click and collect is free.
Do these Debenhams discount codes work?
Yes, every code that goes on the site is either sent directly to us from the retailer, or sourced by one of our deal hunting team. No code goes live without being tested by hand first because we are determined to save our users time, as well as money.
What is Debenhams Beauty Club?
It's a rewards scheme that gives you points for every £1 spent. Points will then be converted into rewards every month. Your rewards can be used in-store and online.
How can I contact Debenhams Customer Service?
The coronavirus pandemic has disrupted the Customer Service team and there are substantial delays to responses. There are a number of ways to get in touch depending on the query. Visit the Contact Us page to review all your contact options.
Which Debenhams stores are closing?
Unfortunately, due to the Covid crisis, they have been forced to shut a small number of stores. You can check the
Store Finder
to see an up to date list of Debenhams stores.
How do I apply my Debenhams discount code?
Our instructions will show you exactly how to use your Debenhams voucher code to get money off your next shop.
Reveal the Debenhams promo code by clicking on the MyVoucherCodes page. A separate window will pop up with the code, which you can then copy.
You'll be whisked off to the Debenhams website automatically. Just go back to the previous window.
Shop your favourite styles, homewares and accessories on the Debenhams website and add them to your bag.
When you've finished browsing, click on the shopping bag icon called 'My Bag', which can be found at the top right corner of the page.
Make sure to check that the discount code is valid for everything in your shopping basket.
Before you proceed to checkout, apply your Debenhams discount code by adding it at the top of the order summary box where it asks, 'Do you have a promotional code?'.
Then simply click 'Apply' and your order total will change. Check out and your new things will arrive in the mail.
Seasonal Shopping Guide
Debenhams is one of Britain's most loved department stores because they offer a massive range of top-quality products without charging premium prices. And their packed departments will cover your shopping for the entire year. With that in mind, here's our guide to shopping at Debenhams throughout the year.
Spring Styles
Spring has long been the season of new styles and wardrobe refreshes. That's because new fashion collections drop and introduce new must have items. The Debenhams clothing collection pulls in the latest trends in Women's men's and kid's wear. They're renowned for stocking top quality clothing from massive brands. And spring is when you'll find all their newest looks.
Summer Sun Essentials
When the sun finally hits and you're getting ready to live your best summer life, you'll find everything you need here. If your jetting off on a holiday you can pick up Debenhams suitcases, and all the beachwear to go in them. Away from clothes, you can browse world famous perfumes, make-up, and skincare that will keep you looking your glorious best through a long hot summer.
Cosy Autumn Homes
Once the last of the summer sun disappears, it's time to spend more time at home. It's all about creating that cosy feel that's made for hibernating with a Bailey's hot chocolate and the latest true crime Netflix series. The Debenhams home selection as everything you need to transform you living room into a perfect hideaway. And it's not just the living, they will fill your whole house in warming style.
Winter Playtime
Winter shopping means it's time to start getting ready for Christmas, and you'll find fabulous stocking fillers waiting in the Debenhams gifts collection. The famous 3 for 2 offer makes it easy to sort out the entire family in one place and pick up prezzies they'll love. Their foodie collection is always popular and Debenhams toys always go down well with the little ones.That's out short guide of what they offer throughout the year, but there's loads more to see. So, grab a Debenhams discount code and head over and find what you need.
Buyers Guide - Fashion Accessory Face Masks
After much back and forth, word has finally come down and facemasks will be compulsory when shopping in England from the 24th of July. No matter how you feel about them they're here to stay and everyone will have to get used to them.

If all you want is the best protection, Debenhams stock 3 layered medical masks. These are the blue ones that you see everywhere at the moment. They are widely used in hospitals and offer the best protection for public use.

But with masks becoming an everyday essential for everyone, it might be time to put your style into your safety wear. The Debenhams facemask collection has a massive range of styles to go with any outfit you can come up with.

You can pick up plain colours or quirky patterns with colours to match you look every single day. If you're going to be wearing one every day, it's recommended that you order a multipack and always have one available while the others are in the wash.

All of them are machine washable and dry quickly to make things as easy as possible. There are even brightly coloured options that will keep little faces fully protected and full of smiles. It's a great way of getting them interested and giving it more of a chance of staying on.
No matter what your opinion of masks, they're here to stay and they will soon be a part of our everyday lives, so why not add a little more fashion to yours.
Buyers Guide - Final Summer Clearance On Now

The Debenhams Final Summer Clearance delivers superb savings on some of the most wanted styles of the summer as warehouses get cleared. The end of a fashion season is always a great time to shop for fashion, but with so many bargains on site, it's easy to let the biggest deals slip by. To help you throw the most value in your basket, we've pulled together the best offers and biggest brands.
The biggest events in our lives need the biggest looks and right now you can save up to 70% off stunning Debenhams occasion wear. Inside this gorgeous collection you'll find massive savings on the kind of dresses that make statements on the dancefloor. With party season approaching and a lot of coronavirus uncertainty, it's a great time to save on an emergency little black dress.
Another season means it's time to give the kids a whole new wardrobe again. The revolving coat hangers usually get expensive but now you can save up to 70% on Debenhams kids clothes. It's a superb time to pick up the smart party dresses and shirts that are made for tiny discos and finger food buffets.
The massive collection of Debenhams menswear included in the clear out makes it easy to keep your style sharp. There are loads of big names on offer, but the up to 50% off Burton menswear is some of the best deals you'll find. Burton are famous for their smart styles that make an impression on a Saturday night. There are over 450 lines with discounts attached and they cover everything from swimwear to full suits.
This is a fantastic time to give your wardrobe a refresh and grab a Debenhams discount while you're at it.
Buyers Guides - Bring on the Layers
In case you didn't notice the torrential rain and gale force winds, the weather has taken a turn and it looks like summer has come to a premature end. It might feel like we've only had a week of sun but it's to get ready for pretty leaves falling, Pumpkin Spiced Lattes, and cosy layers. That last one is where the collection of Debenhams coats comes in.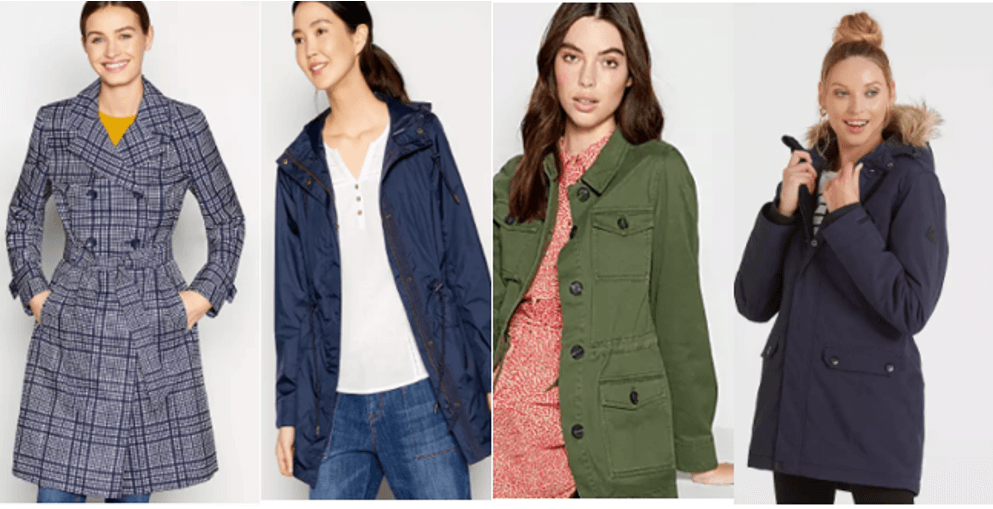 If you like to ease yourself in to winter slowly, light layers are a must and there's loads of versatile jackets that will see you through the weather transition. The Mantaray blue Hooded Pack-Away Parka is a lightweight jacket is perfect for when the weather turns on you. It's super compact and designed to packed away easily when the sun shows it's face again.
Sometimes though, something a little more substantial is in order and the 2020 collection of Debenhams ladies coats has the style to keep everyone cosy until spring. Naturally, there are fur lined options, but if you want to keep your style game strong, the Principles Navy Check Print Rain Resistant Mac is the one you want. It'll keep you dry with sophisticated style, and checks are bang on trend this autumn.
Those are our picks of the season, but there's a massive range of styles to discover and all of them will become key looks in your winter wardrobe.