Debenhams Hints & Tips
Get the most out of your Debenhams shop today by checking out these handy Debenhams hints & tips:



Debenhams Credit Card

Applyfor your Debenhams mastercard today and unlock 10% off every InstantSpend order. What's more, you'll earn Reward Points every time you use the card whether it's at Debenhams or not.

Debenhams Newsletter

Keep in the know with all the latest Debenhams news by signing up for the newsletter. You'll also get access to exclusive offers, exciting deals and lots more.

Debenhams Sale

The best prices are always found in the sale and they come around regularly here. There are always incredible reductions an a massive range of products to help you save.

Debenhams Free Delivery

Cut out the extra costs and forget about the delivery fees by bumping up your order over £50. Because paying for delivery isn't okay these days.

Debenhams Beauty Club

Join the club today and you'll start earning points as you shop your favourite beauty brands and trusted products. You'll get regular offers on top products and get exclusive deals that no one else will see.

Debenhams Brands

If you know what you like you can use the brands section to jump right to it. It boasts the biggest names in fashion and makes it super easy to find what you're looking for.

Debenhams Gifts

With Valentines and Mothers Day around the corner, it's time to jump online and find the perfect gift. The selection of fragrances and beauty products have you coming up roses this year.

Debenhams Home

Spring is around the corner and that means it's time for fresh new style. Breathe new life into your home in 2021 with a massive range of home style products.
FAQs
Can I Contact Debenhams Customer Service?
yes, you can contact Debenhams at the following email address: CustomerServices@Debenhams.com. Otherwise, you can visit their 'Get in touch' page for alternative ways to contact the Debenhams Customer Service team today.
Can I still use my Debenhams card?
Yes, you can still use your card as usual. Credit card customers will be notified directly if anything changes in the future.
Can I still use my reward points?
From February 4th 2021, it will not be possible to redeem reward points and convert them into vouchers. Unfortunately, any unredeemed points after this time will be lost.
Do Debenhams Discount Codes Work?
Yes, and what's more, they'll help you save an incredible amount of money and time on your shop. All Debenhams discount codes are tested before going live on our page so that our customers always have working codes available to them.
Can I use my Debenhams gift card?
Unfortunately, it is no longer possibleto buy or use and existing gift card. However, it is still possible to redeem digital and Beauty Club rewards.
Are There Going To Be Debenhams Store Closures?
Sadly, yes. Debenhams stores were not included in the Boohoo buyout and all stores will start to close. The Debenhams brand will continue to trade through it's website, but there will no longer be a high street presence.
Can I Get Free Debenhams Delivery?
Yes, Debenhams delivery is FREE on all orders of £50 or more. What's more, they also have next-day delivery and nominated day delivery. Click & Collect is also FREE.
Is There An Online Debenhams Sale?
Yes, check out the online Debenhams sale today for all the best deals and price reductions on seasonal Debenhams fashion and style.
How Do I Return Debenhams Items Bought Online?
Debenhams returns have never been easier. For more information, head over to the Debenhams Return page today. You can return items via:
Your local store.



Hermes ParcelShop.



Postal service of your choice.


Using Your Debenhams Discount Code
Follow these instructions to apply your Debenhams promo code and save on your next order:
Check the selection of deals on offer and select by click the 'Get Discount' button
A new tab will automatically open and take you to the relevant Debenhams page
Search the massive range of fashion, home, and beauty products and make your selections.
Click 'My Bag' once you're done shopping and have added everything you want
Double check the Ts&Cs to ensure your discount code is valid for your order
Paste your code into the box labelled 'Do You Have A Discount Code?' and click apply
Once your saving has been applied and you total price changes, you are free to check out and wait for your items to arrive.
Debenhams COVID-19 Update
Inline with the government's roadmap for exiting lockdown stores in England and Wales will re-open on the 12th of April.
When stores are finally able to open their doors again, you can expect to find significant savings across the board. You may have heard that the Debenhams boohoo sale has gone through and that Debenhams stores are in the process of shutting down.
While this is sad news, it means that when the stores open on the 12th there will be massive clearance sales in every store. This makes it a superb time to grab huge discounts on Debenhams beauty, fashion, and home lines.
If you can't wait that long, the sales have already kicked off online and shoppers are already taking advantage. Check out our guide to the closing down sales to find out where the best value is.
Debenhams Contact
If you can't find the answer to your query in the FAQs you can contact the Debenhams customer service team via any of the following methods.
Debenhams Website Queries
You can submit a query using the form found on the
Get In Touch page
. There is a high volume of queries coming in and they will get back to you as soon as possible.
Debenhams Large Kitchen Appliances
If you have an issue with a large kitchen appliance you ordered online, you can call 01484 481361 to speak to a member of Debenhams customer services.
Debenhams Beauty Club
If your query relates to Debenhams Beauty Club or Gift Cards you can send your email to controlpoint@debenhams.com.This is a selection of your contact options. Please see the contact page for a full breakdown of all your options.
Seasonal Shopping Guide
Spring Styles
Spring has long been the season of new styles and wardrobe refreshes. That's because new fashion collections drop and introduce new must-have items. The Debenhams clothing collection pulls in the latest trends in Women's men's and kid's wear. They're renowned for stocking top quality clothing from massive brands. And spring is when you'll find all their newest looks.
Summer Sun Essentials
When the sun finally hits and you're getting ready to live your best summer life, you'll find everything you need here. If you're jetting off on a holiday you can pick up Debenhams suitcases, and all the beachwear to go in them. Away from clothes, you can browse world-famous perfumes, make-up, and skincare that will keep you looking your glorious best through a long hot summer.
Cosy Autumn Homes
Once the last of the summer sun disappears, it's time to spend more time at home. It's all about creating that cosy feel that's made for hibernating with Bailey's hot chocolate and the latest true crime Netflix series. The Debenhams home selection as everything you need to transform your living room into a perfect hideaway. And it's not just the living, they will fill your whole house in warming style.
Winter Playtime
Winter shopping means it's time to start getting ready for Christmas, and you'll find fabulous stocking fillers waiting in the Debenhams gifts collection. The famous 3 for 2 offer makes it easy to sort out the entire family in one place and pick up prezzies they'll love. Their foodie collection is always popular and Debenhams toys always go down well with the little ones.That's out short guide of what they offer throughout the year, but there are loads more to see. So, grab a Debenhams discount code and head over and find what you need.
Kids in Summer
With summer well and truly on the way it may be time to give the kids their annual warm weather wardrobe switch. The Debenhams kid's section is packed with summer ready clothes fit for little wardrobes from newborn to teenagers.
You'll find everything from smart styles for you want them to look their best and everyday clothes that will stand up to any playground session. And best of all there are some incredible deals that will save you money on the switch up.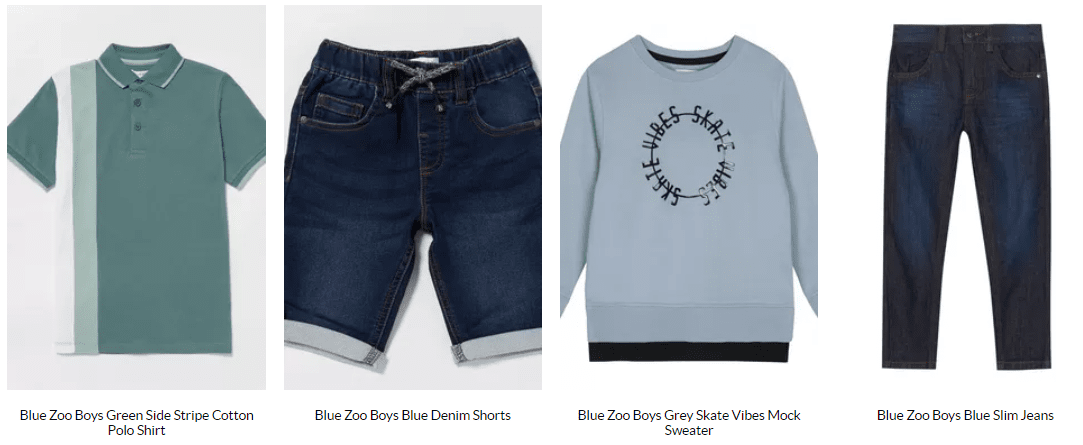 Debenhams Girls Clothes
The collection of Debenhams girls dresses, tops, and more will make sure they can see out summer in style. This is all about big colours and cute patterns that will become favourites as soon as they see them. It's a fun range that manages to match style with value for a must see selection.
Debenhams Boys Clothes
Whether they need tops and tees or jeans and joggers, this collection has everything they need to keep up the active play this summer. The smart styles are perfect for no the world is opening up and visits to the grandparents are back on the cards. And the casual styles offer superb value on the clothes they'll wear all the time.
Debenhams Baby Clothes
Anyone with a young baby will tell you how fast they'll grow and finding a superb deals on the essentials is vital. While there are plenty of options for when you want to dress your little cherubs up, it's the baby grows that they'll wear regularly. There are loads of great vale sleeping and body suits that will save you money when you need it most.
Get Set for Summer
It may feel like the 2021 has barely got started but summer is already fast approaching, and the gorgeous new collection are in. For Debenhams clothes that means scorching looks sourced from the biggest names in fashion. And best of all, there are massive savings on the lot.

Debenhams Sale Women's Wear
This summer you can save up to 70% on your summer shop with a giant range of clothes coming with discounts attached. You can pick up stunning dresses, tops, and shirts that will make choosing your outfit a breeze.
Debenhams Sale Men's Wear
Whether you want to add a formal touch to your wardrobe or keep things casual in the sun, you'll find great value fashion with superb savings attached. You'll find everything from full suits to laid back board shorts from the likes of Burton, Mantaray, and Ben Sherman to sort out your summer style.
Debenhams Kids Sale
If you want to save on the kid's seasonal wardrobe refresh, you've come to the right place. The Debenhams kid's summer collection is packed full of savings on sun ready style that will get your little ones ready for the warmer days. There are all the cute tops, shorts, and dresses little wardrobes need to see them through to the next wardrobe change.
Final Sale Savings
Debenhams has been serving us for over 200 hundred years, but it's almost time to say goodbye to a high street icon. After being bought by the boohoo group it has been confirmed that all stores will start to close once non-essential retail returns and stock can be cleared.
It's a sad day, but there's always a silver lining. In this case it's the massive closing down sale as they try to clear the warehouse. This means up to 70% off a vast range of products and thousands of lines being sold for under £15.
This is an opportunity to pick up that dress you've had your eye on for ages, or the pair of shoes that were too expensive to justify. There are incredible savings waiting on Debenhams ladies clothes that make it a superb time to fill your wardrobe.
The Debenhams beauty collection is packed with the same kind of savings too. The biggest fragrances, best make-up, and luxury skincare are all marked down with significant discounts. This is a fabulous chance to try new products and redefine you beauty regime.
You'll find savings on world famous brands with big names like Calvin Klein, Levi's, and Clinique all included in this closing down sale. This might be the end, but if it's got to go, you might as well save a fortune on the biggest names in fashion, beauty, and home.