Joules Hints & Tips
For quality, comfort and style, look no further than Joules, and with these helpful money-saving hints and tips, you can get a fabulous price on fantastic fashion:
The first stop for some serious savings is the Joules clearance, where you can find some huge discounts on end-of-the line products.
Save on the extra costs with the Joules free delivery offer, where you won't have to fork out for postage when you place an order worth £49 or more.
Sign up to the Joules newsletter for all the latest deals, offers and a little inspiration on what to wear, to top it off you'll get a tenner off your first order.
Keep an eye out for the Joules student discount, where you can get 15% off your order, and all you need to do is sign into your Student Beans account to qualify.
FAQs

How can I get a Joules voucher code?
You can regularly pick up a Joules code that will save you money on your favourite styles. The MyVoucherCodes page is constantly updated to make sure all the best offers are in one place. Check back in to make sure you never miss a top saving.
How do I track my Joules Order?
All UK deliveries can be tracked once your order has been dispatched. Your order confirmation email will contain a link to your tracking page. Follow this and enter your tracking number to get up to date information for your delivery.
How can I pay at Joules UK?
You can pay securely using Visa, Mastercard, American Express, Maestro, PayPal and Joules Gift Cards. As an extra layer of consumer protection, your bank may request that you are screened using 3D Secure and by an independent fraud prevention service.
How long are Joules Gift Cards valid?
All gift cards are valid for 24 months from the last transaction. All remaining balances will be cancelled once this time passes. Use the 'Gift Card' page to check your points balance.
Is there a Joules clearance?
Yes, the clearance page runs throughout the year and it's constantly updated with new lines and offers. You can count on a wide range of women's, men's, and kid's fashion at a fantastic price. There's also a homeware section filled with cute style savings.
How do I apply my Joules discount code?
Follow our step by step instructions and enjoy big savings with your Joules voucher code.


Click to reveal the code on the MyVoucherCodes Joules page. A new window will pop up,where you can copy the code and go straight to the Joules site.
Browse the Joules website and add your favourite items to your shopping basket.
Click the shopping basket icon, which can be found at the top right of the page.
You will see a box labelled 'Promotional Code' to the right of the order summary. Apply yourJoules discount code by pasting it here.
Click 'apply'. The order total will automatically update, and you can then check out andenjoy your savings.
Buyers Guide - Good Friends
Friends of Joules puts small business in the big time and introduces them to a massive audience. This lets customers find more of the style they love from people they might never have found. It's a symbiotic relationship that cultivates innovative products that fit with Joules' contemporary country style.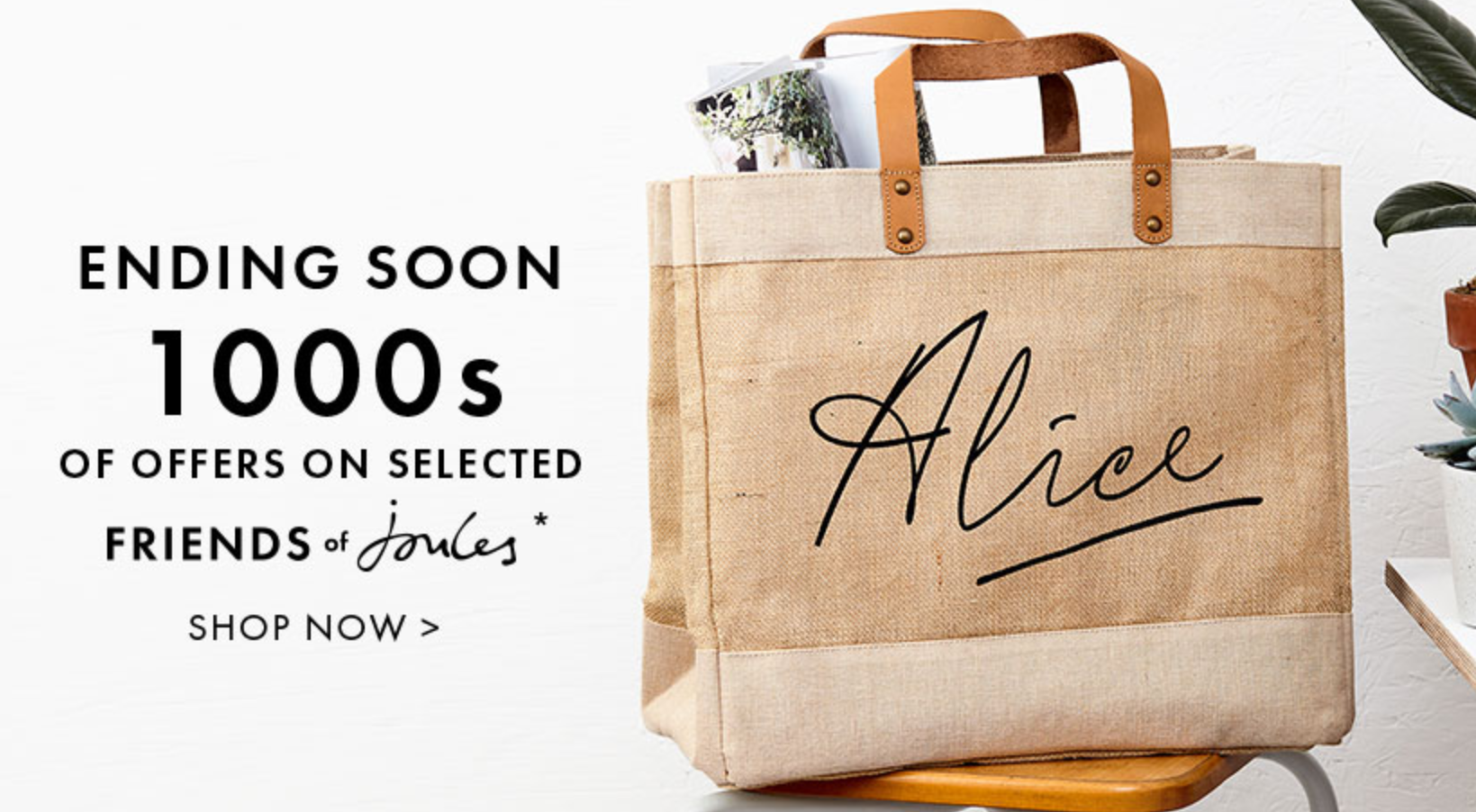 You can find superb deals across the Friends of Joules range and pick up anything from furniture to food for less. The ever-growing list of creators covers the whole home and it's always worth having a look around to see what they are offering. So that's exactly what we've done.
It's the perfect time to start a post-lockdown fitness kick with the deals on Perky Peach activewear. Their range of leggings packs more style into this fashion basic than you'd usual see and it makes for a superb collection of gym bag must haves.
If you're getting ready for a socially distanced summer in the garden, you need to check out the latest offerings from Garden Trading. These outdoor space specialists have created a fabulous range of country style products that will upgrade any gardens look. Whether that's functional furniture or stylish design pieces, these folks can help you create that country escape vibe in your back garden.

The kitchen is the heart of any country home and it's easy to imagine that rustic style when you close your eyes. To create that classic look in your own kitchen, the Helen Round homeware collection is all about homespun charm and subtle style.
This is only a taste of the Friends of Joules collection, so head over to the country style and discover your new favourite creators today.
Buyers Guide - Love the Bunny
Peter Rabbit has been part of childhoods since Beatrix Potter created it in 1902. This classic collection of children's stories has spawned countless books, films, and TV shows since then and all of them have been loved by new generations of kids. Now, the most famous rabbit in the world has come to Joules to be the face of a ridiculously sweet collection of baby wear.

The cute as a twitching button nose clothes cover all the little wardrobe essentials that will see your new arrival through the first months. Baby grows are an easy everyday option and few can match the Gracie Official Peter Rabbit Collection Applique Baby for sheer adorability.
There is a selection of tops that sport the fabulous bunny that are perfect for visiting the in-laws and showing of what beautiful a baby you created. They come in blue or pink and have an adorable rabbit above the breast pocket. Although, I have no idea why the little cherubs need pockets.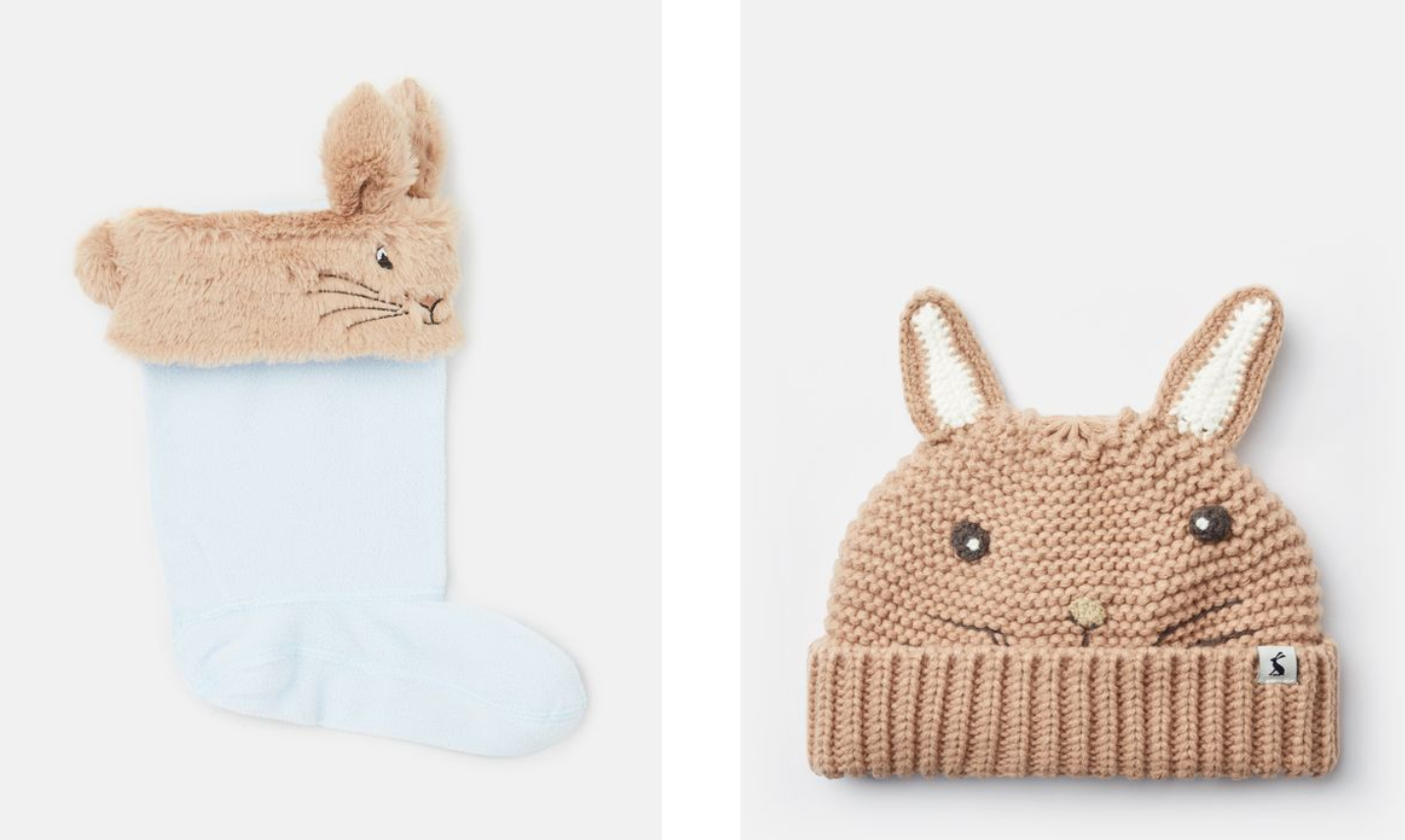 For a cuteness overload, Peter Rabbit collection hat and welly socks will have every heart in the room melting with their smiling bunny face design and fluffy finish. They a perfect for keeping little one's cosy while you're out and about.
If you want to add something extra special to your baby's wardrobe, this is the Joules collection for you.
Buyers Guide - Swim Up in Style
We're well and truly into summer now and it looks like holidays are back on the cards and it's time to start thinking about your suitcase style again. And with beach days on the horizon that means picking up enough swimwear to see you stylishly through a week in the sun.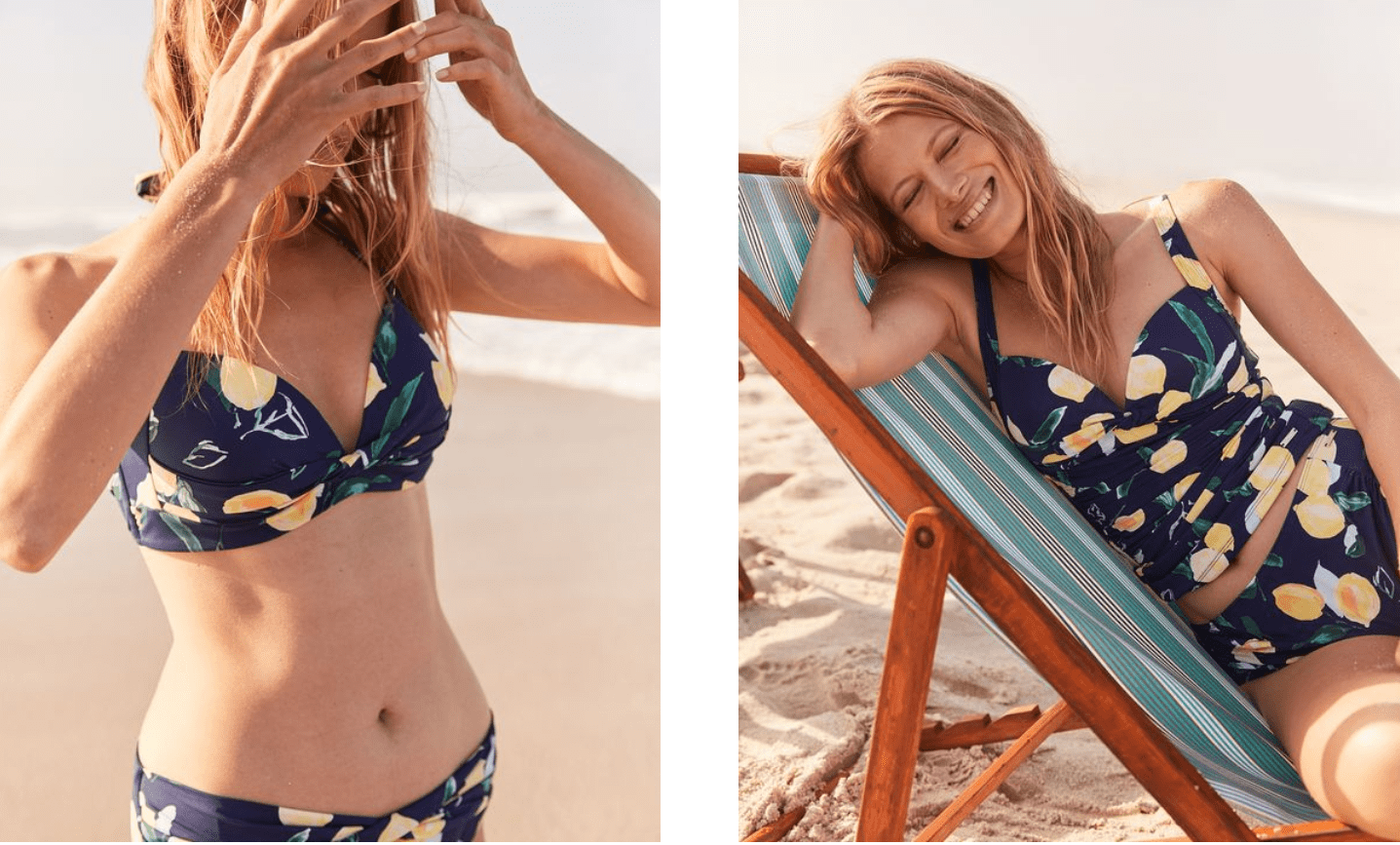 The Joules swimwear selection is packed fresh summer looks that will have you breezing along the beach with effortless style. The Delphine One Piece Swimsuit will keep you feeling comfortable and looking gorgeous as the temperature rises. Adjustable side ties let you find the right amount of cover and its classic look will never be out of fashion.
If bikinis are more your style, there are loads of gorgeous options in the Joules summer collection. They've got every taste and a rainbow of colours covered, but our favourite is the Bonnie Bikini to paired with Rimini Tankini shorts. The vibrant colours and bold floral design combine with a flattering halter neck to make an eye-catching two-piece.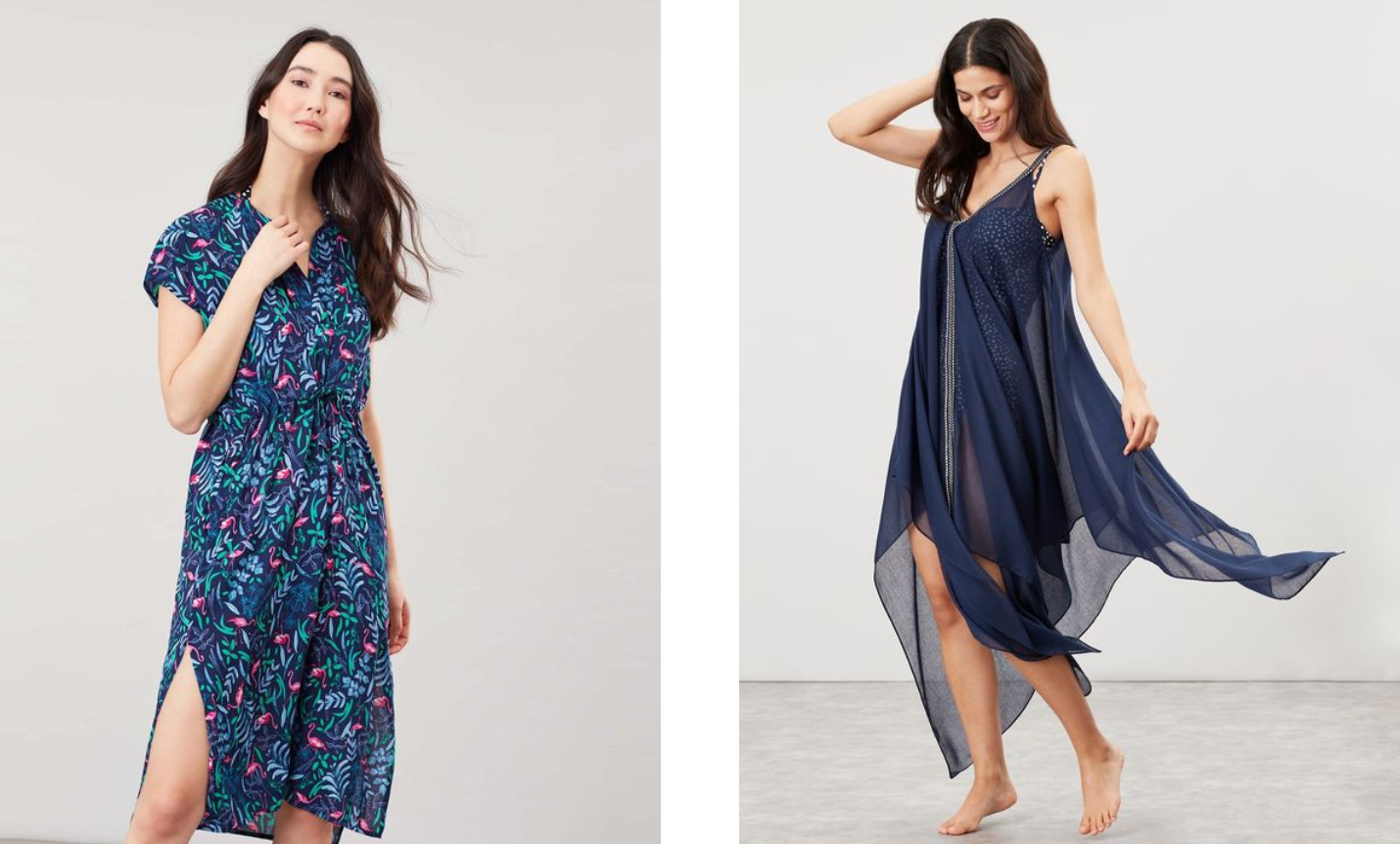 An underrated piece holiday attire is the humble cover up. This beachwear essential is often overlooked, but when you're headed for a buffet lunch, it's the first thing you reach for in the bag. The Nadine Lightweight cover up should be what you're pulling out of your bag this summer. The loose design and handkerchief shape will keep this gorgeous cover up flowing in a seaside breeze.
When you're thinking about filling your suitcase with style, Joules has enough stunning style to leave you feeling incredible while you're away, if you ignore the sunburn.