Get amazing offers delivered to your inbox with this incredible email service.
Offers for Hearst Magazines were last updated Monday 5 July 2021 09:53
Hearst Magazines Codes That You've Missed
View Terms & Conditions

View Terms & Conditions

Offer valid for new UK subscriptions only and cannot be used in conjunction with any other subscription offers or to renew an existing subscription. Hearst has the right to reject orders if its taken up by a recipient the offer was not it addressed to. All savings are based on each individual magazine cover price. All personal orders will start with the next available issue. If your magazine subscription has a gift with purchase the gift cannot be exchanged and is non-refundable. If we run out of the listed gifts you will be offered a similar gift of the same value. Subscriptions may not include promotional items packaged with the magazine.
Most Popular Hearst Magazines Code & Discount
| Offer Description | Expires | Discount Type |
| --- | --- | --- |
| Subscribe Today and get 6 Issues for £10, plus a FREE £10 M&S Voucher | | Deal |
| Up to 62% off Subscriptions | | Deal |
| Subscriptions from just £5 | | Deal |
| Sign Up to Newsletters For all Promotional Discounts and Special Offers | | Deal |
| Thoughtful Gifts from just £5 | | Deal |
More Information about Hearst Magazines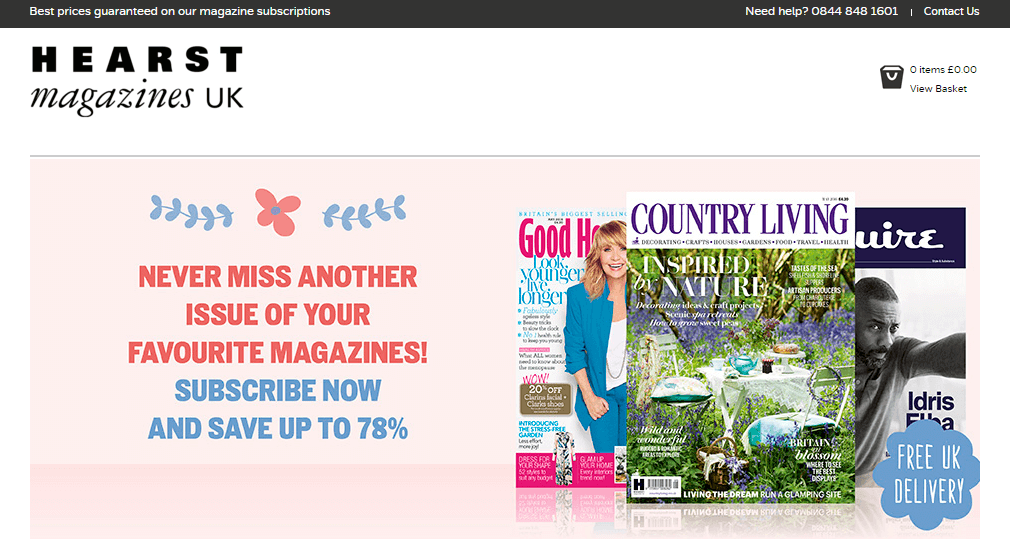 Your mobile is great. You couldn't live without it. And you'd rather die than be without your Kindle. How else will you while away the hours during a commute or at the dentist's surgery? Would the batteries survive the delays you'd encounter during a tube strike? And did you know that, with magazines, it's 'no batteries required'? What we're getting at is that Kindle's paper cousins have some advantages over their digital counterparts. Get inspired by the titles to be had from Hearst Magazines. They're publishers of some of most iconic periodicals on the planet. With a history that stretches all the way back to 1887, Quality Magazines knows how to fill pages with compelling copy. Interested in fashion and current affairs? Elle fills both those gaps – exceptionally well. They've been doing so for nearly 70 years and you get the perfect balance between fashion and hard-hitting journalism. Are you more interested in domestic issues? Good Housekeeping will do you proud. Wherever your areas of interest lie, you'd pay much more at the kiosk. Besides, what's easier than tossing the latest edition of your favourite mag straight into your bag? It'll be there when you need it – no recharging necessary. There's sure to be something to tempt you. Are you a Fitness fanatic? Keep good company at the gym with Women's Health, Runner's World or Men's Health. A crazily convenient subscription will set you back by as meagre a sum as £18 per year. You've just lost the argument! If you're green keen and house proud, if you want to know the latest about human nutrition or if you just fancy a bit of fashion news, get your specs on and wander over to Quality Magazines! But first, read about our big bargains at MyVoucherCodes.