View Terms & Conditions

View Terms & Conditions

See website for details.
View Terms & Conditions

View Terms & Conditions

See website for details.
Offers for Snapfish were last updated Wednesday 14 April 2021 15:56
Snapfish Codes That You've Missed
View Terms & Conditions

View Terms & Conditions

See website for details.
View Terms & Conditions

View Terms & Conditions

See website for details. Includes Extra Pages.
View Terms & Conditions

View Terms & Conditions

See website for details. Includes Extra Pages.
Snapfish Promo Codes
| Offer Description | Expires | Discount Type |
| --- | --- | --- |
| 30% off All Orders | | Voucher Code |
| Delivery from 99p | | Deal |
| 50% off Orders Over £50 | | Voucher Code |
| 40% off Orders Over £25 | | Voucher Code |
| 50% off - Get 6 (5.3)x4" Prints for £0.05 Each | | Voucher Code |
Snapfish
Before you pick out your favourite Snapfish items, why not check out these handy Snapfish hints & tips to help you get the most from your shop:


Try out the Snapfish app today for free to start creating and printing free snaps! You'll get 50 free 6X4 prints each month, for 12 months with shipping costs starting from only £1.49.


Don't miss out on extra savings. Head to the Snapfish 'Deals' section on their website to check out their latest offers.


Check out the Snapfish deal page for seasonal offers and exciting deals, discounts and vouchers. You'll find the very best of Snapfish savings right here.


New customers can get 20 free prints when they sign up to Snapfish - so don't wait any longer to get yours!


The Snapfish UK website is always stocked with exciting deals and discounts, so make sure you browse your way through their entire website before you add all your wanted items into your shopping basket.


Explore the range of Snapfish products available and design your chosen products using the Snapfish design tool for free.


Pick up your cheap photo prints for an even better price with a Snapfish promo code.



Snapfish
Can I Get Free Snapfish Prints?
Yes! When you download the Snapfish app you will unlock 600 free prints a year. That works out at 50 snaps a month and all you'll pay is the shipping fee. For full details for the app, plus how to claim your prints, visit the dedicated page and download the app.

Can I Find Snapfish Discount Codes?
Yes, you can! The easiest way to pick up a Snapfish discount code is to check with MyVoucherCodes before placing an order. Our team regularly updates their page with the best available offers to make it simple to save on your printing. You might even catch an exclusive code for a unique saving.

Can I Get Free Delivery at Snapfish?
While there are usually delivery fees applied, if you check their MyVoucherCodes page, you might find a free delivery code to get rid of those charges. That means whether you're ordering a Snapfish photo book or calendar, you won't be charged for shipping.

Can I Get a Snapfish Student Discount?
Unfortunately, there is currently no student discount available. This may change in the future and you'll find all the details on their MyVoucherCodes page.

How Long Do I Have To Cancel My Snapfish Order?
Snapfish allows for 1 hour from placing your order for any necessary cancellations. Please note that you cannot cancel an order if it's been longer than 60 minutes since you placed it.

Can I Cancel My Snapfish Order?
Unfortunately, you cannot cancel; once your order has been placed it cannot be changed. Snapfish recommends you cancel your order as soon as possible to make any necessary changes to your order.

Snapfish


Using our website, find the perfect Snapfish discount code that best fits the items you'd like to purchase.


Open the Snapfish website and browse for the items you would like, dropping them into your online shopping cart' as you go.


Once you've finished, proceed to the checkout to review your order. Be sure to check that each item you want is covered by your chosen Snapfish discount code.


Sign in to your Snapfish account online and fill in all necessary details.


Copy & paste your Snapfish discount code into the 'Discounts' box and click 'Apply' to see your new discounted price!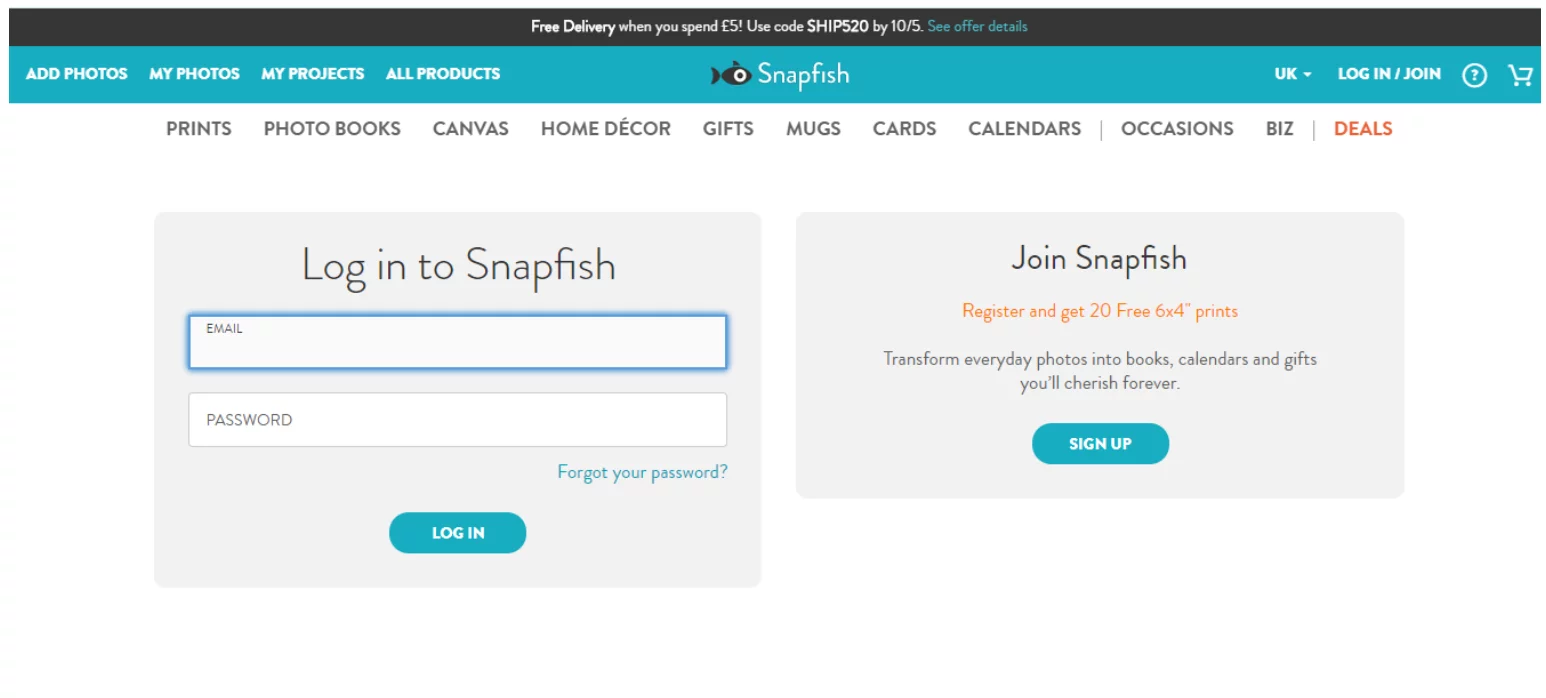 Snapfish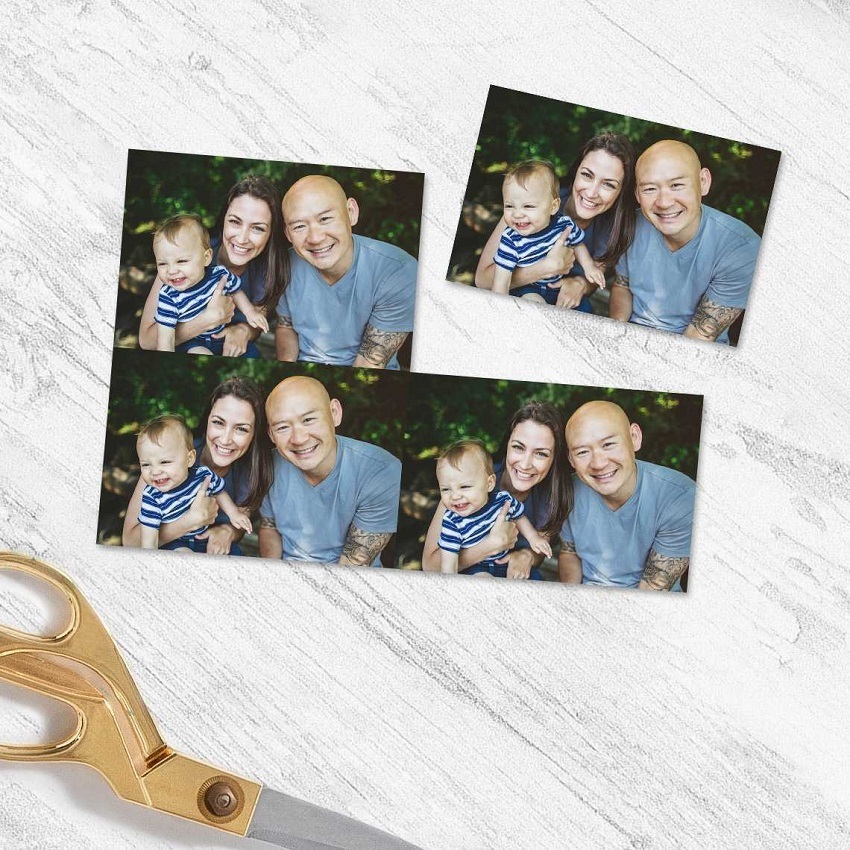 Snapfish UK is the perfect place to shop for personalised photo books and albums. You can create personalised photo books with all your favourite and most special moments captured in one place. Their top quality and unique photo books are sold in a variety of photo designs and styles depending on what you're looking for. What's more, you can personalise the style of each page of your photo album- making it a truly unique photo album to have.
Why not shop by size and orientation to create the perfect personalised photo book and album that is perfect especially for you, or to gift to someone special. Shop from stunning landscape photo books through to traditional-looking square books and portrait style photo books and albums.You can also browse through a varied range of stylish photo book designs, depending on the theme and look that you're opting for. Browse through their popular range of styles such as their simple and elegant photo album designs, travel & wedding photo albums, family & baby photo albums plus lots more.
Snapfish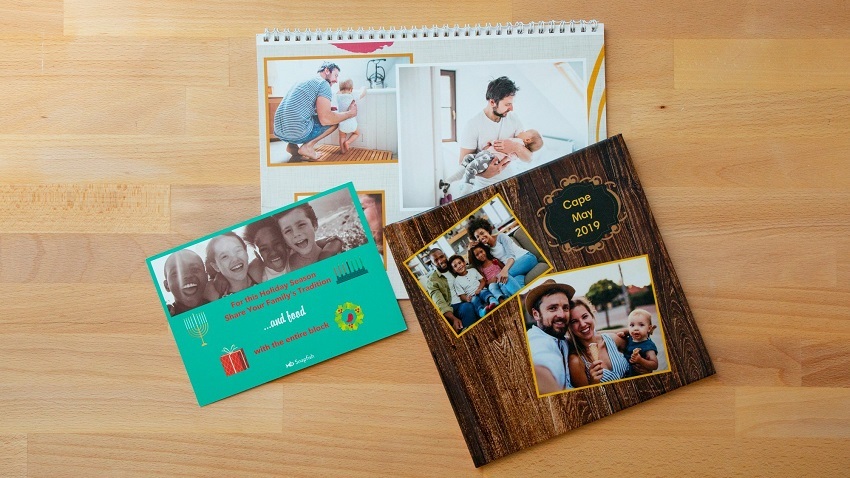 There's nothing better than a simple and reliable delivery of your Snapfish photo book or Snapfish product. That's why Snapfish online makes sure they deliver products easily, safely and always on time. Delivery dates vary depending on the shipping method of your purchase, as well as the time it takes to produce and create your personalised item from scratch. Snapfish currently delivers to a staggering 33 European countries, so it's more than likely that they'll deliver to wherever you are.For shipping and delivery within the UK, Snapfish deliveries take between 1- 2 working days as an estimated processing time and 2-3 working days as an estimated delivery time on a standard UK delivery service. What's more, you can get your UK delivery tracked, with an estimated delivery time of 1-2 working days so you can have your Snapfish purchase in virtually no time if you're looking for a fast delivery option.
Snapfish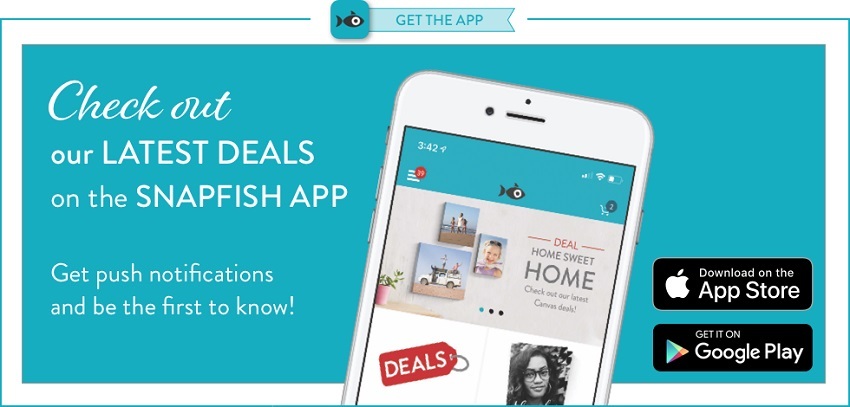 Love a bargain? Then why not get online today at Snapfish and check out the latest and most trending deals & offers this season. Browse and shop your way through a variety of bargain items, discounted products and must-grab offers on Snapfish products.With a selection of site-wide offers and tempting deals, shopping at Snapfish has never been so easy and wallet-friendly. Browse through their exciting range of deals such as free delivery on orders over £10 and 50 free prints a month when you simply download the Snapfish app. What's more, when you sign up and register with Snapfish online, you'll be the first to know about irresistible deals and offers - plus, you'll get 20 free 6x4" prints - amazing!
Snapfish
Snapfish Free Prints For Every Season
All year round is the perfect time to create some amazing photos, and with the Snapfish Free Prints offering, it's the perfect opportunity for this. They currently offer free 6x4" prints per calendar month when your order through the Snapfish app! It's a great opportunity, so make sure you grab your free prints today.
Spring Savings on Snaps
Photo books are a great way to look after all your pictures. They make fantastic gifts for the family and wonderful keepsakes. They are also included in the Spring Sale, which means you'll bag an incredible deal.You can choose the style and wording that ends up on the page to create something truly unique. There is a range of sizes and designs to commemorate any occasion. With massive savings on them all, you won't be short of choice.
Picture Perfect Summer
If you're spending summer exploring, you'll come home with a full camera. The Summer Sale will offer incredible rates for all your photo printing. Whether you want plain portraits or a cushion with your dog's face on it, Snapfish is the place to go for incredible offers on printing. You never have to leave a photo behind again and you'll keep treasured memories close. Checkout MyVoucherCodes for all the latest Snapfish discounts to help you print all those memories.