Boden Hints & Tips
Get the height fashion, for lovely, low prices. Start saving on style by checking out our list of money saving hints and tips for Boden:
Boden Clearance
Make sure you check out the clearance section every time you visit the site. With up to 50% off, you can update your wardrobe without breaking the bank.
Boden Refer a Friend
Treat yourself and your friends to a little saving simply for picking up gorgeous clothes. With the refer a friend scheme, you'll get your friend £20, and get a tidy £10 off for yourself.[he]Boden SaleCheck back regularly to catch the best deals. You'll find a fabulous sale every time the season changes, but that isn't your only change to grab a bargain. They regularly have category wide sales with superb savings on a particular range. It's always worth checking in to see if there's a mid-season sale running.
Boden Deals
Keep an eye out for multi-buy deals. Not only can you grab a saving with the deal itself, but sometimes you can pop a Boden voucher code on top, for an even better discount.
Boden Free Delivery Code
Get yourself a discount with free delivery on orders over £30. And if there's a store in your area, you can just pop in and pick it up, without spending a penny.
Boden MIni
If you want to keep your little ones looking smart the Mini collection is for perfect for you. All the bright and bold kids clothes manage to keep things smart and fun to make so there are no complaints when it's time to dress up.[Boden Shoes[/h4]
Whether you need to pick up a pair of essential autumn boots or something made for a party season dance floor, the Boden shoes collection has you covered.[h4Boden Face Masks[/h4]
Put some fashion into your mandatory face coverings with a gorgeous Boden face mask that will help keep you safe and compliment your style
FAQs
Do Boden Offer Discount Codes?
Yes. There are Boden voucher codes and exclusive discounts on offer at MyVoucherCodes.
What is Boden's Returns Policy?
You can return an item within 3 months with the receipt you'll receive the value of the product as a refund or an exchange. Sale goods will need to be returned within 14 days. There is more information available on
the returns page
.
What Payment Options Are There at Boden?
Boden accepts most major credit and debit cards including VISA, Mastercard, Maestro and AMEX. You can also pay with PayPal.
Can I Get a Boden Catalogue?
Yes, you can order your very own catalogue that's packed with the bohemian Boden fashion to flip through at your leisure. All you need to do is fill out a quick form and it'll find its way to your door in a few days.
Does Boden have retail stores?
There are two Boden retail stores in the UK and both are based in London. They are the Kings Road store and Hanger Lane, however, both of these stores are currently closed due to COVID-19.
How To Use A Boden Discount Code
To redeem your code, follow these steps:
Browse the Boden website and choose the items you'd like to buy.
When you are ready, proceed to checkout.
Choose a voucher and copy and paste into the 'enter promotional code' box before checking out.
Enjoy your shop for less!
Boden Delivery Options
Once you have chosen all your colourful fashion and filled your basket you can use any of the following delivery methods to have your orders shipped straight to you.

Boden Standard Delivery
Standard delivery will get your new clothes to you in 2-3 working days. It usually costs £3.95 but will be free on all orders over £30. This is your least expensive delivery option.
Boden Royal Mail
Royal mail delivery is the best value expedited service. It will get your order to you within 1-2 days and it will cost £5.
Boden Express Delivery
If you need your clothes to arrive quickly, Express delivery is the option for you. When you order before 7pm, Monday – Friday, it will arrive on the next working day. Next day delivery costs £6.
Boden Express by Noon Delivery
The fastest delivery service available is the Express by Noon. This is available on all orders placed by 7pm, Monday to Friday, and it will have your clothes to you by noon the next working day. This super-fast service is available for £8.
Visit the Boden Delivery Page for more information.
Boden Contact
If you can't find the answer in the FAQs, you can use any of the following methods to get in touch with the friendly folk in the Boden customer service team:
Boden Contact Number

0330 333 0000 – Mon-Fri 09:00-19:00, Sat-Sun 10:00-18:00

Boden Email

– cservices@boden.co.uk

Boden Live Chat

– For the fastest response to your query, use the live chat feature on the website.
As you can imagine, the coronavirus pandemic has caused some delays and created more queries. It may take a little longer than usual to get a response, but the team are working hard to get to you.
Seasonal Shopping Guide

The creative folks at Boden want to make sure you're living your boldest life throughout the year. That's why all Boden clothing use vibrant colour and eye catching patterns that will brighten up a gloomy day or keep things breezy when the sun's blazing. Here's what you can expect to shop all year long.
Spring Styles
Spring fashion is all about those transitional layers that see you through the unpredictable weather. The spring collection of Boden coats and jackets bring the lighter layers that are perfect for the days when sudden showers interrupt the sun. It's also time to ditch those Boden boots and slip into something a little less clunky, not quite sandal weather but getting there.
Breeze Through Summer
When the thermometer rises and summers in full swing, you're wardrobe needs to keep things breezy. All the Boden tops, shorts, and skirts in the summer collection are made for barbeques and laid back walks. They're designed to be seen out in the sun and the vibrant looks come to life when you're out and about. And of course there's always trusty Boden dresses to bring the sunny style.
Autumn Style Switch
When September comes and the leaves start to turn, it's time to switch out the wardrobes and layer up. A Boden jumper and jeans combo is always a winner when things start to cool down. It's all about finding clothes you want to cuddle that will brighten up a day. It's also time to put those Boden shoes away for winter and switch over to something more practical.
Winter Warmers
Once winter hits and you're about ready to hibernate, it's time to shop all the essentials that keep the chill out. Boden knitwear is the easiest way to stay cosy and stylish throughout the winter months. And the cashmere collection is absolutely gorgeous. Since it's festive season there will always be a massive choice of fashionable Boden gifts to get everyone you love dressing well.
Save on Summer Style
It's official, the Boden summer collection is in and it is packed with big looks that were made to be seen in the sun. Whether we get to travel this year or it's another staycation, these are the clothes you want in your suitcase. And if you want to save on these scorching new looks, you've come to the right place. Here we pick out the best value options in this stunning new collection.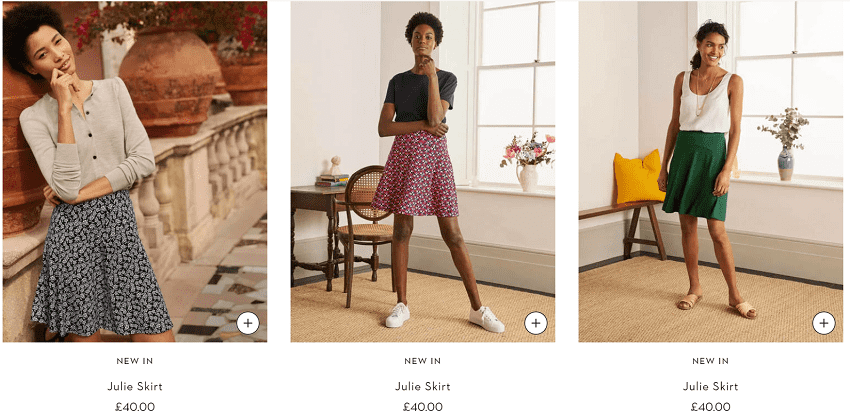 Boden Skirts
At £40 the Julie skirt is going to become a hero of any summer wardrobe that takes it in. This breezy little number is made to marry comfort and style thanks to the super soft Jersey that flares out to a full hem above the knee.
Boden Vest Tops
Vest tops are essential summer wear that gets the sun on your skin and creates a super light look that copes with the heat. At £18, the Cotton Vest is a simple summer look that will quickly become essential as the thermometer rises. Don't let the little price fool you, they pack a big style punch with their bold colours and flattering v necks.
Boden Summer Dresses
The Florrie Jersey Dress is the most expensive piece on our list, but at £60 it is a steal. This smart boatneck dress is all about adding grown up style to summer holiday days. Made from 100% cotton this breathable number will keep things airy when the sun beats down on your holiday.There are loads more gorgeous look in this collection so make sure you grab a Boden code and save a little extra on your summer suitcase shop.
Stay Safe, Stay Bold
A year on and the coronavirus pandemic is showing no signs of slowing down. It's become second nature to keep those masks handy. Checking the pockets for keys, wallet, phone, and masks… how has that become normal?

Those little blue ones that make it look like you belong on the ward served us well in those early, confused months. But now, 3 lockdowns in, we're more prepared to deal with socially distanced trips to the shop. Now we're ready to get bold with our lockdown looks.
That's where the stylish collection of Boden face masks come in. These gorgeous life savers mean you'll never have to compromise your still on any essential trips you have to make. Best of all, they've got the unmistakable Boden look we love to shop.
The vibrant colours and bold patterns are built to compliment you outfits and leave you feeling your best when your wandering around the supermarket trying to look like you know what you want. They come in packs of three and are all machine washable to make sure you always have one handy when you need them.
Little Wizards Love Mini Boden

If your little muggles are in love with the worlds most famous wizarding world, they will be spellbound by the fabulous Mini Boden Harry Potter collection.
Whether there's a casual game of quidditch or the fanciest ball, they can dress in magic inspired wear they'll love. And mum and dad can breathe easy because all of it is built to stand up to the toughest childhood treatment.
The Hogwarts Rugby Jerseys are ready for any summer games and they'll tackle them in style. There are different colours available to help them show of their house and they all have the school crest emblazoned on them. This is the best way to show wizarding school pride this summer.
For any socially distanced summer parties, you can't get much finer than the Hogwarts Vintage Dress. The cute magical woodland print, light colours, and perfect twirling full skirt make it a favourite dress amongst the most magical girls.
This giant collection conjures style that will cover the whole wardrobe and quickly become the outfits of choice. Whether your little ones need new tops and tees or magic sprinkled bottoms there is a huge selection waiting for them to adore.
This is where you'll find all the bright kids wear that will keep your kids looking their smartest, for 5 minutes at least, so grab a Boden Discount code and see what Mini Boden has to offer.