Using Your Hobbs Discount Code
Using our website, search for the perfect Hobbs discount code that best fits the order you'd like to place.
Once found, unlock your discount code and head on over to the Hobbs website in a new window tab.
Browse the site for any items you would like to buy, adding each to your 'Cart'.
Proceed to checkout and review your order. Make sure that your items are applicable to your discount code.
Copy and paste your Hobbs discount code into the 'APPLY PROMO CODE' box and click 'APPLY'.
The page will automatically refresh with your new discounted price.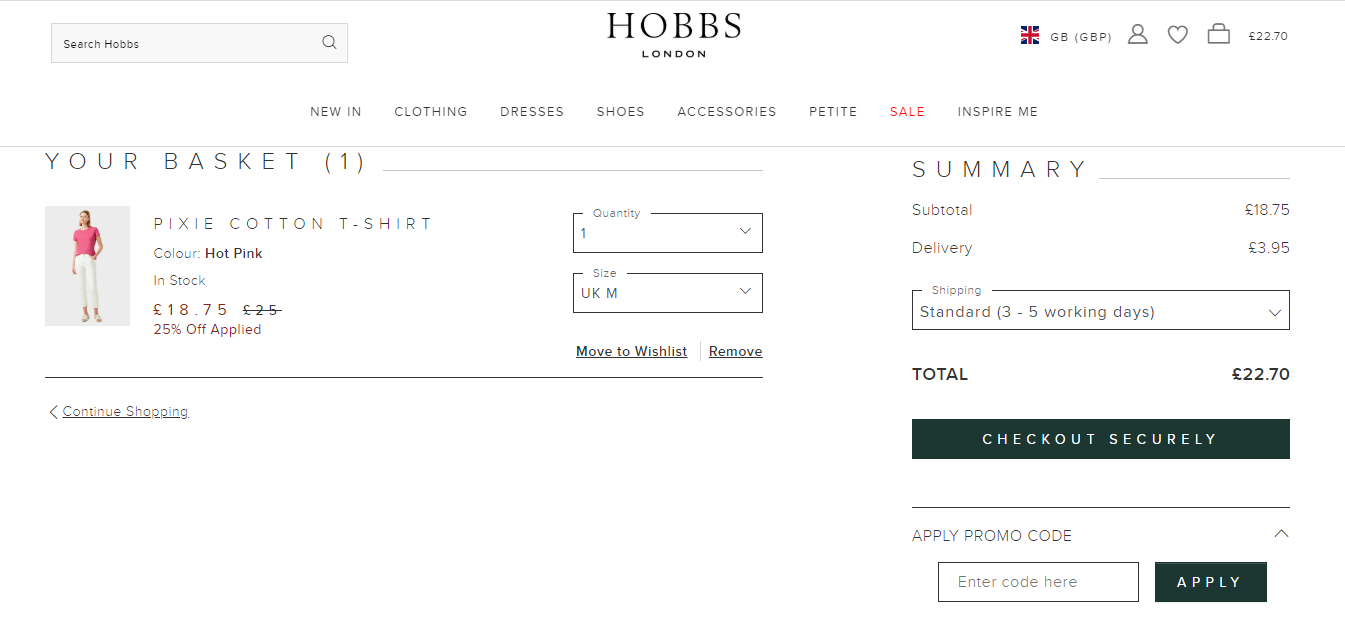 FAQs
Is There A Hobbs Sale?
Yes, they regularly have sales and you can find all the information you need on what's discounted at MyVoucherCodes as well as any Hobbs outlet deals and other offers.
Can I Get A Hobbs Discount Code?
They don't typically have voucher codes available, however, at MyVoucherCodes we have all the latest deals, offers and information on the Hobbs sale, so it's worth keeping an eye out for some savings.
What Delivery Options Are Available At Hobbs?
You can get free standard delivery for free on orders over £150, otherwise, it's £3.95. They also offer a free click and collect, Next working day and weekend delivery, the latter cost £6.
Is There A Hobbs Size Guide?
Yes, they offer a handy measurement and size guide so you can make sure you're getting an item that fits. They offer guides for clothing, footwear and accessories.
Seasonal Hobbs Offers
Hobbs offers a variety of items for any seasonal occasion. But make sure you check online to see what discounts they offer at the time.
Hobbs Black Friday is always one to watch. They will have a host of exclusive deals and offers on the finest womenswear. Black Friday always falls on a different date every year, so if you want to make sure you don't miss it then sign up to their email subscription list. They will send you the latest deals and offers so you can get the best Black Friday deals.
Online shopping is a must in Winter, and to fight off those January blues check out Hobbs. Their January sales are sure to inspire and will help you grab a bargain on your new favourite dress.
Getting The Best Discounts At Hobbs
Check their latest deals online - the Hobbs shoe section will have some great discounts at up to 50% off.
If you're ordering in bulk, Hobbs offers free UK delivery for orders over £150.
If you're on a budget, you can browse the lowest priced items first by sorting your search preferences. That way you can see what's affordable first.
Be the first to know about exclusive offers at Hobbs by signing up to their email subscription service, They'll let you know about great savings and the latest arrivals so you'll never miss a bargain.