EXCLUSIVE
View Terms & Conditions

View Terms & Conditions

The £10 Amazon.co.uk digital gift card giveaway ("Promotion") is subject to the following terms and conditions. By entering the Promotion entrants will be deemed to have read and accepted these terms and conditions.
The Promotion is organised and operated by Future Publishing Limited trading as My Voucher Codes incorporated in England and Wales under company number 02008885, whose registered office is Quay House, The Ambury, Bath, BA1 1UA ("Promoter").
The Promotion is open to all UK residents aged 18 years or over except employees of the Promoter, their families, agents and anyone else connected with the administration of the Promotion.
The Promotion will run from {offer_start_date } on 17 Mar 2022 00:00 until 31 Dec 2022 23:59 on 31 Dec 2022 23:59 ("Promotion Period").
All entrants who during the Promotion Period: (i) subscribe to receive the Promoter's electronic marketing; and (ii) Agoda confirms have spent £140 or more (excluding VAT, all gift card purchases and top-ups and delivery or collection charges) at Agoda (the "Qualifying Purchase(s)") via the link provided on www.myvouchercodes.co.uk ("Promoter's Website") shall be eligible to receive a free £10 Amazon.co.uk ("Gift Card(s)").
You will not be entitled to a Gift Card if you click on any other links or visit any other websites before making your purchase at Agoda or if you make use of any other offer or promotion in connection with your purchase which is provided by the Promoter or Agoda (including any discounts, codes, savings, credit and/or points).
Only one (1) entry per entrant during the Promotion Period shall be accepted.
Gift Cards redeemed against Agoda purchases will be available up to 90 working days after your confirmed date of travel.
Gift Cards may be downloaded via the "member section" of the Promoter's Website. Entrants should note that Gift Cards may expire after a certain date and their use may be subject to the retailer's own terms and conditions.
No entries from agents, third parties, organised groups or applications automatically generated by computers will be accepted. No incomplete or corrupted entries will be accepted. Any entries not made during the Promotion Period or otherwise in accordance with the entry instructions and these terms and conditions will be rejected.
The Promoter reserves the right to substitute, in its sole discretion, the Gift Card with an alternative award of equal or greater value.
The Promoter reserves the right to cancel the Gift Card in the event of: (i) the Qualifying Purchase being cancelled by {merchant name}; or (ii) the entrant cancelling, returning or part-exchanging the Qualifying Purchase.
The Promoter reserves the right to ask for satisfactory proof of identity, age and/or address as a condition of awarding the Gift Card.
The Promoter reserves the right to postpone, void, cancel, suspend, or amend the Promotion where it becomes necessary to do so. Any changes to the Promotion or these terms and conditions will be posted on the Promoter's Website at www.myvouchercodes.co.uk.
Personal data submitted by entrants in connection with the Promotion will be processed by the Promoter in accordance with the Promoter's privacy policy, which is available at www.myvouchercodes.co.uk/privacy.
To the maximum extent permitted by law, the Promoter, its agents and/or distributors will not in any circumstances be responsible or liable to compensate entrants or accept any liability for any loss, damage, personal injury or death occurring as a result of use of the Gift Card except where caused by the negligence of the Promoter, its agents, distributors and/or that of their employees. Your statutory rights are not affected.
The Promotion and these terms and conditions are governed by the laws of England and Wales and are subject to the exclusive jurisdiction of the English and Welsh courts.
EXCLUSIVE
View Terms & Conditions

View Terms & Conditions

The £50 Amazon.co.uk digital gift card giveaway ("Promotion") is subject to the following terms and conditions. By entering the Promotion entrants will be deemed to have read and accepted these terms and conditions.
The Promotion is organised and operated by Future Publishing Limited trading as My Voucher Codes incorporated in England and Wales under company number 02008885, whose registered office is Quay House, The Ambury, Bath, BA1 1UA ("Promoter").
The Promotion is open to all UK residents aged 18 years or over except employees of the Promoter, their families, agents and anyone else connected with the administration of the Promotion.
The Promotion will run from {offer_start_date } on 17 Mar 2022 00:00 until 31 Dec 2022 23:59 on 31 Dec 2022 23:59 ("Promotion Period").
All entrants who during the Promotion Period: (i) subscribe to receive the Promoter's electronic marketing; and (ii) Agoda confirms have spent £650 or more (excluding VAT, all gift card purchases and top-ups and delivery or collection charges) at Agoda (the "Qualifying Purchase(s)") via the link provided on www.myvouchercodes.co.uk ("Promoter's Website") shall be eligible to receive a free £50 Amazon.co.uk ("Gift Card(s)").
You will not be entitled to a Gift Card if you click on any other links or visit any other websites before making your purchase at Agoda or if you make use of any other offer or promotion in connection with your purchase which is provided by the Promoter or Agoda (including any discounts, codes, savings, credit and/or points).
Only one (1) entry per entrant during the Promotion Period shall be accepted.
Gift Cards redeemed against Agoda purchases will be available up to 90 working days after your confirmed date of travel.
Gift Cards may be downloaded via the "member section" of the Promoter's Website. Entrants should note that Gift Cards may expire after a certain date and their use may be subject to the retailer's own terms and conditions.
No entries from agents, third parties, organised groups or applications automatically generated by computers will be accepted. No incomplete or corrupted entries will be accepted. Any entries not made during the Promotion Period or otherwise in accordance with the entry instructions and these terms and conditions will be rejected.
The Promoter reserves the right to substitute, in its sole discretion, the Gift Card with an alternative award of equal or greater value.
The Promoter reserves the right to cancel the Gift Card in the event of: (i) the Qualifying Purchase being cancelled by {merchant name}; or (ii) the entrant cancelling, returning or part-exchanging the Qualifying Purchase.
The Promoter reserves the right to ask for satisfactory proof of identity, age and/or address as a condition of awarding the Gift Card.
The Promoter reserves the right to postpone, void, cancel, suspend, or amend the Promotion where it becomes necessary to do so. Any changes to the Promotion or these terms and conditions will be posted on the Promoter's Website at www.myvouchercodes.co.uk.
Personal data submitted by entrants in connection with the Promotion will be processed by the Promoter in accordance with the Promoter's privacy policy, which is available at www.myvouchercodes.co.uk/privacy.
To the maximum extent permitted by law, the Promoter, its agents and/or distributors will not in any circumstances be responsible or liable to compensate entrants or accept any liability for any loss, damage, personal injury or death occurring as a result of use of the Gift Card except where caused by the negligence of the Promoter, its agents, distributors and/or that of their employees. Your statutory rights are not affected.
The Promotion and these terms and conditions are governed by the laws of England and Wales and are subject to the exclusive jurisdiction of the English and Welsh courts.
Offers for Agoda were last updated Monday 20 June 2022 12:00
Agoda Codes That You've Missed
View Terms & Conditions

View Terms & Conditions

Promotional Period: 19 April - 30 June 2022

Agoda is very pleased to offer promotional nightly rates ("Promotional Rates") for certain Agoda Bookings made during the Promotional Period and with a check-in date on or before 31 December 2022 ("Promotional Bookings"). "Agoda Bookings" refers to bookings made through Agoda's online booking platform.

Provision of Promotional Rates, if any, to you shall be on a strictly as-is and as-available basis.

These promotional terms supplement the Terms of Use applicable to users of Agoda and available via the relevant link on the Agoda webpage at www.agoda.com ("Terms of Use"). Without limiting the rights of Agoda, the Cancellation Policy incorporated by the Terms of Use shall apply to any Promotional Booking made by you.

Any ambiguity in these promotional terms shall be construed in accordance with Agoda's interpretation.

Agoda may, at its sole discretion, immediately terminate this promotion at any time. However, Agoda shall make its best commercial efforts to honor Promotional Bookings made prior to any such termination. Notwithstanding anything to the contrary and to the maximum extent permitted by law, Agoda shall not be liable to you in connection with any Promotional Rates, Promotional Bookings, these promotional terms, or any other subject matter hereof.

Agoda's rights in relation to these promotional terms and/or the Terms of Use are complementary to the maximum extent possible, and each right of Agoda shall not be construed as limiting, restricting, or otherwise adversely affecting any other right of Agoda.

If any part of these promotional terms is found to be invalid, the remainder shall continue to be valid and the part found to be invalid shall be replaced with such new terms having a similar effect to the maximum extent possible.

Depending on each particular Promotional Booking made by you (if you make any), the Promotional Rate may be subject to additional taxes, fees, and/or other charges.

Please note that Agoda may display, on various promotional pages or graphics, tax-exclusive prices for your reference only; you should always check the tax-inclusive pricing displayed on the customer information page and payment information page (where you may enter your information before a booking is made.)

By making, or making use of, any Promotional Booking or making use of any Promotional Rate, you acknowledge and accept these promotional terms.
View Terms & Conditions

View Terms & Conditions

Promotional Period: 15 - 21 June 2022

Agoda is very pleased to offer promotional nightly rates ("Promotional Rates") for certain Agoda Bookings made during the Promotional Period and with a check-in date on or before 30 September 2022 ("Promotional Bookings"). "Agoda Bookings" refers to bookings made through Agoda's online booking platform.

Provision of Promotional Rates, if any, to you shall be on a strictly as-is and as-available basis.

These promotional terms supplement the Terms of Use applicable to users of Agoda and available via the relevant link on the Agoda webpage at www.agoda.com ("Terms of Use"). Without limiting the rights of Agoda, the Cancellation Policy incorporated by the Terms of Use shall apply to any Promotional Booking made by you.

Any ambiguity in these promotional terms shall be construed in accordance with Agoda's interpretation.

Agoda may, at its sole discretion, immediately terminate this promotion at any time. However, Agoda shall make its best commercial efforts to honor Promotional Bookings made prior to any such termination. Notwithstanding anything to the contrary and to the maximum extent permitted by law, Agoda shall not be liable to you in connection with any Promotional Rates, Promotional Bookings, these promotional terms, or any other subject matter hereof.

Agoda's rights in relation to these promotional terms and/or the Terms of Use are complementary to the maximum extent possible, and each right of Agoda shall not be construed as limiting, restricting, or otherwise adversely affecting any other right of Agoda.

If any part of these promotional terms is found to be invalid, the remainder shall continue to be valid and the part found to be invalid shall be replaced with such new terms having a similar effect to the maximum extent possible.

Depending on each particular Promotional Booking made by you (if you make any), the Promotional Rate may be subject to additional taxes, fees, and/or other charges.

Please note that Agoda may display, on various promotional pages or graphics, tax-exclusive prices for your reference only; you should always check the tax-inclusive pricing displayed on the customer information page and payment information page (where you may enter your information before a booking is made.)

By making, or making use of, any Promotional Booking or making use of any Promotional Rate, you acknowledge and accept these promotional terms.
Agoda Hints & Tips
Get your accommodation sorted for your travels with Agoda, and with these top tips, you can save yourself a tidy sum on your stay:


Check out the Agoda deals of the day, these can be found in the 'Today's Deals' section of the website, and you're sure to find an absolute steal on stunning stays.
To find the best prices on your chosen destination, pop in the details of where you're heading and when you're looking to stay, and Agoda will do the rest.
To find the hotels that offer the best bang for your buck, keep an eye out in the 'Overheard from Travellers' section on their homepage. This way you can check out what Agoda offers for this hotel.


FAQs
Can I get an Agoda discount code?
Yes, you can get an Agoda promo code. These are typically for discounts on trips to certain locations. You can find all the latest deals, offers and Agoda sale information at MyVoucherCodes.
Can I make special requests?
You can make a special request on the customer information page of the booking form. The requests will be sent directly to the property and will be subject to availability. You can also submit these requests on the 'My Bookings' page.
When do I pay for my booking?
You can pay the room rate per night online when you're booking your accommodation. You can also book now and pay later. This is paid online. You can also pay at the hotel. These options are subject to availability.
How to use your Agoda promo code?


At this moment in time, the Agoda website is currently unavailable due to COVID-19.


Once the site is back up, begin on our page and find a promo code that best fits the holiday you want to purchase.


Search for the details of your holiday and fill in your personal information.


Proceed to checkout and review your order. Copy and paste your Agoda voucher code into the "Discount Code" box and click "Apply".


Your page will refresh with a new discounted code for your trip!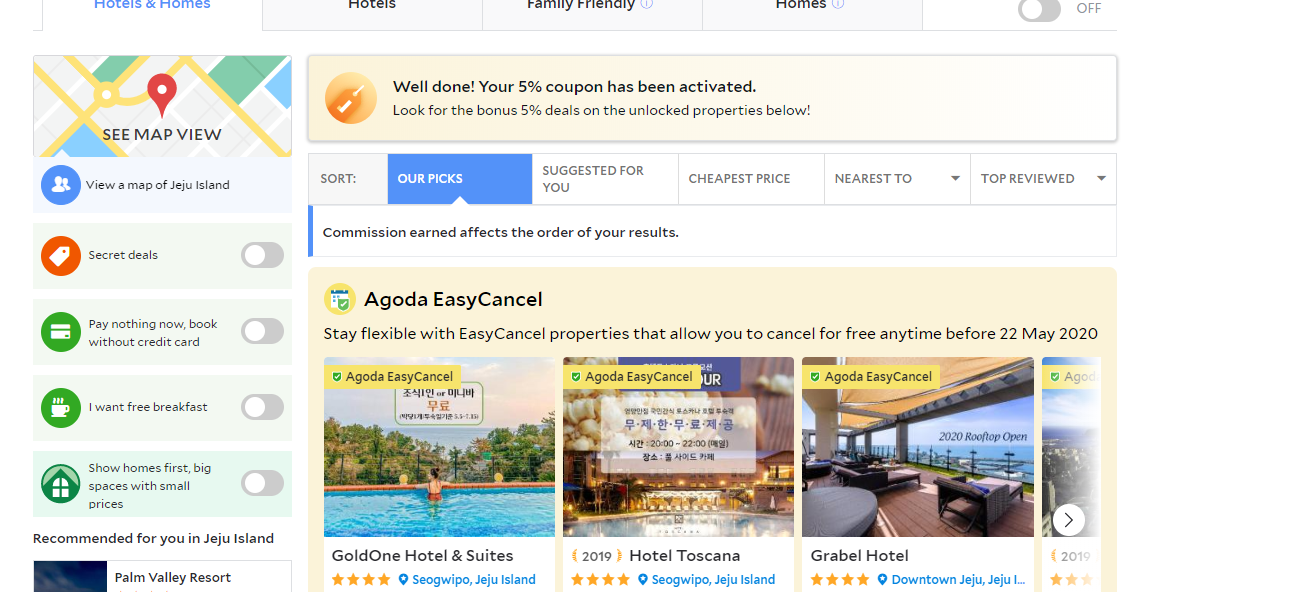 What Else Does Agoda Offer?
If you want a more authentic holiday experience that's a little lighter on the purse strings, then Agoda offers home stays all over the world. Choose to stay in the spare room or an entire home – it's up to you. But it offers a truly unique perspective of your getaway destination with a local twist. You'll be able to chat to your hosts, get inside knowledge and create an itinerary full of hidden gems!