FAQ's
How can I get a Dunelm discount code?
Dunelm tends not to offer promo codes. They do however have frequent sales, so you can still save a lot of money.
Is there a Dunelm student discount?
There is currently no student discount on offer, but there has been in the past and this may return in the future. Keep an eye on the Dunelm MyVoucherCodes page to see when it arrives.
What payment options are available at Dunelm?
You can pay for all orders using a UK registered credit or debit card. They accept Maestro, Visa Debit, Visa Credit and MasterCard. You can also choose to pay via a UK registered PayPal account.
Where can I find the Dunelm opening times?
By checking out the Dunelm store locator, you can find your nearest Dunelm branch and from there you can find the opening and closing times of your nearest store.
How do I contact Dunelm?
You can contact Dunelm customer service by using the form on their '
Contact Us
' page. You can also phone customer services using 0345 165 6565. Alternatively you can contact them by post at:Dunelm Direct,
Green Street,
Radcliffe,
Manchester
M26 3ED
Is there a Dunelm near me?
You can use the Dunelm
Store Locator
to find the nearest branch.
When is the Dunelm closing time?
Depending on the store, the Dunelm closing time tends to be between 8PM and 9PM on weekdays. It's 4:30 PM on Sundays.
What delivery options are available at Dunelm?
Dunelm offer standard delivery for £3.95 or for free on orders over £49. Express delivery costs £5.95 and arrives the next day if the orders placed before 8PM. Furniture and large item delivery costs £9.95 and can be delivered on a day of your choice with a 4-hour slot between 7AM and 8PM Monday to Saturday.
Hints & Tips
You can take your home to the next level with some truly terrific furnishing and home décor at Dunelm. But with these money-saving hints and tips, you can save yourself a tidy sum to boot.


In the Dunelm clearance sale, you can find incredible discounts on wonderful homeware, cracking kitchenware and so much more. You'll regularly find up to 30% off a huge range of stock, so it's worth checking it out today! You'll also regularly find sales. Whether it's Black Friday, a Christmas, or just January, keep your eyes peeled for discounts here at MyVoucherCodes.


The homepage is a great place to find some incredible discounts, competitions and sign up bonuses. So, it's worth scrolling through to find all the latest offers. You never know what kind of discounts you might find.


The Dunelm newsletter is another great place to find stacks of exclusive discounts. They'll be sent straight to your inbox, and to top it off, you'll be in with a chance of winning a terrific £250 prize when you sign up!


If you're an essential worker, whether it's for the NHS, care work, military or any other sectors that qualify for a Blue Light discount card, you can bag a bargain. You'll get a fabulous 5% off orders over £10.



Make sure you're getting the most out of your money with the price match promise. If you find the same item elsewhere for less, Dunelm will match that price, so you don't have to worry about paying over the odds.


How do I apply my Dunelm discount code?
To use your Dunelm voucher codes, all you have to do is follow this simple step-by-step guide.


To get the Dunelm voucher code, just click the one you want to reveal the code.


You'll then be taken to the Dunelm website from MyVoucherCodes.


Have a browse and find the products you wat, making sure they're covered by the Dunelm code.


When you're done, you can head to the basket by clicking the basket icon in the top right corner of the Dunelm website.


Then you'll arrive at the payment page. Underneath your list of items, you will see a box labelled 'Enter your voucher code'. To apply your Dunelm promo code, click the box and enter your code.


Once you've clicked to apply the discount, your price should change, and you should get a tidy saving on your Dunelm shop!




Get Your Garden Ready for Summer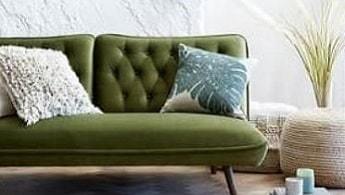 With Summer finally here, it's the perfect time to turn your attention back towards the garden. Luckily, with all the fabulous garden furniture and accessories on offer, you're in safe hands when it comes to giving your outdoor space a makeover.
Perhaps the easiest way to make the most of the Summer weather in your garden, is to make it the place to be. With a ton of fabulous furnishings from loungers and deck chairs, to picnic tables, you can get your garden ready for a family picnic this season.
While furniture can make a big difference in terms of style and comfort, it's the little features that bring it all together. With everything from cushions and topiary, to garden ornaments, you can really add a classy touch to your beautiful garden this Summer.
When it comes to the garden, there's nothing better than a little nature. With the Dunelm planters on offer, you can get growing. Whether you want herbs, flowers, or vegetables, they've got you covered with a ton of pretty Dunelm plant pots to add some natural style to your garden.
With some creative and stylish storage solutions from Dunelm, you can pretty up your home and find a place for every little thing. Making space is an art form, and for some more inspiration this Summer,
check out our Space Saving Ideas
article.
When it comes to your gorgeous garden refresh, you can't go wrong with one of our offers. So, get saving on your Summer style today!
The A – Zzz of Sleeping Through the Summer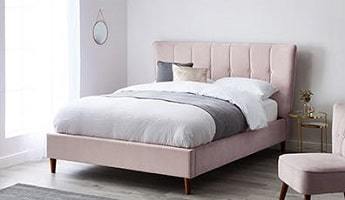 Whether you're a pillow flipper, or you like to leave a leg poking out of the duvet, Summer sleeping is an art form. Luckily, Dunelm have you covered with their A- Zzz guide to Summer sleeping. So, you can get some shut eye and wake up feeling refreshed, in comfort and style.
With a mattress for every budget, different firmness levels and different depths, there's bound to be a Dunelm mattress with your name on it. Whether you prefer memory foam, pocket sprung, or a hybrid mattress, you can get it all. They've got firm mattresses for those who sleep on their backs, and softer ones for the side sleepers among us, so you're well and truly covered.
When you've got a bed frame that's packed with extra functionality, it can really make the room. With divans, bed frames with storage drawers, and frames with good ground clearance, you've got storage for days. Not to mention with a ton of fabrics, designs and patterns, it'll look the part too.
There's a huge range of Dunelm pillows that offer your head the support it needs. Whether you need soft pillows, firm pillows, hypoallergenic pillows or anything in between, you can bet Dunelm have got it stocked. And with breathable fabrics, you won't have to spend your time flipping to the cool side of the pillow this Summer.
To top off the whole affair, all you need is some lovely new bedding. Crisp white bedding can be the key to keeping cool through the Summer months. For those after something patterned, keep it light and airy so you aren't sweating buckets at bed time. With light, breathable fabrics for Summer, you'll be sleeping soundly through the Summer.
When it comes to sleeping through the Summer, get the most out of your money, you never know how much you could save with one of our promo codes.
Keep Out the Light this Summer
A cosy morning in bed is an absolute treat, but the good times can be cut a little short by that pesky light shining through the window. Make sure you're getting the most of your shuteye with a quality set of Dunelm curtains.
With a stunning range of fabrics, colours and patterns to choose from, you can't go wrong. Not only can you keep out the light and give yourself a little privacy with a set of Dunelm black out curtains, but you can add a little something special to the room too with their stylish options.
You can get those curtains made to measure, so you'll get the right length, width and a Dunelm curtain pole that fits the bill too. Take your measurements, pick out the perfect fabric, and you can get it measured up and sent straight to your home. You can even get some fabric samples so you can make sure you're getting the perfect pair of curtains.
For a more modern aesthetic, you can check out the range of Dunelm blinds. From classic Venetian and Roman designs, to contemporary roller blinds, you can find a design whatever your tastes. They offer practicality too, with moisture-resistant blinds and child-friendly cordless offerings.
Net curtains are a great way to dress up those plain looking windows, and get the whole house looking fabulous. With the Dunelm net curtains and voile curtains selection, you'll have plenty of choice when it comes to adding an airy and inviting feature to your home this Summer.
So, keep out the light this Summer and add a little flair to your room with a set of cracking curtains or beautiful blinds. And with our Dunelm sale highlights, you can save big today!