FAQs
Can I get a Wood Finishes Direct discount code?
You can't regularly get a Wood Finishes Direct voucher code. It's still worth keeping an eye out at MyVoucherCodes for all the latest deals and offers.
Can I get free delivery at Wood Finishes Direct?
Yes, you can. Wood Finishes Direct offer free express delivery when you spend over £50. For orders under £50, delivery is available from just £3 and 99p if the item is small enough to fit in a letter-sized package.
Do Wood Finishes Direct offer a price match promise?
Yes, if you can find the same product at another retailer (including Amazon) cheaper, they will match the price of the product and its delivery. They also match the price up to 7 days from when you receive the order.
Do Wood Finishes Direct offer returns on orders?
Yes, they do offer returns. You can return purchases for up to 30 days after delivery. For a full refund, non-faulty items must be in unopened and unused condition.
What payment methods are available?
Wood Finishes Direct accept payments made by Visa, Mastercard, American Express and PayPal.
Hints and Tips
Get the perfect finishing touch for less by getting over to Wood Finishes Direct and making use of these helpful money-saving tips:
The Wood Finishes Direct clearance is the first stop for those looking to get on-trend for less, so check it out for up to half price off. But hurry, once these items are gone, they're gone.
Get yourself some cracking trade deals when you buy in bulk by heading to the Wood Finishes Direct trade page, Get in contact to see how much you can save.
Make sure you're getting the price on your products with the Wood Finishes Direct price match promise, so if you find the same item cheaper elsewhere, you'll be refunded the difference.
You'll receive exclusive deals and promotions, news on new products and useful 'how to' guides by signing up to the Wood Finishes Direct newsletter.
Avoid any costly mistakes by taking advantage of the number of sample sizes on offer for a number of products at Wood Finishes Direct. Opened and used products aren't eligible for refunds if you're unhappy with the colour, so play it safe and save.
How to use your Wood Finishes Direct discount code?


Take a look at the many voucher codes we have available and find one that fits your order.


Unlock your voucher by clicking "Get Code" and open up the Wood Finishes Direct website in a different tab.



Browse the site and add all relevant items to your cart. When finished, proceed to checkout.


Review your order, ensuring you have everything you need.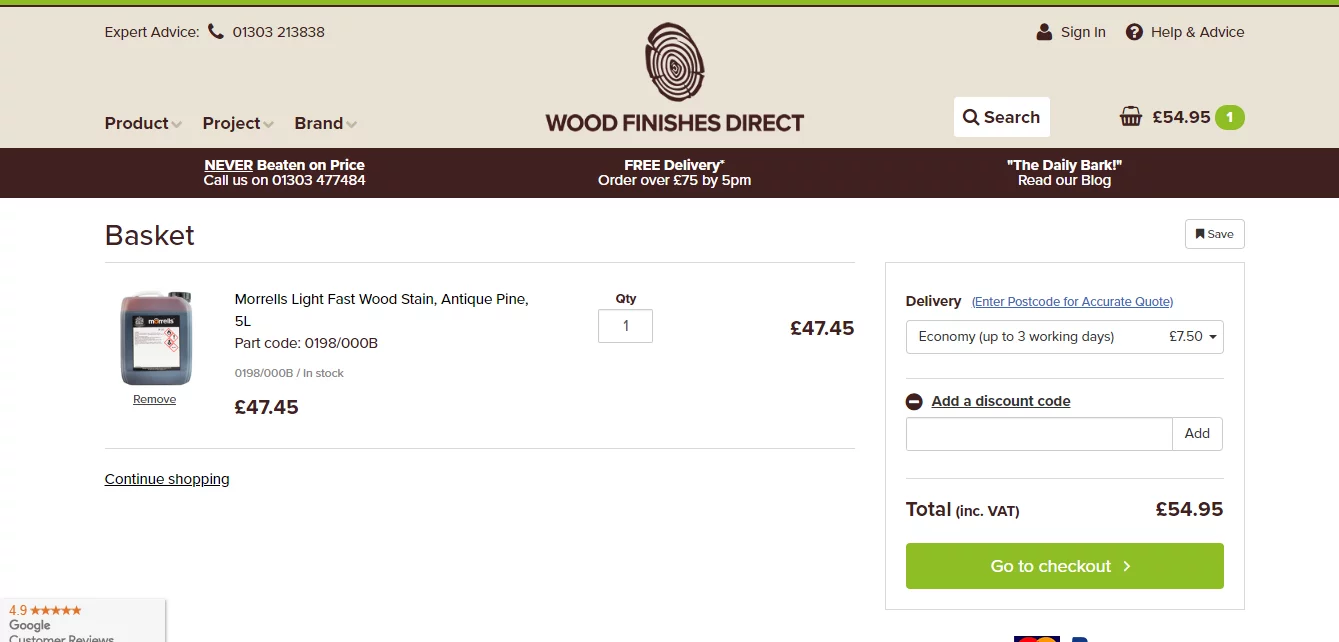 Which Wood Finish For You?
Starting a new DIY project can be daunting, especially if you're not too familiar with the materials you're working with. Finishing wood is a crucial part of a large number of projects around the home, but you may not be sure which type of finish that you're after. What seems so simple at face value may end up leaving you feeling more confused than when you first started. But have no fear, with MyVoucherCodes and Wood Finishes Direct you'll know and be able to find exactly what you need.
Finishing wood with wax provides a stunning shine and patinaed look. As beautiful as the finish is, wood wax is not recommended for floors as it is not as durable as other types of finish unless you're willing to carry out more maintenance. Instead, try it out on furniture and areas like bannisters and skirting boards that don't require as much protection and aren't exposed to as much wear. Advantages of a wax finish are that it provides more of a sheen than a gloss, can be reapplied as many times as you like and can be buffed to gain the finish you want.
Wood oil offers a more durable finish than wax but beware of the longer drying times. Easy to work with and incredibly easy to repair, by sanding down the scratches or stains and reapplying, this is a great finish for beginners. Oils protect and nourish the wood to protect it from moisture, dirt, scratches and scuffs. The biggest advantage of working with wood oil is the ease of repair and is suitable for both interior and exterior use.
Wood varnishes are the strongest of all finishes, this is achieved by forming a seal on the surface of the wood. Varnishes are available as either solvent-based, alternatively called lacquers, or water-based. Water-based varnishes are more common and varnishes are perfect for those high traffic areas that are constantly exposed to wear and tear. Because of this seal and hard-wearing nature, varnished areas can be easily cleaned and wiped down with damp cloths.
So now you're up to speed with which wood finish you need, take a look at the latest Wood Finishes Direct Discount Codes and deals and save on your home improvements.