FAQs
How Can I Get A B&Q Discount Code?
B and Q don't offer codes very often, but when they do you can find them all on MyVoucherCodes first. There are regular deals and sales to make sure you can pick up a great price on your DIY projects.
What are my delivery options at B and Q?
There are plenty of delivery options available to make sure your supplies arrive in time. You can get free standard, next day, or nominated delivery on orders over £50. Large delivery is free on orders over £250 and bulk orders are free over £350. See the delivery page for details.
What is the B&Q Club?
This is a membership scheme that unlocks exclusive discounts on everything from B&Q garden sheds to the tools you need to put it together. There are regular events to save members more money. Full details can be found on the Club page.
Can I Get Finance At B&Q?
Yes, if you've got a big project and want to spread the cost, B&Q off a range of finance options. These include up to 5 years interest-free credit to Buy Now Pay Later. All credit is subject to status and full details can be found on the
Finance page
.
How Do I Return B&Q Items?/h4]You can return any item within 45 days of purchase or delivery. You should call 0333 014 3357 or email home.delivery@b-and-q.co.uk to arrange collection. You may be charged a fee for collection, but this depends on the product and won't exceed £50. See the returns page for full details.
B and Q Hints & Tips
For all your DIY and home improvement needs you can't do much better than B&Q, so head over there and take advantage of these hints and tips to make the most of your money:
The first stop for some serious savings should be the B&Q clearance, where you can find savings on everything from toolbox essentials to plumbing kit.


Join the B&Q Club for a bunch of incredible rewards via email, and the best part is you'll get a tidy B&Q discount of a fiver just for joining.


Take advantage of the B & Q free delivery offer to save yourself a few quid on the extra costs, and all you need to do is spend £50 or more to qualify for complimentary delivery.



Using Your B&Q Discount Code
Simply choose the B&Q offer you want to take advantage of from the MyVoucherCodes website and follow the instructions below to fulfil your B&Q discount code.


Pick the deal you wish to take advantage of.


Click 'Get The Code' or 'Get This Offer'.


If a code is revealed, click 'Copy Code'.


To apply the discount, click on 'Go to the B&Q site' and choose your items.


Once you've finished shopping, apply your B&Q promotion code by simply pasting the code into the basket section at checkout, where it says 'Add a discount code or voucher'.


Select the type of code and the code itself, before clicking 'Apply' to show the updated basket total.


Checkout as usual and then wait for your DIY items to arrive.
COVID-19 Click & Collect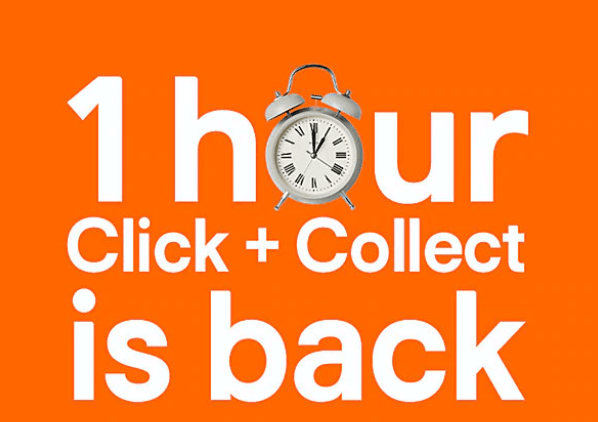 Coronavirus has changed every aspect of our lives and shopping is no different. Every store has had to adapt and bring in measures to keep customers safe. B and Q are no different and here we'll explain how the B&Q Click and Collect works in the midst of the pandemic.
This is a one hour click & collect and you'll be allocated a collection time when you place your order. If you order within one hour of your nearest stores closing time, your order will be ready for you first thing the next morning.
What You Need to Bring
When you head over to pick up your order make sure you grab:
A copy of your order confirmation either on your phone or printed out.
The card you used for payment when you ordered online.
If you paid via PayPal, you need a current drivers license, passport, or accredited proof of age card.
Remember that B&Q have a Challenge 25 policy. Should your order contain age-restricted items, you may be asked to provide valid ID.If you need to, someone else can pick your order up for you but they will need to produce the order confirmation and their valid ID. You can cancel you order if you wish and if you do not collect within 7 days, the order will automatically be refunded to the card used for payment.These measures have been put in place to keep people safe while they shop and stem the flow of the virus. When collecting items in store.
Spring Projects
To B&Q, spring is a time to get busy. There's a backlog of jobs piling up and with the temperature on the rise, there's no better time to get hand. Here we'll take a look at the best DIY projects to start as soon as spring rolls around.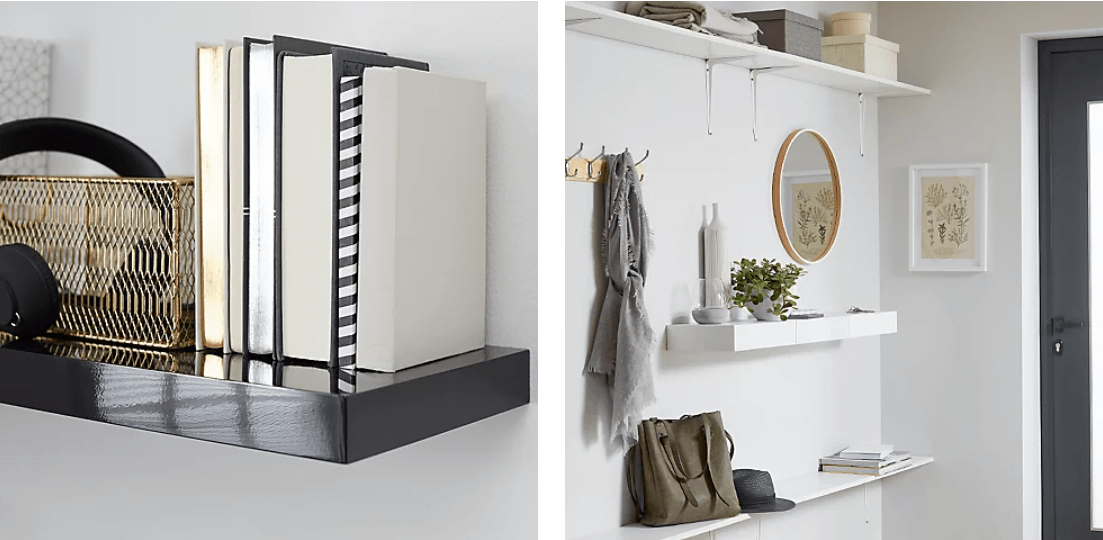 B&Q Shelving
Putting up shelving is a great place for DIY novices to get things started. B&Q shelves keeps things simple and offers loads of varieties to give you the look you want. Whether you want floating shelves, decorative or something more understated, you'll find these essential space savers for less.
B&Q Laminate Flooring
New flooring can give you room a whole new atmosphere and create a space you'll love to spend your time in. B&Q flooring comes in plenty of styles, colours, and effects that will transform you room and leave you with a resilient floor that can take the slips and spills of daily life.
B&Q Storage
If you're about to get started on the annual spring clear out, boosting your homes storage space is probably high on the agenda. B&Q storage boxes and solutions bring the space saving science to make the most of every spare inch.
B&Q Kitchens
If you want to go big in 2021, a new B&Q fitted kitchen will transform the hub of your home. You can book a socially distanced appointment to go over you dream kitchen and start the process today. But if you're a bit handy and fancy tackling it on your own, you can order individual cabinets, work tops, and sinks whenever you like.
New Walls, New Room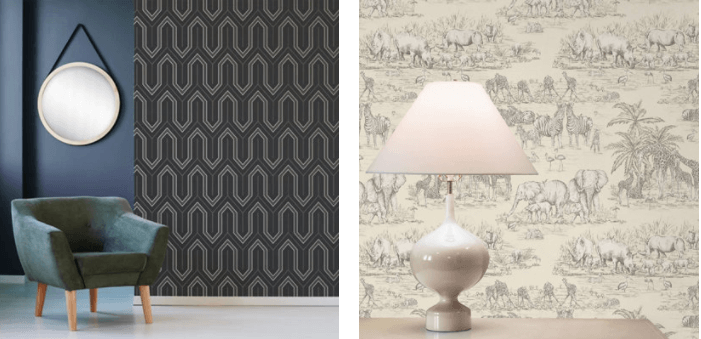 One of the quickest and easiest ways to revitalise a room is to freshen up the walls. Sure, you can do this with paint, but B&Q wallpaper lets you stamp your style all over the house with gorgeous patterns and textures. Here we'll take a look at your options and some of the ways you can spruce up your walls and create the rooms you'll love.
Tile, Stone, and Brick Wallpaper
Exposed brick is super fashionable at the moment, but stripping off the plaster takes a lot of time and effort. An easier way to get the look is by picking up some effect wallpaper. There are tons of colours to choose from that will give a different effect. If shabby chic is your thing the Grandeco Country Brick Rose will create that rustic, homey look you're going for. For something a little more modern you should look for clean defined lines that will pop on your wall.
Geometric Wallpaper
These bold designs are guaranteed to brighten up any room with a sleek look. The beauty of these symmetrical styles is that there are tons to choose from that covers everything from clean contemporary to something a little more retro. The Good Home Patula Dark/Grey paper is made for a fresh and stylish living room thanks to its textured look and sharp design.
Check and Striped Wallpaper
This style is perfect for a modern bedroom because the clean lines and palette of colours are relaxing. You'll find colours to match your sheets and create a soothing sanctuary that you will rush to every night.There are loads of gorgeous options to help you create your dream room so grab your B&Q discount code and save on getting DIY ready. There are loads of gorgeous options to help you create your dream room so grab your B&Q discount code and save on getting DIY ready.
Right for Your Walls
If you're ready to update your walls with a new lick of paint, you want to do it right. That means you picking up the right paint for your walls and in this guide, we'll make sure you leave B&Q paint section with the right tins for your walls.

Bedroom
Whatever colour you want your bedroom to be, Wall and Ceiling paint will get the job done. The extensive range of colours lets you stamp your personality on your four walls and create your hideaway. Wall and ceiling paint is quick-drying and gives excellent coverage to make your money cover more.
Hallways
Hallways are the places that take knocks and scrapes. They're the walls that put up with the most and they need durable paint to stand up to it. You don't have to sacrifice colour choice for this kind of toughness though. And your walls will hold their colour for longer too.
Bathroom
With the extra moisture in bathrooms, specialist paint is always a good idea. You should go with mould resistant, easy to clean, or stain resistant to make sure your bathroom stays the colour it's meant to be. These paints will make cleaning easier and helps protect your walls against all the steam.
Kitchen
Like the bathroom, your kitchen paint needs to protect the walls from more than the living room. Greaseproof paint will protect your walls from all your cooking. If you've got a tile backsplash you can pick up dedicated tile paint to put your look on it.There is a vast choice of paint brands, style and colours to choose from and a B&Q discount code will save you money on your new look home.