View Terms & Conditions

View Terms & Conditions

T&Cs apply.
View Terms & Conditions

View Terms & Conditions

1. Exclusions may apply.2. Terms and conditions apply.
Offers for I Love Wallpaper were last updated Friday 30 July 2021 09:33
I Love Wallpaper Codes That You've Missed
Most Popular I Love Wallpaper Code & Discount
| Offer Description | Expires | Discount Type |
| --- | --- | --- |
| Shop Paints from £10 | | Deal |
| £5 off Your Next Order | | Voucher Code |
| Enjoy up to 40% off Marble Wallpaper in the Summer Sale | | Sale |
| Up to 30% off Floral Wallpaper in the Summer Sale | | Sale |
| Up to 30% off Retro Wallpaper in the Summer Sale | | Sale |
FAQs
Can I get an I Love Wallpaper discount code?
Yes, they regularly offer discount codes, and these can all be found on MyVoucherCodes alongside deals, offers and sale information for I Love Wallpaper.
What delivery options are available at I Love Wallpaper?
Economy delivery that arrives in 3-5 days will cost £5.95. They also have Express delivery for £6.95, Sunday delivery from £9.95 and Saturday delivery from £8.95. They also offer sample postage for £1.49.
What payment methods are accepted at I Love Wallpaper?
At I love Wallpaper you can pay using all major credit and debit cards. They also accept payment using PayPal.
I Love Wallpaper Hints & Tips
Kit out your home with wonderful wallpaper from I Love Wallpaper. With our top money-saving tips you can make sure you're getting your money's worth too:


Check out the I Love Wallpaper outlet store, typically, with up to half price off, so you can save yourself a small fortune on redecorating.
Get peace of mind with your purchase thanks to the I Love Wallpaper free returns guarantee, so if you're not satisfied with your order, you can send it right back within 60 days.
Sign yourself up for the newsletter, where you'll get the latest I Love Wallpaper deals and offers, sent straight to your inbox. All you need to do is pop in your email address and start saving.


How to use your I Love Wallpaper promo code?


Start by taking a look at the promotional vouchers we have to offer. Once found click "Get Code" to unlock.


Open up the I Love Wallpaper website in a separate tab and browse for the items you want to buy.


Double-check the voucher you are using and make sure it applies to your product.


Once you have everything you need, proceed to checkout and review your order.


Copy and paste your I Love Wallpaper voucher code into the "Got A Discount Code?" box and click "Apply" to activate your discount.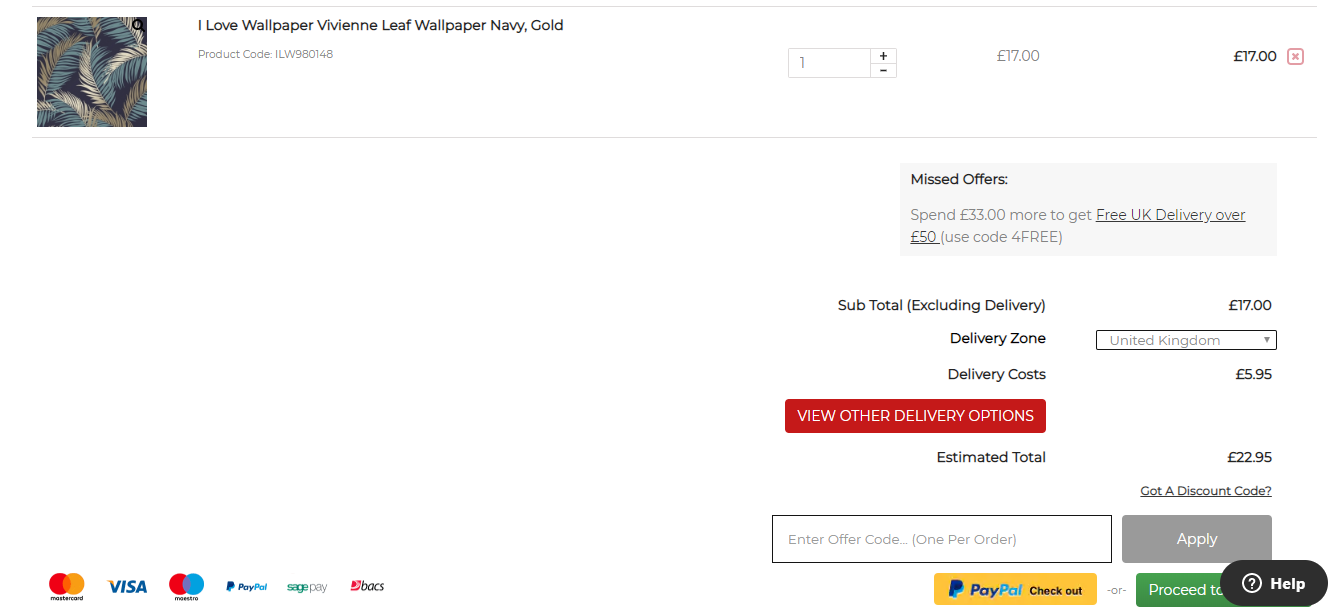 What's Your Style?
Choosing your wallpaper is a big deal. This is going to be a focal point of your room for years to come and you need to love it. I Love Wallpaper feels the same way and they stock a stellar range of gorgeous looks that will liven up your living room. But there's a lot to take in and it can be overwhelming if you're not sure what to go for. That's why we've created this guide to the best styles on offer right now.

BoHo Wallpaper
BoHo is short for Bohemian and it has been a fashionable favourite for a while now. When it comes to wallpaper, you'll find nature patterns that have a hippy flavour. Typically, it will use pastel colours to bring an airy feel to your room. It's a great choice for rooms that look out onto your garden or a beautiful landscape.
Floral Wallpaper
Floral wallpaper is exactly what it sounds like. Beautiful depictions of delicate flowers and lots of colour. It gets a bad rep thanks to grandma's sofa, but it's perfect choice for an accent wall that you want to be a focal point in your room.
Scandi Wallpaper
Scandi is a popular style right now and it centres around minimalist looks that bring subtle style to any room. The clean lines and patterns are perfect for an understated look in bedrooms and hallways.
Geometric Wallpaper
Geometric wallpaper is an ultra-modern look that shares some similarity to the Scandi style. There are sharp lines creating geometric patterns that will draw the eye. Usually the lines are created out of silver or copper colouring to give it a truly modern feel.
Work of Art Walls
If you want to turn your walls into a work of art and add a big impact while you're at it, wall murals are the way to go. They make a statement in any room and are an easy way to show off your style. The selection of I love Wallpaper wall murals offers styles for every taste and if you love big looks, these are for you.

Animal Print Mural
If you like to keep things wild and love the animal print look, I Love Wallpaper have a bold range of styles for you. They're for everyone that loves colour and big statement looks. They are certain to draw the eye and make sure everyone knows what your style is.
Maps Murals
Map murals are the perfect choice for anyone with a passion for travel. They make superb additions to accent walls and they will keep your wanderlust burning as you drink your morning coffee. There are lots of map options, but our favourites are the muted shades that are more subtle than you might expect.
Kid's Murals
There is a gorgeous collection of child inspired murals to give your favourite little people the room they deserve. Whether they love animals, rainbows, space, or wildlife, there are fun options that will turn their room into a magical play area.
All Your Wall Care
As the name suggests, I Love Wallpaper are the wallpaper experts and the stock a massive range of gorgeous prints. But it's not all about the paper. They're passionate about turning drab walls into something beautiful and the have everything you need to care for yours.

There's a vast selection of I Love Wallpapers paint that will do more than touch up your living room. Whether you want a simple eggshell white or vibrant berry red, you'll find all the mind bending colours you could ever want to slap on your walls.With one coat, washable, matt, and wood options, you'll always be able to shop the right kind of paint for your room. This fantastic level of choice will let you decorate your home with the best tools and create a space you'll love for years to come.Speaking of tools, you need the right ones to get the job done. That's why I love Wallpaper also stock everything you need to get the decorating started. That might be new rollers, brushes, or sheets to keep the carpets clean, there's everything you need to get started. When you want to start a project, this is the place you'll find all the decorating essentials to work like a pro.