Sign up to the incredible emails service and get the very best deals and offers sent straight to your inbox.
Offers for Enterprise Car Club were last updated Thursday 28 April 2022 14:22
Enterprise Car Club Codes That You've Missed
FAQs
Is insurance included?
Yes, if you have a personal membership with your own payment details then all vehicles are insured. A damage waiver excess of £750 applies if you do have an accident, but is only payable if it's deemed to be your fault or a third party can't be found.
How far ahead do I need to book?
You can book vehicles a few minutes in advance if they're available if one's suddenly needed. You can also book vehicles up to 11 months in advance for those long planned journeys.
Can I cancel my reservation?
Yes, reservations cancelled more than 5 hours in advance won't be charged. If you cancel within these 5 hours, you will be liable for the cost of the reservation up to a maximum of £30. Changing or shortening a reservation after it's started may lead to you being charged for the full length of the reservation.
Are pets allowed in vehicles?
No, unfortunately pets are not allowed in vehicles to help those with allergies.
Do I need to return the vehicle to where I collected it from?
Yes, vehicles need to be returned to the same bay that it was collected from.
Hints and Tips
The Enterprise Car Club is a great way for you to save on those times when you need a car, however by following these hints and tips you can save even more:
Those in the Emergency Services, NHS or Armed Forces can enjoy their first years' membership for £10 and get £20 driving credit free, saving you up to £70.
Corporate customers can enjoy free personal accounts too!
By referring a friend you'll get them and yourself a £20 free driving credit to use on those times when you really need a set of wheels.
Already a member of another car club? Then you can join Enterprise for only £1, saving you up to £59 in your first year!
You can add a second driver, living at the same billing address, to your account for just £30. Meaning a second driver can enjoy membership for half of the price of a separate account!
Memberships also get you discounts with other partners, make sure to check the Member Benefits page on the Enterprise Car Club website to see where else you can save memberships.
More information about Enterprise Car Club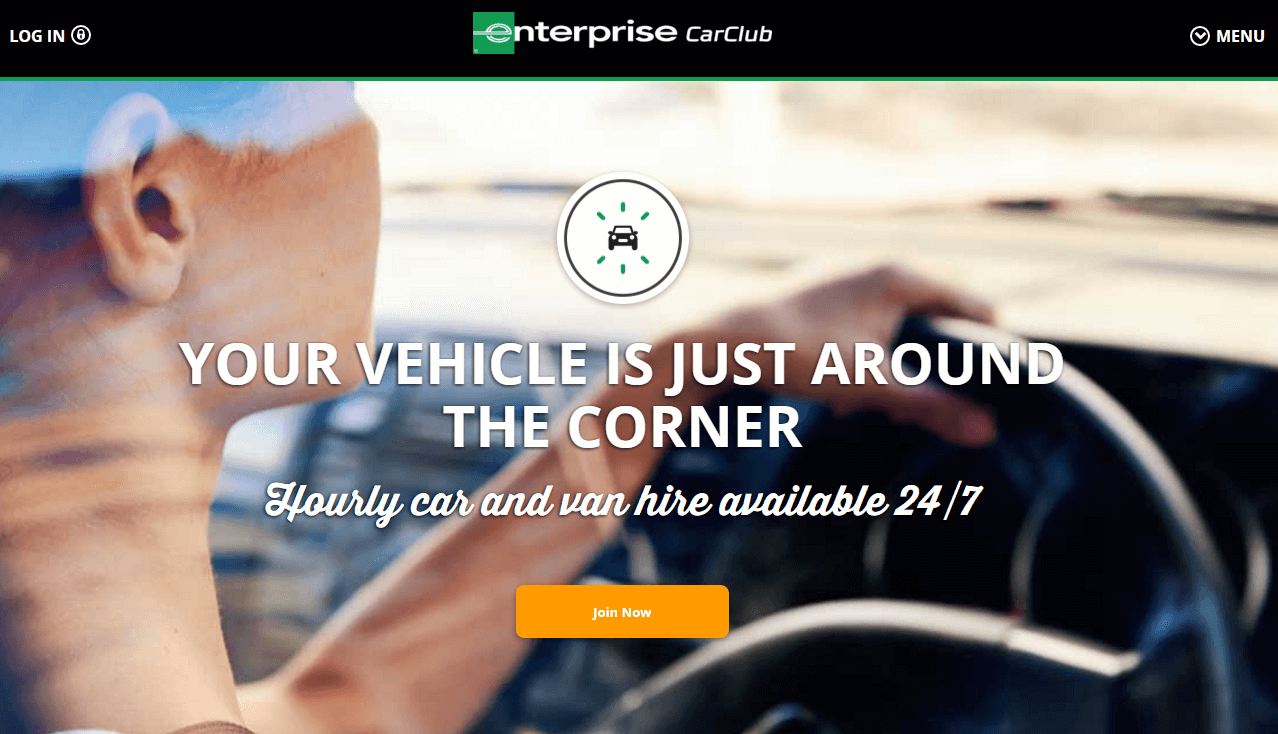 Enterprise Car Club has cars that are available 24 hours a day, 7 days a week, located in designated parking bays. Cars can be reserved online or by phone in advance or at the last minute. City Car Club takes care of insurance, tax, servicing, parking permits and cleaning so all you need to worry about is the driving. Enterprise Car Club is Britain's largest car club with cars and vans in 16 cities throughout the UK, including Southern England, Northern England, Midlands, Scotland and Wales. Vehicles are available for hire for as little as 30 minutes or long as they like with prices starting at just £4.95 an hour. Since launching in 2005, Enterprise Car Club's mission has been to convert the way the UK thinks about travel. Consumer mind-sets are changing to think more economically and environmentally and a car club is the perfect way of doing something nice for the planet.
Ranges that City Car Club covers across the UK are as follows


Cities in Southern England: London, Bath, Brighton, Southampton and Bristol


Cities in Northern England : Leeds, York, Manchester, Liverpool, Chester, Huddersfield, and Sheffield


Cities in the Midlands: Birmingham


Cities in Scotland: Edinburgh and Glasgow


Cities in Wales: Cardiff.


Join The Club
Sometimes you need a car for just a few hours or a day to make those journeys that are inconvenient on public transport or maybe you need a van to just move some furniture to your new home or bring that big purchase home. The traditional way of hiring cars or vans doesn't make this as simple as it should be.
The Enterprise Car Club puts all those inconveniences in the past and allows you to rent fuel-efficient cars and vans by the hour and by the day. With over 1,400 vehicles available nationwide to be reserved in advance or on the go, this is the flexibility in car hire that you've been waiting for. Reservations can also be extended via the vehicle itself or with the Car Club app.
The Car Club is a great way for you to save on those car journies. By using Enterprise Car Club you'll only pay for the distance and time that you actually need a vehicle for without the expense and the added costs of owning your own. With hourly and daily rentals available giving you all the flexibility you need, plus most memberships will be capped at a day rate saving you even more. Reservations are also deposit-free and with free cancellations for up to 5 hours before you're booking you'll only pay when you actually use a vehicle.
Enterprise Car Club vehicles also produce up to 72% lower emissions than average vehicles, so you can do your bit for the environment too. So take a look at the latest and greatest Enterprise Car Club discount codes and deals, save on your car hire and join the club!