View Terms & Conditions

View Terms & Conditions

Free cancellation up to an hour before your booking - no questions asked 2. Make amendments to your booking up to an hour before you are due to park 3. Cash refund - no vouchers or credit notes 4. Easily amend or cancel your booking online
Offers for East Midlands Airport Car Park were last updated Thursday 28 April 2022 14:11
East Midlands Airport Car Park Codes That You've Missed
How can I use an East Midlands Parking promotional code?
With these simple instructions, you can use an East Midlands Parking promo code to save money on their fantastic products.


Click to show your favourite discount code on the MyVoucherCodes East Midlands Airport Parking page. A new window will pop up that reveals the code, which you can copy and use for great savings later.


MyVoucherCodes will send you to the East Midlands Airport Parking website where you can browse their extensive collection. It's easy, just open the previous window.


Enter the date and time that you want to book your parking for. This is both for your entry and exit.


Check the availability of your selected dates and times and choose the car park that's most suitable for you.


Choose any travel extras like fast track or cancellation protection.
Double-check that your East Midlands Airport Parking discount code is valid for your products so you can get great savings.


Enter your East Midlands Airport Parking voucher code into the 'Promo Code' box just above the payment details and click apply.


Once your order total has changed, you can check out and enjoy your discounted East Midlands Airport Parking products.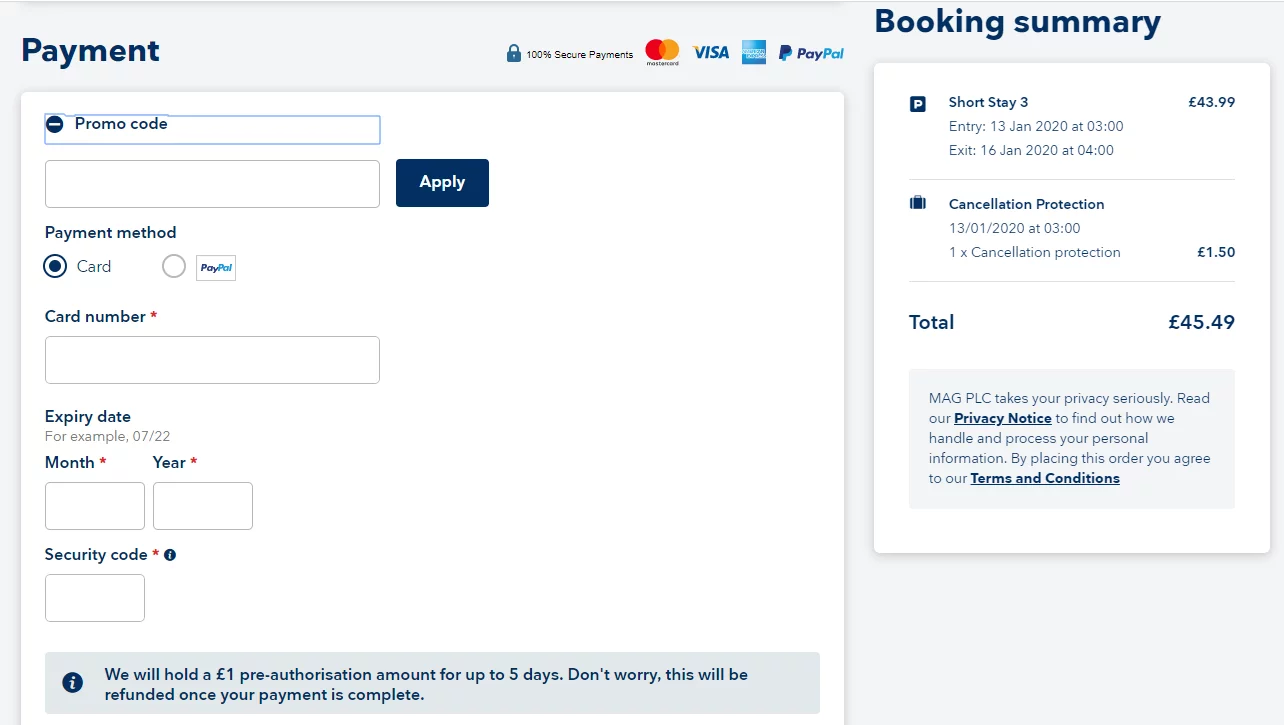 How can I find the best East Midlands Airport Parking deals?
Here are a few hints and tips from our experts, so you can enjoy even more savings at East Midlands Airport Parking.
If you're a regular traveller, it may help to sign up to their newsletter. They'll send you exclusive offers, competitive discounts and exciting competitions so you can keep up to date with all the latest savings at East Midlands Airport Parking.
You can also follow East Midlands Airport Parking on their social media platforms. They'll share exclusive deals on their Facebook, and give you a bit of travel inspiration on their Instagram.
You can also purchase a host of travel extras with East Midlands Airport Parking.
If you want to get the best deals on their range of airport parking options, make sure you use an East Midlands Parking promotional code.
That way, you can get great savings and travel in style.
What great seasonal offers are available at East Midlands Airport Parking?
Whatever season you decide to travel, if you're leaving from East Midlands Airport, you should check online to see if they have any new offers. If you're trying to bag a January bargain on your next big summer holiday make sure that you book your parking well in advance. You could save time and money when you buy from East Midlands Airport Parking.
The Types of Parking on Offer at East Midlands Airport
The last thing you want when you're heading on holiday is stress, and sometimes sorting out all the extras can be a little daunting. Airport parking can be costly, but we've put together a list of the different kinds of parking offered so you can pick the one that's right for you.
Short Stay
For those looking for some no fuss parking,
short stay is the one
for you. You'll drive up to the barrier, park your car, keep the keys and head on your holiday. It's quick, convenient and great for those with lots of luggage, kids or just don't want to rush to catch a transfer.
Mid Stay Parking
For a cheaper alternative to short stay parking, it's worth checking out
the mid stay offers
You'll be slightly further away from the terminal, but with frequent buses, it's no problem.You'll hang onto your keys while your car stays in a safe and secure car park. So, you can jet off and enjoy your holiday without worrying about a thing.
Hotel & Parking
Whether you've got an early flight to catch, or just a long drive to the airport, the prospect of jumping straight on a plane can be a little daunting. A good way to beat the stress is by checking out the hotel & parking offers.With a ton of hotels to choose from, you can start your holiday with a relaxing stay in some awesome accommodation. With the option of adding breakfast or a three-course meal, you can experience some luxury before you've even jet off on holiday. You'll be fresh as a daisy for your flight.
Meet & Greet
For those who want hassle-free parking on the terminal doorstep,
the meet and greet option
is exactly what you're looking for. You'll pull up, hand over your keys to one of the friendly staff members, and they'll do the rest.You won't need to worry about catching a transfer bus, you'll be exactly where you need to be, and your car will be parked safely and securely. Once you've landed, you'll get your keys back and you'll be parked right on the doorstep.
Long Stay
For an affordable option on parking,
long stay parking is a great option
. With conveniently located parking, next to a frequent bus, you can catch your plane without it costing a bomb.Park up wherever you like, hang on to your keys and jet off knowing that your car is safe and secure. Sit back, relax and save this holiday season.
Jetparks
The most
affordable option is Jetparks
, with safe, secure parking and buses around the clock, you can relax and catch your flight without a worry. It's worth checking out what's on offer so you don't break the bank on the holiday extras.For the biggest savings, it's worth checking out MyVoucherCodes. With all the latest deals and offers in one convenient place, you could save yourself a bundle on your booking. Holiday extras don't have to cost a ton.