Offers for Evans Cycles were last updated Thursday 14 October 2021 12:30
Evans Cycles Codes That You've Missed
Most Popular Evans Cycles Code & Discount
| Offer Description | Expires | Discount Type |
| --- | --- | --- |
| Enjoy up to 70% off in the Centenary Sale | | Sale |
| Free Fitting when you Click & Collect | | Deal |
| Up to 42% off Quality Bikes, Clothing and Equipment with the Ride to Work Scheme | | Deal |
| Special Offers with Newsletter Sign-ups | | Deal |
| Up to 20% on Road Bikes in the Sale | | Sale |
FAQs
How can I get an Evans Cycles discount code?
The easiest way to get Evans Cycles codes is to check in with MyVoucherCodes before you place your order. Our team collects all the offers available to save you time and money when you shop for a new bike.
Can I get an Evans Cycle student discount?
Unfortunately, there isn't a student discount currently on offer. This may change in the future, and if it does, you'll find all the details on the MyVoucherCodes page.
Can I get free delivery?
The only free delivery option available applies to click and collect. Other delivery options are charged from £6.99 to £34.99. They cover everything from standard to Sunday delivery and full details can be found on the
Delivery Options
page.
What is the Evans Cycles price match promise?
If you find the same product cheaper at a number of competitors, Evans Cycles will match the price. If the price of your product drops within seven days of purchase, they will refund the difference. For full details and competitor list, see the
Price Match
page.
Hints and Tips
Whether it's for exercise or essential travel, you can't do much better than Evan's cycles and their fantastic range of bikes. Unless you check out our top hints and tips for grabbing a great deal:


Sign up and save with £5 off your first order, when you spend over £30. All you must do is pop your e-mail in and you'll also get the Evans Cycles newsletter.
Keep your new bike in great shape with an Evans Cycles service. You can pop in for a free check-up with every new bike.
Get peace of mind and a tidy discount with Evans Cycles price match. If you find it anywhere else for a lower price, they'll match it.
Browse the sale section for some absolute steals. With up to half price off bikes, components and accessories, it's always worth checking out an Evans Cycles sale.
Back to Office Commute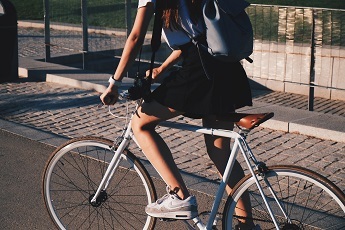 If you're one of the thousands that fell in love with cycling during the steady stream of lockdowns, the prospect of returning to office might worry you. With busy lives to lead, finding time to hit the pedals can be something of a challenge. Luckily, there's always folding bikes to turn your daily commute into a training session.These flexible bikes are perfect for fitting some riding time into your city lifestyle. They are designed to quickly fold down into a manageable package that can fit into storage compartments on public transport. That makes it easy to jump on the train and ride between stations. Their compact nature also means that folding bikes are a fantastic option when space is at a premium. Whether you live in a flat or regularly tour with a caravan, these ingenious cycles will save space when you need it most and keep you on the pedals.You can even pick up folding models that utilise electricity to give you an extra push on the way home from work. These high tech ebikes are getting more and more popular, and they can really help you tackle your route home after a long week
Go Electric

Electric is the biggest thing to happen to bicycles since Dr William Saddle thought it might be good if you could sit down as you pedal. Whether you're looking to speed up the work commute or not so young legs could do with a hand tackling the hills these days, the Evans Cycles electric bikes selection has the fully charged ride you're looking for. If you love flying down a mountain trail at top speed, but the climb to get there is a chore, the range of electric mountain bike will keep things fun. These things are built to tackle the toughest trails and get you back to the top for another run. You have the choice to go hardtail or full suspension depending on your riding style and get more fun from your days riding.Electric road bikes took a little while to arrive as teams of scientists figured out how to cut back the extra weight and keep them aerodynamic. But they're here now and they promise to change the way you ride. These innovative cycles are perfect for riders that want to go further every time they hit the saddle. The extra power boost means you can push your legs harder without having to worry about getting home. When you live in the city, driving to work is often more hassle than it's worth. Folding bikes are the best to skip the traffic and get some exercise. Electric folding bikes offer all that and stop you from arriving at the office with sweat pouring of you.
High Tech Rides

If you haven't dragged your bike into the 21st century yet, it's time to take a look at the shiny new gear that will transform your riding session. The collection of Evans Cycles accessories covers all the riding essentials and a few of the luxuries that help you squeeze even more out of your favourite route.To get the full picture as you work the pedals, a GPS computer or watch is a must. They'll keep you up to date on all the key information you need to manage your workout. Speed and distance are just the beginning with these fancy bits of kit.Hydration packs are an essential when you're heading out on a long ride. They'll help keep you hydrated without having to jump of the bike every five minutes to get a drink. There's a massive selection of packs to choose from than they are guaranteed to improve your riding experience. Power meters have become the go to piece of equipment to enhance cyclist training regimes. They'll measure the power of every stroke and give you reliable data. They'll give you a better understanding of where power is applied and what you can do to improve your form.