FAQs
Does ghd Offer Free Delivery?
Yes, they offer free standard UK delivery on all orders placed before or after 8 pm, Monday to Friday. For orders placed at any time on the weekends (Saturdays & Sundays), delivery is also free!

Does ghd Offer Student Discount?
Yes, students can get 10% off went they register online, verifying their student status with UNiDAYS today!

Can I Get ghd Next Day Delivery?
Good news - yes! ghd offers free next day delivery and CollectPlus on all orders placed by 8 pm.

Can I Get a ghd Discount Codes?
Yes, you can! Check out the MyVoucherCodes website today to find the most exclusive and best ghd discount codes to help you save money & time on your shop.

What Is The Warranty On My ghd Product?
There is a 3-year warranty on ghd platinum+straighteners and a 2-year warranty on straighteners (including ghd platinum), glide host brush, curling tongs, helios hairdryer (excluding professional use) and flight travel hair dryers. They have a 1-year warranty on ghd air hair dryers and professional use ghd helios, plus a 6-month warranty on ghd hair brushes. Warranty on ghd products starts from the date of purchase so be sure to keep a copy of the original proof of purchase.

Can I Track My Parcel?
Yes, you will have received a tracking number on your shipping confirmation email. With this, you can track your item (s) by clicking on the link provided on the delivery carrier website tracking service. The details of your carrier will be prodivded in the shipping confirmation email.

How Do I Return a ghd Product?
It's really easy to do. Simply go to the ghd website today, and fill in their online returns form.

Can I Get a ghd eGift Card?
Yes, you can! Simply head to the ghd website today to discover ghd eGift Cards ranging from amounts between £10-£250.

Which Carries Does ghd You Use?
ghd use Hermes, Parcel Force and Yodel for the majority of their UK delivery addresses.

Can I Make a ghd Return?
Yes, you can! Why not head to the ghd website to find out more information about their Returns Policy.

ghd Hints & Tips
From the hottest ghd straighteners to the latest ghd hair dryer and more, check out these hints & tips to help you get the most from your shop:

Students can get a fantastic 10% student discount which is offered on the ghd website.


Shop this season's hottest ghd max styler; perfect for creating professional, sleek looking hair from the comfort of your own home.


Why not sign up for the ghd newsletter today and enjoy 15% off your first online order!


Sign up for the ghd next day delivery service to get your ghd products asap.


Check out the New In ghd range online From the hottest ghd straighteners to amazing hair styling products, shop it all today.


Save on the extra costs with ghd free delivery, and the best part is there's no minimum spend, so you won't have to fork out for standard delivery.


Check out the ghd sale range online today to discover a great range of price reductions across some of the hottest ghd products. With special offers across their unique range of ghd hairdryers, ghd straighteners and more, you can now buy some of your ghd favourites for a fabulous, discounted price!



Using Your ghd Discount Code
Select the ghd discount code that you'd like to use and click 'Get This Offer'.
A new window will pop up, giving you the option to copy the code or if there isn't one, it'll say 'No Code Required'.
If no code is necessary, click 'Go to the ghd site', where you will be taken to the offer page.
If you've copied a code, simply paste it into the 'Your basket' section, when you're ready to pay.
To apply your ghd discount code, simply enter it into the field underneath your items, in 'Promotion Code' and then click 'Apply' to see the discount and total price!
Check out as normal, and now you can sit back, relax and wait for your discounted order to arrive!
Shop ghd Straighteners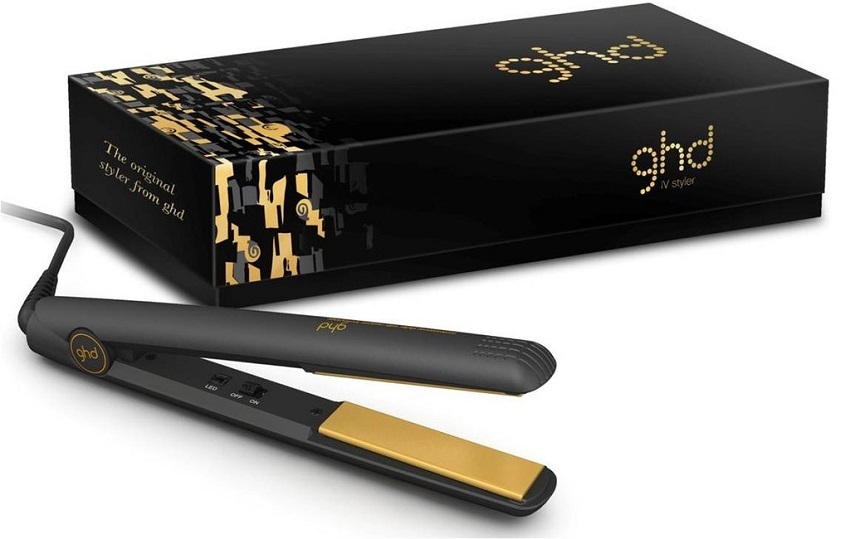 If you're looking for top quality and professional styling hair straighteners, shop the ghd straighteners range online today. With many hair straightener products to choose from, you won't be stuck for choice when it comes to picking the perfect pair to suit your hair types and needs. From limited edition ghd straighteners to their range of best selling straighteners, all ghd straighteners produce salon-looking hair in the comfort of your own home.
Ghd has several hair straightener editions and styles to shop from. Discover the likes of the ghd platinum +, ghd gold, ghd original IV, ghd max and the ghd mini for a great selection of premium hair straightening tools. What's more, you can shop their extra special range of limited edition hair straighteners such as the ghd platinum + in iridescent white and ghd gold in iridescent white.
Not sure which ghd straighteners to pick? You can shop for the best selling range online to give you some inspiration. From the classic ghd platinum+ hair straighteners in white to their ghd deluxe gift sets, why not pick up an item or two at ghd if you can't decide on just the one. What's more, when you use a ghd discount code, you'll be able to save money and time on your shop.
Discover the ghd Helios Hair Dryer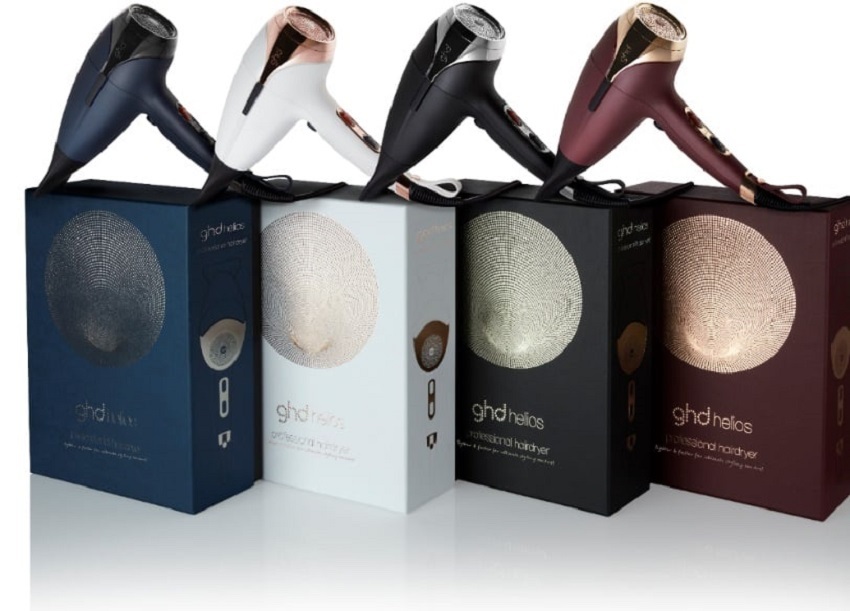 We all know that looking after and maintaining your hair can be hard work - especially when it comes to drying your hair thoroughly and properly. But with ghd's amazing Helios Hair Dryer, you can now say goodbye to the old bad hair days. Ghd's Helios Hair Dryers are one of the hottest hair products on the market at the moment - making them a super popular brand for hair & beauty lovers. From powder pink to neo-mint and plum, you can shop this beautiful hair dyer collection in an array of stylish and chic colours.
And that's not it - when it comes to the impressive features & settings on the Helios Hair Dryer, there's more than you can imagine. With variable temperature & power controls including cool shot, you can trust that this product will dry and style your hair exactly the way you want. The hairdryer also features low sound levels so that you can style & blow dry your hair in comfort, without all the noise. It too features a longer life, brushless motor that delivers a super-impressive 120kmh airflow for a quick, precise and stylish blow-dry.
The ghd Helios Hair Dryer also comes with a professionally designed contoured nozzle for precise hairstyling and blow-drying, making it that extra bit easier & convenient to create the perfect hair look. This hair dryer is perfect for those wanting hair that is sleek, smooth and super styled. You really can achieve a salon-smooth blow dry with the ghd Helios from the comfort of your own home and without the huge price tag.
ghd Ultimate Styling Gift Set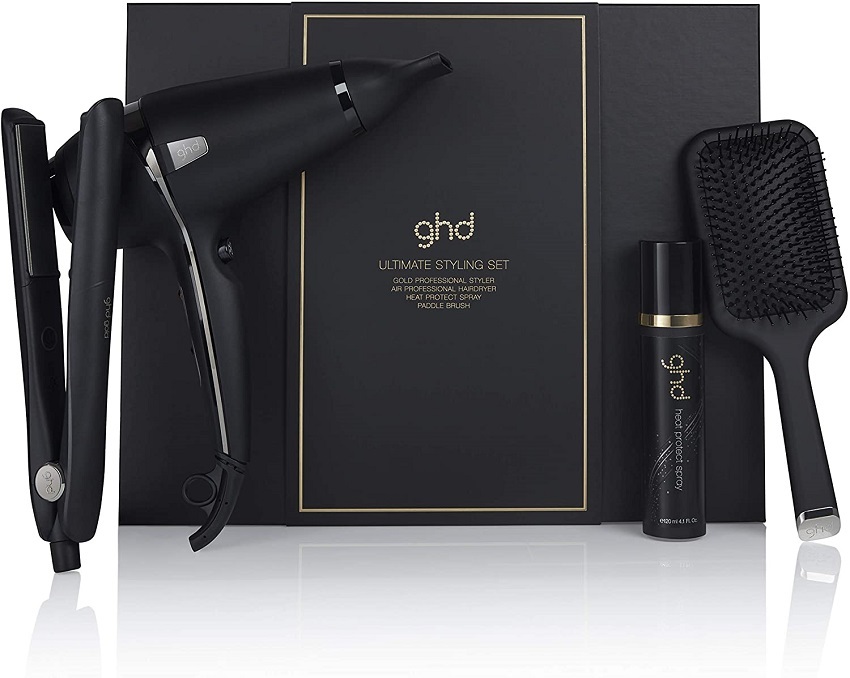 Looking for the perfect hair gift set you can give to a friend or someone special? Why not check out the must-have ghd Ultimate Styling Gift Set this season.
The hair gift set includes the award-winning ghd air professional hairdryer that features a salon-strength motor speed for smooth, fast-drying hair. The gift set also contains the ghd heat protect spray that works as a healthy barrier against heat damage on dry or damp hair. Use the reliable ghd paddle brush to help detangle, style and manage your hair with ease and comfort. The ghd gold professional styler will help you to create beautiful, sleek and straight locks that'll last all day long.
The ghd ultimate styling gift set is the perfect gift to give to hair lovers who love to recreate the luxurious salon experience at home. It contains all the essential hair tools and products that you'd ever need for any hairstyle or look that you're trying to create.
ghd Ceramic Vented Radial Brush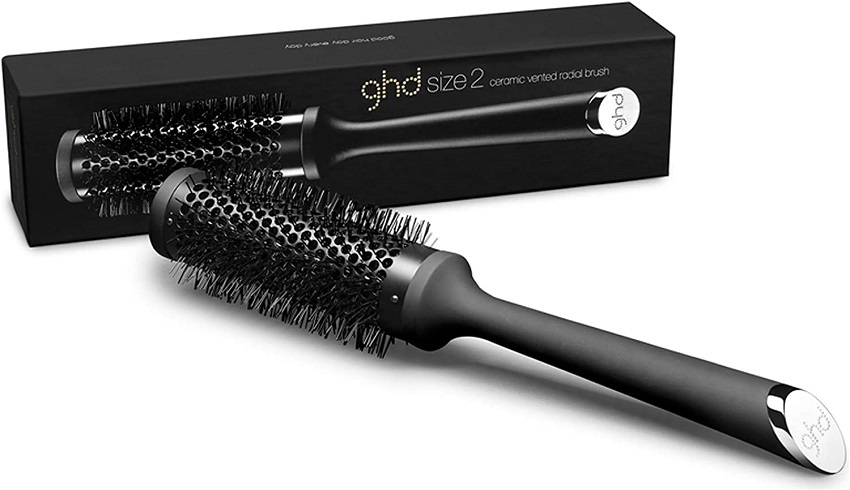 If you want to keep your hair looking healthy and happy, we all know how important it is that you invest in a good-quality hairbrush. That's where we welcome you to the hottest hairbrush on the market at the moment - the ghd ceramic vented radial brush.
Available and created in four different sizes to cater to any hair type and hair texture, their gorgeous range of ceramic brushes help you to create the perfect waves and hair volume for a stylish look. Their ceramic hair brushes give any hair type a boost & lift without the need for additional heat and styling - this means you can style your hair easily without the worry of hair damage or breakage.
These ceramic hair brushes also come in different barrel sizes, depending on the desired hairstyle and results that you're looking for. The smaller-barrel ghd ceramic brushes - the ghd Ceramic Vented Radial Brush size 1 and the ghd Ceramic Vented Brush in size 2 is the perfect hair styling tool for shorter hairstyles that need extra volume. Looking to create beautiful and bouncy curls in your hair? Then use the ghd Ceramic Vented Radial Brush in size 3 to create a full and long-lasting curly hairstyle all day long. For maximum hair volume, the Ceramic Vented Radial Brush in size 4 will create dramatic bouncy curls full of shape, style and sleekness. The full-sized ceramic barrel of these types of hairbrushes retains heat for a faster and professional blow-dry, whilst creating salon-styled looking hair that lasts.