View Terms & Conditions

View Terms & Conditions

1. Excludes sale items, bundles, fresh meats and Under Armour. 2. Discount applies to the RRP price, cannot be used in conjunction with any other discount code, exclusions apply including; samples, Pro range, new clothing, gift vouchers and other items listed here.
View Terms & Conditions

View Terms & Conditions

1. Excludes sale items, bundles, fresh meats and Under Armour.2. Discount applies to the RRP price, cannot be used in conjunction with any other discount code, exclusions apply including; samples, Pro range, new clothing, gift vouchers and other items lis
Offers for Myprotein were last updated Tuesday 20 April 2021 15:13
Myprotein Codes That You've Missed
Most Popular Myprotein Code & Discount
| Offer Description | Expires | Discount Type |
| --- | --- | --- |
| Up to 35% off Mystery Discount | | Voucher Code |
| 45% off Full Priced Items | | Sale |
| 45% off Orders | | Voucher Code |
| Exclusive Extra 28% off Sale | | Voucher Code |
| Free Delivery on Orders Over £40 | | Deal |
Myprotein
From fitness enthusiasts to those looking for a little healthy living, It's worth checking out MyProtein, and with these tips and tricks, your bank balance will be looking a little stronger too:


With free delivery on orders over £40, you can pack in the protein without splashing out on shipping.
For those with like-minded friends you can help them along with 3 months free delivery when you use the MyProtein refer a friend scheme. On top of that, you'll get yourself a tenner for every friend you refer.
You can get a MyProtein student discount with both UNiDAYS and Student Beans, so whatever account you have, as a student, you can make sure you're getting your money's worth.
With the MyProtein MyHealth Hub, you can get support with your goals, and get recommendations on what you need to help with those goals, making sure you only spend money on the essentials.


Myprotein

How can I get A MyProtein Discount Code?
The easiest way to grab MyProtein codes is to check in with MyVoucherCodes before you place your order. The team works to keep the page updated with all the latest deals. You may even find an exclusive code for savings you won't find anywhere else.
Can I Get A MyProtein UK Free Delivery Code?
You don't need a code to bag free delivery at MyProtein. There are plenty of delivery options once you meet payment thresholds. However, there are offers available that unlock free delivery on specific categories. You'll find all of these on MyVoucherCodes, alongside all the regular deals.
Can I Get A My Protein Student Discount?
Yes, if you're registered with Student Beans or UNiDAYS, you can grab a discount on all your orders. Registration for these sites is simple, but you will need to verify your student status. Once complete you'll save on all your workout supplements and gym wear.
How Do I Get A MyProtein Referral Code?
If you introduce a friend to My Protein, you can bag £10 store credit for your next order. They'll also receive three months of free next day delivery too. All they have to do is mention you when they place their first order and you both win.
Myprotein

Using protein is an excellent way to enhance your performance in the gym. Proteins are the body's building block, providing the materials needed to build and repair tissue. When you're pumping weights your muscle tissue will need much more protein than usual. Of course, protein can be sourced from meat, fish or dairy, as part of a normal diet. However, taking protein supplements, such as Myprotein Whey Isolate or Impact Whey Protein at specific times, such as before and after your workout, helps to provide protein at the most opportune times to help your build muscle.
A common misconception is that protein supplements are just for athletes, gym bunnies and sports teams, far from it; everybody needs protein for normal body function. So, protein supplements can be incredibly useful for vegetarians and vegans, as a dietary supplement. To cater to this growing market, there are several non-dairy and meat-free proteins available such as Pea Protein Isolate, Brown Rice Protein and Soy Protein Isolate.
Meal replacement shakes have long been the go-to product for those embarking on diets. Forget expensive diet shakes protein, such as Impact Myprotein's Diet Whey or True Diet, can be a cheaper, less gimmicky alternative. One of the key properties of a protein is its ability to reduce hunger and can increase fat-free mass when combining with an exercise regime.
Another reason why people use protein supplements is to help fight stress.
A study revealed
that people who used whey protein experienced fewer symptoms of stress and depression, compared to test subject who was not taking protein. This is down to an amino acid (a long-chain fatty acid, a type of protein) known as tryptophan, an ingredient used by the body to make serotonin.
Myprotein was founded by entrepreneur Oliver Cookson in 2005 and has rapidly transformed into a highly successful, revered and multi-award-winning enterprise. Myprotein takes pride in the dedicated following of customers, rewarding them for their loyalty. Each time you buy something you'll earn points which can be used to get money off future orders. If you need a little support or advice about getting the most out of these products and your workout, the customer services team will be happy to inform and advise you 24/7. If that's not enough, check out the well written, informative articles in The Zone to get all you need.
Myprotein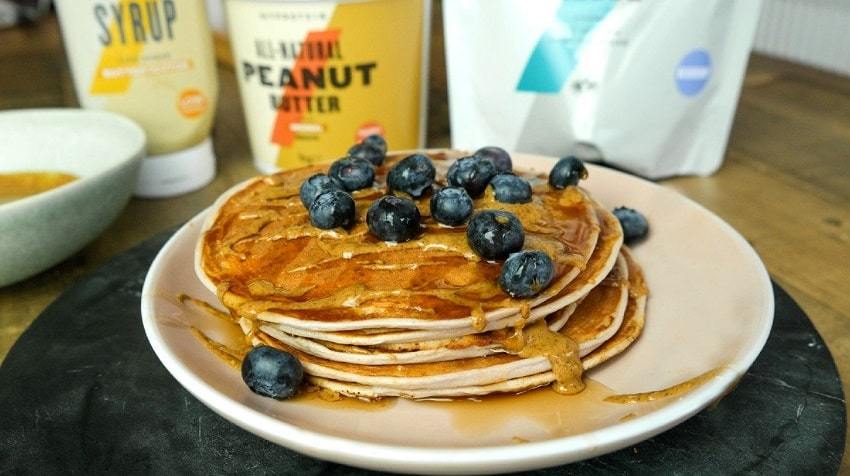 Myprotein Protein Pancakes
Upgrade your protein intake by making the most of the delicious choice of flavours on offer, including the tasty protein pancakes with the easy-to-make Myprotein pancake mix. There is no better way to combine your love for fitness with your love of sweet treats, all without the guilt. With protein pancake mix also available in a vegan alternative, Myprotein ensures no one misses out. For the ultimate feast, pick up the Myprotein pancake bundle to top your protein pancakes with all your favourite toppings.
Myprotein Flavour Drops
The Myprotein FlavDrops are the perfect way to flavour your food without the extra calories. With over 15 flavours to choose from, including bestsellers Toffee, White Chocolate, and Vanilla, add an extra dose of deliciousness to your meals or drinks.
Myprotein Peanut Butter
For those who are a fan of peanut butter, you will love the range of nut butter available at Myprotein. Boasting 100% natural ingredients and no added sugar, salt, or palm oil, you don't have to feel guilty about dipping into your favourite tub of Myprotein peanut butter.
Myprotein Healthy Snacks
If you're focussing on your diet and fitness, cutting out your favourite treats and snacks is often the most challenging part. Thanks to the range of healthy foods and snacks available at Myprotein, there's no more missing out. With tasty protein bars, brownies, protein cookies and more to choose from, you never need to skip an indulgent goodie.
Myprotein Recipes
If you're stuck on how to make the most of your Myprotein goods, Myprotein provides a collection of online recipes for quick and tasty meals to try. Whether you need inspiration for some meal prep or a sweet treat to satisfy your cravings, try a Myprotein recipe today.
Myprotein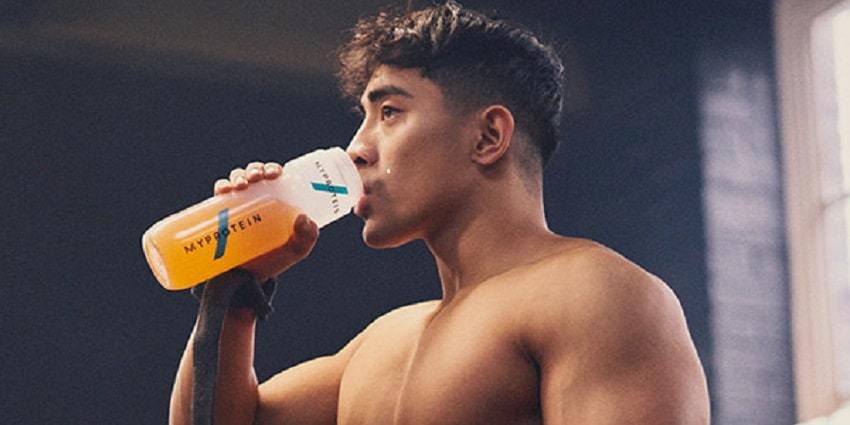 With lockdowns and restrictions interrupting gym sessions and workouts, many of us may need a little extra push towards our fitness goals. Whatever your aim, Myprotein has an abundance of protein options to facilitate your dietary needs and to support your body along the way. While Whey protein shakes are hugely beneficial for your diet and body, you can also reap the benefits of the range of flavours on offer to turn the whey protein experience into a treat for your taste buds, kickstarting your body into gear. Explore the collection available to discover the best Myprotein flavour that will keep you coming back.
The highly convenient shakes are ready and waiting for both pre-workout and post-workout boosts, whether you're at the gym or fuelling between meals while on the go. Choose from impact, clear, concentrate, isolate, and hydrolysate whey protein powders depending on your desired outcome.It's easy to fuel your training while maintaining a plant-based diet with the exceptional range of vegan protein shakes and powders at Myprotein. Although it's more challenging to obtain enough protein into a plant-based diet without the help of supplements and extras, vegan protein shakes offer a super-easy way to boost protein, supporting the vital needs of your body throughout workouts and training. My vegan Vegan Protein Blend is a reformulated plant-powered nutrition combining both complementary pea and bean-based protein sources to get you closer to achieving a complete amino acid profile without the need to rely on animal products. Indulge in the range of vegan protein flavours on offer to make your protein consumption less of a chore and more of a treat.
Myprotein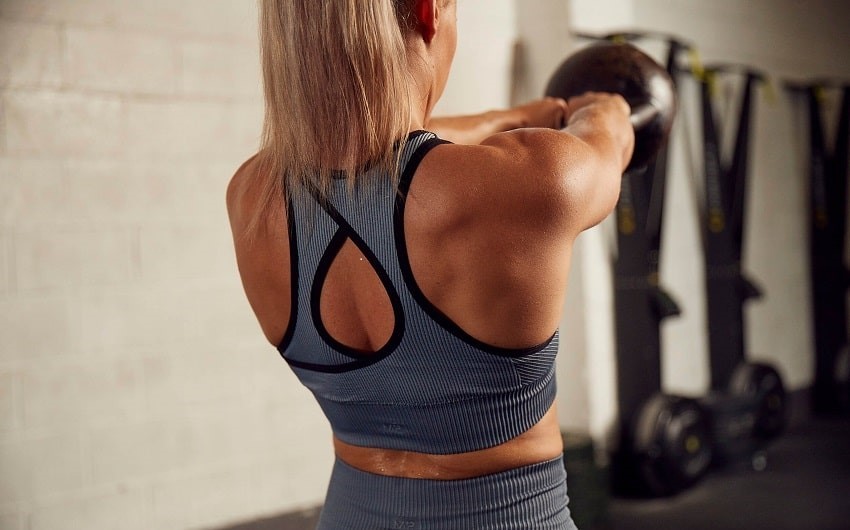 As lockdown restrictions have interrupted our use of gyms, many of us have taken to home workouts and the great outdoors to get our exercise covered. While a change of scenery is often a welcomed change, testing your body to the same degree with limited facilities on hand can be challenging.Myprotein has a range of training equipment, accessories, and clothing to ensure you're getting the best results from your home workouts. Whether you're familiar with exercising and already aware of what your body enjoys and needs, or you're new to the world of fitness, and you're using this time at home to work on your fitness, there's equipment to support beginners and advanced individuals throughout your fitness journey.Resistance bands are a great way to boost and challenge your home workouts with limited equipment and space. Whether you plan to do light work to get you moving more often or take your strength training to the next level from home, resistance bands are suitable for all activities. With resistance bands, your choices of strength training are endless. Target specific areas and muscles in the body to start seeing the results you desire, use the bands to work on your legs, glutes, arms, shoulders, back and more. Wearing suitable clothing to support your movements as you work out is vital for comfort, activity, flexibility, and compression. For women, leggings are often a component of gym clothes that make a world of difference. With such a wide range of colours, prints and fits available, shop leggings from the Myprotein clothing range today to ensure you feel confident and comfortable throughout your workouts.