River Island Hints & Tips
Be on the cutting-edge of style with River Islands range of fabulous fashion, and with these helpful hints and tips, you can save big on your wardrobe update:
The River Island Sale

This should be the first stop for anyone looking to save on fabulous fashion. You'll regularly find sales with up to 60% off a massive range of must have fashion.



River Island New In

If you like to keep up with the latest looks, you need to check out the new in section. This is where you'll find the most wanted trends that are lighting up the fashion world right now.



River Island Free Delivery

No one likes delivery fees and you can cut them out every time you spend over £15 on your River Island order.



River Island Newsletter

The newsletter is always worth signing up to. You'll get all the latest River Island offers sent straight to your inbox and stay on top of all the latest news.



River Island Student Discount

If you're in full time education you can refresh your uni wardrobe for less with a superb student discount. That's 10% off every order to help you save more of your money for the university essentials, we mean books, obviously.



River Island Kids

Save on the never ending wardrobe changes with the superb value in the kids collection. There's loads of multi-buy offers for girls and boys clothes that make it easier than ever to keep everyone dressed smart. They can't help keep them that way though.



River Island Skirts

Now winter is behind us and we starting to see more of the sun, it's time to switch out the style and breathe some life into your wardrobe. In spring that means gorgeous skirts, tops and dresses.



River Island Social Media

Connect with the socials and you can be the first to know about cracking deals they might be running on Twitter @riverisland, Facebook, or even Pinterest.



River Island Inspiration

The inspiration section is packed with fashion advice and articles that will keep you in the style and in the now all year round. Perfect for when you wardrobe needs a little refresh.



River Island Refer a Friend

Introducing your pals to River Island clothes is one of the easiest ways to bag yourself a discount on your next order. It's 15% off next orders for you and your friend, and you can get it as many times as you've got friends.

River Island Klarna

Klarna is the fabulous payment service that lets you split your River Island order into 3 manageable payments over 3 months. It's a flexible way of spreading the cost of all your favourite fashion.
River Island FAQs
What is the River Island returns policy?
You'll have 28 days to return your products unworn and in their original state. You'' get a returns label to use with your order. You'll also need the original receipt. More information can be found on the the River Island returns page.
Can I get a River Island Discount Code?
There aren't regularly River Island voucher codes, however, they do appear. MyVoucherCodes offer exclusives from time to time and have all the latest on River Island sales, deals and offers.
Is there a River Island NHS discount?
Yes, you can use your Blue Light bonus card to get 15% off absolutely everything.
Is there a River Island near me?
With over 350 stores across the UK, there is probably a store close to by. You can use the
store locator
to find your local and get useful information like opening hours and contact information. Just pop in your postcode to get the full rundown of River Island stores.
Is there a River Island size guide?
Yes, River Island online shopping is made easy with size guides in-depth size guides for the whole family. Visit the
Size Guides page
to view them all.
What is the River Island Covid 19 returns policy ?
With River Island stores closed, you will be given an extended returns window. You can return your items within 14 days of the store reopening. Alternatively, you can still return River Island online purchases with their free post service within 28 days of delivery.
How to use your River Island Promo Code?
Follow these simple instructions to use you River Island code and unlock your discount:

Choose which discount you'd like to use and click "Get Discount"
A new tab will open automatically and take you to the relevant River Island page
Shop for all your favourite fashion and click the basket in the top right corner once you're done
Double check the codes terms and conditions and ensure your code is valid with your order
Sign in or create a new account to save all your shipping details
Paste your discount code in the box labelled 'Have a Discount Code?'
Once your River Island discount has applied, you're free to checkout and enjoy your savings.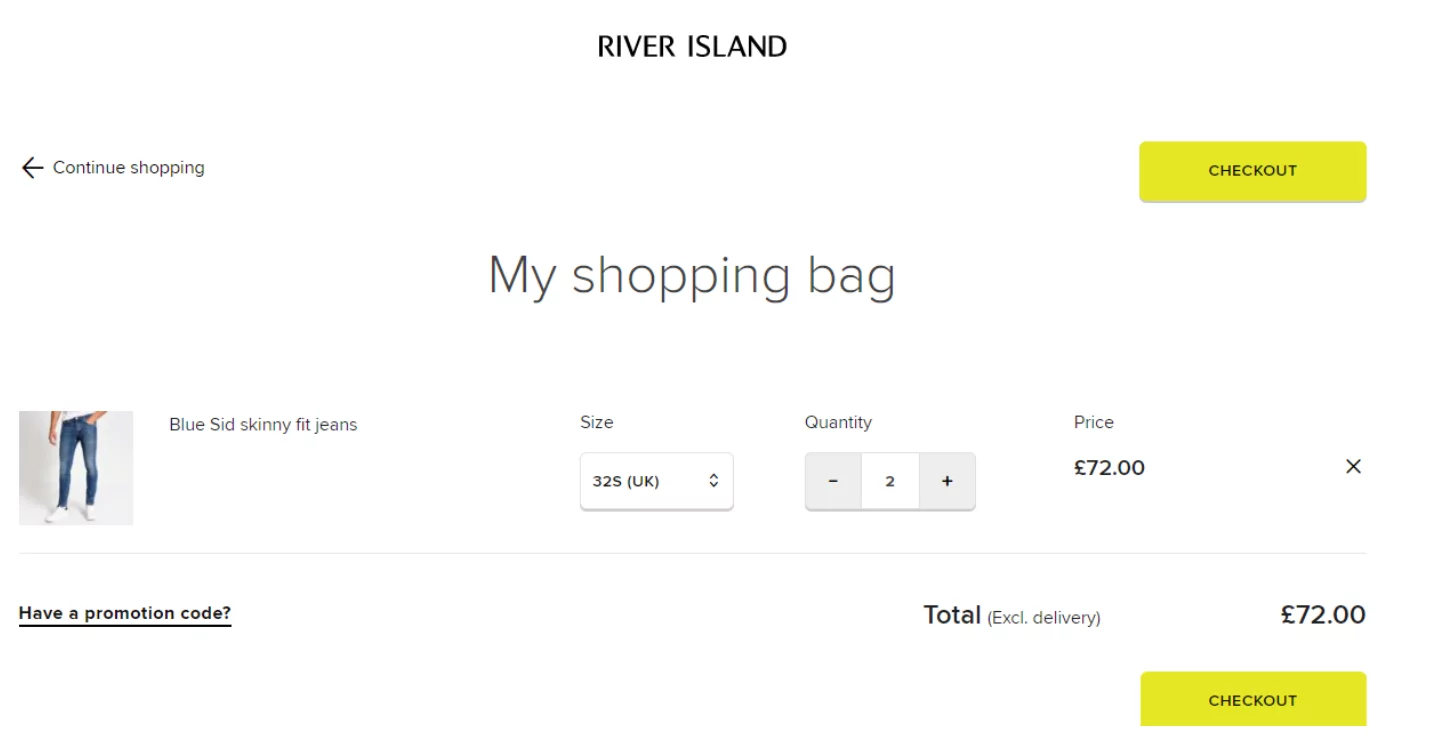 River Island Delivery Options
Once you've filled you basket with all the gorgeous dresses, tops, and trousers your wardrobe can handle, you can have it all delivered to you with any of the following services.
River Island Standard Delivery
Standard delivery will get your order to you within 5 working days. There is a fee of £4, but any order over £15 means it is free of charge. This can go to your billing address, or another address of your choosing.
Next Day Delivery
If you need that new dress in time for the weekend, you can choose the next day delivery service. This will get your order to you the very next day if ordered before 10pm on weekdays and 5pm on the weekend. You can also choose to nominate a day further in the future if it is more convenient. This delivery method costs £5.
River Island Time Slot Delivery
If your life gets busy and you need a specific delivery time, you can opt for Time slot delivery. This allows you to choose a delivery slot 7 days in advance to make your life easier. Time Slot delivery will cost £6.
River Island Click and Collect
If you are able to nip into a store, you can choose the Click and Collect option. This service is currently suspended due to the ongoing coronavirus restrictions.
River Island Local Collect
You can also choose to have your order shipped to a local shop near you. There are over 1000 locations including Asda and Collect+ stores and there will be an option near you. You can select this service for £4 to be ready to collect within five days, or £5 for next day collection if ordered by 6pm.Visit the
River Island delivery
for all your delivery information and FAQs.
River Island Contact
If you searched the FAQs and you still haven't got an answer for your query you can always get in touch to ask your question direct.
Head over to the contact us page and fill out the form to send an email straight over and the lovely folks in the River Island Customer Service team will bend over backwards to help you out.
Make sure you include as much information as you can and be sure to include your billing address, order date, return date, return tracking code, and a product description.
They'll get back to you as soon as possible, but be aware that the coronavirus pandemic has stretched services and this may take a little longer than usual.
Seasonal Shopping Guide
River Island clothes are shopper favourites because they capture the hottest trends in fashion without costing high end prices. When your wardrobe needs updating, you'll find gorgeous collections that match the season perfectly to keep your style consistently fresh.


When spring rolls around you'll find bright collections of River Island tops, skirts, and transitional layers that will embrace the re-emergence of the sun. You can expect loads of pastel colour and light outfits that will keep things versatile in unpredictable weather.

Summer shop is always a favourite because it's when you start
thinking about filling suitcases and you can almost feel the holiday sun on your skin as you try outfits on. Whether it's gorgeous River Island dresses for long, hot summer nights or the kind of swimwear that gives you a confidence boost on the beach, this is peak holiday summer shopping.

Sadly, summer can't last forever and as soon as September hits you can count on a temperature dip. That means it's time to pick up all the cosy layers you'll need to survive the next six months of cold rain. There are loads of River Island coats and jackets in warming colours that will keep things snug in the worst weather.

Winter shopping is all about gifts and pick me ups that make you feel good when skies are grey. That could be a stunning River Island bags to take your look up a notch or two at the Christmas party or fashion essentials that'll make your favourite people smile.

If you're looking for on trend style and incredible value, grab a River Island promo code and check out their massive collections of fashion.
The Spring Wardrobe is Sorted
We've had our first taste of sun for the year and it's official, Spring is here. And that means the new seasonal collections are ready to freshen up your wardrobe. The River Island new in section is bursting with spring style essentials that will become your go to looks.

River Island Dresses
The selection of dresses in the spring collection encompasses all the best points of traditional spring fashions. The lighter fabrics will feel incredible after a long winter under cosy jumpers and heavy-duty coats. Bold colours brighten up days after months of warming woody shades, and delicate florals are always popular as the flowers start to bloom again.
River Island Shorts
Everyone is eager to feel the sun on their skin again and soon shorts are going to be the standard casual wear. There are gorgeous options that get the tanning started as soon as possible. Whether you like them tight and short or loose and breezy, there is a beautiful pair waiting for you in the new spring collection.
River Island Jackets
When you're thinking about your spring wardrobe, it's important to remember that this is a transitional season. That means the weather is going to be unpredictable and light layers are going to be a fashion life saver. It's all about finding light jackets that can stand up to a shower when you get caught outside. Luckily, the River Island spring collection has loads of stylish jackets that are perfect for the erratic weather.
Time in the Studio
It's easy to pick up one gorgeous outfit for the big occasions, but the true test of every wardrobe worth its threads is the things you wear every day. Your fashion staples define your style and they're the clothes you throw on most.

The RI Studio edit has got fashion folk chattering about the effortless style it brings to everyday kind of looks. Everything in the gorgeous collection has a premium feel to the key pieces in your wardrobe that lifts these looks out of the ordinary.
The RI studio collection is grounded in the idea that simplicity is everything. You don't need to go overboard or extravagant to create something beautiful and focusing on exquisite detail is the most important thing. And that principle is working.
If you love the comfort levels only oversized looks can bring, this collection is perfect for you. There's a selection of tees and shirts that feel as good as they look, and they'll pair perfectly with your favourite pair of leggings or jeans for an easy throw on.
The RI Studio collection has your outerwear covered too thanks to a stunning range of coats, blazers, and cardigans that can stand up to the seasonal transition and unpredictable weather. There are longline silhouettes and tailored fits that cover the look spectrum.
This is the everyday collection you need, neigh deserve, to upgrade you style and make you trip to the shops looks a little bit special.
Welcome to the Bag Boutique
Every outfit needs a little something extra to take it to the next level and gorgeous bags are a super simple way to top your look off. You'll find loads of gorgeous finishing touches in the River Island Bag Boutique that will cover you for everyday basics to glam nights out when the world opens up again.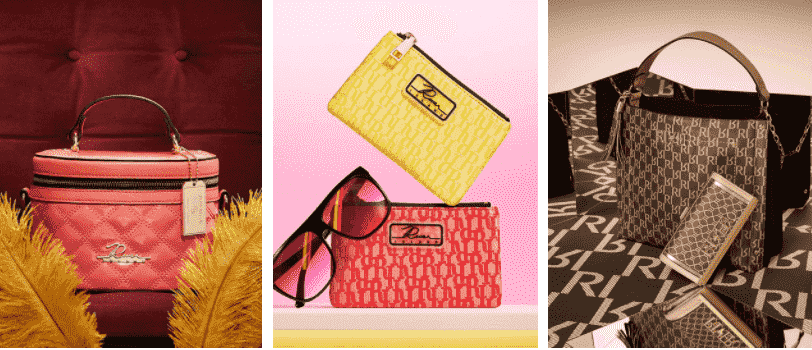 River Island Handbags
Every wardrobe needs a trusty handbag that can carry your life alongside you and lift your look to gorgeous new heights. These little accessorise are true style essentials and whether you fancy a little River Island black bag, or something big bold and colourful, the Bag Boutique is packed with impeccable choices.
River Island Purses
Cute clutches and cliptops are a must whatever the season because they're an easy way to compliment your outfit without spending a fortune. We're loving the River Island logo collection right now and the RI Monogrammed purse is exactly why. It's gorgeous.
River Island Tote Bag
Totes are totally in right not and these stylish bags are perfect for every day. These roomy little numbers can follow you everywhere and with the styles on offer, they'll never let you look down. Don't believe us? Check out the Pink RI Embossed Monogram tote bag and you'll see what we're saying.
Fabulous Fashion for Everyone
Everyone at River Island is in love with fashion and they want to share their passion with everyone. And that doesn't just mean models and fitness enthusiasts. They stock a massive range of styles that was designed for curves and made to be loved in the River Island Plus collection.


You can expect to find the same stunning style and quality that they are famous for and the sizes range from 16-28. When you need an everyday pair of jeans, you'll find the best fit on their hangers and with a fantastic selection of styles. The Plus Dark Blue Hailey High Rise Skinny Jeans are a perfect look for a casual coffee.

When the occasion calls for something a little more dressy, the Plus Black Print Ruffle Trim Slip dress will see you through summer in impeccable style. The wavy hem and loose fit is made for time in the sun. And there are loads more casual styles to choose from that will keep you looking your best as summer rolls on.

It doesn't matter what the event is, you can shop a giant range of River Island tops, trousers, shorts, and skirts to cram more fabulous fashion into your wardrobe. The Plus Green Frill Chevron Ribbed hoodie is a modern take on the chill day essential and Plus Black One Sleeve Lace Satin top is perfect for the bigger occasions.

Whatever you style or budget, the River Island Plus collection has all the fashion you need to up your style game and give yourself the kind of confidence boost that can come from a new look.