River Island Black Friday 2020

In times gone by Black Friday was a sale event was about finding the best deals on tech and electronics. But as the events popularity grew more and more stores started to get involved until it became the unmissable weekend we see each year. And it keeps on growing.
On the 27th of November the River Island Black Friday sale will kick off and the word on the high street is it's going to be bigger and better than ever before. There's no better time to pick up gorgeous dresses, winter coats, or a fresh pair of shoes to keep your feet dry through winter.
This is one of the biggest sales of the year and even though there will be hundreds of offers, but it's easy to miss out on the biggest deals. If you follow our advice, you won't have to worry about that sort of thing, and you'll get a whole new wardrobe for loads less.
Number one, and this one's tough, get up early. These deals are special and everybody and their nan is going to want to get in on them. Getting up early gives you the best chance of getting everything you want. Number two, make a list and check it twice.
Being prepared will help you get straight top the clothes you really want and keep you from getting distracted to all the other discounts. And number three, get on the River Island app. This is where you'll hear about the best savings and be kept bang update with all the Black Friday related madness.
Details of all the best Black Friday deals will be on their MyVoucherCodes page, and you might even catch a River Island discount code for even more money off.
River Island Hints & Tips
Be on the cutting-edge of style with River Islands range of fabulous fashion, and with these helpful hints and tips, you can save big on your wardrobe update:
The River Island sale pages should be the first stop for those looking to save on fashion, with up to 60% off, you can bag a bargain.
If you like to keep up with the latest looks, you need to check out the River Island new in section. This is where you'll find the most wanted trends that are lighting up the fashion world right now.
With River Island free delivery, you don't have to spend the extra money on shipping, saving you a few quid on your order.
The newsletter is worth signing up for, so you can get all the latest River Island deals and offers, sent straight to your inbox.
If you're in full time education you can refresh your uni wardrobe for less with a River Island student discount. That's 10% off all your orders to help you save money for the university essentials, we mean books, obviously.
Save on the never ending kids wardrobe changes with the superb value in the River Island kids collection. There's loads of multi-buy offers for girls and boys clothes that make it easier than ever to keep everyone dressed smart. They can't help keep them that way though.
If you're looking for #comfortlayers you've come to the right place. River Island coats and jackets pack in all that winter style using classic looks and the latest trends.
Booting up couldn't be easier this Autumn. The River Island boots selection has all the watertight footwear the transitional season demands and they'll keep you in still 'til spring.
FAQs
What is the River Island returns policy?
You'll have 28 days to return your products unworn and in their original state. You'' get a returns label to use with your order. You'll also need the original receipt. More information can be found on the the River Island returns page.
Can I get a River Island Discount Code?
There aren't regularly River Island voucher codes, however, they do appear. MyVoucherCodes offer exclusives from time to time and have all the latest on River Island sales, deals and offers.
Can I get free delivery at River Island?
They occasionally have a free delivery offer running. However, standard delivery costs £1. They also offer, next-day, nominated day and evening delivery. For more information and delivery prices, check out the River Island delivery page.
Is there a River Island near me?
With over 350 stores across the UK, there is probably a store close to by. You can use the
store locator
to find your local and get useful information like opening hours and contact information. Just pop in your postcode to get the full rundown of River Island stores.
Is there a River Island size guide?
Yes, River Island online shopping is made easy with size guides in-depth size guides for the whole family. Visit the
Size Guides page
to view them all.
How to use your River Island Promo Code?
Start by using our site to find a promo code that applies to your purchases. Once found, simply click "Get Code" and copy.
Open the River Island website in another tab and begin searching for products that you want to purchase.
Double-check that these items are applicable with the voucher code to guarantee you get your discount.
Add each product to your "Bag" and "View Bag" to proceed to checkout.
Click "Have a promotion code?" tab then paste your River Island discount code. Click "apply" to find out how much you have saved!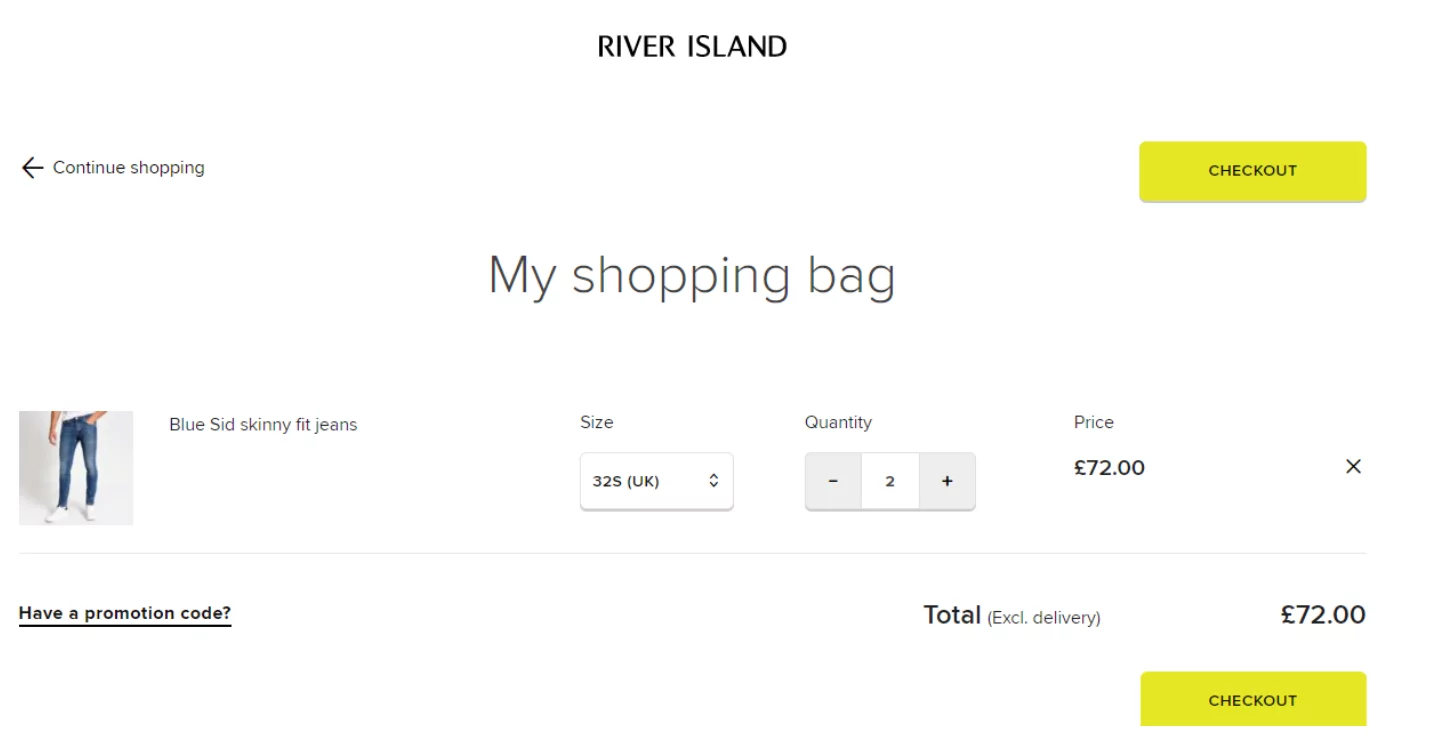 River Island Contact
If you searched the FAQs and you still haven't got an answer for your query you can always get in touch to ask your question direct.
Head over to the contact us page and fill out the form to send an email straight over and the lovely folks in the River Island Customer Service team will bend over backwards to help you out.
Make sure you include as much information as you can and be sure to include your billing address, order date, return date, return tracking code, and a product description.
They'll get back to you as soon as possible, but be aware that the coronavirus pandemic has stretched services and this may take a little longer than usual.
Seasonal Shopping Guide

River Island clothes are shopper favourites because they capture the hottest trends in fashion without costing high end prices. When your wardrobe needs updating, you'll find gorgeous collections that match the season perfectly to keep your style consistently fresh.
When spring rolls around you'll find bright collections of River Island tops, skirts, and transitional layers that will embrace the re-emergence of the sun. You can expect loads of pastel colour and light outfits that will keep things versatile in unpredictable weather.
Summer shop is always a favourite because it's when you start
thinking about filling suitcases and you can almost feel the holiday sun on your skin as you try outfits on. Whether it's gorgeous River Island dresses for long, hot summer nights or the kind of swimwear that gives you a confidence boost on the beach, this is peak holiday summer shopping.
Sadly, summer can't last forever and as soon as September hits you can count on a temperature dip. That means it's time to pick up all the cosy layers you'll need to survive the next six months of cold rain. There are loads of River Island coats and jackets in warming colours that will keep things snug in the worst weather.
Winter shopping is all about gifts and pick me ups that make you feel good when skies are grey. That could be a stunning River Island bags to take your look up a notch or two at the Christmas party or fashion essentials that'll make your favourite people smile.
If you're looking for on trend style and incredible value, grab a River Island promo code and check out their massive collections of fashion.
Buyers Guides - Autumn Knitwear Trends for 2020
You might be sad to say goodbye to the summer sun, but it's not all doom and gloom, even as the clouds roll in. Autumn means it's time to dig out the super comfy layers and get cosy again. These are Autumn essentials, but what are the River Island knitwear trends that everyone will be wearing in a few weeks.

Oversized Jumpers
Oversized clothes were a big fashion no no not so long ago, but this autumn they're back and bigger than ever. Much like the boyfriend jeans trend, they're all about being loose and comfy for a chill look. Use a thick belt over the top and your favourite pair of jeans for a easy outfit.
Cosy Cardigans
Grandad cardigans don't sound like something at the top of a fashionistas shopping list, but right now, they're bang on trend. The hipsters have well and truly won with this one. The best thing about this trend is it can tick off loads of occasions. Cardigans make for a gorgeous office look or on casual Sunday walks. But pair one with a short leather skirt and you've got an outfit for any big occasion.
Knitted Vests
The sweater vest is back in a big way this autumn. Whether you go for bold patterns or muted shades, these knitted classics will look fantastic. If you go with pair of straight beige trousers and a blouse underneath, you'll create a smart look for every day.If you want to save on these stunning trends and more, grab yourself a River Island discount code and check out the collection of new season knits.
Buyers Guide - Fabulous Fashion for Everyone
Everyone at River Island is in love with fashion and they want to share their passion with everyone. And that doesn't just mean models and fitness enthusiasts. They stock a massive range of styles that was designed for curves and made to be loved in the River Island Plus collection.

You can expect to find the same stunning style and quality that they are famous for and the sizes range from 16-28. When you need an everyday pair of jeans, you'll find the best fit on their hangers and with a fantastic selection of styles. The Plus Dark Blue Hailey High Rise Skinny Jeans are a perfect look for a casual coffee.
When the occasion calls for something a little more dressy, the Plus Black Print Ruffle Trim Slip dress will see you through summer in impeccable style. The wavy hem and loose fit is made for time in the sun. And there are loads more casual styles to choose from that will keep you looking your best as summer rolls on.

It doesn't matter what the event is, you can shop a giant range of River Island tops, trousers, shorts, and skirts to cram more fabulous fashion into your wardrobe. The Plus Green Frill Chevron Ribbed hoodie is a modern take on the chill day essential and Plus Black One Sleeve Lace Satin top is perfect for the bigger occasions.
Whatever you style or budget, the River Island Plus collection has all the fashion you need to up your style game and give yourself the kind of confidence boost that can come from a new look.
Buyers Guide - Little Trendsetters
When the little ones are growing at a rate of knots and their wardrobes are like a revolving door, you need to find incredible value on fabulous fashion. And the River Island kids collection covers all bases and introduces your favourite little people to good style from day one.

To get your girls ready for a stylish summer in the sun, the River Island holiday shop collection has everything you need to get them dressing best. The Mini Girls White Broderie Puff Sleeve dress is made for summers outside that can be paired with shorts or leggings if the temperature dips.
For the beach boys, there is a massive range of summer ready style that won't do too much damage to you spending money. The Mini Boys Blue Stripe Baseball Shirt is an on trend look that can match perfectly with the Hype Blue Speckled Print Swim Shorts to keep him ready to dive into the pool.

With September fast approaching, it's nearly time to get the back to school shop sorted and River Island has all the essentials. Whether they need another new coat or PE kit, there's everything your stars need to shine throughout the year. The Girls Black Matte Belted Puffer jacket is a stylish option for the coming Autumn. You can grab boy's shirts for everyday in a variety of colours stick to the uniform.
Whatever your kids need to style out their summer, River Island kid's fashion will see them through 'til autumn, when they'll have another growth spurt and you'll need a whole new wardrobe again.