View Terms & Conditions

View Terms & Conditions

The new salon promotion has a minimum spend of £25 at selected participating salons. 2. Subject to change and availability. 3. Single use only.
Offers for Treatwell were last updated Tuesday 19 October 2021 10:29
Treatwell Codes That You've Missed
Most Popular Treatwell Code & Discount
| Offer Description | Expires | Discount Type |
| --- | --- | --- |
| Get 15% off Selected Salon Bookings Over £25 | | Voucher Code |
| Gift Cards Available from £10 | | Deal |
| Get up to 50% off Selected Facials | | Deal |
| Get up to 50% off Selected Mens Appointments | | Deal |
| Get up to 50% off Selected Nail Appointments | | Deal |
FAQs
How Can I Get A Treatwell Discount Code?

You can catch all the latest discount codes and offers on their MyVoucherCodes page. It's regularly updated with tested offers to help you save on your favourite treatments when you need to most.


Is There A Treatwell App?

Yes, take full control of all your appointments while you're riding the bus home from work with the 4.5 star rated app. You'll see your nearest salons, spas, and more, and book the locations that suit you most. All from your phone.
Are Covid-19 restrictions in place at Treatwell venues?

All locations will follow the local government advice and restrictions to keep staff and customers safe. Extra safety measures employed are at the discretion of the individual venue.
Hints & Tips
Revolutionise your beauty schedule with the fabulous Treatwell service and save more with our handy hints and tips:
Make sure you're getting yourself signed up to the newsletter to catch the latest news, style advice, and exclusive offers for selected venues. All it takes is an email address and you'll get all that landing in your inbox regularly. There's no easier way of staying up to date with all the latest goings on.
It pays to keep your schedule open with the fabulous smart pricing feature. This means any late availability or last minute cancellations bring superb savings to your bookings. The discounts are applied when salons and venues are trying to use the available space before it's gone It pays to be ready to go at a moments notice.
Gifts cards take the stress out of shopping for the beauty queens in your life. They'll give them all the fabulous beauty treatments with the choice from the vast network of spas, salons, and venues for the location that suits them. It's the easy gifting choice that gets it right every single time.
How to Use a Treatwell Discount Code


Make your way through our website and find promo codes that suit the products you want to purchase.


In an alternative tab, open up the Treatwell website and browse for the items you are looking for.


Make sure that the items in your cart are eligible for the discount voucher.


Once finished, proceed to cart and review your order, ensuring you have everything you wanted.


Copy and paste your Treatwell discount code into the box and click 'Add Code' to complete the process. The page will refresh and automatically add your discount.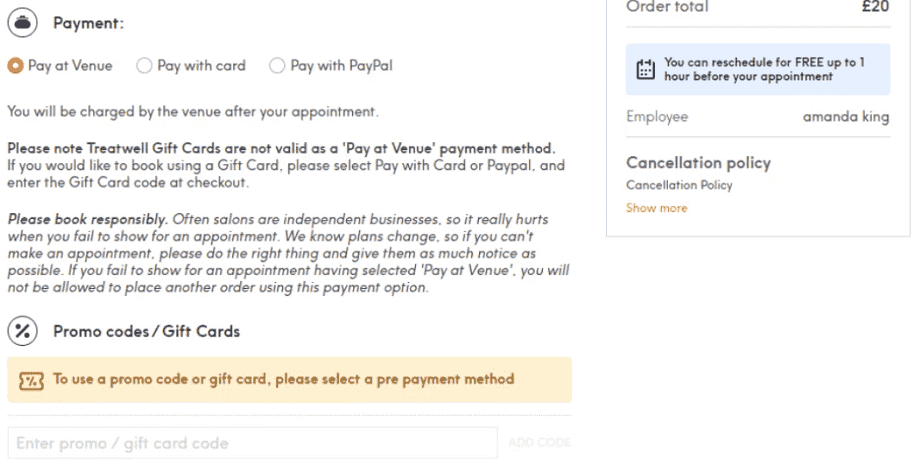 What's in a massage?
If you are new to these relaxing experiences it can be nerve wracking finding the right massage. The last thing you want to do is stumble onto some intense new age technique that hurts more than anything else. Treatwell has locations that offer every kind of massage you can think of for the relaxing afternoon you deserve.
If it's your first time, Swedish massage is the way to go. It's a nice introduction that will ease tension and release knots for complete relaxation. It's one of the most enjoyable massages around without anything daunting getting in the way of you finding your bliss.
Hot stone massage is one of the most famous techniques in the world because there's no other technique that looks like it. This technique is ideal for anyone that has muscle pain or tension that is causing discomfort.
If you suffer from chronic muscle problems, Deep Tissue Massage is a superb choice. It applies more pressure than Swedish massages to really get into your muscles. It will ease chronic muscle pain, but you should avoid it if you're sensitive to pressure.
These are just a few of the massage techniques available today. Find your nearest location today and save more with a Treatwell promo code.
Men's Service
If you thought Treatwell were all about the ladies, you've been missing out on simplified grooming bookings and keeping your look fresh without any messing about, or hanging around.
Whether you need a quick trim to keep things smooth or you want to switch up your look entirely, sorting out a booking couldn't be simpler. If you're in London or Manchester, you can see a host of barbers that will give your barnet the top treatment. You can see customer generated reviews and location on the map to choose the perfect spot for your convenience and your wallet.
To keep your beard trim and on point, you can find local barbers that are dedicated to defining those beard lines and tidying your 'tache. They'll show the luxury options for the shaves that are more of an experience and budget options that will get the job done as save you money.
Stop wincing, waxing is the best way to get rid of any unwanted hair and if you're the kind of man that takes care of himself, keeping things smooth is probably nothing new. This is the easiest way to find appointments with people you can trust, because, let's face it, waxing done wrong isn't an option.
Treat You Nails Well
If you've missed your regular mani over the last few months, it's time to get on Treatwell and book your next appointment. But if it's your new to the wonderful world of beauty treatments, you might be wondering what it's all about. That's why we've put together this whistle stop guide to some of the nail treatments you should try in 2020.
This is a great place start because all nail salons will provide a version of this manicure. A standard service will trim, file, shape your nails to give them the perfect finish. It will also give your cuticles the once over, and they'll give you a relaxing hand massage as well. Cost: Around £15
Shellac nails are a gel-polish hybrid that leaves a super glossy finish that lasts. The polish used in this manicure gives your nails a real shine and they should last between 10-14 days. The removal of these nails can be tricky and you should always get them removed by a professional in a salon. Cost: Between £20-35
The French Manicure isn't all that different to the basic and it uses the same nail care techniques to shape and finish. It's the polish that makes this one special. French polish keeps the natural beige/pink colour of your nails and the tips are delicately painted white. This is a classic look and it is always a popular choice. Cost: Around £25
There are loads of choices you can treat yourself to, and you can if you grab a Treatwell voucher code, you'll save that bit extra.