View Terms & Conditions

View Terms & Conditions

Exclusions may apply, check retailer website for more information
View Terms & Conditions

View Terms & Conditions

Up to 2 free breakfasts. Subject to availability. Exclusions may apply. Refer to merchant's site for further details.
Offers for Premier Inn were last updated Monday 4 December 2023 13:35
Premier Inn Discount Codes
| Offer Description | Expires | Discount Type |
| --- | --- | --- |
| Get family rooms from as little as £35 a night at Premier Inn | | Deal |
| Save 10% on our Mattress, bedding & bundles at Premier Inn | | Deal |
| Shop for Edinburgh stays from just £65 at Premier Inn | | Deal |
| Pick up Manchester stays starting from £66.50 at Premier Inn | | Deal |
| Enjoy a range of Glasgow stays from as little as £38 at Premier Inn | | Deal |
Still searching for a saving?
Discover discount codes from similar retailers
Booking FAQs
Can children stay for free at Premier Inn?
Yes, they can! Up to two kids can stay for free at Premier Inn per booking, proving they are accompanied by a full-paying adult.
How do I cancel my Premier Inn booking?
To cancel your booking, simply click on the 'manage booking' tab at the top of the Premier Inn website. From here, you'll be prompted to enter some information regarding your booking and once this has been done, you'll be taken through to a screen that allows you to cancel or amend your stay. Please note, that the ability to cancel depends on the type of booking you have made.
Can Premier Inn store my luggage?
In most cases, yes. The majority of Premier Inn hotels have luggage storage facilities, but we'd advise checking with your selected hotel in advance just to be sure.
During Your Stay FAQs
Does Premier Inn have free WI-FI?
Yes! You can enjoy free Wi-Fi throughout your visit, allowing you to stay connected. They also offer the chance for you to upgrade to their Ultimate Wi-Fi, and this costs £5 for 24 hours.
How much is breakfast at Premier Inn?
Premier Inn offers two types of breakfast - the full breakfast or the lighter continental breakfast. These cost £9.99 and £7.99 respectively, and both options are all-you-can-eat.
Do kids get breakfast for free?
Yes, they do! At Premier Inn, up to two children under the age of 16 will qualify for free breakfast when an adult orders a full breakfast or Meal Deal.
About Premier Inn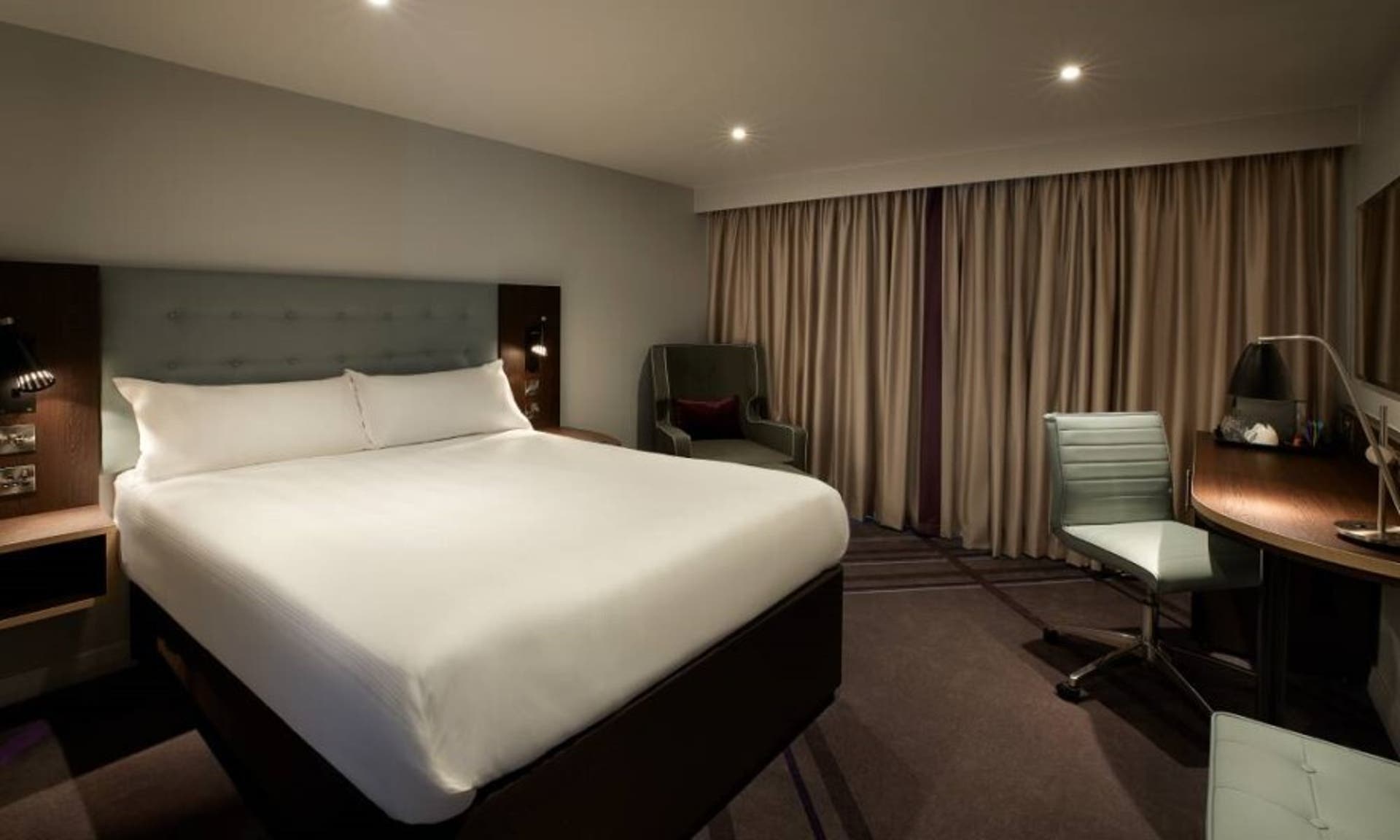 Premier Inn was founded in 1987 and has since become one of the largest hotel brands in the UK. With more than 800 destinations on their books, they pride themselves on offering excellent value and a great night's sleep to all of their visitors.
Their main mission is simple - for you to book and stay with confidence. Premier Inn is usually a top performer at the annual hospitality awards year after year and is always looking for ways to positively impact customer experiences.
Payment Methods
Premier Inn Business Account, cash, Visa, American Express, Mastercard, Diners Club, Maestro, Leisure Vouchers, cheque & Delta.
How to Contact Premier Inn
Phone: 0333 003 8101
Online: Social media
What We Love About Premier Inn
Value Rooms
Meal Deals
Kids Eat Free
Free Wi-Fi
Did You Know?
Premier Inn have 77,000 rooms across its portfolio!
How To Use Your Premier Inn Discount Code
Using our website, find a promo code that applies to the order you are looking to make. Click on 'Get discount' and then 'Go to the Premier Inn site' on the pop-up box that appears.
A new tab will automatically open, displaying the Premier Inn website.
It's worth noting here that there isn't a specified discount code box to apply codes to on the Premier Inn website. As this is the case, any code on offer will automatically add your discount once you have clicked on the link.
Check that your deal or discount has been successfully applied, before confirming your booking.
How do we source discount codes?
At MyVoucherCodes, we're lucky to have a team of hard-working individuals who are dedicated to finding you the best possible discount codes, deals and offers that are currently available. We also work closely with retailers to secure exclusive promotions; providing you with unique savings that you won't find anywhere else.
We keep in touch with retailers and brands
Based in London, our Commercial team is a key part of everything we do. They know the industry, and they work tirelessly to build relationships with big-name retailers in order to secure exclusive offers and rewards that are then passed on to our customers. They keep their ear to the ground for any upcoming offers and sale events too, meaning we're always ahead of the game when it comes to updating our website.
Our team scours the web for discounts
They work in tandem with our Deal Experts, who can be found at our Cardiff office. These deal-finding wizards scour the web for all of the best discounts and promotions around, before loading them onto our website for customers to enjoy. They also work closely with affiliate networks that keep us informed of the latest offers for the retailers they represent. Our dedicated retailer pages are updated at least twice a week, meaning you can be confident that the voucher codes you're seeing are up-to-date and valid.
We share our money-saving knowledge
On our retailer pages, you'll notice in-depth information about the brand and researched hints and tips on how to save money when shopping online. This is where our Category Editors come in - they know a thing or two when it comes to savvy shopping. From technology, health & beauty and fashion to food & drink, home & garden and travel, they keep all pages up to date with content that is designed to make your shopping experience that little bit easier and to help you save money in the process. For more information on the MyVoucherCodes team and the company as a whole, be sure to check out our About Us page.
What if my discount code doesn't work?
As a collaborative team, we do our best to ensure that incorrect or outdated discount codes and offers aren't listed on any of our retailer pages. To do this, we test the codes ourselves to make sure that they work and aim to give as much guidance as possible with regard to how they are supposed to be used.
However, sometimes details change or codes expire without us knowing. If you find this to be the case, you can get in touch by emailing info@myvouchercodes.co.uk or by visiting our contact page.
How we make money
Using our discount codes is totally free, although we understand that this may seem too good to be true. Like all businesses, we need to make money, and we do this via commission-based relationships with brands and retailers - we earn a small percentage from the retailer every time someone uses a code on our website or clicks through to a sale.
We also make money by offering the brands we work with the chance to buy some extra space on our website, in turn giving more exposure to their biggest and best discounts. And that's it! By using this model, we're able to do what we do without charging our customers a penny.