How to use your Premier Inn promo code?
Using our website, find a promo code that applies to the order you are looking to make. Once found, unlock the code and copy.
Using an alternative tab, make your way to the Premier Inn website and find the right order for you if you have not done so already.
Make sure that the code you have chosen applies to the booking you are making.
Fill in all required details for your booking.
Proceed to payment, copy and paste your Premier Inn discount code into the box and click "Apply" to receive your discount.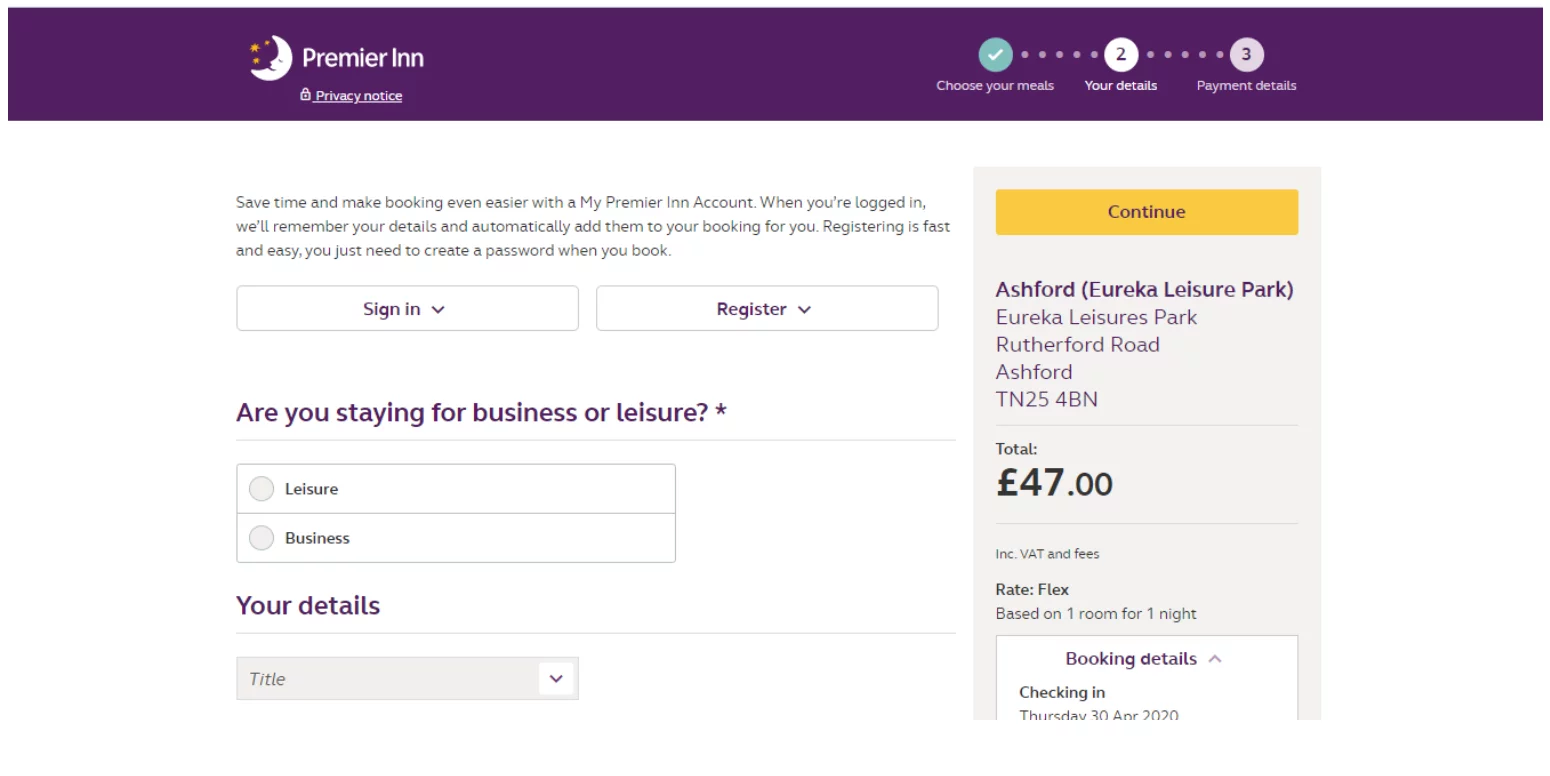 FAQs
Can I get a Premier Inn discount code?
There isn't typically a Premier Inn voucher code on offer. It's worth checking MyVoucherCodes for the latest Premier Inn voucher codes, deals and sales.
When are Premier Inn breakfast times?
The breakfast is served between 5:30am and 10:30 am on Monday to Friday. It's 6am to 11:30am on weekends. The Premier Inn breakfast price is £9.50 for the full breakfast and £7.50 for continental options.
Is there a Premier Inn near me?
On their website you can search for a Premier Inn by entering the place name, the post code or the name of the hotel.
What time is Premier Inn check-in?
Your room will be ready for 2pm on the day of your arrival. If you're arriving after 11pm you'll need to let the staff know as the doors may be locked. Checkout is at 12am on the day of your departure.
What rooms are on offer at Premier Inn?
There are standard rooms, family rooms, twin rooms, Premier Plus rooms which over more comfort and luxury than standard rooms, and accessible rooms.
What is the Premier Inn 'Good Night Guarantee'?
Premier Inn say that if you don't have a good night's sleep, you'll be given your money back. Let the staff know if there's a problem. More information can be found on
the 'Good Night Guarantee' page
.
Premier Inn Hints & Tips
Get a little luxury in your life with a stay at the Premier Inn, and with these helpful hints and tips you can bag a bargain on your booking:
Treat yourself to a delightful dinner for a discounted price by checking out the Premier Inn meal deal, where you can get up to 25% off food on the night of your stay.
Take the whole family on a trip and save yourself a few quid with Premier Inn free breakfast for the little ones.
Check out the Premier Inn offers section for the biggest and best discounts, from weekend savings, to location-based deals, you can save big.
By being flexible, you can save a bundle. Try to avoid times when big events are on, and check out a range of dates to get the most out of your money.
What else does Premier Inn offer?
A five-star breakfast and free wi-fi – who could possibly want more from their hotel stay? Even so, Premier Inn brings even more goods to the table. It has a range of hotels conveniently located at or near airports, meaning you can minimise the damage of an early flight and squeeze in a night on the comfiest beds in town.
Another brand under the Premier Inn umbrella is 'hub by Premier Inn', a series of compact and stylish rooms in exceptional city centre locations designed to put you at the heart of all the action wherever you may be staying!