EXCLUSIVE
View Terms & Conditions

View Terms & Conditions

The £5 Amazon.co.uk digital gift card giveaway ("Promotion") is subject to the following terms and conditions. By entering the Promotion entrants will be deemed to have read and accepted these terms and conditions.
The Promotion is organised and operated by The Global Voucher Group Limited of Imperial House, Imperial Way, Newport NP10 8UH ("Promoter").
The Promotion is open to all UK residents aged 18 years or over except employees of the Promoter, their families, agents and anyone else connected with administration of the Promotion.
The Promotion will run from 7 Oct 2021 23:00 until 31 Dec 2021 23:59 ("Promotion Period").
All entrants who (i) subscribe to receive the Promoter's electronic marketing during the Promotion Period and (ii) Premier Inn confirms have spent £200 or more (excluding all gift card purchases and top-ups and delivery or collection charges) before 31 Dec 2021 23:59 at the Premier Inn via the link provided on www.myvouchercodes.co.uk ("Promoter's Website") shall be eligible to receive a free £5 Amazon.co.uk ("Gift Card").
You will not be entitled to a Gift Card if you click on any other links or visit any other websites before making your purchase at the Premier Inn or if you make use of any other offer or promotion in connection with your purchase which is provided by the Promoter or Premier Inn (including any discounts, codes, savings, credit and/or points).
Only one entry per entrant during the Promotion Period shall be accepted.
Gift Card Rewards redeemed against Premier Inn purchases will be available 90 days after your confirmed date of travel.
Gift Cards may be downloaded via the "member section" of the Promoter's Website. Entrants should note that Gift Cards may expire after a certain date and their use may be subject to the retailer's own terms and conditions.
No entries from agents, third parties, organised groups or applications automatically generated by computers will be accepted. No incomplete or corrupted entries will be accepted. Any entries not made during the Promotion Period or otherwise in accordance with the entry instructions and these terms and conditions will be rejected.
The Promoter reserves the right to substitute, in its sole discretion, the Gift Card with an alternative award of equal or greater value.
The Promoter reserves the right to ask for satisfactory proof of identity, age and/or address as a condition of award of the Gift Card.
The Promoter reserves the right to amend or alter the Promotion or these terms and conditions at any time or to terminate the Promotion at any time without prior notice due to circumstances beyond its reasonable control. Any changes to the Promotion or these terms and conditions will be posted on the Promoter's Website at www.myvouchercodes.co.uk.
Personal data submitted by entrants in connection with the Promotion will be processed by the Promoter in accordance with the Promoter's privacy policy, which is available at www.myvouchercodes.co.uk/privacy.
The Promoter does not accept any responsibility for any damage, loss, injury or disappointment suffered by entrants or as a result of acceptance of the Gift Card, but nothing in these terms and conditions shall operate to exclude the Promoter's liability for death or personal injury suffered as a result of the Promoter's negligence.
The Promotion and these terms and conditions are governed by the laws of England and Wales and are subject to the exclusive jurisdiction of the English and Welsh courts.
View Terms & Conditions

View Terms & Conditions

Cannot be used in conjunction with any other offer One per person For full Terms & Conditions please see website
Offers for Premier Inn were last updated Wednesday 20 October 2021 14:30
Premier Inn Codes That You've Missed
Premier Inn Discount Codes
| Offer Description | Expires | Discount Type |
| --- | --- | --- |
| Rooms from £29pn at the Premier Inn | | Deal |
| Save up to 15% off Stays for Business Booker Customers | | Deal |
| Autumn Rooms Available from £32.50pn | | Deal |
| Cheap Family Rooms from £35pn | | Deal |
| Exclusive Free £5 Amazon Voucher with Orders Over £200 | | Reward |
FAQs
Can I get a Premier Inn discount code?
Typically, they don't use codes to deliver savings for travellers. Instead they offer seasonal deals and location specific offers that will save you money on your next trip. You'll find all the latest money saving discounts on their MyVoucherCodes page.
When are Premier Inn breakfast times?
Breakfast is served between 05:30 and 10:30 on Monday to Friday. On the weekends that changes to 06:00 to 11:30 so you can have a lie in. The famous Premier Inn breakfast costs £9.50 with a continental option available for £7.50.
Is there a Premier Inn near me?
With over 750 locations across the UK and Eurpoe, there is likely a hotel near you with rooms available. You can search your postcode on the website to find your nearest hotel, or one close to the attractions you intend to visit.
What time is Premier Inn check-in?
Your room will be ready for check in at 2pm on the day you arrive. If you're arriving late you should contact the hotel as doors may be locked after 11pm. Checkout is at 12pm on departure day.
What rooms are on offer at Premier Inn?
There are standard, family, twin, and accessible rooms available for booking at every hotel. If you want to treat yourself to a more luxurious stay, there are also Premier Plus that offer more comfort at selected hotels.
What is the Premier Inn 'Good Night Guarantee'?
They are so confident you'll have a fantastic stay, they say they'll give you your money back if you don't. All they ask is that you speak to a reception first to allow them to fix the issue. Full details and terms can be found on the
'Good Night Guarantee' page
.
Are dogs allowed in premier Inn?
Unfortunately, no you can't bring your furry friends along with you. Assistance dogs are the exception and will always be welcomed.
Hints & Tips
Save on your Premier Inn stay and pack a little more luxury into your trip with our handy hints and tips:
If you're planning on eating at the hotel restaurant, plan ahead and save yourself 25% on your food while you're away. That's a two course evening meal with a selected drink and buffet breakfast all for from £23.99. It takes the hassle out of finding a meal and the quality pub grub always goes down well.
Make sure you check out the offers page before you make your booking. This is where you'll find the best rates and location based offers that save more money on stays. The deals change regularly and you'll always find a great value stay waiting for you.
Stay flexible when you're planning your next get away. You don't have to limber up, but leaving a travel window open over a couple of weeks will give you the best chance of securing a superb deal on your room.
Staying 'Off-Peak' is an easy way to secure savings on your room if your travel allows. Monday-Friday is a quieter time for hotels and that means better room rates to entice travellers into the empty rooms. It's the smarter way to travel and the savings are often bigger than you'd expect.
How to use your Premier Inn promo code?


Using our website, find a promo code that applies to the order you are looking to make. Once found, unlock the code and copy.


Using an alternative tab, make your way to the Premier Inn website and find the right order for you if you have not done so already.


Make sure that the code you have chosen applies to the booking you are making.


Fill in all required details for your booking.


Proceed to payment, copy and paste your Premier Inn discount code into the box and click "Apply" to receive your discount.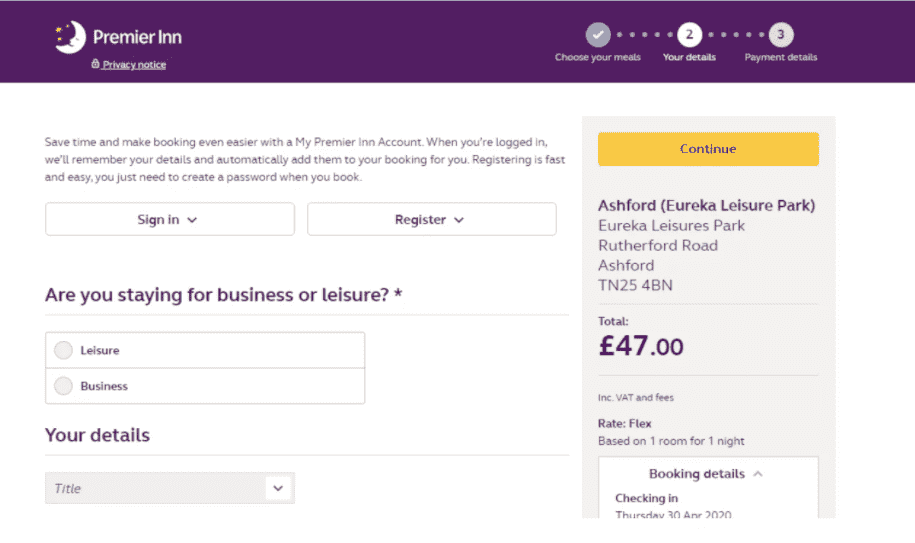 Stay with a Plus
Premier Inn are the hospitality experts and they guarantee a superb night stay in every single room their hotels offer. But not all rooms are created equal and if you want to add an extra layer of luxury to your stay, Premier Plus is the way to go.
These top class rooms are available at 75 hotels across the UK and they offer a superior stay every time you visit. With enhanced comfort, convenience, and connectivity these make a stay more special whether you're travelling for pleasure or business.
Bigger rooms mean bigger beds and the kingsize Hypnos beds will give you an incredible night's sleep, and that's guaranteed. The extra comfort doesn't stop at the beds either. An extra large desk will make business trips easier and comfy armchairs give you another place to chill out. And don't get us started on the luxurious rainfall showers.
All Premier Plus rooms come with Ultimate WIFI boosts the standard internet speeds to keep you connected 24/7. Whether you're presenting a meeting or stream your shows, these speeds can handle it with ease.
With more amenities and more appliances, the room has everything you need to make your stay special. Check them out today and grab your Premier Inn codes to pack a saving into your suitcase.
Stay Safely
Now we are finally out of lockdown and the world is opening up, there's lost travelling time to be made up. Here's how the Premier Inn coronavirus measures are ensuring we can do it safely.
The check in process will be completed in a safe manner with protective screens in place and all the social distancing measures we've had to get used to. There will always be an automated sanitizing gel dispenser for customers on arrival.
All of the 9,000+ housekeeping keeping team are employed directly by Premier Inn. This means they can ensure that every single person is trained to meet the Premier Inn Clean Protect promise in every single room.
All staff members are provided with protective equipment including masks, gloves, and sanitizer to keep them and guests safe.
The comfortable Premier Inn bed has been given the health and safety treatment with all bed linen laundered at 60 degrees to thermally disinfect every sheet. This means you can sleep soundly on the clean sheets around.
All the safety measures are reviewed regularly to keep up with any changes the UK government introduce.
A Better Breakfast
A good brekkie will set you up for the day and there's few better than a Premier Inn breakfast. There's so much to choose that you'll never leave hungry and we're about to prove it.
There's nothing like a good old-fashioned full English to start a morning and the only thing better is getting as much bacon as you want. That's what Premier Inn offer. But this isn't your typical hotel breakfast buffet. All the hot food is cooked fresh to order and you can still get as much as you like, and there's none of this excluding all the good stuff your get at some less reputable places. If you want six sausages, have at it.
It's not all about a fry up though. There's also a massive continental selection include that you can visit as much as you like. There's pastries, cereal, toast, and even fresh pancakes with your choice of topping. It's a massive selection and if you don't fancy something cooked, there's no chance you'll leave anything but stuffed.
A Premier Inn breakfast is £9.50 per person and can be added to the price of your room to keep things nice and simple. Best off all, kids will eat completely free to give you one less thing to worry about.
When you're ready to book your next trip, grab a Premier Inn discount code and save yourself some money on the best breakfast in the business.