EXCLUSIVE
View Terms & Conditions

View Terms & Conditions

1. The £10 Deliveroo Incentives and Marketing digital gift card giveaway ("Promotion") is subject to the following terms and conditions. By entering the Promotion entrants will be deemed to have read and accepted these terms and conditions. 2. The Promotion is organised and operated by The Global Voucher Group Limited of Imperial House, Imperial Way, Newport NP10 8UH ("Promoter"). 3. The Promotion is open to all UK residents aged 18 years or over except employees of the Promoter, their families, agents and anyone else connected with administration of the Promotion. 4. The Promotion will run from 1 Jun 2021 23:00 until 31 Dec 2021 23:59 ("Promotion Period"). 5. All entrants who (i) subscribe to receive the Promoter's electronic marketing during the Promotion Period and (ii) The Perfume Shop confirms have spent £100 or more (excluding all gift card purchases and top-ups and delivery or collection charges) before 31 Dec 2021 23:59 at the The Perfume Shop via the link provided on www.myvouchercodes.co.uk ("Promoter's Website") shall be eligible to receive a free £10 Deliveroo Incentives and Marketing ("Gift Card"). 6. You will not be entitled to a Gift Card if you click on any other links or visit any other websites before making your purchase at the The Perfume Shop or if you make use of any other offer or promotion in connection with your purchase which is provided by the Promoter or The Perfume Shop (including any discounts, codes, savings, credit and/or points). 7. Only one entry per entrant during the Promotion Period shall be accepted. 8. Confirmation of purchase may be provided by The Perfume Shop up to 60 working days following the date of the qualifying purchase. 9. Gift Cards may be downloaded via the "member section" of the Promoter's Website. Entrants should note that Gift Cards may expire after a certain date and their use may be subject to the retailer's own terms and conditions. 10. No entries from agents, third parties, organised groups or applications automatically generated by computers will be accepted. No incomplete or corrupted entries will be accepted. Any entries not made during the Promotion Period or otherwise in accordance with the entry instructions and these terms and conditions will be rejected. 11. The Promoter reserves the right to substitute, in its sole discretion, the Gift Card with an alternative award of equal or greater value. 12. The Promoter reserves the right to ask for satisfactory proof of identity, age and/or address as a condition of award of the Gift Card. 13. The Promoter reserves the right to amend or alter the Promotion or these terms and conditions at any time or to terminate the Promotion at any time without prior notice due to circumstances beyond its reasonable control. Any changes to the Promotion or these terms and conditions will be posted on the Promoter's Website at www.myvouchercodes.co.uk. 14. Personal data submitted by entrants in connection with the Promotion will be processed by the Promoter in accordance with the Promoter's privacy policy, which is available at www.myvouchercodes.co.uk/privacy. 15. The Promoter does not accept any responsibility for any damage, loss, injury or disappointment suffered by entrants or as a result of acceptance of the Gift Card, but nothing in these terms and conditions shall operate to exclude the Promoter's liability for death or personal injury suffered as a result of the Promoter's negligence. 16. The Promotion and these terms and conditions are governed by the laws of England and Wales and are subject to the exclusive jurisdiction of the English and Welsh courts.
View Terms & Conditions

View Terms & Conditions

See website for details.
Offers for The Perfume Shop were last updated Wednesday 30 June 2021 15:07
The Perfume Shop Codes That You've Missed
Most Popular The Perfume Shop Code & Discount
| Offer Description | Expires | Discount Type |
| --- | --- | --- |
| 10% off Student Discount | | Deal |
| 15% off Blue Light and Armed Forces Discount | | Deal |
| Exclusive Free £10 Deliveroo Voucher with Orders Over £100 | | Reward |
| 10% off your Favourite Brand with Membership | | Deal |
| Personalise Your Gift | | Deal |
FAQs
How Can I Get a Perfume Shop Discount Code?
The easiest way to grab a Perfume Shop code is to check with MyVoucherCodes before you place an order. Our team regularly updates their page with the best deals available to save you money on scents. You might find an exclusive code for saving you won't find anywhere else.
Can I Get a Perfume Shop Student Discount?
Yes, anyone registered with Student Beans can take advantage of a 10% discount on all their orders. Sign up is simple, but you will need to verify your student status. They also offer a 10% Youth & Apprentice discount. Again, you will be required to verify this status.
When's The Perfume Shop Sale?
There are sales throughout the year that deliver
hundreds of Perfume Shop offers
. When they're living, you'll find all the discounts on MyVoucherCodes. However, a good rule of thumb is to shop as the seasons' change.
Can I Get Free Delivery at The Perfume Shop UK?
Absolutely, you are entitled to free delivery on all orders over £30. However, if you become a member of the Rewards Club, standard delivery is free on all orders. Another way to get free delivery is by buying a delivery pass. Find all the
details on the Rewards Club page
.
The Perfume Shop Hints & Tips
Here are a few helpful hints & tips to make sure you can smell great and save money on your shop:


Join the Perfume Shop rewards club to start collecting points with your order, you'll then be rewarded for your loyalty with Perfume Shop discounts, competitions, bonus points and exclusive offers.
Get yourself free delivery at The Perfume Shop, they offer it on all items, as well as click and collect if there's a branch In your area.
To be in-the-know with the latest savings on scents, sign up for The Perfume Shop newsletter, with all the latest deals and offers sent straight to your inbox, you can bag a bargain.


Big Brand Favourites at The Perfume Shop

No matter how many new fragrances we come across, sometimes we can't help but go back to the ones that draw us in the most. The Perfume Shop has a wide range of bestsellers available, which have continuously charmed us all, and when a scent is so evocatively enchanting, there is no harm in following the crowd. Whether you're treating a loved one to an extra special gift or ensuring your collection never runs low on your all-time favourites, shop these front-runners today to discover the very best of the fragrance world.
Jimmy Choo Blossom
Try out Jimmy Choo Blossom as your everyday scent, with notes of berries, citrus cocktails, sweet pea, rose, and white musk, this delicate combination makes for a popular feminine fragrance. Harmoniously bursting with floral flavour, yet with soft and demure elements ideal for the daytime, this fragrance is the perfect addition to your brunch plans with the girls.
Thierry Mugler Alien
With the timelessly loved Alien and Angel perfumes, Mugler is an expert in fragrances. Alien exists within the Oriental fragrance family, with notes of Jasmine Sambac, White amber and Cashmeran wood. The scent is distinctively warm, luscious, and passionate, perfect for evening wear and date nights this season.
Chanel N°5
Whether it's already a favourite or on the top of your list of fragrances to try, Chanel N°5 is a timeless classic in the world of women's perfume. Boasting a powdery floral scent and enclosed in an elegant bottle you'll be proud to display on your dresser, Chanel N°5 is the perfect gift for the lady in your life.
Scents for Him at The Perfume Shop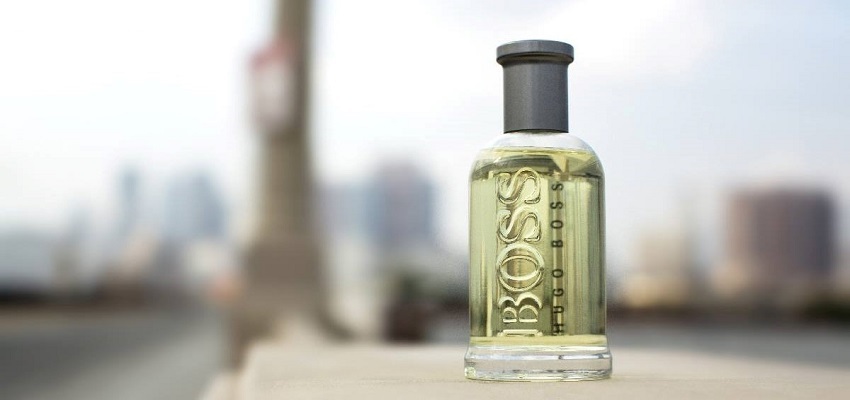 With such a wide range of fragrances for him, The Perfume Shop reminds us why beautiful-smelling scents are not just for women. Bask in luxury and savour high-end aromas in the men's aftershave sale and deals on top brands like Dior, Armani, and Hugo Boss, proving you don't always need to splash the cash, to smell the part.For a new signature scent, discover the power of perfume to spice up the season. Whether you desire something woody and rich to radiate a sultry warmth or something natural, clean, and ultra-fresh for the summer, find the fragrance for you at The Perfume Shop.For those looking for a scent to spice up the season, Dior Sauvage is a cult favourite. Sauvage harbours a mix of juicy and spicy freshness, alongside a combination of Calabrian Bergamot and Papua New Guinean Vanilla Absolute flavours. The notes work to exude sensuality, becoming the ideal woody scent for zesty nights.Jean Paul Gaultier Le Male is the perfect gift for an oriental fragrance fan. Le Male is a scent designed for after dark. With the warm, powdery, rich, and musky base, save this fragrance for your summer evenings out. As one of the longest-running favourites, and characterised by notes of Sandalwood, Vanilla, Cedar, Mint, Bergamot, Lavender, Orange Blossom, Cinnamon and Cumin, Le Male is a timeless addition to all collections.Dolce and Gabanna Light Blue Intense is another popular woody scent for him, boasting a burst of freshness, perfect for summer. Featuring notes of Mandarin, Grapefruit, Amber Woods, Musk, Juniper and Salty Aquatic Accord, you won't be disappointed by this classic masculine scent.
Women's Aromas at The Perfume Shop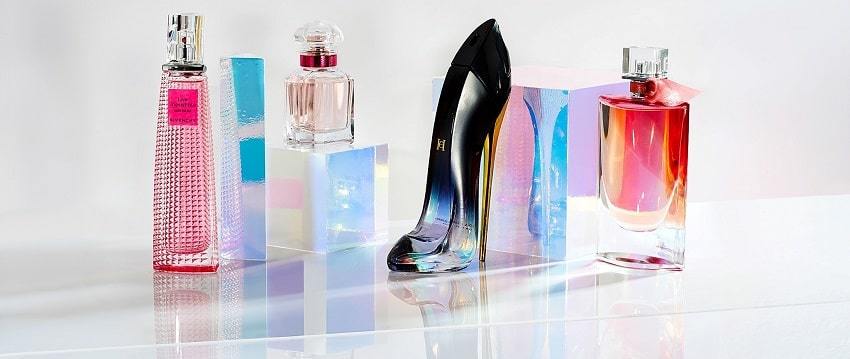 With the extensive range of perfume for women available, you'll find yourself spoilt for choice. Whether you're looking to pick up a timeless favourite, explore what's new in the world of aromas, or hoping to grab something great on a budget, look no further than The Perfume Shop.Perfume for women is usually a no brainer, from leaving gift shopping to the last minute, forgetting a birthday or even just treating yourself. Whether you're planning to go all out on a luxury fragrance, or you're hoping to indulge in something more affordable, you won't have to compromise on leaving a trail of gorgeous aromas wherever you go. Whether you prefer sweet, fresh, and floral scents, or spicy, woody, and musky notes, there are thousands of women's perfumes available at The Perfume Shop.Carolina Herrera Good Girl is guaranteed to go down a treat for any lucky lady in your life. With base notes of Cacao, Tonka bean, Vanilla, Coffee, Good Girl is an oriental fragrance that embodies the modern woman. Featuring an alluring combination of light freshness and sultry darkness, Good Girl is a scent best reserved for the evenings. For something more affordable but just as gorgeous, the Nina Ricci perfume would make for the perfect gift this season. Nina is a floral scent for her, the sweet and fruity aromas irresistible this summer. This fragrance is ideal if you adore summer days, thanks to the Praline, vanilla, red toffee apple, peony notes. While the website has fantastic deals available, look out for The Perfume Shop discount codes to save even more on your scents.