View Terms & Conditions

View Terms & Conditions

Example hats, tote bags, paper bags
Offers for Vistaprint were last updated Tuesday 27 July 2021 22:08
Vistaprint Codes That You've Missed
Most Popular Vistaprint Code & Discount
| Offer Description | Expires | Discount Type |
| --- | --- | --- |
| 10% off Selected Orders | | Voucher Code |
| Get up to 15% off Invitations and Stationery | | Deal |
| Free Delivery on Orders Over £50 | | Deal |
| 10% off Your First Order with Newsletter Sign-up | | Deal |
| Get a Free Sample Kit | | Deal |
Vistaprint Hints & Tips
For all your printing and personalisation needs, you can't go wrong with Vistaprint, with a range of clothing, stationary and photo gifts, they've got what you need. Check out these hints and tips to get more bang for your buck:
Free Vistaprint Samples
Try before you buy by requesting a Vistaprint free sample kit, so you can get a feel for the quality you're paying for.
Refer a Friend for a Discount
Treat yourself to a tidy discount with the Vistaprint refer a friend programme, where you can recommend the service to a mate and get yourself £20 off for every friend who makes an order of £40 or more.
The Latest Vistaprint Deals
Be the first to know when there's a new Vistaprint deal or offer, by signing up for their newsletter.
FAQs
Can I Get A Vistaprint Discount Code??
Yes, you can get a Vistaprint discount code. They regularly offer codes that can be found on MyVoucherCodes, alongside any other deals and offers they currently have running.
Do Vistaprint Offer Free Delivery?
They don't usually offer free shipping. Standard delivery is £3.99 and takes up to 6 business days to arrive, and economy delivery costs £2.99 and will arrive in up to 10 business days.
Can I Get A Sample At Vistaprint?
If you're looking to buy but want to check the quality, you can
get a free business sample kit
. This included business cards, postcards, folded leaflets, stickers and flyers.
Can I Customise My Order?
Yes, Vistaprint have design services so you can customise your products. Prices start at £6 for personalisation.
Using Your Vistaprint Discount Code


Using our website, search for a Vistaprint discount code that applies to the products you want to buy.


Ensure that your Vistaprint discount code is the right one for your purchase.


Open up the Vistaprint website using an alternative tab.


Complete your shop, making sure that you fully customize each product that you plan on using. Once finished click 'View Bag'.


This will transfer you to your 'bag' where a promo box will be displayed.


Copy and paste your Vistaprint voucher code and click 'Apply' to get your discount.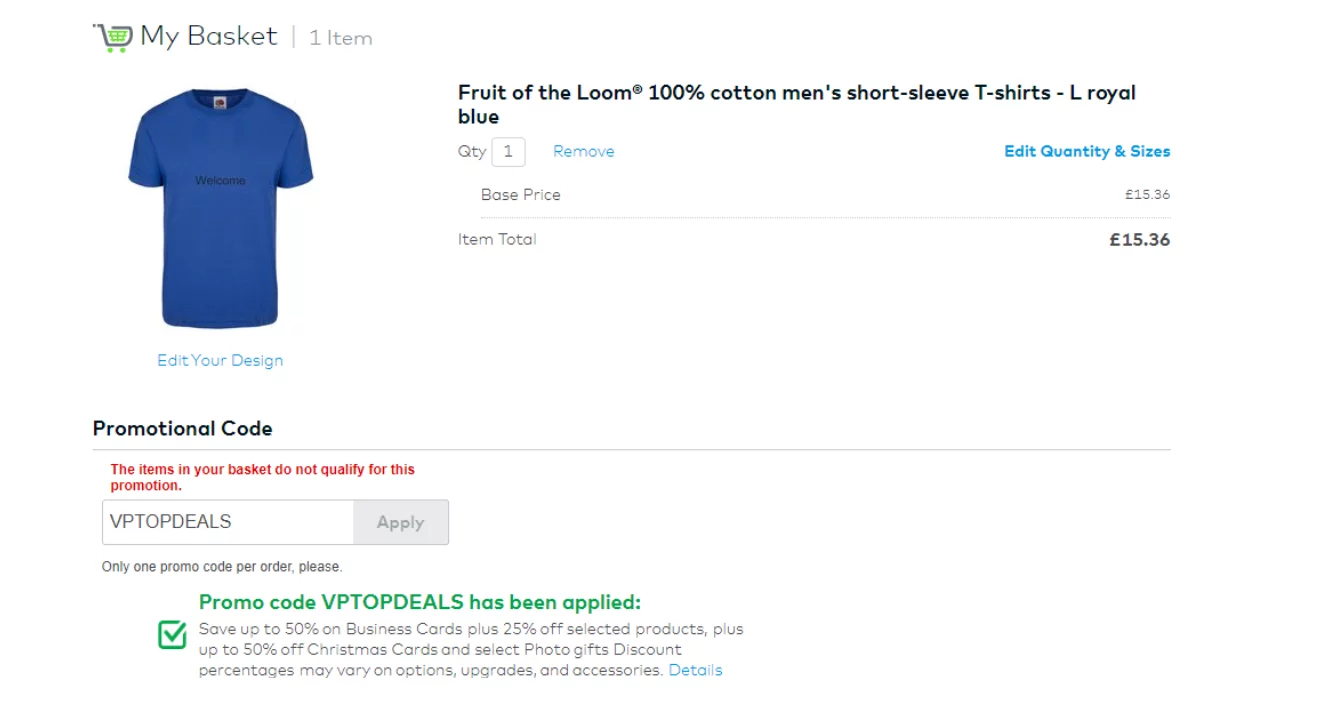 Stay Safe with a Vistaprint Face Mask
With the Coronavirus pandemic ongoing, it's important that we all do our bit to stay safe. Now that lockdown measures are easing, we're all looking to spend a little more time outdoors (depending on the British weather), but it's still good to stay safe this season.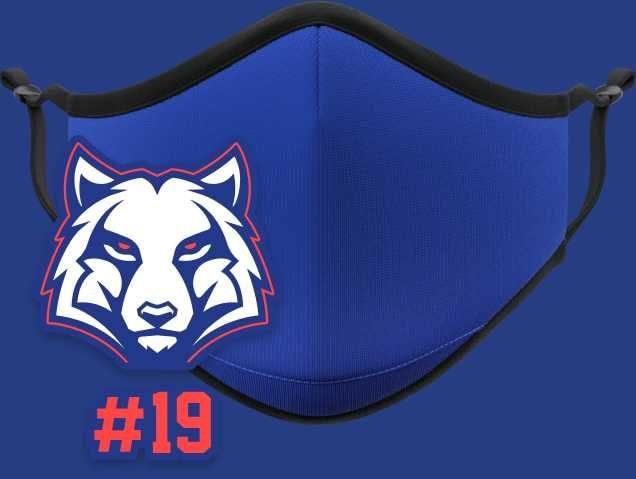 Vistraprint Masks UK
They have a huge range of stunning designs on offer, so whether you're picking out a mask for the kids, or you want a Vistaprint mask for yourself, they've got you covered. But if you're feeling something a little more personal than their range, you can opt for a little customisation.
Personalise Your Vistaprint Facemask
You can pick out your favourite colour, and then add your own pictures or designs to it. So, when you head to the shop, you'll have something that's truly unique on your face. Not to mention it'll keep you safe in these undeniably strange times.
Professional Face Masks
Whether you have a business that you want to buy masks for, or you're a designer, they've got you covered. For the businesses, you can get your logo printed on the masks and you can buy them in bulk for a saving. For the designers, you can download a template of the mask on the
Vistaprint custom mask page
. That way you can design something to the exact specifications.
Grab a Vistaprint Discount Code
While these things might be essential, it doesn't mean you have to break the bank getting them. Grab a Vistaprint discount code to bag yourself a bargain on their face masks.
Get Your Business off the Ground
When it comes to getting your new business off the ground, it's good to have everything in order and looking professional. Luckily, Vistaprint have you covered for all your business stationery and printing needs.

Vistaprint Business Cards
While handing out business cards isn't exactly a wise idea with the Coronavirus pandemic on-going, but that doesn't mean you can't get them printed for the future. With Vistaprint business card printing you can get all the different papers, shapes and finishes you like, and if you're shopping for your business, you can even qualify for VAT free purchasing, saving you a tidy sum. All you have to do is browse their designs, or upload your own, and then you can work with a designer to get the right effect!
Vistaprint T-Shirts
It's good for your business to have your logo on your uniform. Whether you want it emblazoned on a Vistaprint t-shirt, or you want one of the Vistaprint face masks to stay safe, they've got you covered. They've got other bits of clothing and here's also Vistaprint labels, and stickers, so you can get all the bases covered.
Vistaprint Flyers & Posters
A great way to market your business is with flyers and posters. You can be the talk of the town by plastering your posters around, or hand out some flyers when social distancing measures aren't in place, so you can get the word out about your new venture.
Bag a Bargain on Business Essentials
Grab yourself a Vistaprint voucher code to see some savings on those essential business materials. Whether it's for advertising, or you want to get the uniforms in, they've got you covered.
Personalised Vistaprint Gifts
Whatever the occasion, it's always nice to find a gift that's unique and personal. Whether you're snapping up a Father's Day gift, or you want something for an upcoming birthday, Vistaprint gifts are a cracking way to go this season.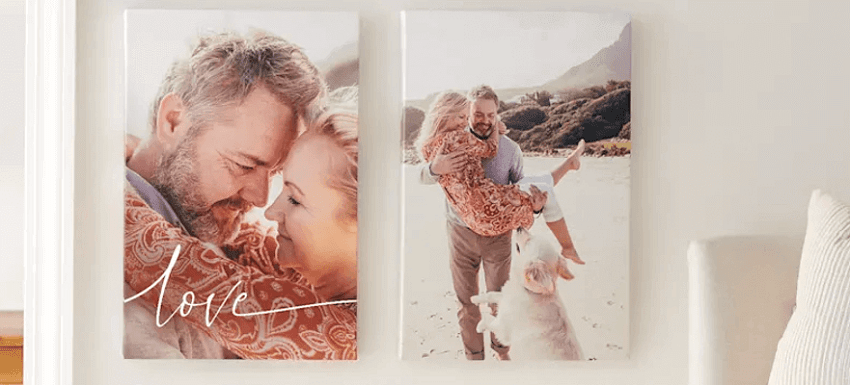 Vistaprint Photo Book
Photo gifts are a lovely way to go. Whether you find a few of your favourite snaps that have that nostalgia factor, or you want a collage of embarrassing photos framed nicely in a photo book, Vistaprint have the service for you. Just pick out the snaps and they'll present them wonderfully for you.
Vistaprint Cards
Cards are a gifting essential, so why not take them to the next level? Whether you want to feature your own designs, you want to scan in a drawing from the kids, or you just want to opt for a nice photo, you can design a card with Vistaprint. It's so simple, you don't need to be a professional designer to wrap your head around it.
Vistaprint Photo Gifts
It's not just paper that you can print your pictures on. From Vistaprint mugs to canvas prints and Vistaprint calendars, you can really put those photos to good use this season. There's so many options, you can't go wrong.
Grab a Glorious Deal on Gifts
So, get yourself a Vistaprint promo code and make sure you're making the most of your money when it comes to those personalised gifts.