Offers for Deliveroo were last updated Thursday 6 May 2021 13:03
Deliveroo Codes That You've Missed
Most Popular Deliveroo Code & Discount
| Offer Description | Expires | Discount Type |
| --- | --- | --- |
| Get £10 off First Orders plus Free Delivery with This Deliveroo Discount Promo Code | | Voucher Code |
| Up to 25% Off with the latest Deliveroo Promo Codes and Discounts | | Deal |
| 20% off Selected Takeaways Over £10 on Thursdays | | Deal |
| £10 off Selected First Orders Over £15 | | Voucher Code |
| Get a KFC Delivery Today | | Deal |
Deliveroo Hints & Tips
Treat yourself at dinner time with a delivery courtesy of Deliveroo, and with these useful hints and tips, you can make sure you're getting your money's worth today:


Make sure you're getting quality for your money with the biggest and best Deliveroo deals, these can be found on their homepage, so it's worth scrolling through.



Know what dish takes your fancy for dinner? Why not shop around different restaurants in your local area to see if you can bag your favourable cuisine for a little cheaper? You might find a new favourite haunt too!


Grab a Deliveroo voucher code for a stunning saving on your delicious dinner


There are tons of welcome offers that run at different times of the year. From Deliveroo free delivery to discounts, so it's worth checking what's available when you place your first order.


Search by your postcode to see what's available, from here you can then see what restaurants are discounted or which ones have free delivery on their orders.


FAQs
How Can I Pay With Deliveroo?
Deliveroo accepts card payments using most of the bigger cards, but they do not accept cash.
Is There A Deliveroo App?
Yes, they have an app that is available for download through the Apple store and Google Play for Android devices.
What Is Deliveroo Plus?
With Deliveroo Plus you can pay a free and get free delivery from participating restaurants when you meet the minimum order requirements. There are also exclusive Deliveroo offers.
What is Deliveroo?
Deliveroo are a company that bring restaurant food to your door. So, you can get that restaurant quality meal from the comfort of your own sofa.
How can I contact Deliveroo customer service?
You can e-mail Deliveroo at
[email protected]
Alternatively, you can phone them at 020 3699 997.
Using Your Deliveroo Discount Code
Follow our easy Deliveroo discount code instructions and save money on your next Deliveroo order.


Click to reveal the Deliveroo discount codes on the MyVoucherCodes Deliveroo page. Choose your offer and a separate window will appear, displaying the code which you can copy.


MyVoucherCodes will transfer you to the Deliveroo website automatically.


Pop in your postcode and browse the range of restaurants and cuisines available for delivery in your area.


Once you've found your food of choice and have added your dishes, click on the checkout sign.


Sign in if you already have an account, if not you'll need to register.


Once you arrive at the billing page, you'll find a box at the bottom labelled 'Promo code'.


To apply your Deliveroo voucher code, copy it into the box and click submit.


Your total order will change. You can then complete your order and wait for your delicious food to arrive straight to your door.


Get All Your Fast Food Favourites
When it comes to dinner time, we don't all want a spoonful of Michelin star food. Sometimes, we just want to eat some comfort food and curl on the couch. Luckily, Deliveroo have got you covered when it comes to all of those fast food favourites.

Deliveroo Chicken
When it comes to chicken, there's nothing that hits the spot like a KFC Deliveroo drop-off. With all the menu favourites making an appearance, from those fabulous fillets, to those perfectly crispy popcorn chicken, you can't go wrong. So, if you fancy chicken, grab a Deliveroo KFC delivery and treat your taste buds.
Go Big with a Deliveroo Burger
A juicy burger is a fast food favourite for a reason, and nobody does it better than Five Guys. Luckily, with a Five Guys Deliveroo delivery, you can fill your face with all the fabulous fries and tasty burgers you want. Just don't forget to grab one of their famous milkshakes!
From Pizza and Chips, to Subs and Kebabs
Whether you want something from down the local chippy, you fancy tucking into a Deliveroo Pizza Hut delivery, you want a footlong from Subway, or you want to try out a German Doner Kebab, Deliveroo have you covered. You can even find your favourite local café and show them a little love after the year of lockdowns we've had.
Grab a Deliveroo Discount
So, grab a Deliveroo promo code and get saving on your dinner. And don't forget to tip your Deliveroo rider when you do make a saving!
Take Your Taste Buds on a Trip
While most of us are stuck in the country for the foreseeable, there's nothing to stop us sending our taste buds on a little trip. With the Deliveroo range of cracking restaurants, you can get those flavours you're craving, wherever they come from.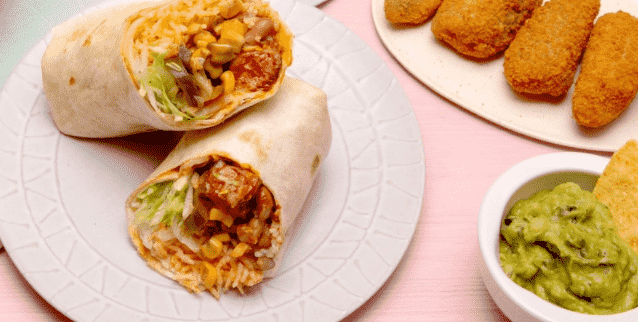 Deliveroo Italian Favourites
Whether you want a simple pizza from the likes of Bella Italia or Zizzi's, or you want a perfect pasta dish delivered to your door courtesy of Coco Di Mama's, they've got you covered on all things Italian. All you need to do is pop in your post code to find your nearest providers of cracking food.
Deliveroo Mexican Munch
Whether you want some fast food from Taco Bell, or you fancy treating yourself to the wonderful food that Wahaca have on offer, the Deliveroo Mexican range has you covered. They've got you covered with Lilo's and Death Valley Burrito too, so you can get all those Mexican flavours delivered to your door.
Chow Down on Asian Flavours
From the fabulous flavours of the local Chinese restaurant, to some fabulous sushi, and Thai food, so you can't go wrong. With Deliveroo you get a ton of choice regardless of what you're feeling for dinner this evening.
Save on Your Deliveroo Order
So, grab yourself a Deliveroo voucher and take your taste buds on a journey around the world with their cracking selection of international restaurants.
Ordering a Deliveroo Delivery Safely
With the Coronavirus being such a hot topic in the last year, we're all doing our bit to stay safe and stick to the guidelines. Deliveroo are no different, committing to delivering the same great dishes in a safe way.
Deliveroo Contactless Delivery
Unfortunately, you won't be able to get yourself a delivery with cash, but you can still pay by card. That way you won't have to hand anything over to the Deliveroo driver when they arrive. When Your Deliveroo order arrives, they'll let you know that the driver is leaving it on your doorstep, so you can come and grab it while they stay at a safe distance.
Keeping Clean
The drivers have been given extensive hygiene guidance and updates throughout the year so they can stick to the government guidelines as they come out. They'll be able to get themselves hygiene products through the company so they can keep everything clean, and you can enjoy your dinner without a worry.
Supporting Restaurants
Deliveroo are committed to finding those restaurants that don't usually offer delivery and give them a chance to sell their great food. That way the local restaurants aren't being left behind in these tough times.
Check Out the FAQ's
A great way to find everything Deliveroo are doing to stick to the guidelines is to check out their
Coronavirus FAQ's page
. It's packed with everything you need to know to put your mind at ease and rest assured you're getting a safe service.
Seasonal Deliveroo Offers
Comfort Food Classics
With the dark days and cold nights,
winter
is the best time to treat yourself to all the comfort food you love. And what better way to enjoy a fresh plate of fish and chips than in your pyjamas and on your sofa.Whether it's fried chicken, burgers, international, or deserts, you'll find all your favourites to get you through even the coldest weather. Browse through the deals sections to find a restaurant offering a discount and save on your takeaway treat.
Health Kick Help
When it comes to
January
tradition, nothing tops New Year, New Me. But if your jumping on the annual health kick, that doesn't mean you have to give up your Friday night take away. All you do is put a little twist on your usual and you'll be sticking to your diet with a delicious plate.Ditch the fried and order in something vegan for a tasty alternative. Take your taste buds off to Japan to discover healthy meals that don't skimp on flavour. It's about little differences and new experiences in the new year to keep that diet in motion.
Farm Fresh Plates
Spring
meals are all about fresh. As the weather starts to warm, it's time to discover light meals packed with the freshest ingredients that'll lift any plate. With Deliveroo, it's never been easier to go Greek for a true Mediterranean feast. In a couple of clicks, you could be tucking into a delicious Moussaka in no time.
Suns Out, Grills Out
When it comes to
summer
, there can only be one winner. As soon as the weather turns it's all about a few glasses of wine and smoky BBQ flavours. It's what long days were made for. Cut out all the fuss by ordering in and discover how great BBQ can be. Don't get us wrong, traditional burgers and sausages fresh off the grill are a fine thing. But this is 2020, we can do better, and we can save on the washing up. Check out how countries around the world grill and discover new favourite tastes.Whatever you're eating this year, make sure you save by checking in with MyVoucherCodes and uncover tasty deals on takeaway today.