Offers for Pizza Hut were last updated Friday 26 November 2021 10:09
Pizza Hut Codes That You've Missed
Pizza Hut Voucher Codes
| Offer Description | Expires | Discount Type |
| --- | --- | --- |
| Get 1 Large Pizza for £9.99 | | Deal |
| Get up to 60% off Favourites Menu | | Deal |
| Save up to 50% and More off Orders with Deals - Find Your Local | | Deal |
| Save up to 30% off Large Deal | | Deal |
| Enjoy £5 Favourites Menu: Medium Pizzas, Sides and Drinks for £5 Each | | Deal |
FAQ's
Can I get a Pizza Hut discount code?

Absolutely. They have a ton of discount codes, so it's all about finding the one that's right for you. Check out what gets discounted and plan your meal around that.
Do Pizza Hut have a student discount?

Yes, you can stretch that student budget even further with a little help from the Pizza Hut student discount that gives you 20% off.
What is Pizza Hut rewards?

It allows customers to collect "slices" that act as points. Once you've collected a certain amount you can redeem it for sides and pizzas. You'll get 1 slice for every £10 you spend.
Is free delivery available at Pizza Hut?

Yes, you'll get free delivery on all orders. But you'll have to meet a minimum spend of to qualify for delivery.
Is there an app available for Pizza Hut?

Yes, they have an app that's available for iOS and Android and you can place your orders, track them and manage your rewards from here.
What is the Pizza Hut Speed Guarantee?

It's the promise that if your delivery is over 10 minutes late, you'll be sent a £10 voucher for your next Pizza Hut delivery.
Hints & Tips
When it comes to satisfying those pizza cravings, nowhere does it better than Pizza Hut. And with these handy tips, you can save big on your next feast.


With £5 favourites and £10 favourites, you can grab a discount on some of the delicious classics and fan favourites that Pizza Hut offer.


Monday blues are no longer a thing thanks to Pizza Hut's Monday Madness offer, where you get a large pizza for just £9.99. That's less than a tenner!


Pizza Hut always have savings when you reach minimum spends. So, bump up those values and feed the family for less.


Students can indulge for less with a wonderful 20% off their Pizza Hut orders.
[br[-]It might seem obvious, but before you pick out your dinner, stop over at the Pizza Hut offers section to find the biggest savings you can get on your dinner.

Delicious Pizza for Every Diet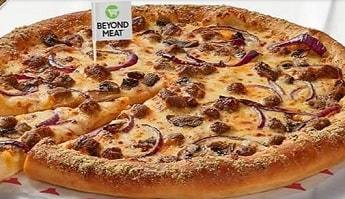 When it comes to different dietary restrictions, it can be a nightmare finding a takeaway that caters for you. Luckily, your Pizza Hut order has something for everyone, whether you're looking for gluten free pizza, or a vegan treat.
Since 2012, the Pizza Hut gluten free menu has been catering for those with specific dietary requirements. They have a dedicated page for gluten free foods, and you can keep an eye out on their menu for the 'GF' symbol to find a delicious treat that suits your needs.
The Pizza Hut vegan menu is packed with food favourites without the animal products. With the vegan margherita for traditional pizza buffs, to the vegan 'pepperphoni' pizza and Beyond Meat pizzas, you're covered when it comes to a slice of delicious pizza.
They've even got sides and desserts covered too. With southern fried nuggets made with Quorn, to their 'I can't believe it's not' cheesecake. There's even mini corn on the cobs for a slightly healthier side. Have a browse through the menu and keep your eyes peeled for the Pizza nutrition information to find out more.
So, when it comes to your Pizza Hut delivery, they've got you covered, whatever your diet. But before you place your order, take a look at our Pizza Hut vouchers for a nice price on a tasty slice.
Big Deals for the Big Game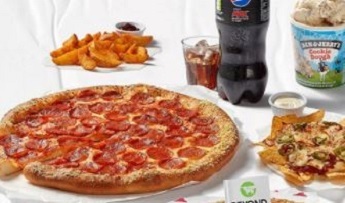 When it comes to watching the big match with your mates, your mid-game feast needs to be on point. And there's no better accompaniment than a few slices of pizza.
In the Pizza Hut deals section, you can find a stellar selection of savings. It's got to be the big sharer deal where you can get a sharing pizza, two sides, a salad for two and a dessert for less than £30.
On the other hand, you may not be able to get your mates round to watch the big game. In that case, the Pizza Hut individual meal deal has you covered. With a side, a pizza, a salad and a drink for £15.99, you can cater for yourself while your team plays.
For a takeaway treat, you can click and collect. With the 'Go Large and Go Home' deal, the 'Two's Company' or the 'Treat Yourself' deal, there's an offer for everyone. So, you'll have the food sorted no matter how big a crowd you're feeding.
So, grab yourself a bargain on a beautiful buffet from your local Pizza Hut while the big games on.
The Perfect Weeknight Dinner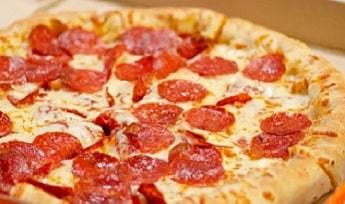 After a hard day at the office, or even a hard day of working from home, whipping up a meal for the whole family is an extra job that we can sometimes do without. That's where a Pizza Hut delivery comes in. Offering up a slice of something nice straight to your door without any stress.
With a ton of tasty toppings to choose from, there's something for the whole family. From pepperoni purists to the divisive ham and pineapple, Pizza Hut has you covered, whatever your taste buds are crying out for.
With thin crust, pan pizzas and even the famous stuffed crust, you can't go wrong. All made fresh to order, from the beautiful base to the sweet and tangy tomato sauce. Topped with cheese and your favourite flavours, so you can put your feet up and relax with something tasty this evening.
Pair those pizzas with one of their truly tasty sides, and you've got yourself a marvellous meal. From garlic bread and wedges to cheese bites and nachos, it really is a buffet that's sure to bring a smile to everyone's face.
So, grab a Pizza Hut discount code and grab a nice price on a slice this season.